Recently, several people left messages and asked how to do Google account recovery. Indeed, Google account is increasingly important, as Google released new services continuously. To help users access various services easily, such as YouTube, Google Drive, Google Photos, Gmail, and so on, Google allows people to sign in various platforms with one account. In other word, once people forgot the password, all services are inaccessible. According to our summary, there are at least 4 methods to recover Gmail account. And in this tutorial, we will show you the step-by-step guides about these methods. All you need to prepare is a connected computer.

1

. Get Google account recovery via Gmail

Even forgot your password, you can recover Google account by Gmail's password recovery site. This way is feasible, if you have set a recovery email address.

Step 1. Open Gmail sign-in page and click "Need help" link to go to the Google account recovery page. Or type www.google.com/accounts/recovery in your address bar to open it directly.

Step 2. Enter your Gmail account and click "Continue" to go to the password page. Here click "I don't know" option and then press "Verify your identity" link to move on.

Step 3. Then Google will ask you to input the last password you remember. If you cannot recall any password that you have used, click "I don't know". Otherwise, input it and click "Continue".

Step 4. On the verify option page, select "Get a password reset link at my recovery email" and enter your recovery email address. Press the "Continue" button; Google will send you an email to recover email address.

Step 5. Open your recovery email account, click the password reset link and follow the instructions to complete Google account recovery.
2

. Achieve Google account recovery using phone number

If you did not set recovery email address to your Google account, don't worry for Google offers another way to recover Gmail account, verification code. Gmail registration needs phone number. You can get the verification code through this phone number and achieve Google account recovery immediately.

Step 1. Also go to Google's account recovery page and follow the instructions until you see the verify option page.

Step 2. Select "Get a verification code on my phone" option and click "Continue". Make sure you phone number is active.

Step 3. Then you will receive a text message from Google that includes a verification code. Type in the code into the verification box, and Google will take you to password reset page directly.

Step 4. Here you can set a new password and confirm it. Then Google account is recovered successfully.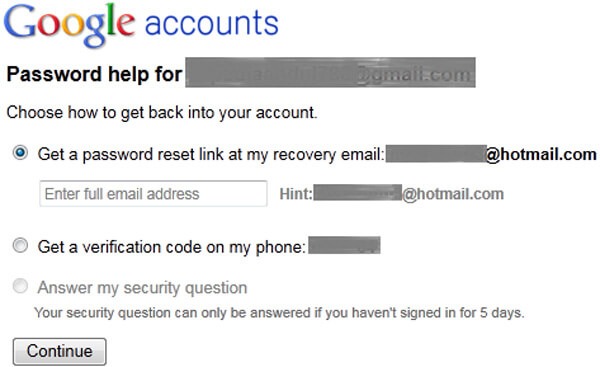 3

. Get account back with security question

As you can see, Google also provides the third option to recover Gmail account, security question. It does not need recovery email or your phone number. But the prerequisite is that you remember the answer exactly and have not signed in for 5 days.

Step 1. Start Google account recovery page, and input the information Google asks until you see the recovery option page.

Step 2. Choose "Answer my security question" option. If you have set one, the option will become available. Click "Continue" to go to the security question verification page.

Step 3. Answer the security question you set, which is different from each other. If the answer is correct, you will be brought to the password reset page directly.
4

. Recover Gmail account with browser password manager

On the other hand, if the solutions above are not available, you can try to recover Gmail account through browser's password manager function.
Method 1: Recover Gmail account in Chrome
Step 1. Open your Chrome browser, click the menu with three horizontal lines and choose Settings option. Or type in "chrome://settings" in address bar to open the settings page.
Step 2. Click the "Show advanced settings" link and click on Manage passwords link under "Passwords and forms" area.
Step 3. On the passwords list, you can search for your Gmail account and password. If the password is replaced by star marks, the "Show" button will display it.
Method 2: Recover Gmail account in Firefox
Step 1. Start Google account recovery in your Firefox application and open the Options page. You can find it in "Tool" menu on top ribbon or the menu list on upper right corner.
Step 2. Locate to "Security" tab and click the "Saved Password" button to open the password window.
Step 3. Firefox lists all the accounts and password that you have saved within the browser. You can organize and find your Gmail account by last visiting date.
Step 4. Select the Gmail account and click "Show Passwords" button to display the corresponding password.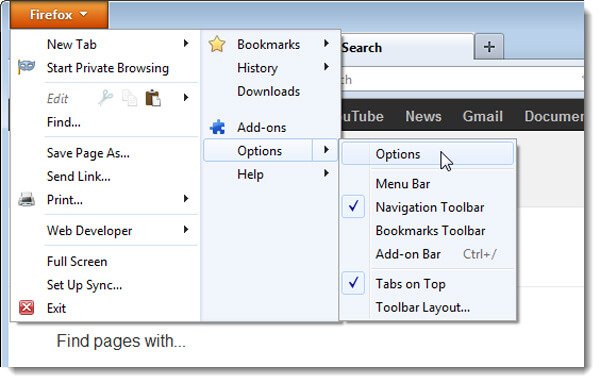 Method 3: Recover Gmail account in Safari
Step 1. Open the "Preferences" menu on top ribbon in your Safari browser. Then go to the "Passwords" tab and open the password list.
Step 2. By default, Safari will show all the accounts saved in the browser and hide passwords using dots. Tick the checkbox in front of "Show passwords for selected websites" on bottom of the screen. Then you need to input your Apple password to verify you are the host of this device.
Step 3. Then select your Gmail account on the list, the dots will change to real password automatically and you can get Google account recovery right now.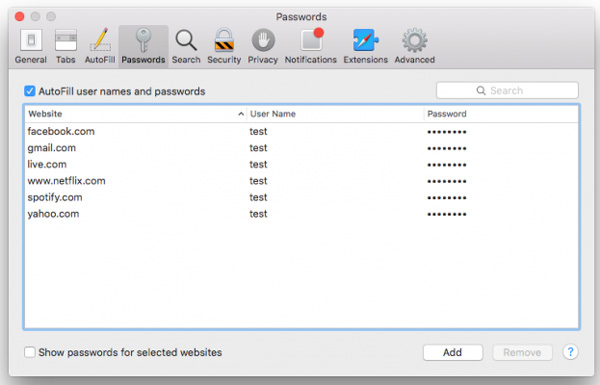 Method 4: Recover Gmail account in IE
Step 1. To view recover Gmail account in Internet Explorer browser, click the littler Gear icon at upper right corner and choose "Internet Options".
Step 2. Then go to the "Content" tab on internet options window and click the "Settings" button in "AutoComplete" section.
Step 3. On the pop-up dialog, you can click on "Manage Passwords" button to launch the "Credentials Manager" window. Then you can search for Gmail sign-in URL, if you have saved it in IE.
Tip: IE asks your Windows account password to show the Gmail password.
Don't Miss:
How to Fix Forgot Gmail Username
Conclusion
In this tutorial, we have showed how to do Google account recovery. According to cybersecurity experts, we should change our passwords for Google account frequently. That could prevent from hacker attacks and enhance Google account security. But many people complaint that such measures make it easy to forget Google passwords. So, we summarized all methods of Google account recovery. When you cannot recall your password, following our guides, you can get back your account via recovery email, phone number, security question or browsers' password manager feature easily. If you have any question or better suggestions, please leave a message below. We will rely it as soon as possible.