This guide tells you how to run Windows on Mac. Mac is a safe and stable system. However, no matter how happy you are with your MacBook, there is always something that Windows can provide that Mac cannot. Until now Microsoft's Windows is still the most prevalent operating system worldwide partly because of the extensive support for third-party apps. The good news is that you can enjoy the advantages of dual systems following our guide.

How to Run Windows on Mac
Part 1: Prepare for Installing Windows on Mac
Can you install Windows on Mac? The answer is yes, but there is something you should know:
1. First of all, your Mac computer or laptop must have an Intel-based chip. If you are not sure, click the Apple menu, choose About This Mac, and you will get the information in the Processor section.
2. Not all computers are available. You can visit Apple's website and see whether your machine is on the list (https://support.apple.com/en-us/HT211814).
3. To avoid data loss, you'd better make a backup of your disk with Time Machine or other applications.
4. There is at least 64GB of free storage space on your startup disk. That is very important and you may need a powerful tool, such as Apeaksoft Mac Cleaner, to remove system junk files, and large and old files to free up space.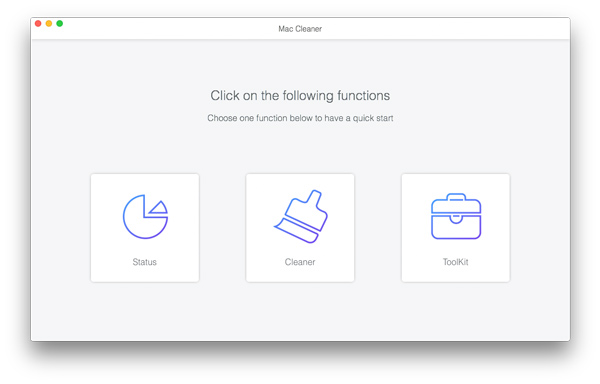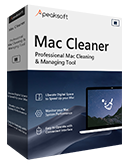 4,000,000+ Downloads
Delete useless files and data from Mac easily.
Remove unwanted apps to free up the startup disk.
Monitor the status of your memory and storage.
Available to almost all Mac computers and laptops.
Part 2: How to Run Windows on Mac
To get another system on Mac, you must use a Windows virtual machine for Mac. There are several options on the market, such as Apple Boot Camp, Virtual Machine, Wine, Remote Desktop Software, etc. We use Apple Boot Camp as an example since it is a virtual machine released by Apple. To help you understand the procedure clearly, we divide it into 5 stages.
Stage 1: Download Windows ISO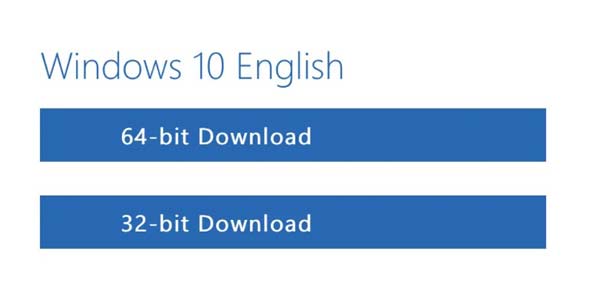 Step 1 Open your Safari, and go to Microsoft's Windows download page.
Step 2 Click the Select Edition button, and select Windows 10. Windows 11 is not compatible with Boot Camp on Mac now.
Step 3 Press Confirm to verify the request. Then make sure to download the right version of Windows ISO on Mac. The ISO file is about 6GB.
Stage 2: Install Windows on Mac

Step 1 Search for Boot Camp Assistant on your Mac, and open it. The virtual machine is pre-installed on your machine. Click the Continue button to move on to installing Windows on Mac.
Step 2 Hit Choose a Windows 10 ISO file and upload the ISO file that you just downloaded.
Step 3 Next, click the bar to choose a size for your Windows partition disk. The minimum is 42GB and the maximum is the free storage space of your startup disk.
Step 4 Click the Install button and wait for Boot Camp to create the partition. Once it is done, your Mac will reboot. Then you will see the Windows logo instead of the Apple logo.
Stage 3: Set up Windows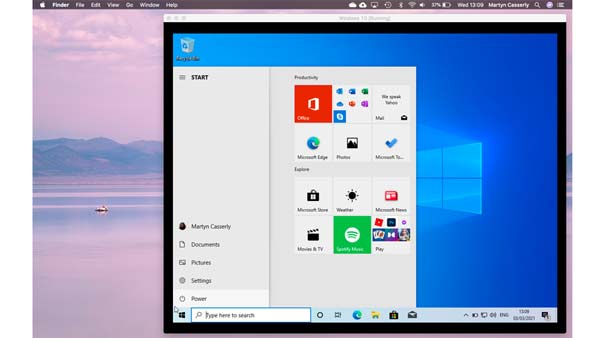 Step 1 When prompted, enter a product key to continue.
Step 2 Select the language, keyboard layout, Wi-Fi, and more according to your preference.
Step 3 Log in with your Microsoft account if you have one. Then you will be asked to create a passcode or PIN. Follow the instructions to finish setting up Windows on Mac.
Stage 4: Install Boot Camp on Windows
The first time when you boot in Windows on Mac, you will get a notification to install Boot Camp. It takes about 10 minutes to finish. Then you can use Windows 10 on Mac without any issues.
Stage 5: Switch between Windows and Mac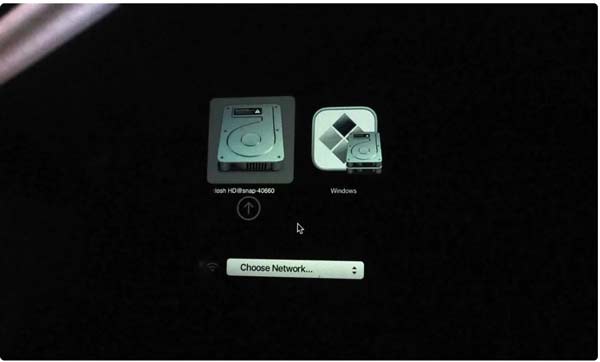 Step 1 Reboot your machine when you need to stop using Windows on Mac..
Step 2 Once your screen turns black, hold down the Option key on your keyboard for at least 5 seconds. Then you will get the option to boot up MacOS or Windows.
Step 3 Here you can choose the desired partition.
Part 3: FAQs about Running Windows on Mac
Can I remove Mac and install Windows?
If you wish to remove Mac completely, you do not need Boot Camp anymore. You can boot to the Windows installer, erase the drive, and install Windows on the full partition.
Does Boot Camp slow down Mac?
No, Boot Camp does not slow down Mac. It is just a virtual machine to install Windows on Mac. If you want to remove bootcamp from your Mac, click here.
Is Parallels free for Mac?
The Parallels for Mac is available to download with a free trial, but it is not freeware. The pro edition costs $79.99 per license.
Conclusion
Now, you should understand how to download, install, and run Windows on Mac. The built-in virtual machine, Boot Camp, can meet your need for free. Of course, you can try a third-party utility. Make sure to free up space with Apeaksoft Mac Cleaner before the installation. More questions? Please leave a message below.