Does Mac have a built-in virus scanner? How to scan Mac for virus?
macOS is generally considered among the safest systems. It comes with built-in security features to protect your Mac from different threats. But in some cases, viruses, malware, worms, or ransomware may gain access to your Mac and infect it. So you may wonder, how to tell if your Mac has a virus?

How to Scan Mac for Virus
This post tells three effective solutions to check and get rid of viruses from a Mac. Whether you want to scan viruses on MacBook Pro, MacBook Air, or iMac, you can use them to remove viruses from your Mac device.
Part 1. How to Scan Mac for Virus Using Apple Antivirus Software
Mac has an official malware and virus scanning technology called XProtect to prevent it from different threats. The pre-installed threat intelligence process can manually check if a virus or malware has infiltrated your system. This part explains the official Mac virus scanner, Apple antivirus technology, and how to check for viruses on a mac.
Mac antivirus software
XProtect is the built-in antivirus technology in macOS. It is mainly used for protecting Mac from virus and malware infections. This virus scanner for Mac is enabled by default. Moreover, it will update itself automatically along with the system updates. It can automatically scan viruses and prevent them from running on your Mac.
How to use the Apple antivirus software to clean viruses from mac
When XProtect scans known malware or virus, it automatically blocks and prompts you to remove it from your Mac. You can follow its instructions to move the related software to the Trash. The virus scanning is invisibly in the background. So, using this Apple antivirus software, you don't need to scan your Mac for viruses manually.
Part 2. How to Check and Clear Viruses on Mac Using Activity Monitor Utility
To protect your Mac from viruses, you can adjust various settings in Security & Privacy preferences. You are allowed to specify the sources of installed applications and ensure you download them from reliable sources. You can also rely on the Activity Monitor utility to check if Mac has a virus. You can easily follow the steps below to detect viruses and malware on your Mac easily.
Step 1 Open a Finder window, and then click the Applications on the left panel to check all installed applications on your Mac. Scroll download to locate the Activity Monitor. Double-click on its icon to open it.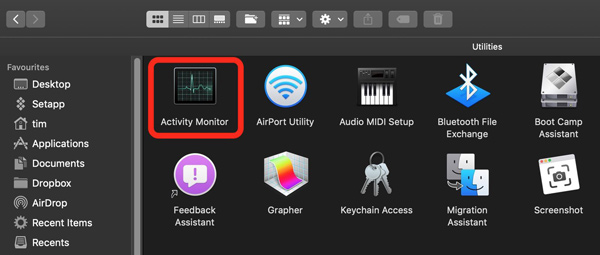 Step 2 When you enter the Activity Monitor window, you need to check CPU, GPU, processes, and other information. Under the CPU tab, you can check whatever is listed and how much of the CPU percentage it requires to operate in the Process Name field. You should look for unfamiliar applications with high CPU or memory costs. During this step, you'd better remove unfamiliar or unused apps from your Mac.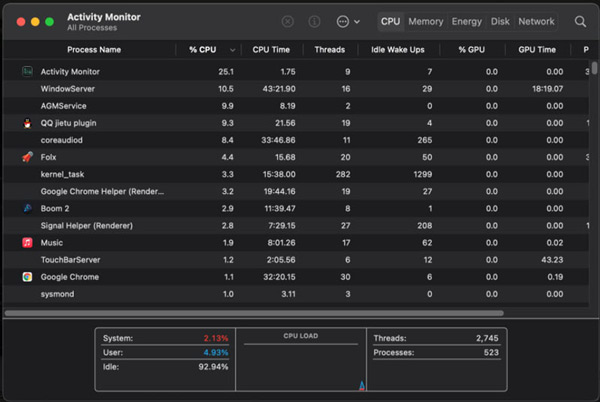 Step 3 To protect your Mac from viruses, you can go to System Preferences and Security & Privacy. When you get there, click the General tab and customize the downloading sources from where you'll allow the software to be installed.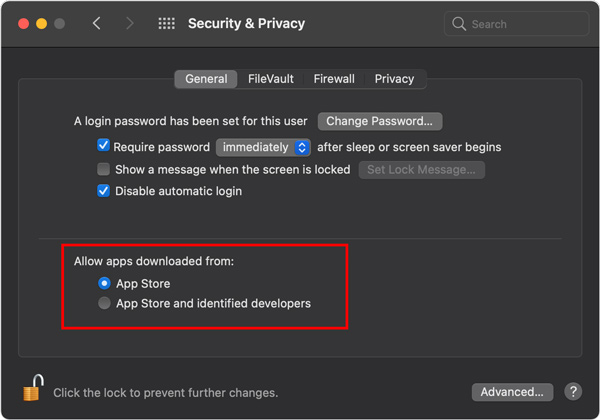 Part 3. Mac Virus Scanner and Remover Recommendation - Mac Cleaner
If you are searching for the best alternative to Mac's built-in virus scanner, you should try using the professional Mac Cleaner. It is an easy-to-use and safe virus scanning and cleaning tool for Mac. It is designed with advanced technology to detect and clear viruses, malware, adware, and others on a Mac.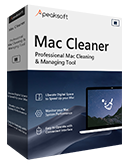 4,000,000+ Downloads
Scan and clear viruses, malware, adware, etc., on Mac.
Monitor Mac status, protect Mac and fix various macOS issues
Remove all types of useless files from Mac to free up Mac storage.
Offer useful tools like Uninstall, File Manager, Optimize, and more.
This recommended Mac virus remover is compatible with all macOS versions. You can free download and install it on your Mac device. It has three key categories, Status, Cleaner, and ToolKit.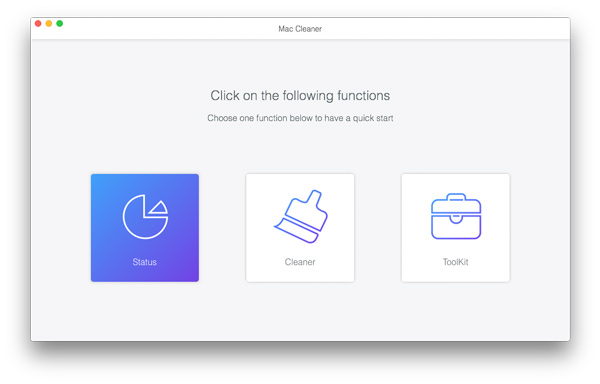 This Mac Cleaner can automatically scan your Mac for the virus, similar to the official Apple virus scanning feature in macOS. When you launch it, it will perform scanning on your Mac. When Mac Cleaner finds a virus, it will immediately prompt you to get the virus off Mac.
More than a Mac virus scanner and remover, it is designed with many other valuable functions. It can help you manage various files and applications on a Mac, get more available storage space, and optimize Mac's performance. For instance, you can go to its Cleaner feature to get more options to get rid of junk, caches, duplicates, app leftovers, and others.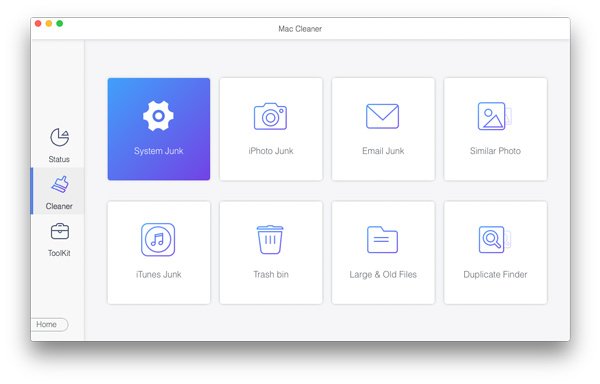 When you enter the ToolKit, you can access more useful tools like Uninstall, Optimize, Hide, File Manager, Unarchiver, and Privacy. You can use them to manage your Mac better.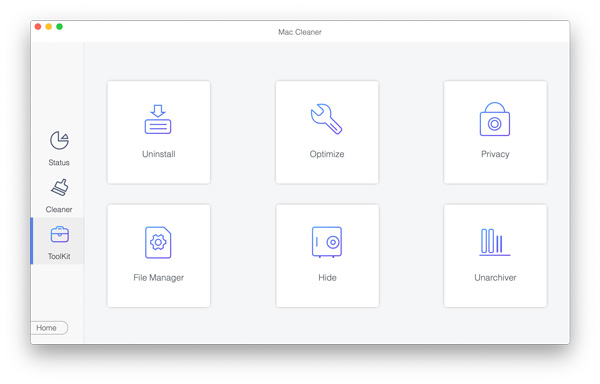 Part 4. FAQs of How to Check and Clear Virus on Mac
Question 1. How to tell if my Mac has a virus or malware?
In general, viruses and malware will affect the performance of your Mac. When your Mac gets infected with a virus, it may run extremely slow. You may also get freeze-up and restart issues. If your Mac has malware, you will see pop-ups and ads while browsing the internet. Also, the default browser homepage may be changed. You will get the browser redirection problem.
Question 2. How to create a new profile on a Mac?
To add a new user profile in macOS, click the top Apple menu, go to System Preferences, and then choose Users & Groups. You need to unlock the page to make your changes. Just click the plus button and select the type of user you want to create. After that, you can enter your user name and related password and click the Create User button to confirm that.
Question 3. Is there any online virus scanner?
Yes, many online virus scanners on the market can help you check and remove viruses, such as Norton Power Eraser, VirusTotal, Vulnerabilities Scanner, and ScanMyServer.
Conclusion
This post has mainly talked about how to scan Mac for viruses. You can learn three methods to check and clear viruses on a Mac. For more questions about virus scanning and removal, you can message us.