In this digital world, one of the most significant technology is Windows PC. Though we cannot leave our smartphones, many important activities still need a computer. For example, we still rely on Windows PCs to complete various tasks in workplace. That means our computers contain many important information, so we usually set log-in password to protect it. What if forgetting Windows 8 password? Don't worry! It is not the end of the world. And we will tell you multiple ways to recover Windows 8 password in detail. Following our guides, and you can get back your password and access your computer as usual easily.

Part 1

. Get User Password via Windows Password Hint

Windows password hint is a simple way to recover Windows 8 password. When you set password for your Windows 8 computer, Microsoft will ask you to create a password hint to help you recall the forgotten Windows password. It is not equal to your password, but could help you recall the password.

Generally, the password hint will not display. But when you or someone enters a wrong Windows password, it will appear. With password link, it cannot promise to get back forgotten Windows 8 password, but it is worth trying.

In order to increase the success rate, we have some tips about setting the password hint.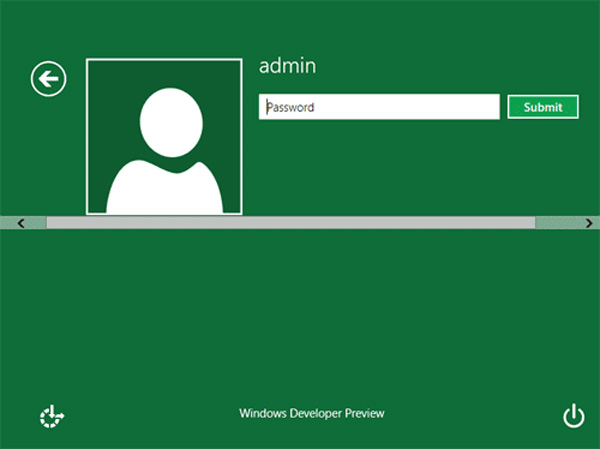 1. First of all, it should have strong links to your Windows 8 password. For example, you use the password of your email as the Windows 8 password; then the email account is the best password hint.
2. When you change your Windows 8 password, you should update the password hint at the same time.
3. Do not tell what your Windows 8 password is directly. If you use your phone number as the Windows password, for example, entering phone number in the password hint box is not a good choice.
Anyway, if the password hint fails, you have to try other ways.
Part 2

. Guesses at Your Windows 8 Password

Make guesses at your Windows 8 password? It sounds like a joke, but I am serous. Actually, if you contact with technology support when you forgot your Windows password, the first thing they suggest is to guesses and try to remember it.

Is it possible to guess the forgotten password successfully? The answer is yes, because our memory is actually better than we thought. And we usually use the numbers that we are familiar with as the Windows password, so there are some clues to help you guess the password below.

1. Does it include birthday, like yours, your friend's, your family members', your child's or your spouse's.

2. Are there characters related to your name, your teacher's name, your child's name, your pet, and so on.

3. Is it about your interest or favorite food, celebrity, sports star or movie?

4. Many people prefer to use their own phone numbers or someone else's phone as Windows password.

5. Or the password contains some place important to you, such as home address, favorite city, or memorable place.

These are just a few ideas for helping recover Windows 8 password.
Part 3

. Reset Windows 8 Password
Situation 1: Using a Microsoft account
One of the most important changes in Windows 8 is to sign into the operating system using a Microsoft account. That means you can recover Windows 8 password using Microsoft account online.
Step 1. Visit account.live.com/password/reset in your browser, choose "I forgot my password" option and click "Next" to open the next page.
Step 2. Type in the email address associated with Microsoft account in the box, fill in the captcha box according to the image and click "Next" to move on.
Step 3. Select a way to verify your identity, like phone number or email address. Once click "Send code" button, you will receive a message or an email from Microsoft that contains the verification code.
Step 4. Input the code into the field and click "Next" to open the password reset page. Then enter and re-enter a new password and click "Next" to complete it. This time you can sign in your Windows 8 with the new passcode.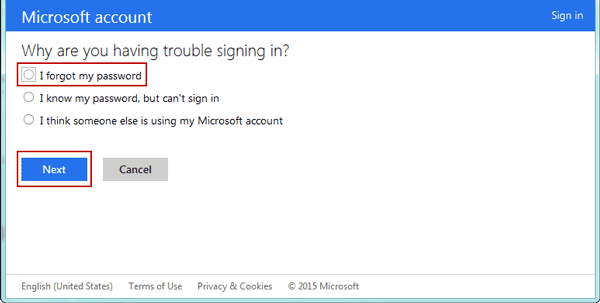 Situation 2: Using best free Windows password recovery program
The ultimate solution to recover Windows 8 password is Tipard Windows Password Reset. It is a simple tool to reset your Windows 8 password in pre-installation environment, so current information and files on your computer are lossless. Moreover it provides two ways to help you get back your Windows passcode, the bootable DVD and USB drive.
How to recover Windows 8 password with bootable DVD
Step 1. Install Windows 8 password recovery tool
Download and install Windows Password Reset on an accessible computer, and then run the program when you forgot Windows 8 password.
Step 2. Make a bootable DVD for Windows 8 passcode recovery
If you want to make a bootable USB, you can skip to the next step. Insert a blank DVD into the DVD drive and click "Create Password Reset CD/DVD" on main interface. And wait for the process to complete.
Step 3. Create a USB drive to recover Windows 8 password
Plug a USB flash and format it. Then press "Create Password Reset USB Flash Drive" option. When the bootable USB drive is done, remove the USB drive.
Step 4. Recover your Windows 8 password in one click
Insert the bootable DVD or USB drive into your Windows 8 computer and reboot your computer. Then the Windows Password Reset window will pop up automatically before go into the operating system. Choose your Windows 8 account on the list and click "Reset Password" button. Then you can drop a new password and click "OK" to confirm it.
Remove the bootable DVD or USB drive from your computer. At this time restart your computer and log in with the new password.
Conclusion
In this tutorial, we have shares some ideas about how to recover Windows 8 password. When you cannot log in your Windows 8, you can try the password hint or guessing your passcode first. If they are not feasible, the Microsoft account may be helpful. Though many people complaint that Windows 8 was the worst update from Microsoft, it is a big improvement that users could reset password using Microsoft account. Another simple way to get back your Windows 8 passcode is Tipard Windows Password Reset. As you can see, this program could help you reset windows password quickly. And we hope our guides are useful to let you get rid of the trouble.