- "I used the Widgets app to install the calendar schedule widget. I no longer want it displayed. There must be a simple way of removing Widget from home screen, but I can't seem to do it."
- "There are too many widgets … How can I get rid of them?"
- "I want to remove some unwanted widgets from the home screen …"
- "I accidentally loaded 2 widgets on my home screen. How do I remove widgets from Android?"

By using widgets, you can glance over notifications on home screen directly. There is no need to open the certain application to check the latest information. In addition, those widgets contain the main themes already. For instance, you can quickly view the current whether and upcoming events without unlocking your smart phone.
However, too many widgets also bring people much trouble. Your smart phone runs slower than before. Moreover, Widgets drain the battery a lot. In addition, anybody can pick up your smart phone and view those widgets directly. Therefore, if you do not use widgets any more, then you can follow operations below to remove widget from home screen of iPhone and Android devices.
Part 1

: How do You Remove Widgets from Your iPhone

iOS users can choose which way to display widgets on home screen. Moreover, you can benefit a lot from the new lock screen widget system of iOS 10 ad iOS 11. But if you still insist on removing widget from iPhone, then you can take methods below.
Remove Widget from Home Screen
To prevent unnecessary data loss, you can create a backup with Google Drive for free first.
Step 1. Go to its home screen
Turn on your iPhone's home screen. Then use your finger to swipe from left to right. Later, scroll down the list of widgets and choose the "Edit" icon.
Step 2. Remove widget from home screen on iPhone
You can see the red minus symbol on the left side of each widget on iPhone. Click this icon next to the iPhone widget you want to delete. Then choose "Remove" option to remove a widget from iPhone. Finally, click "Done" in the top right corner to complete the widget deletion.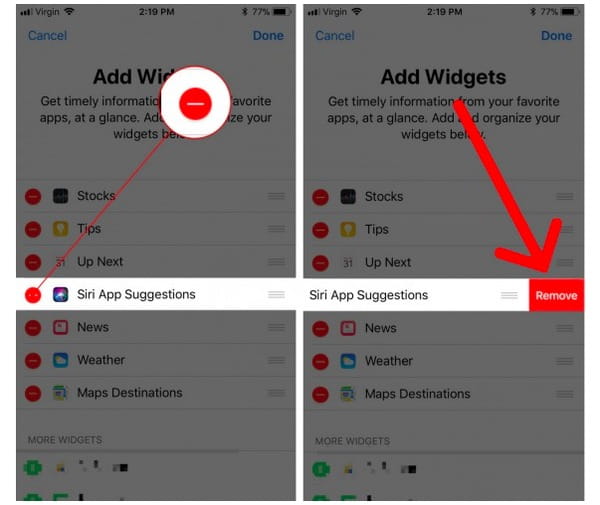 How do You Clean Widgets from Locked Screen
Step 1. Locate iPhone Settings
Head to "Settings" app on your iPhone. Scroll down and choose "Touch ID & Passcode".
Step 2. Remove widget from lock screen
Later, click "Today" or "Today View" option under "Allow Access When Locked" list. As a result, the widget page will be removed from your locked screen completely.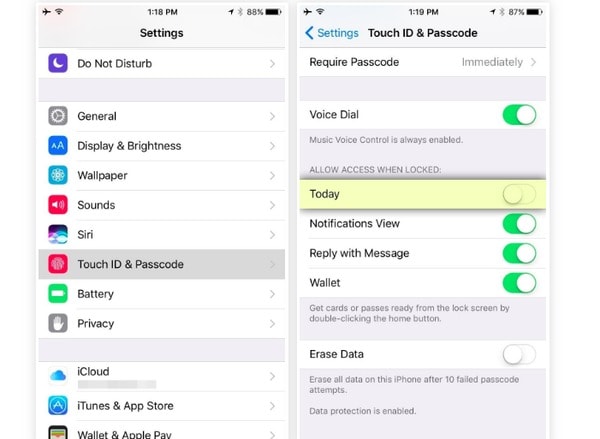 How do You Turn Off Widgets
Step 1. Turn on Touch ID & Passcode
Open "Settings" app and click "Touch ID & Passcode". You will be required to enter the passcode.
Step 2. Disable lock screen widgets on iPhone
Find "Allow Access When Locked" section. Toggle off the on-off switch of "Today View" and "Notifications View". You can also turn off "Siri", "Replay with Message" and "Wallet" options.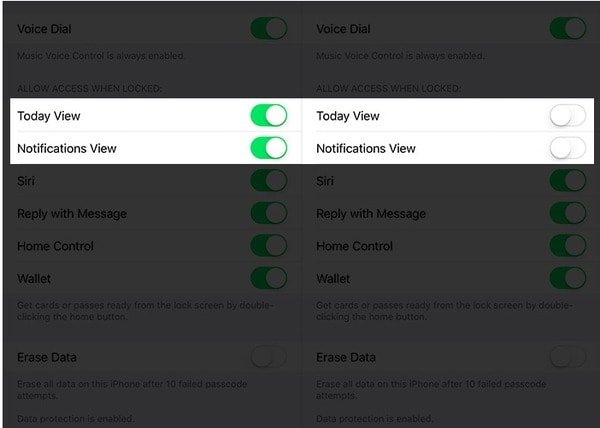 At this point, you are able to remove any widget from your iPhone completely. After removing annoying widgets, you can boost the speed of your iPhone a lot. By deleting widgets from iPhone, you can also set yourself free from endless widgets.
Part 2

: How do I Get Rid of Widgets on My Android Phone

What if the widget stuck on home screen? How to delete widgets on Samsung tablet? If you have no idea how to delete widgets on an Android tablet, then you just come to the right place. The followings are solutions for removing and uninstalling widgets effectively. Just read and follow.
How do I Remove a Widget from My Locked Screen
Step 1. Make the lock icon to be visible
When a new widget pops up, you can always see a lock at the bottom. If you cannot see it, you can pull down the list of widgets to find this icon.
Step 2. Remove widget from lock screen
Press and hold any widget you want to remove, and then move it to the "Remove" section on the top. Then this widget is gone from your Android locked screen.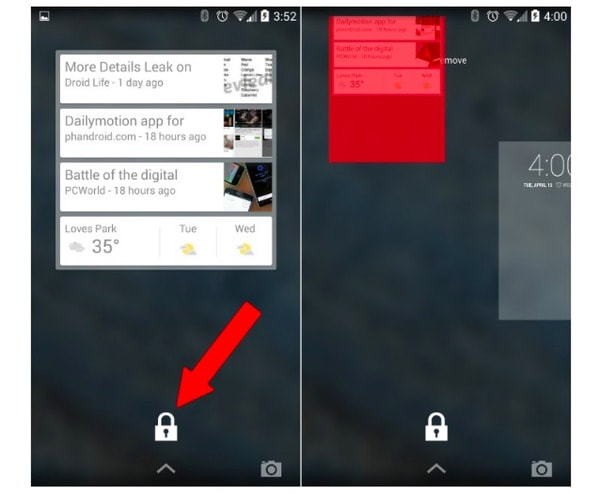 Uninstall Widgets from the Google Play Store
Step 1. Access all your Android applications
Run Google Play Store app on your Android phone or tablet. Click "Menu" icon on the top left corner. Then select "My apps & games" option in the list.
Step 2. Remove Google widget from home screen
You can see all available applications. Find and choose the application you wish to delete. Then select "Uninstall" and click "OK" to uninstall widgets from the Google Play Store on Android.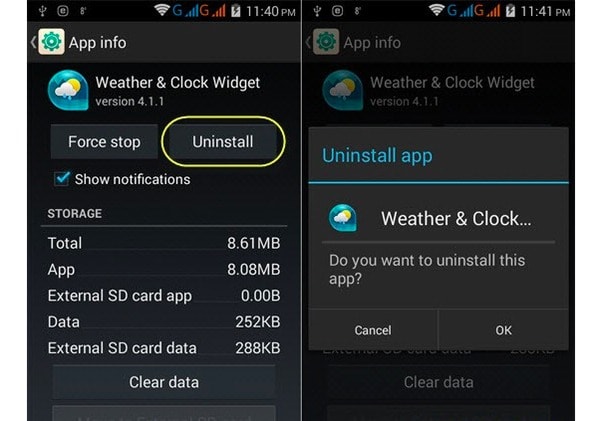 Delete Widgets from the Settings APP
Step 1. Run Settings on Android
Turn on your Android phone and choose "Settings" app. Scroll down to click "Apps" in its list. For some Android models, you can choose "Application Manager" instead.
Step 2. Remove widgets from Android Settings
Click "All" option to access all Android applications. Then select a widget you want to delete. Select "Uninstall" on the top right corner. When the notification "Do you want to uninstall this app" pops up, choose "OK" to confirm.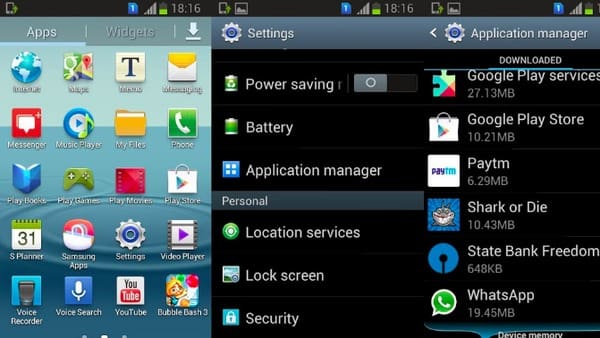 Well, these are common and effective solutions you can take to remove widgets Samsung and for other digital devices. Consequently, you are able to delete widgets on any locked or unlocked Android device freely.
Part 3

: FAQs of Removing Widgets

What is the purpose of using widgets?

Mobile widgets are mini-apps that can be placed on a widget host, typically the home screen or the lock screen of your Android device. They can maximize the screen space use and may be useful in placing live data-rich applications on the device home screen or lock screen.

Can you customize your lock screen of Android phones?

You can use some apps to custom lock screen on Android devices such as Picturesque Lock Screen, Hi Locker, CM Locker, etc.

What is the best lock screen widget for Android phones?

Here is a review of top lock screen widgets for Android: 8 Best Lock Screen Widgets for Android Smartphone and Tablet Devices.
Actually, widgets are small cards of the information from your installed applications. You can get the latest notification through those widgets. Of course, you are also allowed to turn off widgets on Android or iPhone with ease. In another word, you can add any type of widgets back to your home screen whenever you like.
If you want to use notification for some apps, but your notification does not work, just read this post: iPhone notifications not working.
All in all, if you want to get rid of slow speed and protect your privacy, you can remove widgets from home screen of iPhone or Android as above mentioned.