At first, Apple launched iCloud to expand memory and Internal storage. Each user could get 5GB free storage and save data from iOS device to cloud server. As time goes by, Apple integrated new features in iCloud continuously. Find My iPhone is the latest iCloud function, which all people to find your lost device or erase content remotely. But all things are based on your iCloud password. Once you forgot the password, resetting iCloud is the only way to keep using it. And in this tutorial, we are going to show you how to reset iCloud when you forgot the password.

Part 1

: Reset iCloud password by using Email Authentication

When sign up iCloud account, Apple asks everyone to leave a primary or rescue email account. And it will be useful when people forgot iCloud password. If you remember your rescue email address still, you can reset your iCloud easily.

Step 1. Access Apple login page in your browser, and click the link labeled "Forgot Apple ID or password" to open the iCloud account recovery page. Then you need to input your Apple ID and the "Captcha code" in the right boxes. Click "Continue" to start resetting iCloud.

Step 2. Here you will be presented two options. Pick up "I need to reset my password" and press "Continue" button to open the next page. This time select "Get an email" on the page and re-enter you rescue email address if prompted.

Tip: If you do not remember your rescue email, you can skip to next Part 2.

Step 3. Create a new tab in your browser and visit your rescue email account. Open the mail from Apple and click the link to head to the password reset page. All you need to do is enter and re-enter your new password and click "Reset Password" to confirm the changes.

Part 2

: Reset iCloud password by answering Security Questions

Another way to reset iCloud password is to answer the security questions. When created iCloud account, Apple asks each person to select three security questions and set personal answers. They are the key to protect your account and reset iCloud password.

Step 1. Open iforgot.apple.com in your browser or access it from the "Forgot Apple ID or password" link in Apple login page. Follow the onscreen instructions until you find "Select how you want to reset you password".

Tip: The process is similar to the method above.

Step 2. Choose "Answer security questions" option and enter your answers to each security question you have set. When you are done, click the "Continue" button.

Step 3. The password reset page will be opened and allow you to drop your new password.

Note: After iCloud reset, you need to sign in the new password on your iPhone or other iDevice.

Part 3

: Change iCloud password with Two-step Verification

In 2013, Apple released two-step verification security feature. It uses Find My iPhone service to send a four-digit code to a trusted iDevice associated with your Apple ID. When you make a Store purchase or reset iCloud, the second verification step is necessary for authentication.

Step 1. Put iforgot.apple.com in address bar of your browser and press the "Enter" key to access the password recovery page. Drop you Apple ID and the "CAPTCHA characters" to confirm that you are not robot.

Step 2. Click "Continue" to open the recovery key page if you have enabled the two-step verification. Input your recovery key in the box. If you forgot it, click "Lost your Recovery key" link to get it back through primary email address. Note, to set up two-step verification, you can go to the Apple login page, sign in your Apple ID and navigate to "Security" > "Get Started" > "Two-Step Verification".

Step 3. Turn on your trusted device, you will receive a verification code through Find My iPhone or SMS. Input the code into the box on the second verification page, Apple will take you to the password recovery page. Then you can follow the onscreen instructions to reset iCloud.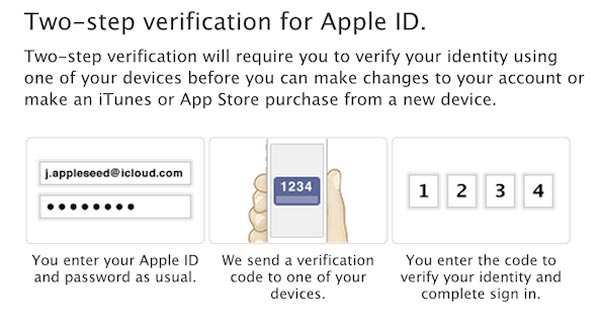 Though above solutions are aiming at helping you to reset iCloud password, you may still fail to reset it because you changed the phone number or input wrong answers to the security questions. For getting rid of iCloud lock because of password, you had better remove iCloud lock.
Recommend: Apeaksoft iPhone Data Recovery
One important usage of iCloud is to back up your iPhone or iPad. After reset iCloud, you may want to get back some data from your iCloud backup. We recommend you to do it with Apeaksoft iPhone Data Recovery, because it offers many useful features.
1. Easy to use. With this iPhone Data Recovery, you can recover and restore data from iCloud backup in one click.
2. Selectively restore. This program is able to open iCloud backup files and allows you to select specific data for recovery.
3. More recovery options. It supports to recover lost data from iOS devices, iCloud backup and iTunes backup.
4. Better quality. All data will be recovered to computer or restored to your device in original formats and quality.
5. Higher compatibility. It is compatible with all iPhone models, including iPhone X/8/8 Plus/7/7 Plus and earlier running iOS 11/10/9.
6. Available in all popular the operating systems, including Windows 10/8/8.1/7/XP or Mac OS.
In a word, if you are looking for an easy way to recover data from iCloud backup after reset iCloud, iPhone Data Recovery is the best choice.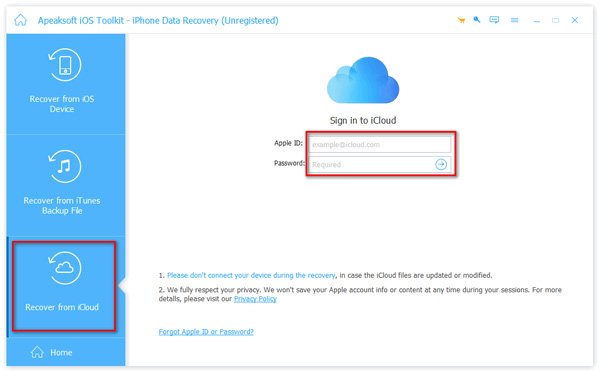 How to recover data from iCloud backup after reset iCloud
Step 1. Plug your iOS device to your computer using the original Lightning USB cable. Launch iPhone Data Recovery after installed it on your computer.
Free Download
Free Download
Step 2. Tab "Recover from iCloud Backup File" and then use your Apple ID and new password to open your iCloud account. Select an iCloud backup and click "Download" button.
Step 3. On the detail window, preview the data by categories and select any ones you want to get back from the iCloud backup. Click "Recover", selected data will be recovered from iCloud backup.
Conclusion
In this tutorial, we have told you how to reset iCloud when you forgot the password. As you can see, here are at least three methods to reset iCloud password, through your rescue email, the security questions and answers, or two-step verification. Also, we have showed you the prerequisites of these methods, so you can make a decision based on your situations. Anyway, we hope this step by step guide could help you get rid of trouble and headache when you forgot iCloud password. In the end, we have shared an easy way to recover data from iCloud backup, FoneLab iPhone Data Recovery. Though it is easy to use, the features it offers are powerful. If you have more questions about resetting iCloud, please leave a message below, we will reply it as soon as possible.