When people are planning to sell the old MacBook Pro, or trying to fix issues on a MacBook Pro by doing a clean install of software, they first need to restore the computer to factory settings. It is the best way to wipe a Mac and able to erase all the data and content from a Mac. It is easy said than done. A MacBook Pro usually connects to iCloud, iTunes and other Apple services. To factory reset MacBook Pro, you have to do more than resetting a smartphone. Don't worry! This tutorial enables you to perform an unblemished factory reset MacBook Pro.

Part 1: What is factory reset a MacBook Pro?
Before you factory reset MacBook Pro, you may be still confused about what is factory reset and why do it. Briefly, factory reset is to erase all personal data and content from a device permanently and return it to factory conditions in the box.
People prefer to store photos, documents, iTunes account and other information on Mac computers. Factory reset is the best way to protect your privacy and information when you want to sell your MacBook Pro or put it to another hand.
On the other hand, factory resetting MacBook Pro is an ultimate solution to resolve various problems. Problems and complaints emerge continuously since MacBook Pro has been launched, such as blue screen, responding incorrectly and more. Factory reset is the latest means to fix a MacBook Pro before giving it up completely.
Part 2: Preparation before factory reset MacBook Pro
As said before, factory reset MacBook Pro is a little complicated than other devices, partly because there are more work about preparation, including backup, sign out iTunes, iCloud and other accounts.
Step 1. Create a backup for your MacBook Pro
To avoid data loss, backup everything on your Mac is necessary before factory resetting MacBook Pro. There are two methods to create a backup for MacBook Pro.
To back up your device, plug a large enough USB flash or external drive, go to System Preferences-> Time Machine, select Backup Disk, then follow the onscreen instructions to format the drive and transfer all files you want to back up.
Another way is to clone entire hard drive. The programs, like Carbon Copy Cloner and SuperDuper, could copy all data and information on your hard drive to an external hard drive.
The difference between backup with Time Machine and cloning is that former supports selectively copying. Cloning a hard drive means copy all information, including errors, malfunctions, configuration issues and even viruses.
Step 2. Sign out all accounts and services on your Mac
This step includes disabling iTunes, iCloud, FileVault and other apps link to your hardware. iTunes supports to set up to five Mac devices with one account. Disabling iCloud could remove some of personal content from Mac. And the FineVault is designed to encrypt your files on hard drive. So it is better to turn off these services before factory reset MacBook Pro.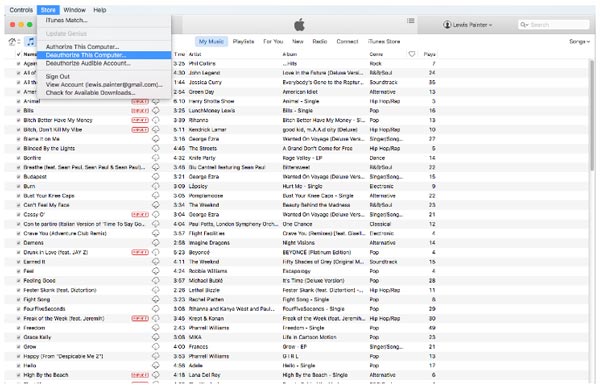 1. De-authorize iTunes. Start iTunes, click Store and then Deauthorize This Computer, input your Apple ID and password and hit De-authorise to confirm it. If you use an old version of iTunes, the Deauthorize This Computer is in Account > Authorisations.
2. Turn off iCloud. Open iCloud in System Preferences, click Sign Out Now and then hit Delete from Mac on each popup dialog.
3. Sign out FileVault. Go to System Preferences-> Security & Privacy-> FileVault and turn off File Vault. You will be prompted to enter your password to confirm it.
Besides three services above, you may need to sign out other apps, such as Adobe Photoshop, Facebook and more. And if your MacBook Pro has Touch Bar, you also need to remove any Apple Pay card information.
Part 3: Start factory resetting MacBook Pro
After backup and sign out various services, you can feel free to start factory resetting MacBook Pro
Step 1. Boot your MacBook Pro in Recovery Mode
Click the Apple logo at the upper left corner of the screen and select Restart, then press and hold down the Command and R keys until Apple logo appears on the screen.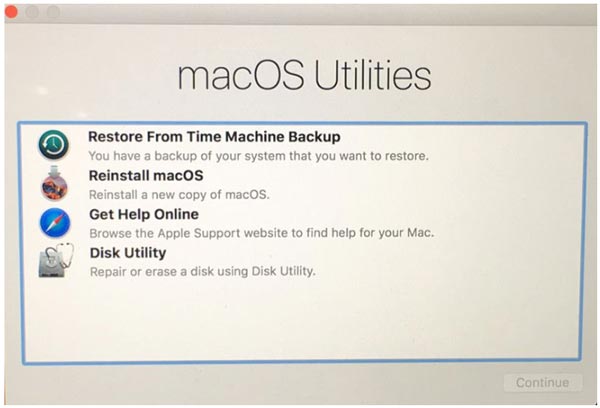 There are three key combinations of Mac OS Recovery, Command + R, Option + Command + R, and Shift + Option + Command + R. The first will install the latest Mac OS version without upgrading. The second will upgrade to the latest Mac OS. And the latter will install the Mac OS that came with your MacBook Pro.
Step 2. Erase your MacBook Pro's hard drive
When the Recovery Mode Utilities window shows up, pick Disk Utility and click Continue. Select your main hard drive usually called Macintosh HD.
Click the Erase button on top ribbon of Disk Utility to start erasing your hard drive for factory reset MacBook Pro. When it is done, close the application by clicking Disk Utility and then Quit Disk Utility.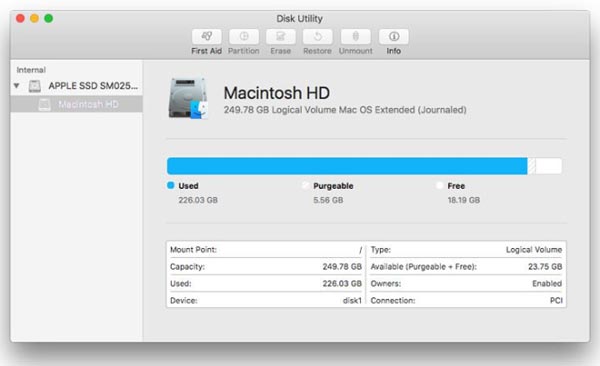 When choose hard drive, you should look for the disk name, but not the volume name.
Step 3. Reinstall Mac on your MacBook Pro
Once the Disk Utility is closed, the Mac OS reinstallation window will present. Pick Reinstall MacOS or Reinstall OS X, you MacBook Pro will start connecting to Apple servers and downloading the Mac OS automatically through Wi-Fi network or Ethernet. The Mac OS version reinstalled depends on the key combination that you used in step 1. After reinstallation is complete, your MacBook Pro will restart. If you want to continuously use your computer, log in with your Apple ID and password. Otherwise, hold down Command + Q to skip the setup process.
The guides above are universal process of factory reset MacBook Pro. The detail menus may differ slightly depending on the version of iTunes, Mac OS and MacBook Pro you are using. Even though it may not match exactly, that's OK since the meaning is the same.
You May be Interested:
Top 10 Data Recovery Software for Mac
How to Transfer files from Mac to Mac
Part 4: Best Method to Clean Your Mac Safely and Permanently
So far, we have showed you how to reset a Mac to factory settings. But what if you don't need to remove all settings and contents? Maybe you just need to remove certain data on your Mac. In that case, you don't have to reset your Mac to factory settings. You can simply use a professional Mac cleaner to do the job for you.
Apeaksoft Mac Cleaner, the best tool to clean unwanted data on your Mac, can help you remove system junk, photos, emails, large files, duplicates, and more. You can also use it to clear your trash bin. And the best part of it is that you don't need to worry about losing your private data, since all the deleted data cannot be recovered by others.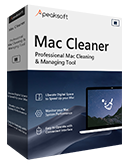 4,000,000+ Downloads
One-click to scan all junk files junk/large/old/unnecessary files on your Mac.
Remove caches, junk files, system logs, mail attachments, iTunes backups, etc.
Monitor system performance like disk utilization, battery status, and CPU usage.
Work for iMac, iMac Pro, MacBook, MacBook Air/Pro, Mac mini, etc.
Part 5: FAQs of Resetting a MacBook Pro
What happens when you factory reset your Mac?
It will remove all info on your Mac and bring it back to the factory mode, which means your Mac will be set up just like it was when you bought it.
How to Empty Trash on MacBook Pro?
If you want to empty the trash on your Mac, you can simply use Apeaksoft Mac Cleaner to do the job. It is fast, simple, and secure.
Does wiping a Mac make it faster?
Wiping unnecessary data from your Mac regularly does help to keep your Mac healthier. The speed should get faster than it used be.
Conclusion
In this tutorial, we have told you how to factory reset MacBook Pro. There are a number of reasons that you need to reset your MacBook Pro to its factory settings. Perhaps, you will sell it and wipe your data off of it. Maybe it is not working properly or infected with virus. Anyway, you will find that factory reset MacBook Pro is not as difficult as you thought if you follow our guides above. To return your MacBook Pro to factory status, you'd better back it up first. And the final step, re-install the Mac OS, needs the internet connection. If you have any questions about factory reset your MacBook Pro, please leave a message below this post.