Ever since the birth of computing, people have fought the threat of malware. Today, almost everyone has a computer, a laptop, or a mobile device. They all face the same threat. But what exactly is malware? In this article, you will get the answer and more information including the different types and how it works. More importantly, this post will explain what you can do when your digital device is infected by malware.

What is Malware
Part 1: What Is Malware
Malware, short for malicious software, refers to any intrusive software, malicious program, or code developed by cybercriminals to steal private data and damage or destroy the system, network, and hardware. It usually takes partial or whole control over a device's operations. Malware on computers and mobile includes viruses, worms, Trojan viruses, spyware, adware, ransomware, etc. Here you can understand the difference between malware and virus. The latter is a subcategory of malware. Viruses intend to spread and replicated themselves, but malware is any type of software, program, app, or code written deliberately to bring damage to a digital device.
There are several methods of malware attack including email attachments, malicious advertisements on popular sites and social platforms, fake software installation or updates, infected USB drives, infected apps, phishing emails, and even text messages. No matter the type, they work with the same pattern. The user downloads, installs, or clicks the malware, and then it infects the device.
Today, malware prevention requires multiple layers of safeguards with a high level of network protection, but it might eventually make its way to your network. Here are a few signs to tell you a device has a malware attack:
1. Your digital device slows down, freezes, or even crashes.
2. Annoying ads pop up on your screen frequently.
3. Your disk space is lost or hidden suddenly.
4. Your network becomes slow and slow.
5. Your homepage is changed or you get a new toolbar.
6. The antimalware software stops working.
7. You cannot access your files, document, or digital device.
Part 2: Best Way to Clean Malware on Mac
As mentioned previously, it is difficult to prevent and remove malware without the right tool. Apeaksoft Mac Cleaner, for example, is designed to detect malware on Mac computers and protect your data and device.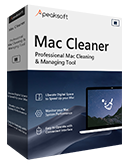 4,000,000+ Downloads
Remove any malware from Mac machines easily.
Monitor the status of your computer in real-time.
Keep your machine healthy and high-performance.
Available to a wide range of computers and laptops.
How to Prevent Malware Attack on Mac
Step 1 Detect malware on Mac
When you suspect your Mac has malware, install the best antimalware utility and launch it. Then you will face three buttons, Status, Clean, and Toolkit. You can check the status of your CPU and disk usage by hitting the Status button. To detect the malware, click the Toolkit button and select Uninstall. Press the Scan button to begin detecting malware on your Mac.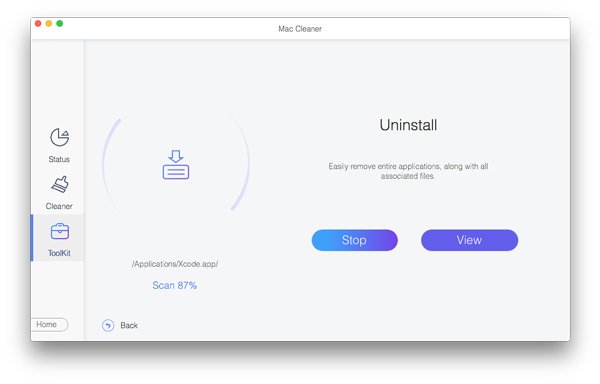 Step 2 Remove malware from Mac
When malware detection is done, click the View button to enter the next window. Locate the panel on the left side, scroll down and select the unfamiliar apps, which are malware installed on your Mac without permission. Then go to the right panel, and check the box next to Select All. Finally, click on the Clean button. When prompted, enter your passcode to confirm it. That is all. The utility will remove the malware along with associated files in a few seconds.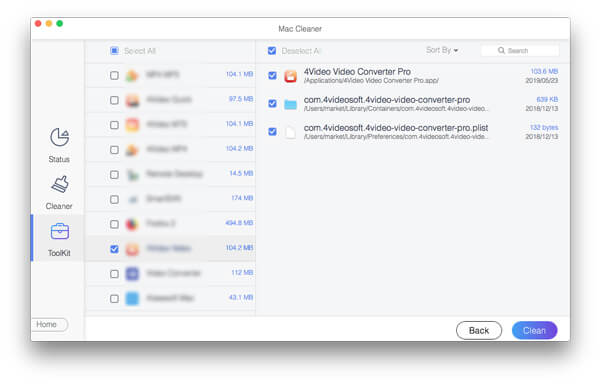 Part 3: How to Clean Malware on iPhone
Although iOS is claimed to be the most secure mobile operating system, iPhone can also be infected with malware, such as adware, ransomware, and more. Apeaksoft iPhone Eraser is the easiest way to prevent malware attacks on iPhones.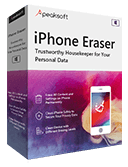 4,000,000+ Downloads
Preview iPhone data on a computer easily.
Clean up caches, junk files, log files, etc.
Remove malware from iPhone quickly.
Protect iPhone from malware attack.
How to Clean Malware on iPhone
Step 1 Scan iPhone data
Start the best antimalware tool after you install it on your computer. Then hook up your iPhone to the same machine with a Lightning cable. Then it will recognize your iPhone immediately. On iOS 13 and later, you need to enter your passcode to authorize the connection. Go to the Free up Space tab on the left sidebar, and click the Quick Scan button to initiate iPhone data scanning.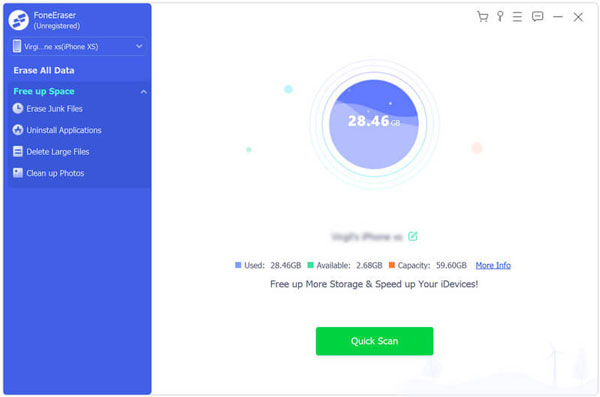 Step 2 Clean junk files
Next, click the Erase button next to the Erase Junk Files tab. Now, check the box for each item that you intend to clean up, such as Invalid Files, Crash LogFiles, and more. Hit the Erase button to confirm it.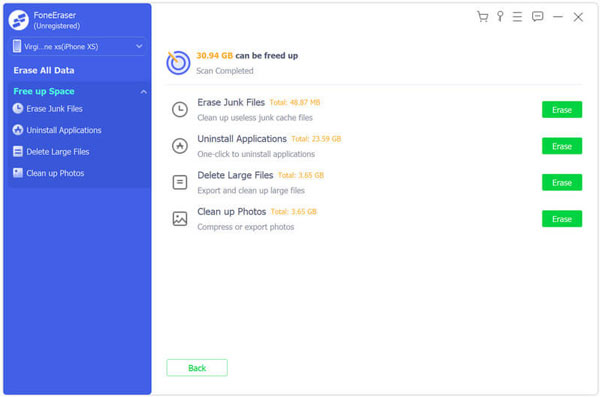 Step 3 Remove malware
Head to the Uninstall Applications tab under Free up Space on the left side. Here you can view all apps installed on your iPhone including the malware. Browse down until you find the malware, and click the Uninstall button next to it.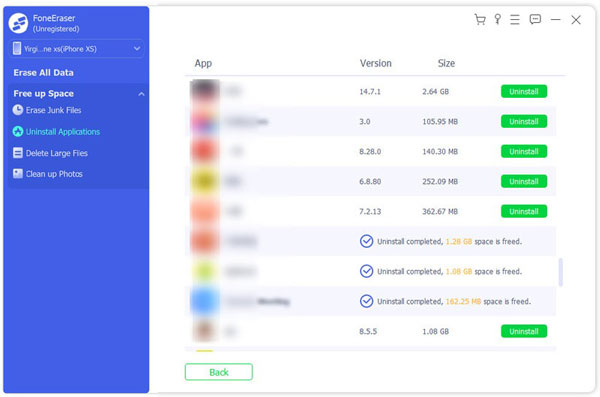 Further Reading:
3 Ways to Force Quit Software on Mac
Manage Mail Storage and Delete Mail on Mac
Part 4: FAQs about Malware
Is malware a virus?
Generally speaking, a virus is malware, but they are technically different. Malware is designed to get unauthorized access to a digital device for some kind of benefit. On the other hand, a virus is a type of malware to infect files and spread through a device.
How can you avoid malware?
Firstly, protect your computer with a high level of security technology. Back up your files to avoid data loss. Don't click suspicious links or websites.
Can malware steal my passwords?
Yes, the malware steals your passwords by logging your keystrokes since it is designed to initiate data theft.
Conclusion
This article has talked about what is malware, how to identify if your device is infected by malware, and how to get rid of it. Even if your digital device gets a malware attack, you can resolve the problem with Apeaksoft Mac Cleaner easily. Moreover, it does not ask for any technical skills. If you encounter other tr