MacOS provides a built-in Wi-Fi scanner in Wireless Diagnostics, where you can find busy channels and bandwidth frequencies for your own Wi-Fi. But that's far from enough. How to know Wi-Fi status when downloading an item from website?
Perhaps, you should use a professional Wi-Fi analyzer tool to check and improve your Wi-Fi. However, we are going to share you 5 best Wi-Fi analyzer tools for macOS Big Sur, Catalina, macOS Mojave, macOS High Sierra, macOS El Capitan, etc.

WiFi Analyzer Tools for Mac
Top 1. WiFi Explorer - Scan, Monitor and Troubleshoot WiFi
WiFi Explorer is a wireless network scanning tool for macOS. It helps users identify channel, network name, country code, band, security configuration, and much more. WiFi Explorer is also a good tool to solve Wi-Fi issues like channel conflicts, Mac not connecting to Wi-Fi, overlapping or configuration issues. You can check network details via real-time graphs. Another bonus feature is that you can save the analyzer results and export the network details in CSV file.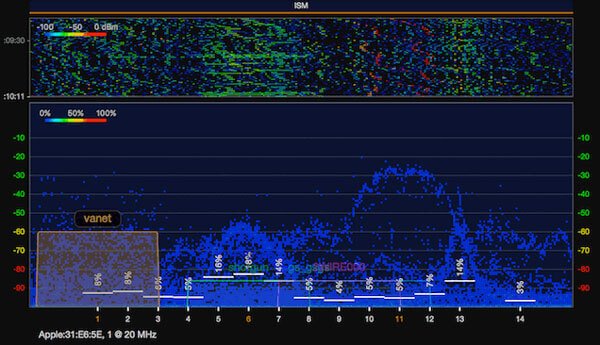 Pros

Real-time graphs for network details, signal strength and spectrum.
With intuitive interface, it is easy to access and organize scan results.
You can view and export the analysis results to CSV file.
Cons

Need to purchase if you want to experience all features.
There is no menu button displayed.
Top 2. WiFi Scanner - View and Visualize Your Networks
Similar to WiFi Explorer, WiFi Scanner provides simple and fast wireless network discovery of 802.11a/b/g/n/ac access points. With this Wi-Fi scanning tool, you can see overlapping and over bearing signal conflicts that may affect network performance. What's more, it enables you to keep track of your network speeds and performance. WiFi Scanner also works as an IP scanner that detecting which device is connected to your Wi-Fi.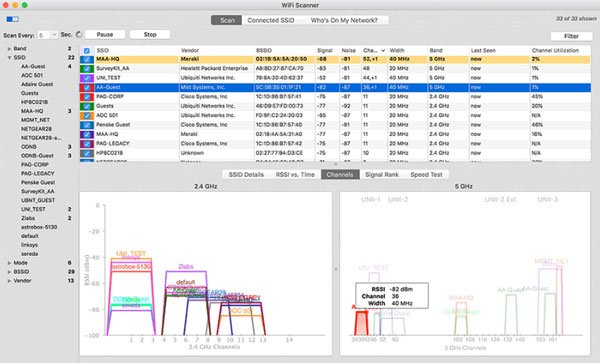 Pros

Access channels, signal levels, noise, channel width, IP, etc.
Visualize overlapping signal conflicts that affect your Wi-Fi.
Export Wi-Fi scanning results and speed test into CSV files.
Cons

The price is a littler unreasonable for being high.
Top 3. NetSpot – Free WiFi Analyzer for Home/Office WiFi
No matter you want to improve home Wi-Fi or office Wi-Fi, you can use the professional NetSpot to analyze and troubleshoot Wi-Fi issues. You can use the free version to test and improve Wi-Fi. NetSpot allows you to visualize, manage and plan your wireless network. It provides visual Wi-Fi map where you can see all dead zones without Wi-Fi coverage. NetSpot also works as an amazing tool to plan your Wi-Fi. You can easily locate the place where no Wi-Fi is spread and select to set a new Wi-Fi.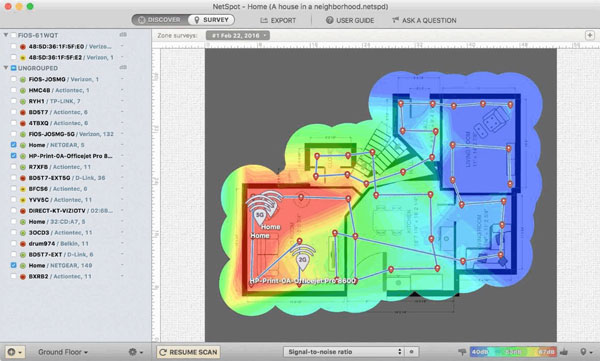 Pros

Easily to view SSID, Band, Vendor, Noise and Signal Strength, Security.
The user interface is intuitive, simple and easy to use.
It provides Wi-Fi maps for hotspots at home and office.
Cons

Analysis in low Wi-Fi signal area may be difficult.
Your MacBook is required to run macOS X 10.10 or later.
There are some limitations in the trial version.
Top 4. KisMAC - Free & Open-Source WiFi Scanner for Mac
KisMAC is a free and open-source wireless network discovery tool for macOS X/11. It helps you find all kinds of Wi-Fi networks, even the hidden or closed Wi-Fi, IP addresses and signal strength. KisMAC supports cards like Apple's AirPort, AirPort Extreme, and third-party cards. This software also helps you identify any security breaches of your network and work for improvements.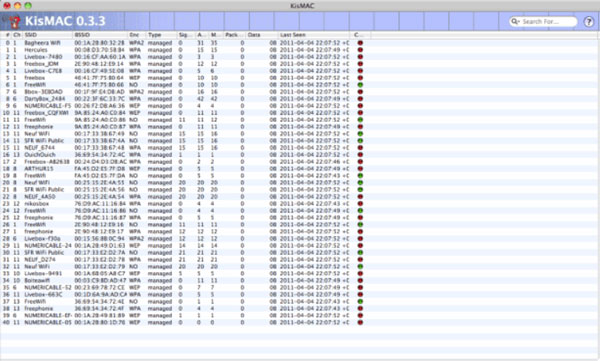 Pros

It is a free and lovely tool for everyone without costing.
You can save the scanning result of Wi-Fi network.
You can customize the interface to move or hide columns.
Cons

It only supports macOS version.
There are some cards that KisMAC may not support.
Top 5. Mac Cleaner - Test Your WiFi with Best Mac Assistant
WiFi analyzer for Mac can help you scan, test and speed up your Wi-Fi network. If you want to speed up your Mac in a profound way, you can choose a more functional Mac tool. Not only providing Wi-Fi analyzing function, Apeaksoft Mac Cleaner also help you remove junk, large files, clutter, shred files, duplicate files, useless apps, and more.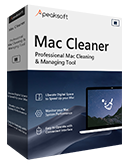 4,000,000+ Downloads
Check download speed, IP, signal, Gateway, device, Mac address.
Erase any junk files, large/old files, duplicate files, shred files, etc.
Monitor battery status, CPU usage, memory usage and disk utilization.
Support iMac, iMac Pro, MacBook, MacBook Pro/Air, Mac mini.
Step 1Free download this WiFi analyzer tool, install and launch it on your Mac. If you want to view your Mac performance, you can click "Status" to check system status.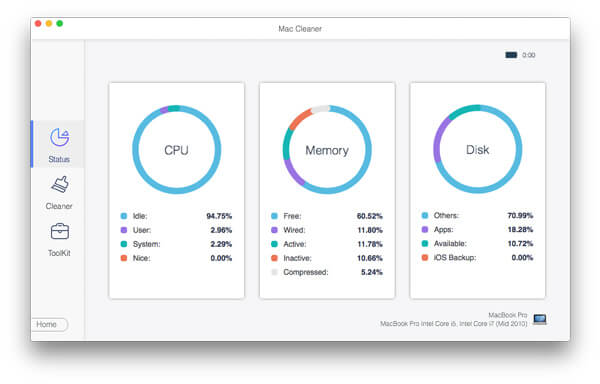 Step 2Click Toolkit of Mac Cleaner, and you can see these tools like WiFi, Uninstall, Optimize, Privacy, NTFS, File Manager, Hide and Unarchiver. Choose WiFi to start monitor your Wi-Fi performance.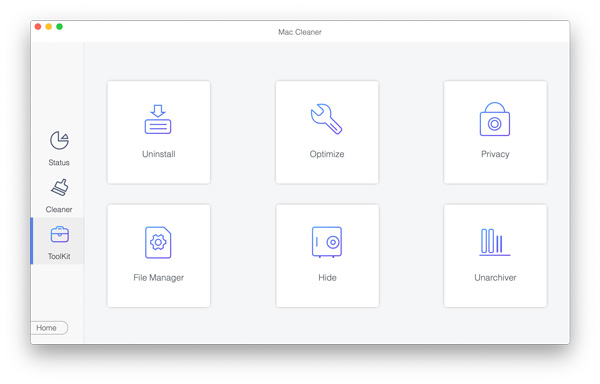 Step 3Click Analyzer button to check Wi-Fi information in details. You can click Test to configure the Wi-Fi. Here, you can see the current Wi-Fi network your Mac connected to. Information like IP address, Subnet Mask, Gateway, Signal, Connecting Device and Mac Address will be checked.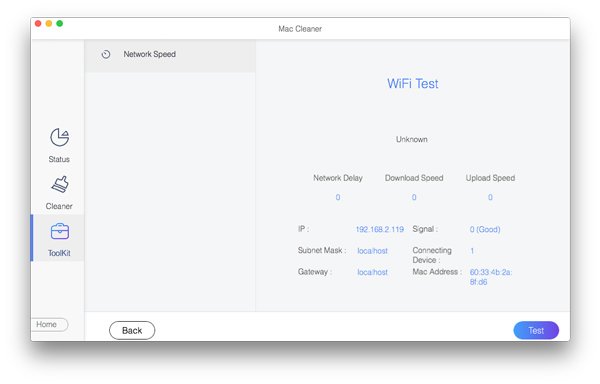 If there are large files on your Mac that you want to clean, you can use Cleaner function to remove system/iPhoto/email/iTunes junk, delete similar photos, duplicate files, large & old files, clear trash bin.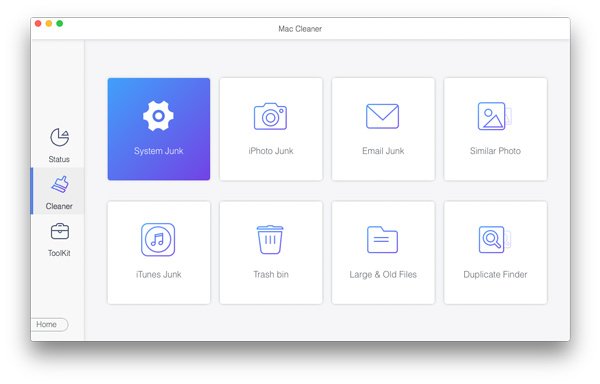 This WiFi analyzer tool supports macOS Big Sur, Catalina, macOS Mojave, macOS High Sierra, macOS Sierra, and OS X El Capitan. You can use it freely on your Mac.
Conclusion
We mainly introduced the top 5 WiFi Analyzers for Mac and reviews. Hope you can monitor and improve Wi-Fi network for better work and life. We also recommend the all-in-one Mac Cleaner, not only test Wi-Fi network, but also improve your Mac performance by getting rid of junk/large/duplicate files, useless apps on your Mac. If you have any WiFi scanner tools recommended, don't hesitate to leave a comment.