Windows password recovery is a necessary skill and useful under different situations. When you forgot your Windows passcode, you cannot access your computer or any file anymore. According to Microsoft, there are somethings you can do if you forgot your Windows password. If your PC is on a domain, the system administrator is able to reset password directly. Windows 8 allows people to use Microsoft account to sign in PCs. In such cases, you can reset Windows password online. And if you are using a local account, we recommend you to try the best Windows password recovery program. Anyway, we will share guides to help you do Windows password recovery below.

Situation 1

. If your PC is on a domain, your system administrator can reset your password

The Windows domain is a kind of a computer network. All user accounts are registered and managed by the system administrator. And of course, the administrator has the ability to do Windows password recovery.

Step 1. Open the "Start" menu on Windows PC and go to "Control Panel" > "User Accounts" and click "Manage User Accounts".

Step 2. When you are prompted to enter administrator password, type it in the box and confirm it.

Step 3. Then go to the "Users" tab and select your user account under "Users for this computer" section.

Step 4. Enter a new password, re-enter it and click "OK" to complete Windows password recovery.
Situation 2

. Using a Microsoft account to reset your password

Though Windows 8 is believed the worse update from Microsoft, there are some great improvements, such as do Windows password recovery using Microsoft account.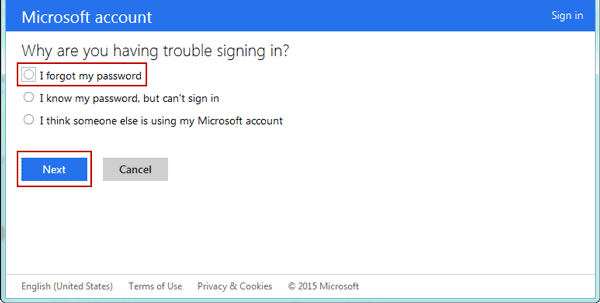 Step 1. Go to account.live.com/password/reset in your browser, click "I forgot my password" option and hit "Next" to locate to next page.
Step 2. Type in the email address that you used to register Microsoft account in the box, fill in the captcha code and click "Next" to move to next step.
Step 3. Here you will see two channels to receive verification code, recovery email and phone number. If you select former, you will get a mail from Microsoft that contains your verification code. The latter one will send the code through SMS text message. After selection, click "Send code" button.
Step 4. Then enter the code you got into the right box and click "Next" to navigate to the password reset page. Here you can set a new password and then sign in your Windows PC normally.
Situation 3

. Local account recovery using best free Windows password recovery program

Though Microsoft developed multiple methods to do Windows password recovery, it is never an easy task. And ordinary people may feel frustrated facing complicated workflows. Is there any way to reset Windows password simply? Tipard Windows Password Reset may be the answer you are looking for. Its key features include:

1. It is able to make bootable DVD or USB drive for Windows password recovery for free.

2. You can recover, reset any local account or add new account with a few steps.

3. This program supports Windows 10/8/8.1/7 and earlier.

4. Though it is freeware, users can enjoy higher level of security without ads, malware or spyware.

5. More importantly, it could protect current data on your Windows PC without damage.

In short, this free Windows password recovery program could simplify the process of resetting Windows password. Moreover, it does not ask internet connection.
How to create a bootable disc
Step 1. Download and install the latest version of the best free Windows password recovery program on an accessible computer. Insert a blank DVD into the DVD drive.
Step 2. Launch the program and locate to the "Create Password Reset CD/DVD" section. Pick up the DVD drive from the dropdown menu and click the "Burn CD/DVD" button.
Step 3. Wait for the program telling you the bootable DVD is done. You can remove it from the computer.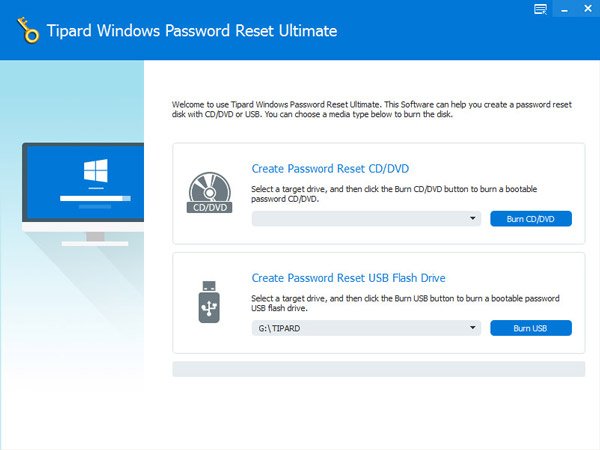 How to make a bootable USB drive
Step 1. Also plug a formatted USB flash into the computer and start the program.
Step 2. Select your USB name from the dropdown list under "Create Password Reset USB Flash Drive". Then press the "Burn USB" button to start making a bootable USB drive.
Step 3. Wait for until the process completes, you can unplug USB flash.
Note: According to our tests, both bootable DVD and USB drive created by this program are effective way to reset Windows password. If you prefer to bootable DVD, you can follow the former guide. And for the computers that do not have DVD drives, bootable USB is a better choice. You can make a decision according to your situations.
How to reset Windows password easily
When you forgot local account password or suspend that your account is hacked, your bootable disc or USB flash is available to reset password or add a new user in pre-installation environment.
Step 1. Insert your bootable DVD into your computer or plug the bootable USB drive to your PC. Then restart your computer.
Step 2. Before log into Windows operating system, the Windows password management screen will show up automatically. Select your account on the list and click the "Reset Password" button.
Tip: If you want to create a new account, you can click on the "Add User" button and set it directly.
Step 3. Then enter your new password and re-enter it. Once click on the "OK" button, your Windows password will be changed immediately. Finally, reboot your Windows PC and sign in with your new password as usual.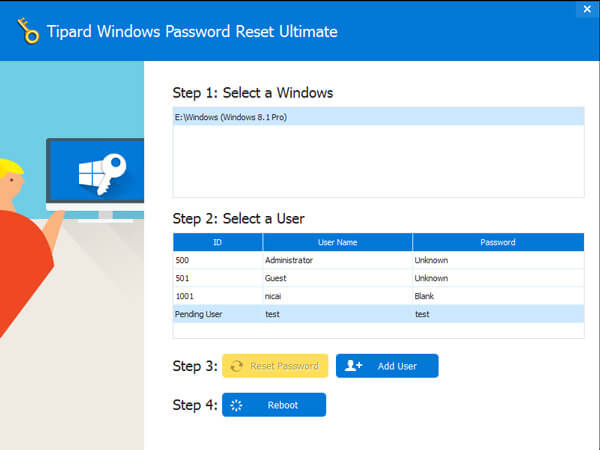 Conclusion
In this tutorial, we have talked about how to do Windows password recovery under different situations. First of all, if your Windows PC is on a domain and you have a user account, you can ask system administrator to reset your password in Control Panel easily. Or if you are using Windows 8/8.1/10, Microsoft account is another option to recover your Windows password. Anyway, you can follow our guides to achieve such task. On the other hand, you may be looking for a simpler way to reset Windows password. So, we introduced one of the best free Windows password recovery program, Tipard Windows Password Reset. Though it is free, it does not mean Windows Password Reset cannot provide powerful features. And if you try this program, you will be surprised that it is so simple and effective.