Yahoo is one of the most popular Internet services, covering email, news, cloud and more. Yahoo account is the only way to access Yahoo email and Flickr. So, when you forgot your password for Yahoo account, it is possible to miss important information and files. Fortunately, users could do Yahoo account recovery, even if they do not have remembered any related information. And in this article, we are going to tell you how to do Yahoo account recovery under different situations. There is one thing you should understand: if you have not signed up your Yahoo account in the past 12 months, the account is at risk of being deleted from the server.

Method 1: Change your yahoo password
Cybersecurity experts suggested that we should change Yahoo password frequently. So, how to do it? The workflows on different platforms are varied.
How to change Yahoo password on website
Step 1. Go to Yahoo security page (https://login.yahoo.com/account/security?.lang=en-US&.intl=us&.src=yhelp) in your browser and sign up your account.
Step 2. Click "Change password" on the menu list to open the new password page. Then enter a new passcode and confirm it. Once click on "Continue", your Yahoo password is changed across all features.
How to change Yahoo password in app
Step 1. If you have a Yahoo app on your smartphone, you can change password in the app directly. Launch the Yahoo mail app and tap "Manage Accounts" option
Step 2. Go to "Account Info" > "Security settings". Enter your security code and then tap "Change password".
Step 3. Tap on "I would rather change my password" to confirm it, and then you can go to Yahoo account recovery screen. Here you can enter your new password and re-enter to confirm it. Finally, tap "Continue" to complete it.
How to change Yahoo password in Flickr app
Yahoo account is also the key to sign in your Flickr, so Yahoo account recovery is available in Flickr app, too.
Step 1. Run Flickr app on your phone, tap the "Profile" icon and go to "Settings" > "Manage Accounts" > "Account info".
Step 2. Then you can follow the onscreen instructions to change your Yahoo password.
Method 2: Reset the forgotten Yahoo password
To do Yahoo account recovery on security page or in Yahoo app, it needs your current Yahoo password. If you forgot your password, the only way feasible is to reset your Yahoo password.
How to reset the forgotten Yahoo password with Yahoo ID
If you just forget your Yahoo password but not Yahoo ID, you can achieve Yahoo account recovery easily.
Step 1. Open Yahoo home page in your browser and click the "Sign in" button at upper right corner. Then press the link labeled "Trouble signing in?" to open Yahoo sign-in helper page. Then put your Yahoo ID and click "Continue".
Step 2. Follow Yahoo's quest and enter your "Recovery phone number" or "Recovery email address" in the box. Then click on Continue to move to the verification page.
Step 3. When the "Captcha" image shows up, you should input the captcha code into the right field and move on.
Step 4. Next, you have to decide a method to receive your Account Key. If you select "Yes, text me an Account Key", Yahoo will send a SMS containing the Account Key to your phone. And the "Yes, send me an Account Key" option is used to receive Account Key in your email.
Step 5. Finally, enter your Account Key and click Verify to confirm it and open the Yahoo account recovery page.
How to reset the forgotten Yahoo password with security questions
If you have set up security questions and remember the exact answers, Yahoo account recovery is simpler.
Step 1. Input io.help.yahoo.com in the address bar of your browser and press Enter key to open Yahoo helper page directly. Click the "Password and sign in" option to continue.
Step 2. Click "Forget Password" in "Recommended Option" and drop your Yahoo email address; then click Submit to open the next page. Then enter "CAPTCHA code" appears in the picture into the right box and click "Next".
Step 3. Here you can select "Use my secret questions" and input your accurate answers. When you are done, you will be taken into Yahoo account recovery page.
Step 4. Enter your new password and re-enter; then click "Next" to finish it.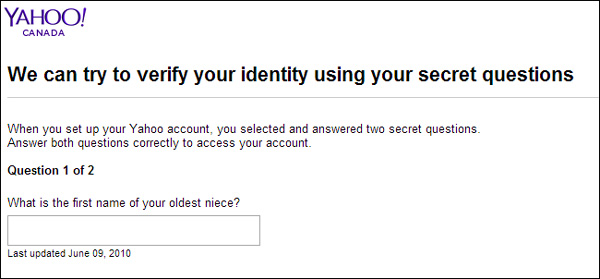 You May Also Like:
How to Reset Forgotten Gmail Password
How to Reset Forgotten iCloud Password
Extended Content: other problems about Yahoo account
Forgot my password or Yahoo ID
When you forgot your password or Yahoo ID, the first thing you should try to recover Yahoo account is autofill. Many browsers have the capacity to remember password. So, try your browser autofill settings first. If it is not feasible, follow our guides above to get back your Yahoo password simply.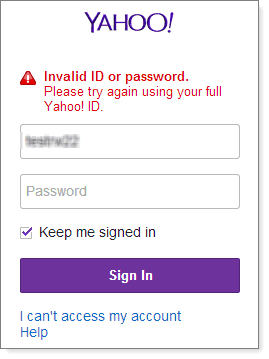 Error message said invalid ID or password
When this error message appears, it means your password does not match your Yahoo ID you entered. There are several factors that could cause this error:
1. Caps Lock or Num Lock turned on.
2. You browser autofill still remembers the old password.
3. Someone else, such as hacker, changed your password.
Whatever reason, Yahoo account recovery could help you get rid of this error.
Account Locked message
To protect your account and information, Yahoo will lock your account if anyone signs in your account with wrong password too many times. Don't worry! Your account will be unlocked automatically 12 hours later. If you want to access your account immediately, you can close your browser and reopen it again; then sign in your account as usual.
What can I do when my Yahoo account is hacked?
Even though you use a complicated password, there are chances that hackers break your password. At this time, Yahoo account recovery is a good way to get back your account and avoid information loss. You can decide to reset Yahoo password via recovery email, trusted phone number or security questions.
I cannot recover my account on Yahoo Sign-in Helper
In rare cases, Yahoo Sign-in Helper is not available to you. At this time, the only way to get back your account is to contact Yahoo Agent. Go to io.help.yahoo.com/contact/index?page=home&locale=en_US and follow the onscreen instructions to recover your account.
Conclusion
It is a familiar scene: you are waiting for an important message in your Yahoo Mail, but you cannot get your password right. What can you do when forgot Yahoo password? We have answered this question in detail above. There are several ways to do Yahoo account recovery, like recovery email address, phone number or security questions. You can reset your password following our guides easily. Moreover, we also shared several regular ways to change your Yahoo password on website and mobile phone. And the troubleshooting part offers more information related to Yahoo account.