Suppose you just upgrade the latest iPhone. The new problem is before you: how to migrate your WhatsApp chat history and contacts to the new device from your old Android phone. The first thing you might do is to search for on Google Engine. Then you will get a lot of ads and recommendations. However, you cannot identify which software can meet your need and worth you to open wallet. This article will review BackupTrans, one of the best Android to iPhone WhatsApp transferring software.

BackupTrans Review
Part 1: Unbiased Review of BackupTrans
As mentioned previously, BackupTrans is a tool that helps you transfer, backup and restore WhatsApp conversations on Android. Therefore, the developer designed a series of features around the topic.
Main Features of BackupTrans
1. Transfer WhatsApp chats from Android to iPhone.
2. Backup WhatsApp messages from Android to computer.
3. Restore WhatsApp conversations to iPhone.
4. Save WhatsApp chats as documents from Android.
5. Extract video, audio, and pictures from WhatsApp.
6. Support Samsung, HTC, Motorola, Sony, LG, and Apple devices.
7. Manage WhatsApp messages on Windows 10/11 and earlier.
Brief Review of BackupTrans
PROS

1. Users can preview and selectively transfer specific chats.
2. BackupTrans enables you to export WhatsApp chats in Doc or Txt.
3. It won't damage the existing WhatsApp history on your iPhone or Android.
4. It has updated for the latest iOS 16 and Android 11.
5. BackupTrans supports a wide range of mobile devices.
CONS

1. The interface looks tricky and not easy to use.
2. It takes a while to scan the WhatsApp messages on Android.
3. When connecting to Android, you may encounter problems.
4. Some WhatsApp messages may fail to display after migration.
5. It requires to install the latest version of iTunes.
How to Transfer WhatsApp Chats from Android to iPhone
Step 1Enable USB Debugging on Android. Install BackupTrans and connect both iPhone and Android phone to the same computer.
Step 2When prompted, tap Back up my data without entering password. And click OK in the software. Wait for the software to scan your WhatsApp messages. After that, all chats will display.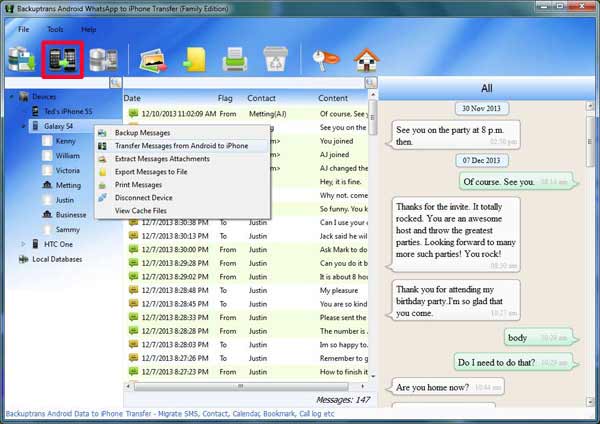 Step 3Click the Android phone under Devices list and select Transfer Messages from Android to iPhone.
Step 4Select the target iPhone on the popup dialog and click Confirm. Now, all the WhatsApp messages will go to iPhone from Android.
Part 2: Best Alternative to BackupTrans
BackupTrans has a variety of issues, such as connection issue. If it is not available, you can try an alternative, such as Apeaksoft WhatsApp Transfer. It enjoys higher success rate and performs quickly using hardware acceleration.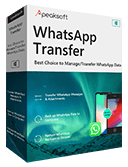 4,000,000+ Downloads
Transfer WhatsApp between Android and iPhone directly.
Back up WhatsApp messages to computer quickly.
Restore conversations from computer to mobile device easily.
Preview and manage WhatsApp messages on computer.
Available to text messages, videos, photos and audio attachments.
How to Transfer WhatsApp Messages At the Same Time
Step 1Scan WhatsApp messages
Launch the best alternative to BackupTrans once you install it on your computer. It is available to both PC and Mac machine. Select WhatsApp Transfer and choose Device-to-device Transfer. Then connect both source and target mobile devices to the same computer using USB cables. Then the software will detect your devices automatically.
Tips : For iOS 13 and later, you have to enter your passcode to permit the connection.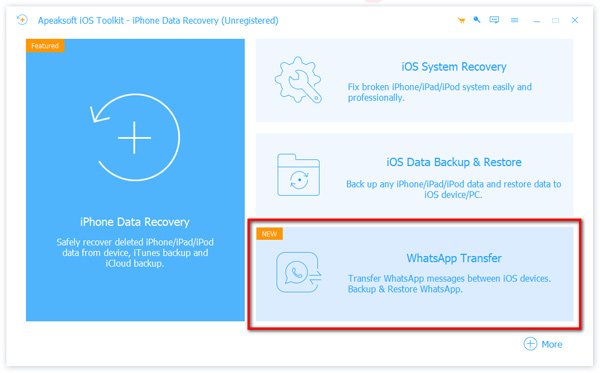 Step 2Transfer WhatsApp
Pull down the drop-down list in Source panel and select the source mobile device. Then go to the Target panel and select the target device from the drop-down list. Next, click on the Start Transfer button to begin transferring WhatsApp messages from the source device to the target.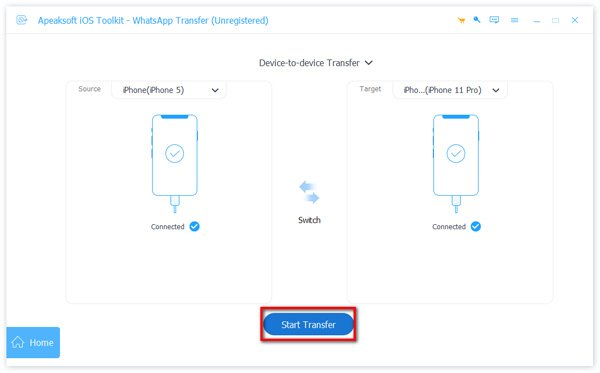 Read More
How to Selectively Transfer WhatsApp Chats Separately
Step 1Back up WhatsApp
Connect the source device to your computer. Run the best alternative to BackupTrans, choose WhatsApp Transfer and select Backup. Then set the destination folder by hitting the Folder icon. Click the Start Backup button. After backup, disconnect your device.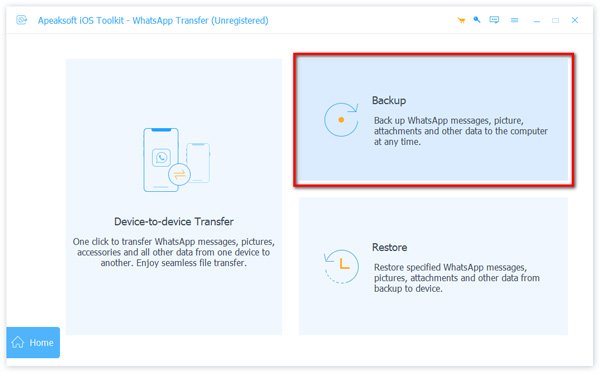 Step 2Restore messages
When you need to transfer WhatsApp messages to your iPhone or Android phone, plug in the target device to your computer. Then open the best alternative to BackupTrans, go to WhatsApp Transfer, and choose Restore. Make sure the target device appears in the Target area; otherwise, select it from the list. Select a proper backup file and click the View icon to open it. Now, you can view all messages and attachments in the backup file. Once you click on the Restore to Device button, the chats will go to your mobile device and merge with existing data.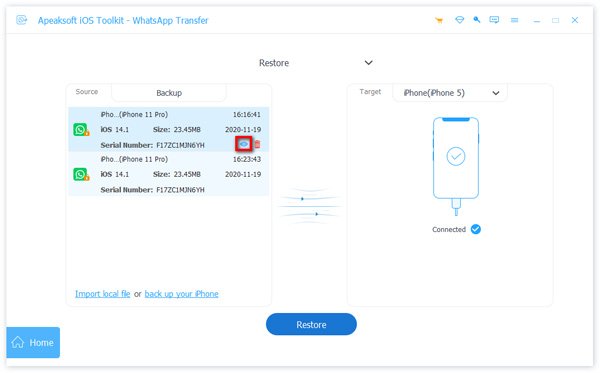 Part 3: FAQs about BackupTrans
Is BackupTrans free?
No, it isn't. Although there is a free trial, you have to pay for the full version. For free trial, you can only transfer up to 20 WhatsApp messages. To unlock the limit, you can purchase a plan:
$29.95 for 3 devices lifetime
$49.95 for 8 devices lifetime
There is also a business plan costs $169.95 for unlimited devices one year.
Does BackupTrans really work?
A PDF is a popular file type used to share documents that cannot be modified or reformatted. It is a great way to share across devices and print images that contain text such as brochures, reports, and more.
Is BackupTrans safe?
BackupTrans is a leading software developer in cutting-edge mobile management field. According to our research, it is safe to use and major antivirus software won't report malware if you download the software from official website.
Conclusion
BackupTrans is a professional kit that helps you backup and transfer WhatsApp on Android. Before deleting your messages and free up space, you'd better backup them to computer. Moreover, it is also an important tool when you prepare to upgrade from Android to iPhone. Apeaksoft WhatsApp Transfer, on the other hand, is more powerful and available to WhatsApp backup as well as transferring. If you have other questions, please leave a message in the comment area below this post.