"I have been using Android phone, and I want to transfer some files from Android to my computer. One of my friends said that there is a kind of USB flash drive, called OTG flash drive, which could transfer photos, music and other files between Android and computer, how to use it? Please help."

It is true that USB flash drive is a simple way to transfer files from Android to Mac/PC. However, there is some knowledge that Android owners should learn about, for example, what data categories USB flash drive could share between Android and computer? How to download music to USB and then transfer to computer?
And more.
Spending a few minutes, you can grasp all knowledge related to the Android to computer migration assistant in detail.
Part 1

: Transfer photos, pictures, videos and other files from Android to computer with flash drive

Though most PCs and Mac computers support to sync files from Android phone through USB cables, the process is a bit complicated. The MTP mode is available on Windows, while Mac only supports PTP mode. On the other hand, if you have an OTG flash drive or USB flash drive, it is an easy way to sync Android with Mac and PCs.

Step 1. First of all, you have to know how to transfer photos from phone to flash drive. Insert the OTG flash drive into the OTG port on your Android phone, unlock your smartphone and go to the File Manager app.

Step 2. Go to the DCIM folder and search for the photos that you want to transfer to computer. Select all desired pictures and tap on "Move to" and set the OTG flash drive as the destination. If you want to download music to USB, they usually saved in a folder called "Music".

Step 3. Remove the flash drive from your phone after transfer pictures from phone to flash drive, and insert the other end into the USB port on your Mac or PC. Then download the photos to local hard drive.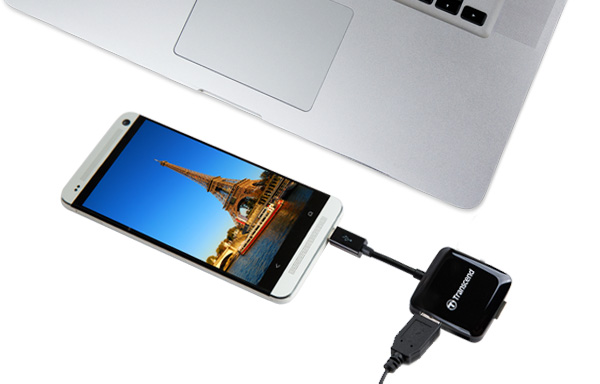 Note:There are some tips you have to know about USB flash drive:
1. USB flash drive is not only a simple approach to transfer pictures, music, contacts and other files between Android and Mac/PC, but also a commonly-used solution to transfer photos from one Mac to another computer. If you plan to share files between Mac computers, such as photos, all you need to do is to transfer photos from Mac to USB flash drive, and then download them to another device from flash drive.
2. The downside of flash drive is that it only supports limited data categories, like photos, videos, music, and contacts. To export contacts Android, you have to export them from Contacts app to storage in vCard file.
3. Some third-party apps do not allow you to move files to flash drive, for example, the music in Google Play Music encrypts all songs and you cannot transfer them with flash drive.
4. USB flash drive may not be detected on your computer for your inappropriate operations. (Check here to fix flash drive is not detected.)
Part 2

: Sync Android with PC/Mac through Bluetooth

Bluetooth is another simple migration assistant PC to Mac, Android to PC and Android to Mac. If you just want to transfer several songs or photos from phone to computer, Bluetooth is a good option. It does not require you to put music on a flash drive. But it is a disaster to share large files between digital devices through Bluetooth since it is very slow.
How to sync Android with PC through Bluetooth
Step 1. On Android phone, go to "Settings" > "Wireless & Networks" and turn on the Bluetooth feature. Then switch to your PC, right-click on the "Bluetooth" icon in the "Notification tray" on the desktop, select "Add a Device", choose phone's name and click "Pair".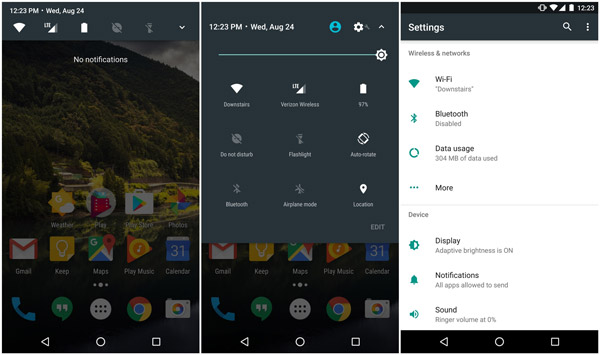 Step 2. Next, turn on your phone and hit "Pair" on the popup message. Make sure the pair code on both devices is the same. Open the File Manager app and locate to the Music folder, select desired songs, tap "Share" > "Bluetooth" and press your PC.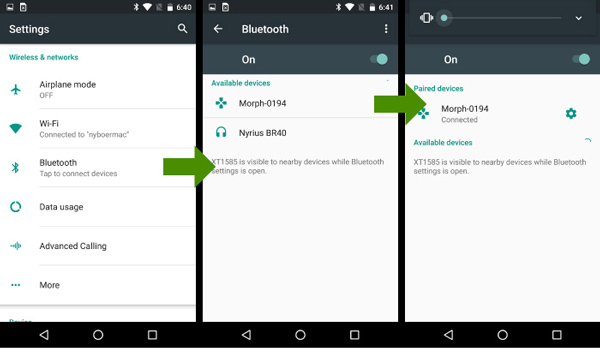 Step 3. On your PC, click the Browse button and select a destination to save the music. Finally, hit the "Accept" button to initiate syncing Android to PC through Bluetooth.
Bluetooth is able to sync Android with Mac as well, apart from connecting Android to Macwith Android File Transfer; however, Mac OS has serious system permissions, so you can add photos, music and other files from Mac to Android through Bluetooth, but it is invalid to download files from Android to Mac.
Part 3

: How to export Android files to computer with FTP

FTP, also called File Transfer Protocol, is a standard network protocol used to share files between Mac and Android phone. Today, some Android phones have integrated such feature, like Xiao Mi. Once establish the connection between Android and computer via FTP, you can look at all files saved in your phone on your computer. To use FTP, you should have a good Wi-Fi network.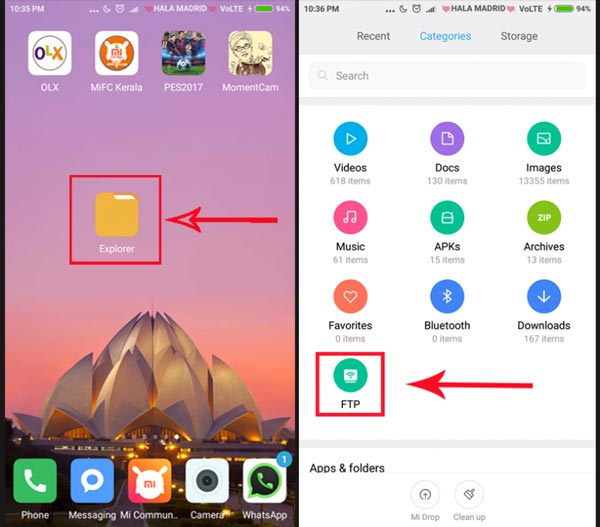 How to export Android files to computer with FTP
Step 1. Make sure to connect your computer and smartphone to the same Wi-Fi network (Check here to Fix Wi-Fi Not Working on iPhone). Open the "File Explorer" app on your Mi device and tap on "FTP".
Step 2. Touch "Start server" and select where you want to look at on your computer, such as "SD card" or "Internal storage". Then Mi device will show you a FTP address for syncing Android with computer.
Step 3. Open your browser on computer and access the address, then all files in your Mi device will be presented on your computer screen. To share files between Mac/PC and phone, drag and drop the files to corresponding location.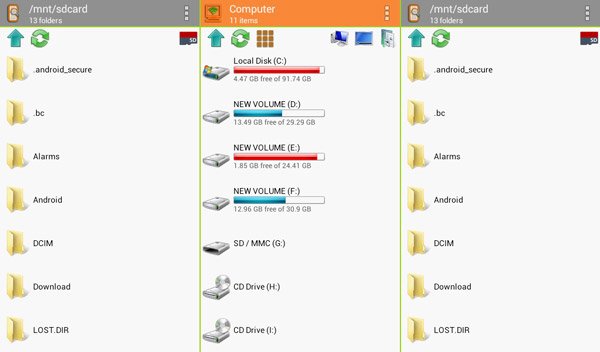 Part 4

: FAQs of Transferring Android Data to Computer

1. How to transfer all data from old phone to a new Android phone?

In addition to the above ways, you can use Google Drive to transfer all your data from your old phone to your new Android phone, including apps, contacts, calendar entries, and events, your passwords and other things.

2. How do I transfer files from PC to Android?

The direct way is to copy the files with USB. Connect your Android phone to the computer with a USB cable. Then, copy files on computer and paste the copied data to Android phone.

3. Why is my Android phone not connecting to my computer via USB?

If your Android cannot connect to a PC via USB, the fault may be caused by faulty USB cable. You need to check if you use the right cable, and try connecting the phone to a different USB port and check.

4. How to transfer Android contacts to iPhone?

You can use Google Drive to import contacts from Android to iPhone. Or copy contacts from Android to iPhone by SIM Card.
Conclusion
In this tutorial, we have shared how to transfer photos from phone to flash drive and then download them to your computer. As you can see, USB flash drive, such as OTG flash drive, is a great migration assistant PC/Mac and Android phone.
Compared to Bluetooth, it is faster on transferring data, and flash drive does not require Wi-Fi connection as well. Though it does not work on all data categories, USB flash drive is trustable when transferring pictures, music, contacts and documents between Android and PC/Mac.
If you have more questions, please leave a message below this article, we will reply it as soon as possible.