It is very easy to save contacts on iPhone for keeping in touch for entertainment or business.
However, when you switch iPhone to Mac for dealing with something that iPhone cannot do, how about the contacts?
Of course, just import iPhone contact to Mac.
How to sync iPhone contacts to Mac?
That is the point today.
We shall share the best 4 ways for you to transfer iPhone contacts to MacBook, MacBook Air, MacBook Pro, Mac Mini, iMac, iMac Pro and Mac Pro.

Part 1: How to sync contacts from iPhone to Mac using iCloud
iCloud is another service that Apple released for users to backup and share multiple iPhone contacts to Mac. And you can do it through your web browser and the iCloud app on Mac.
Step 1. Backup iPhone contacts to iCloud.
Unlock your iPhone, go to "Settings" > "iCloud" and make sure to turn on the "Contacts" option. Then your contacts will be synced to iCloud once your iPhone connects to a Wi-Fi network.
If you toggle on "Photos", then the photos and videos will be synced from iPhone to Mac in the Camera.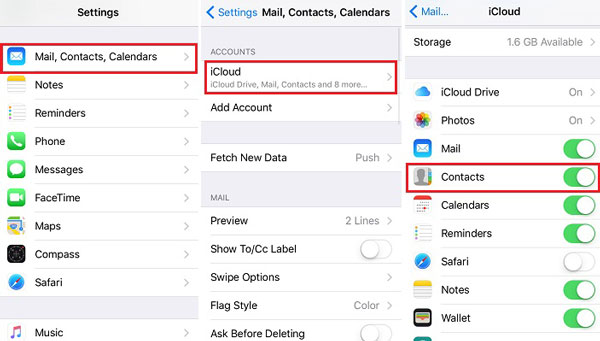 Step 2. Add iCloud account on Mac
Open "Contacts" on your dock, click "Contacts" in the menu and select "Preferences" > "Accounts" > "+" > Select "iCloud" to enter your account and credentials > "Sign In" to add iCloud account to your Mac.

Step 3. Sync iPhone contacts to Mac automatically
Check the box of the "Contacts" option, your iPhone contacts will be synced to Mac's Contacts app automatically.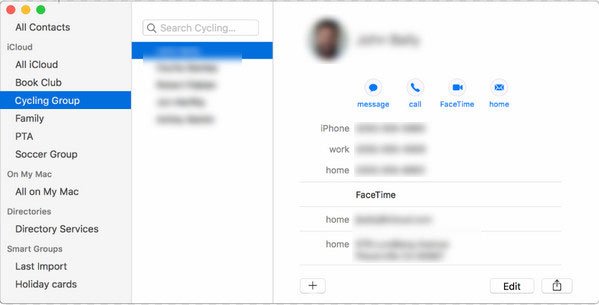 Part 2: How to sync contacts from iPhone to Mac via AirDrop
AirDrop is an ad-hoc service released by Apple in 2011. It is able to transfer content between iPhone and Mac. If you only have several iPhone contacts to transfer to Mac manually, AirDrop is a better option.
The biggest benefit of AirDrop is that you can share contacts from iPhone to Mac wirelessly, even though there is no Wi-Fi network available. Plus, it is faster than Bluetooth and does not have any limitations on file format and size.
Step 1. Swipe upward from the bottom of iPhone screen to open the "Control Center". Touch the "Bluetooth" and "Wi-Fi" icons to turn them on. Then enable the "AirDrop" feature on Control Center as well. You will be presented three options, Off, Contacts Only and Everyone. We suggest you to select "Everyone".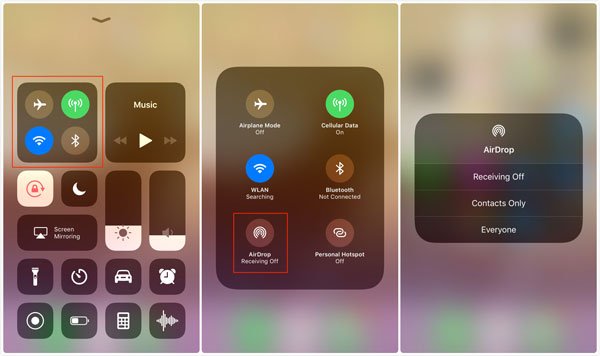 On iPhone X, swipe downward on the right hand side of the notch to open the Control Center and long press the Network box to find the AirDrop feature. And you only need to turn on the Bluetooth and Wi-Fi options, but not connect to another device or a Wi-Fi network.
Step 2. Next, Open the Finder app on Mac, head to "Go" > "AirDrop" and select "Everyone" in the drop-down menu of "Allow me to be discovered by". When you see your iPhone appears on the window, it means the AirDrop connection is successful.
Step 3. Turn on your iPhone again, go to the Contacts app on your iPhone. Select the contacts you want to sync to Mac and tap on the "Share" button to activate the menu bar. Then choose your Mac computer on the AirDrop list.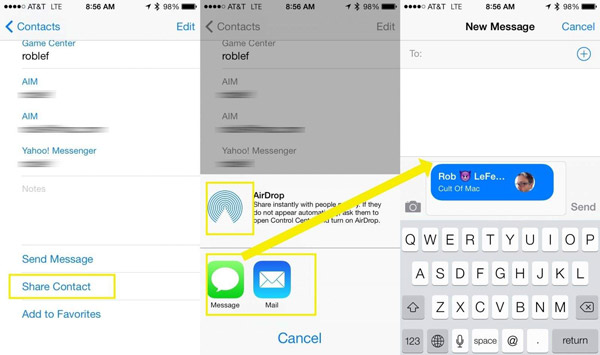 Step 4. Go to your Mac computer and accept the contacts and start syncing. When it is done, remember to turn off AirDrop on both iPhone and Mac. That could protect your information and prevent strangers to access your devices.
As said before, AirDrop is suitable to import several contacts from iPhone to Mac. If you want to sync all contacts between iOS and Mac, it may take a while to complete the process.
When you want to AirDrop from iPhone to iPhone, just visit this page: How to AirDrop from iPhone to iPhone
.
Part 3: How to sync contacts from iPhone to Mac with iPhone Transfer
As the best alternative to iExplorer, Apeaksoft iPhone Transfer is a professional contacts transfer tool for iOS devices. Compared to other tools, you can enjoy more benefits, such as: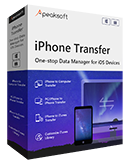 4,000,000+ Downloads
Sync contacts from iPhone to Mac in one click.
Manage iPhone contacts, like delete, add, edit, de-duplicate, etc.
Keep synced contacts and original contacts intact safely.
Compatible with the latest macOS Sonoma and iOS 17.
Step 1. Install iPhone contact transferring application
Download iPhone Transfer for Mac to your computer. There is a dedicated version for Windows version. Double click the installation file and follow the onscreen instructions to get the best iPhone transferring application installed on your Mac.
Hook up your iPhone to your Mac using the Lighting cable. You'd better use the original cable came in the box when you bought the iOS device. Then start the application and it will recognize your iPhone automatically.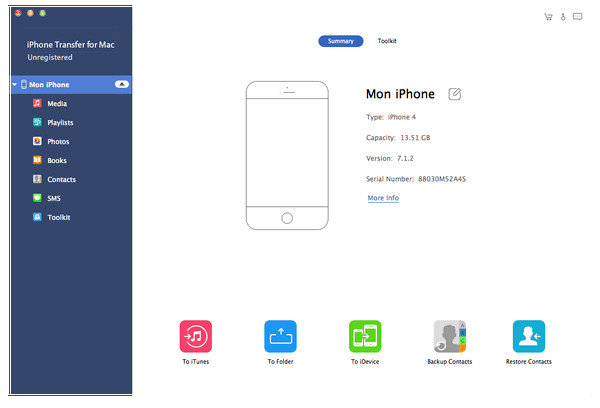 Step 2. Preview iPhone contacts before syncing
Choose the "Contacts" option on the left ribbon. Then all iPhone contacts will show up on the right panel.
Select the contacts you'd like to transfer from iPhone to Mac by ticking the checkboxe in front of them. Then locate to the top of the window, click the "Import/Export" > "Export to Mac".
Here, you are also given other options like media files, SMS, books, etc. to backup photos, copy music, transfer books, and sync messages to Mac.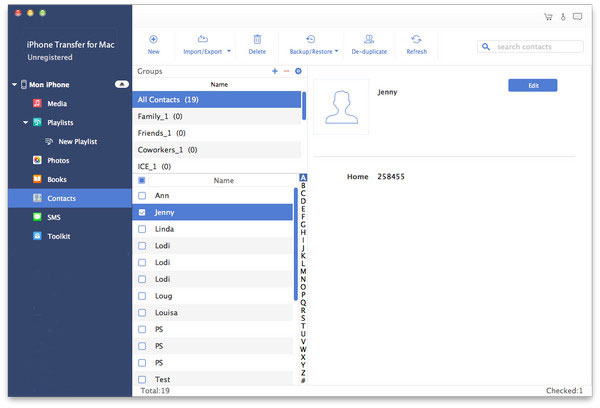 Moreover, you can manage them before syncing to Mac. To remove duplicate contacts and merge them, for example, click the "De-duplicate" menu on top of the window, choose a match type and press "Merge" to merge iPhone contact duplicates. If you want to edit contacts, select anyone to open it. Then you can add photo by clicking the "edit" button below the photo area, or change phone number and other information as you wish.
People also read:
Part 4: How to sync contacts from iPhone to Mac with iTunes
Last method is choosing iTunes to help you sync contacts to iPhone.
Step 1. Connect iPhone to computer
Use the Lightning cable to connect your iPhone and computer. Launch the latest version of iTunes and wait for it to detect your device.
Step 2. Sync iPhone contacts to iTunes
Click the "iPhone" icon at upper left corner and find out the Info option under Settings section on left sidebar. If it does not appear on left side, click "Summary" and then hit "This computer" under "Backups" >and "Back Up Now" option under "Manually Back Up and Restore" to backup contacts from iPhone to Mac.
You may need: How to sync iPhone with iTunes Wi-Fi Sync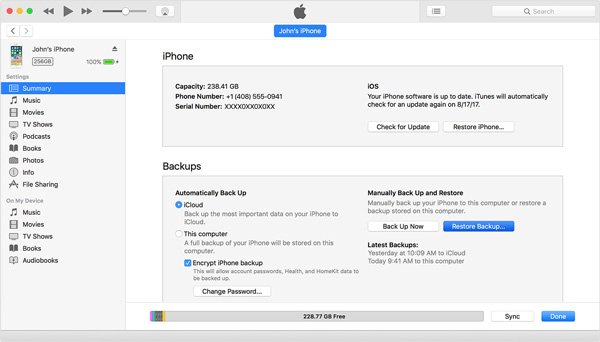 Extract contacts from iTunes backup
The contacts backup on iTunes will be stored on your Mac as the library file, and you cannot view or open them directly. You need the third-party tool to restore iTunes backup on Mac for using it.
Conclusion
In this tutorial, we have shared multiple ways to sync contacts from iPhone to Mac simply and quickly. These ways have unique advantages, which make them suitable to different situations. First of all, iCloud is a good way to sync contacts between iOS and Mac for free, but it will replace the contacts on Mac with iPhone backup. iTunes does not seem to be a good option. AirDrop is the wireless way, and you need to bear the slow speed. Only iPhone Transfer works great to import contacts from iPhone to Mac.