Want to transfer WhatsApp chats, messages, images, and other related files from your old iPhone to a new Android phone?
When you search for a WhatsApp transfer app to copy WhatsApp data from an iOS device like iPhone or iPad to an Android phone, you may finally turn to the WazzapMigrator. However, WazzapMigrator is not a free app, and it doesn't offer any free trial. Surely you want to know more information about WazzapMigrator before you choose to pay for it.

WazzapMigrator Review
Considering your need, this post like to give you a detailed WazzapMigrator review. You can learn core features of this WhatsApp data transfer, and know its pros and cons. What's more, we introduce you with a great WazzapMigrator alternative to better manage and transfer various WhatsApp data.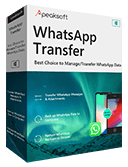 4,000,000+ Downloads
Transfer various WhatsApp data between iOS and Android devices.
Support many WhatsApp files including chats, photos, videos, attachments, etc.
Backup WhatsApp data, preview and restore WhatsApp files.
Compatible with all popular models of iOS/Android devices and systems.
Part 1. WazzapMigrator Review
WazzapMigrator is a popular WhatsApp data transferring app which mainly used to transfer WhatsApp history from iPhone to Android phone. It only offers an Android app for users to download and use. So, you need to create a new backup of various WhatsApp data on your iPhone or iPad first, and then extract and copy these WhatsApp chats to your Android device.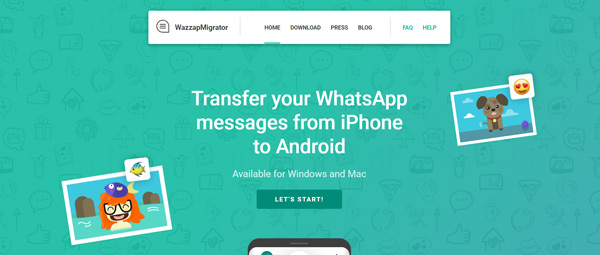 WazzapMigrator supports all types of WhatsApp files, such as messages, emojis, images, audio tracks, video clips, documents, locations, contacts and more. It has the capability to extract WhatsApp data from an old iTunes backup on your Windows PC or Mac. What's more, WazzapMigrator enables you to move WhatsApp history from Google Backup and Dropbox.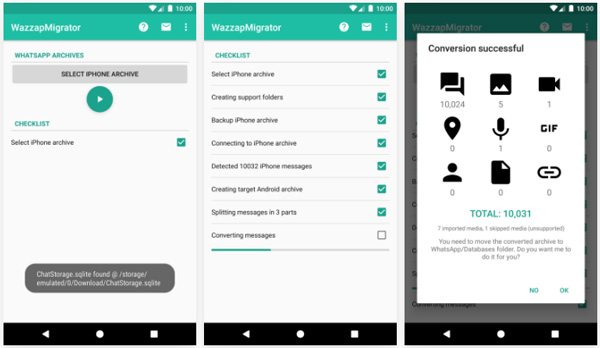 When you want to download WazzapMigrator, you can search for and purchase it from Google Play Store. Or you can go to the official WazzapMigrator site and then go to Google Play. If WazzapMigrator app is not purchasable in your country, you are able to buy it through Huawei AppGallery Store. It costs $8.49 in Google Play.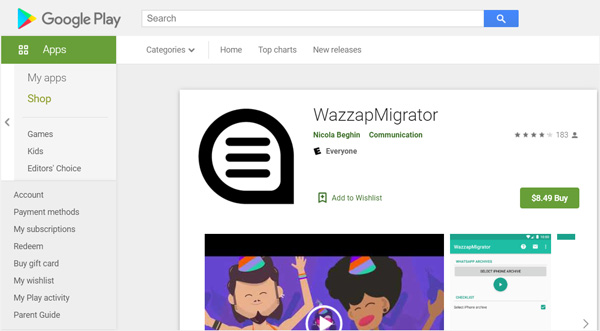 Pros of WazzapMigrator
1. WazzapMigrator provides a simple way for new Android users to quickly move WhatsApp data from old iOS device to Android phone.
2. WazzapMigrator is easy to use and can transfer all types of WhatsApp files like texts, images, videos, audios and documents.
3. Extract WhatsApp data from old iTunes backup.
Cons of WazzapMigrator
1. Many WazzapMigrator users have reported that some WhatsApp chats were missed after transferring them to the other device.
2. WazzapMigrator may not copy all WhatsApp files like images, videos or emojis.
3. WazzapMigrator may fail to analyze the WhatsApp backup or freeze on transferring content.
4. WazzapMigrator is a paid WhatsApp transfer app that lacks more transferring features. It only allows users to transfer WhatsApp data from iPhone to Android phone.
Part 2. Best WazzapMigrator Alternative
Before you decide to buy WazzapMigrator, you should try some professional WhatsApp data transfer which offers a free trial. Here we strongly recommend the powerful WhatsApp transferring software, WhatsApp Transfer for you.
This WazzapMigrator alternative is equipped with more transferring solutions. It enables you to transfer WhatsApp from iPhone to Android phone, from iOS to iOS, and from Android to Android. It highly supports all WhatsApp files saved on your iPhone.
WhatsApp Transfer can help you back up your valuable WhatsApp chats to computer. What's more, when you need to recover some lost or deleted WhatsApp files, you can also rely on it to restore entire chatting history or one specific chat from backup. It is designed with a preview feature for you to better manage, select and transfer WhatsApp data.
Step 1 First, you should double click on the download button above, and then follow the instructions to free install and launch this WhatsApp transfer on your computer. When you enter it, select the WhatsApp Transfer option.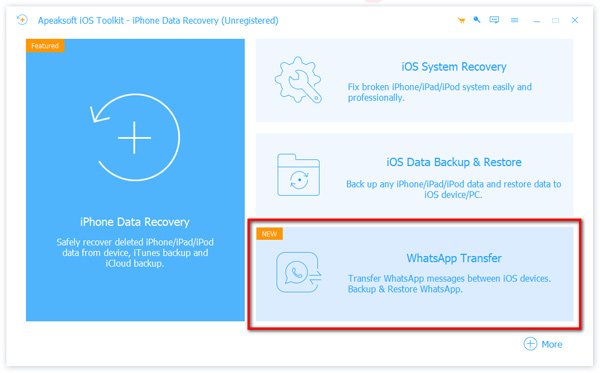 Step 2 You are given 3 options to manage and transfer your WhatsApp history, Device-to-device Transfer, Backup and Restore.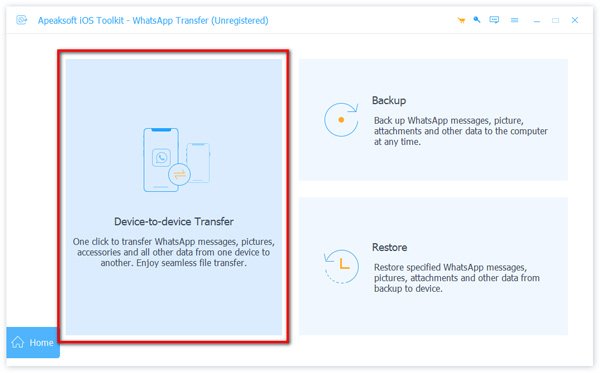 Here you can choose to back up your iPhone WhatsApp files to computer and then transfer them to your Android phone. Also, you can choose to directly connect two devices and start transferring WhatsApp between them.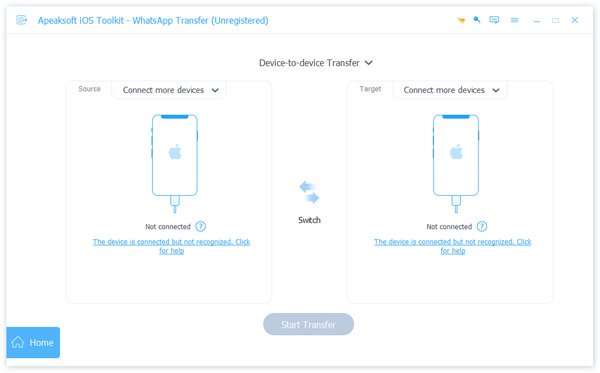 Part 3. FAQs of WazzapMigrator
Is WazzapMigrator safe?
Yes. If you can download the WazzapMigrator app from Google Play, you can use it to transfer various WhatsApp data with no worry.
Does WazzapMigrator work from Android to iPhone?
No. WazzapMigrator cannot be used to transfer WhatsApp messages and attachments from Android to iPhone. It doesn't offer an iOS app for you to do that.
What phones are compatible with WazzapMigrator?
Almost all iPhones and Android phones are compatible with WazzapMigrator. If you can access this WhatsApp transfer app in Google Play Store, you can use it on your device.
Conclusion
We have discussed WazzapMigrator, its features, pros, and cons in this post. Hope you can get more information from this WazzapMigrator review. Try the recommended WhatsApp Transfer before you pay for the WazzapMigrator.