While many users regard Wondershare TunesGo as the must-have phone manager, others consider it over-rated. As one of the most popular phone management tools, it does gain reputation, but it is really worthy of your downloading?
Here, we spend over 20 hours on testing Wondershare TunesGo, and the following reviews will help you to decide to take it or not.

Wondershare TunesGo
Part 1

. What Does Wondershare TunesGo Do?

Wondershare TunesGo is the phone manager for iPhone and Android.

It transfer and backup data between iPhone/Android and computer/iTunes, or just sync files from one phone to another phone. Wide data type support from contacts, photos, SMS to music, videos and more. Apart from the transfer feature, it lets you add, delete, edit and merge contacts and other data on computer directly. Besides, it could let you uninstall or export apps to free up more space. Toolbox also lets you create GIF, build iTunes Library, and root Android phone to get more controls of your phone.

All the features seem to be perfect as the iTunes alternative.

Now, let's see check the details.

For using Wondershare TunesGo, you should download this software from its official page. It has both Windows and Mac version, and you just get the correct version to your computer. Then run this software on your computer. In the main interface, you could see it is categorized by data types and functions. Here we will take data types to show how to use this software.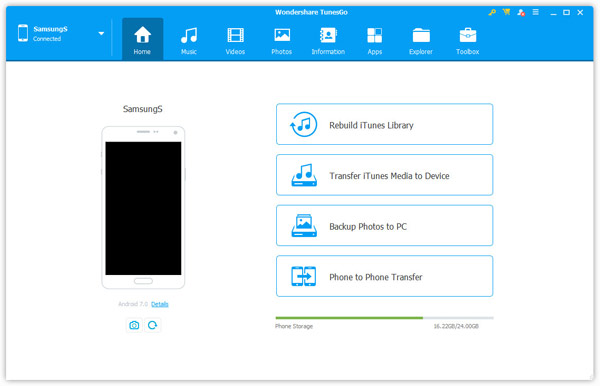 1Manage iPhone and Android Music with Wondershare TunesGo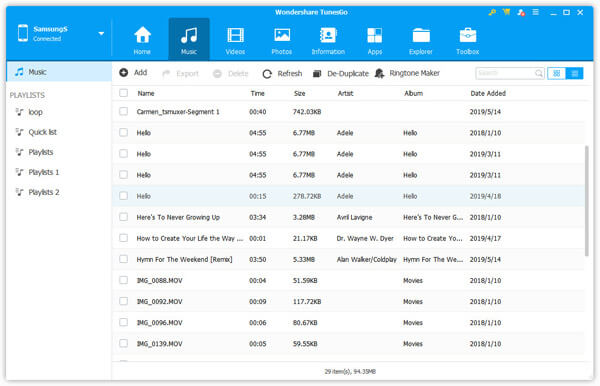 Click "Music" tab at the top and you will see all the music file types and playlists display in the left pane, "Music", "iTunes U", "Podcasts", "Ringtone", "Audiobooks", and "Playlists". For Android phone, you could only find "Music" and "Ringtone".
Then click one music type on the left side, and all the details will show up on the right window.
Here, you will see "Add", "Export", "Delete", "Refresh", "De-Duplicate" and "Ringtone Maker".
As the button names show that, you could transfer music between phone and computer, delete music from phone, and sync music between phone and iTunes Library, find and remove duplicated music files, create/add/delete/export playlist to phone/computer/iTunes Library.
2Manage iPhone and Android Videos with Wondershare TunesGo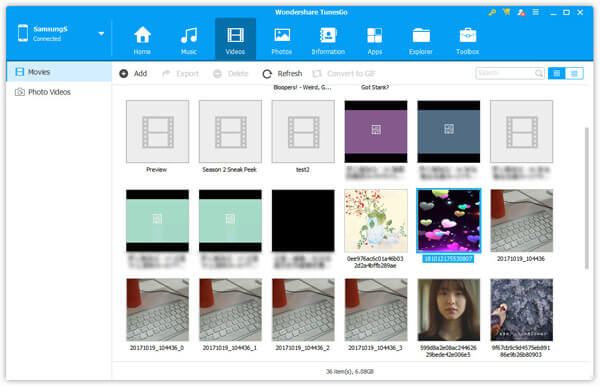 Let's switch to "Videos" tab, and you will find the "Music Videos", "Home Videos", "TV Shows", "iTunes U" and "Podcasts", while only "Movies" and "Photo Videos" on Android.
On the right function options, "Add", "Export", "Delete" and "Refresh" are left to you.
Again, just select the data type from the left side, checkmark the items, and then you could easily transfer videos among computer/iTunes Library, iPhone and Android, delete videos from phone, and refresh the data after reconnecting your phone to computer.
3Manage iPhone and Android Photos with Wondershare TunesGo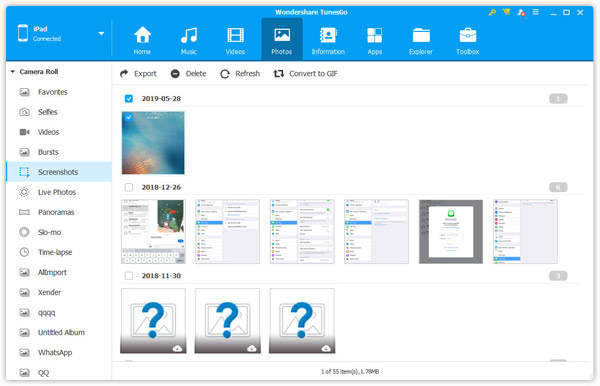 After switching to "Photos" tab, you will see "Camera Roll", "Photo Library", "My Photo Stream" and "Photo Shared".
As for its management tools of photos, you will find "Add", "Export", "Delete", "Refresh" and "Convert to GIF".
You could copy photos between phones or between phone and computer, delete images from iPhone and Android, create and delete photo albums, even share photos among photo albums.
For the GIF maker, you could add photos from your phone, and create into GIFs. For Android phone, it also lets you capture the current screen on Android and save the screenshot to your computer.
4Manage iPhone and Android Contacts and SMS with Wondershare TunesGo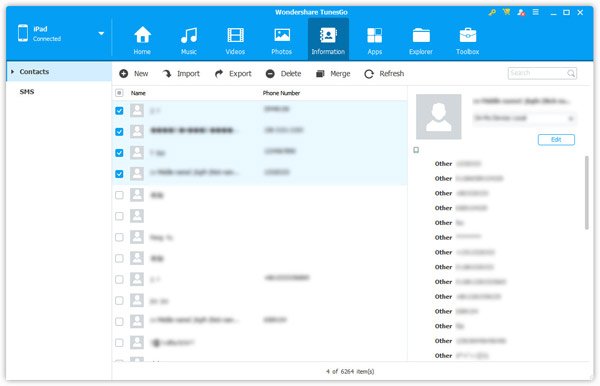 When you navigate the "Information" tab, you could see "Contacts" and "SMS".
"New", "Import", "Expor", "Delete", "Merge" and "Refresh" are the controls you can do in these two data types.
You could transfer contacts among iPhone, Android and computer. Deleting unwanted contacts from phone, editing the contact information, adding new contact to your phone directly, finding and removing the duplicated contacts are supported. For the group contacts, you could add/delete one contact into group, or transfer contacts from one group to another one.
When it comes to SMS, you could only backup SMS to computer from iPhone. As for Android SMS, it gives you more controls, like delete SMS, backup and restore Android SMS, and send SMS from PC to device.
Currently, this feature only works on Windows computer, instead of Mac.
5Manage iPhone and Android Apps with Wondershare TunesGo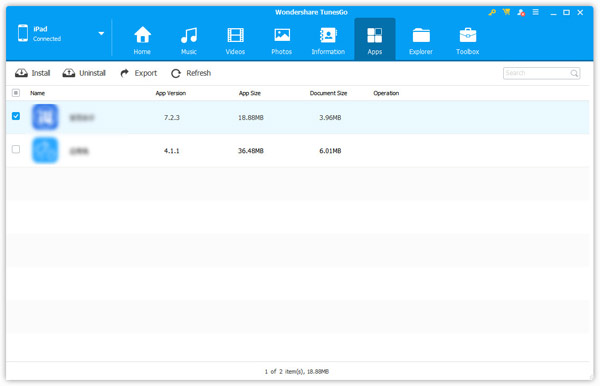 When it comes to "Apps" tab, you could find "Install", "Uninstall", "Export" and "Refresh".
It is very clear that you could install the apps directly via the downloaded apps on your computer, and uninstall the apps from your iPhone or Android phone. As for exporting apps, it lets you export the app and app data to computer for backup easily.
6Manage iPhone and Android File Explorer with Wondershare TunesGo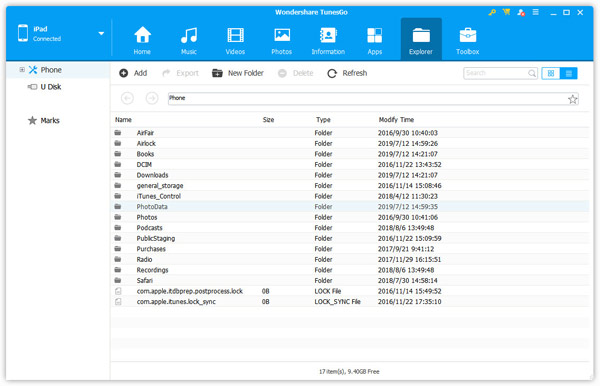 When you visit the "Explorer" tab, you could browse and manage all your phone files and folders without limit thorough "Add", "Export", "New Folder", "Delete", and "Refresh" options.
You could search and explore all the files on your phone, add files from computer to phone, export files or folders from phone to computer, and even mark the folders to access them quickly. While regarding your phone as the U disk or SD card you are able to export, import and delete folders or files in one click.
7Manage iPhone and Android Data via Toolbox with Wondershare TunesGo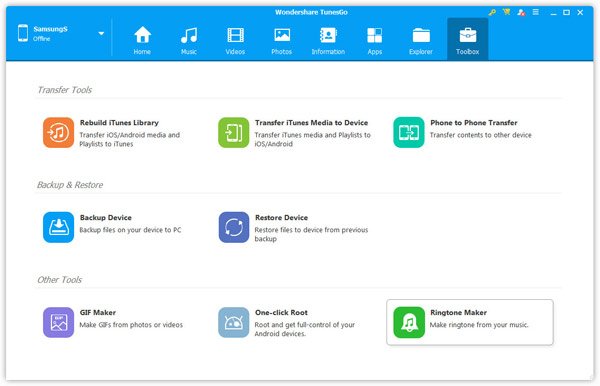 "Toolbox" is the extra highlights Wondershare TunesGo brings you. It has the transfer tools, backup & restore, and other utilities.
Here, we only make the general introduction about the toolbox.
It has the following features, "Rebuild iTunes Library", "Transfer iTunes Media to Device", "Phone to Phone Transfer", "Backup Device", "Restore Device", "GIF Maker", "Fix iOS/iPod" or "One-click Root" and "Ringtone Maker".
"Rebuild iTunes Library" lets you copy all the media files and playlists from iPhone or Android phone to iTunes Library, and "Transfer iTunes Media to Device" does the job on the contrary.
"Phone to Phone Transfer" realizes the task of one-click to share all the supported data between one phone and another phone.
"Backup Device" and "Restore Device" will help backup all your iPhone/Android data in one click to computer and restore the backup afterward.
"GIF Maker" gives you the option to create the animated GIFs with the videos and images.
"Ringtone Maker" will create the great ringtones for your iPhone and Android.
"Fix iOS/iPod" on iPhone, will help fix iPhone/iPad/iPod which can't be read by iTunes, and iPod failing to load music.
"One-click Root" on Android will root your Android device in 1 click without the fear of voiding your warranty.
The above are what Wondershare TunesGo can do for you.
Still have some confusion about this software?
Just keep reading.
Part 2

. FAQs and Reviews of Wondershare TunesGo?
1Is Wondershare TunesGo Free?
No.
Wondershare TunesGo has provided three types for an annual subscription, TunesGo (iOS Devices), TunesGo (Android Devices) and TunesGo (Suite). The price is $29.95, $39.95 and $49.95 respectively.
If you need to lifetime license, then the cost will be $39.95, $49.95 and $59.95 respectively.
Sure, it also offers users the free trial version with limited files transfer. Like 10 media files for transfer and edit, 10 images for transfer, and 10 text files (contacts and SMS) for copy.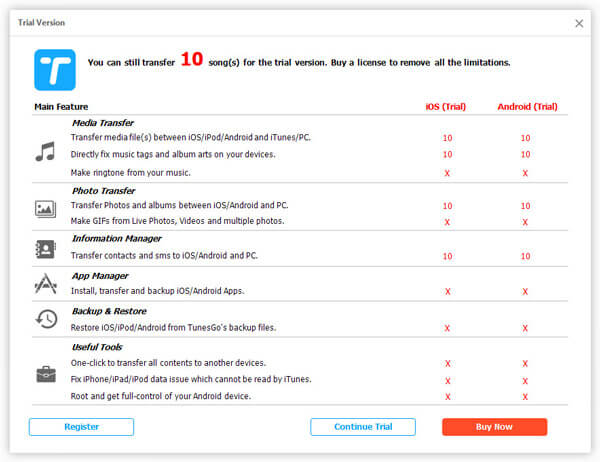 2Is Wondershare TunesGo Safe?
Currently yes.
While free download this software online to computer, there is no virus report.
When managing all data on iPhone or Android on this computer, all the transferring process is offline.
If you have something important, you could use this software offline.
3What Is the Reviews of Wondershare TunesGo?
Is it a program worth using?
To read the reviews below and then make the decision.
Pros

It is easy to make data transfer.
Support multiple-side transfer, from iOS to Android, computer to Android, iOS to computer, etc.
Get rid of iTunes to transfer data without erasing files.
Support various data types, like contacts, photos, videos, SMS, etc.
One-click operations of backup $ restore, device to iTunes Library and iTunes Library to device.
Faster than iTunes to complete the whole task.
Delete, add, edit and move photos, contacts, music, video, etc., easily.
Cons

Smart Playlists can't be edited and other playlist formats can't be imported.
The price is a little expensive.
It some crashes when transferring massive data.
Fail to connect some Android devices.
It does not support the latest Android 9.0.
In one word, this software is a Wow tool to help manage your iPhone and Android.
However, when it comes to the details, many of users may be not satisfied with the price and some features.
As a result, we will share the best alternative to TunesGo in the next part.
Part 3

. Best Alternative to Wondershare TunesGo - MobieTrans

Apeaksoft MobieTrans is the replacement of TunesGo.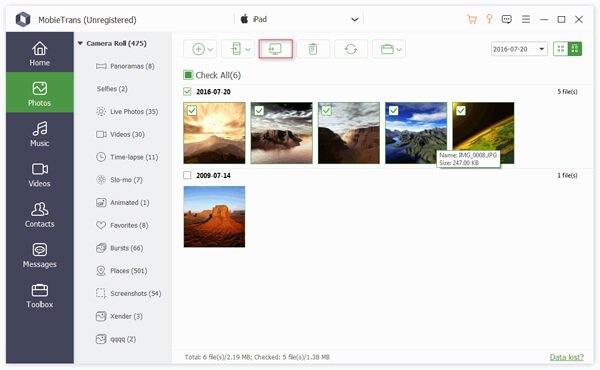 MobieTrans
It is the one-stop solution to help manage your iPhone and Android files on computer by getting rid of iTunes. With it, you could make the whole file transferring process smooth and quick. Moreover, it gives you more controls to delete, edit, or create playlists, albums, contacts, etc., conveniently.
Here, let's see why it can be the best alternative to TunesGo.
Apart from the user interface, and transferring speed, both of the two software work great. Besides, there are some differences that you could check in the following.
Features
MobieTrans
TunesGo
Icon
Lifetime license price
$35.97
$59.95
Support iOS 16
Support Android 9.0
Photos manager
Import, export and delete photos from iPhone and Android.
Create photo albums, delete albums, and move photos from one album to another album.
Music/Videos manager
Transfer music/videos between phones, between phone and computer.
Manage music playlist list like delete, create, and copy.
Add ringtones to alarms.
Delete music/video files.
Contacts manager
Import and export contacts for iPhone and Android.
Edit, add, delete and merge contacts.
One-click to backup and restore contacts.
SMS manager
Export messages and message attachments for iPhone.
Export and restore messages for Android.
File explorer
Access to the storage of your phone and use phone as a flash drive.
Toolbox
Import and export between iTunes and phone.
One-click to backup and restore.
Create GIF
Fix iPhone and Android
Convert HEIC files to JPEG and PNG.
Create ringtones
Free Download
From the comparison above, you could note that MobieTrans does a similar task as TunesGo, but the price is costing. Certainly, in some function support, TunesGo can do what MobieTrans cannot do.
So if you have your budget, then but want to realize some features that MobieTrans can do, and then the latter is a smart choice.
Conclusion
When you lost files on Android phone, you can use the data recovery software to access the deleted data with third-party tools. Though the tools require the root permission, you could still use Apeaksoft Data Recovery, which helps you recover data from unrooted Android phone by reading SD card easily.
Which one would you take?
Do you have any better suggestions as the replacement of TunesGo?
Let me know by leaving your comments below.