Now, prioritizing the security of our online accounts is more critical than ever. One such account that requires frequent password updates is our iCloud account, which houses our sensitive personal data. Changing your iCloud password is a crucial step if you suspect a security breach or simply want to enhance your account's protection.

How to Change iCloud Password
This post will tell you how to change iCloud password, ensuring your personal information and digital assets remain safeguarded.
Part 1. What Is iCloud and How Does It Work
iCloud is an official cloud storage and computing service provided by Apple. It lets you store and access your iOS data across multiple Apple devices, including iPhones, iPads, and Macs. iCloud offers many features to manage, synchronize, and back up various files, photos, videos, and other digital content.
iCloud is designed to simplify the way users interact with their data. It utilizes cloud computing technology to store data in remote servers and delivers it seamlessly to connected devices. You can access your files from any associated device, eliminating the need for physical storage devices and allowing for greater mobility and flexibility.
Besides file storage and photo management, iCloud provides several other noteworthy features, including iCloud Keychain, which securely stores and auto-fills passwords, credit card information, and other sensitive data across devices. It also offers iCloud Backup, which automatically backs up users' devices, ensuring that important data is protected during device failure or loss.
Part 2. How to Access iCloud If I Forgot iCloud Password
If you forgot your iCloud password, you can access your account on the iCloud website. When you reach the iCloud login page, click the Forgot Apple ID or Password link.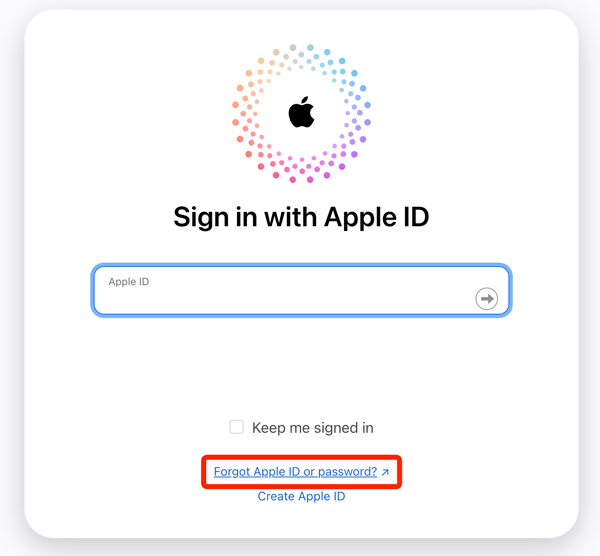 Enter the Apple ID associated with your iCloud account in the provided field. It is usually your email address. Enter and confirm your phone number if prompted. You get options to reset your password. Use a nearby Apple device to change your iCloud password, select to receive an email, or answer security questions.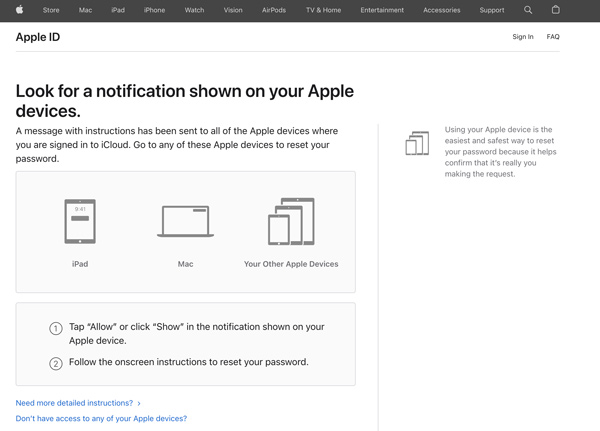 If you choose to receive an email, a related link will be sent to the primary or rescue email address associated with your Apple ID. Click the link in the email to change your iCloud password. You can also provide the answers to the questions to reset your iCloud password.
Enter a new password and confirm it. Ensure to create a strong, unique password to protect your account. Once you have successfully reset your iCloud password, go back to the iCloud website and sign in using the new passcode.
Part 3. Learn 3 Simple Methods to Change Your iCloud Password
Changing your iCloud password is essential for maintaining the security of your Apple account. Besides the method above, you have three other methods to change your iCloud password with ease.
Change iCloud Password on Your iPhone or iPad
Step 1 Open the Settings app on your device and tap your Apple ID name. Select Password & Security from the options. Tap Change Password and enter your passcode to continue.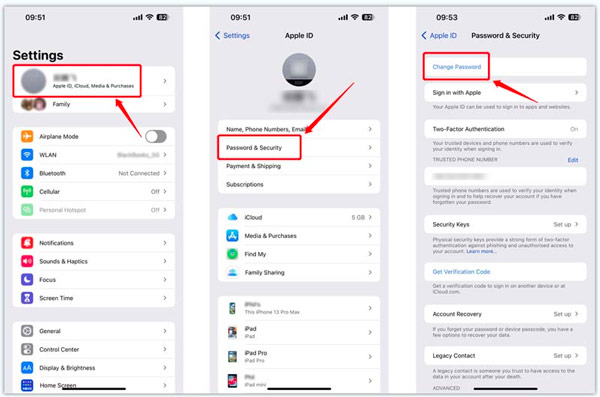 Step 2 Create a new iCloud password. Be sure to use a combination of numbers, letters, and special characters for added security.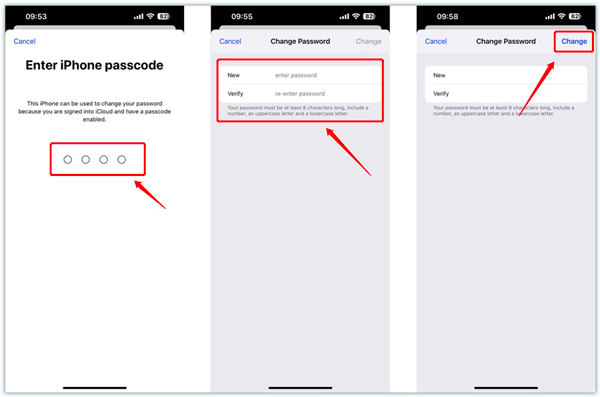 Change iCloud Password on Your Computer
Step 1 Open any web browser on your computer and visit the iCloud website. Sign in to your iCloud account. Then, you will be taken to the Sign-In and Security section.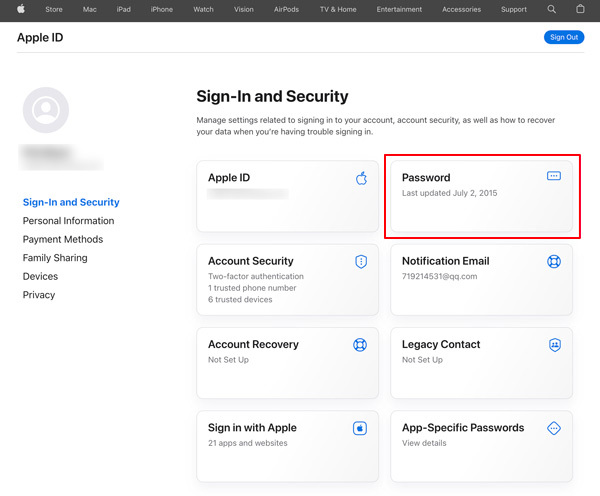 Step 2 Click Password under the section to change your iCloud password. You are required to enter the current password to proceed. Avoid using easily guessable information like birthdates or names and reusing passwords across multiple accounts.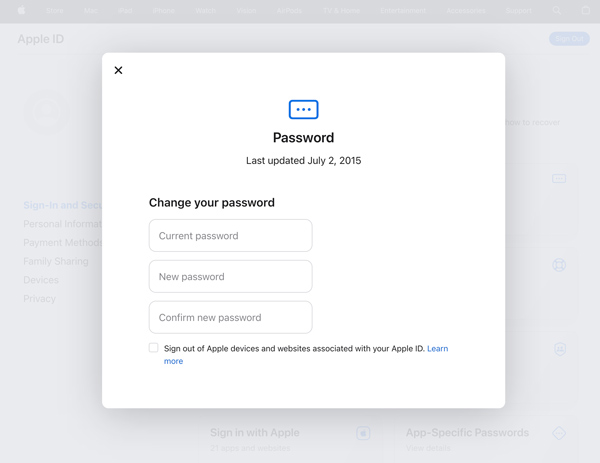 Change Your iCloud Password Without the Current Password
Suppose you don't know the current Apple ID passcode and prefer a simple way to change your iCloud password without giving associated information. In that case, you can rely on the all-featured Apeaksoft iOS Unlocker. It lets you remove your forgotten iCloud password and create a new one.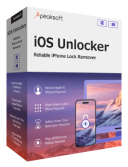 4,000,000+ Downloads
Change your iCloud password without the current one.
Restore the Apple ID password without a phone number or email.
Wipe the lock screen passcode, Face ID, and Touch ID on your iPhone.
Bypass the Screen Time restrictions and remove MDM without data loss.
Step 1 To remove or change your forgotten iCloud password using Apeaksoft iOS Unlocker, you should download and launch it on your computer first.
Step 2 Choose the Remove Apple ID option from the main interface of the software. Click the Start button to begin the iCloud password removal process. Connect your Apple device to the computer.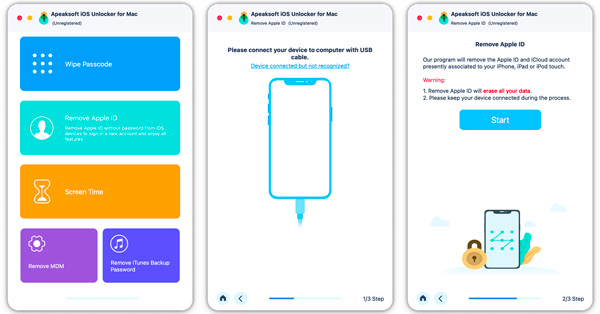 Step 3 Ensure the Two-factor Authentication feature is enabled on your device and enter 0000 to continue. iOS Unlocker will list some basic device information. Click the Start button to download the firmware package according to your device model. It will remove your forgotten iCloud password once the firmware package is downloaded.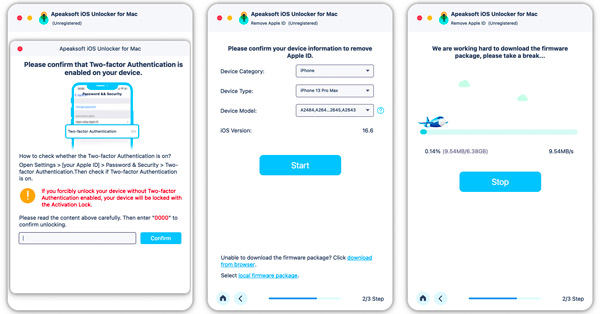 With any of these methods, you can easily change your iCloud password and maintain the security of your Apple account. Remember to keep your password secure and avoid using obvious personal information to stay protected.
Part 4. FAQs of How to Change iCloud Password
Why you should change your iCloud password periodically?
Your iCloud account houses many personal information, including emails, photos, contacts, and documents. Regularly updating your iCloud password decreases the risk of unauthorized access, identity theft, and potential loss of personal information. A strong and unique password ensures the safety of your digital assets.
How do you change your Apple ID password on a Mac?
Click the top Apple menu and choose System Preferences from the dropdown menu. Click Apple ID and choose the Password & Security option. Click Change Password and enter your Mac's administrator password if prompted. Complete the on-screen instructions to update your iCloud password.
Is the iCloud password the same as the Apple ID password?
Your iCloud password is typically the same as your Apple ID password. When you create an Apple ID, it is used for various Apple services, including iCloud. So, if you change your Apple ID password, it will also affect your iCloud password.
Can you change your iCloud password without your phone?
No, you usually need access to your iPhone to change your iCloud password. Apple requires verification through a trusted Apple device or a phone number associated with your account for security purposes. If you don't have access to your phone, you should contact Apple Support for further assistance.
Conclusion
Changing your iCloud or Apple ID password is a simple yet important step in securing your data. You can better secure your iCloud account by strengthening account security, protecting sensitive data, and discouraging credential-stuffing attacks.