For most iOS users, iCloud Activation Lock is a robust protective measure for an iPhone or iPad. However, there are times when you lock out of the devices, seeking methods to bypass this lock. One method that has gained attention is the iCloud DNS bypass. Whether you buy a second-hand iOS device with this lock or forget the iCloud password, here is a solution. Now, you can know the meaning of iCloud DNS bypass and how to operate it.

iCloud DNS Bypass
Part 1. What is iCloud DNS Bypass
iCloud DNS Bypass is a technique that allows you to temporarily remove the iCloud Activation Lock on an iPhone or iPad. By changing the DNS (Domain Name System) settings on the iOS device, you can redirect the device from Apple's server to a third-party server. Then, you can access the iOS device limitedly. However, this method doesn't remove the iCloud lock. And it only provides a way to interact with the device.
Part 2. How to Bypass iCloud DNS on iPad/iPhone [Free]
When you want to access an iOS device with iCloud Activation Lock temporarily, you can try bypassing iCloud with a DNS server. Please confirm that your iPhone or iPad installed a SIM card before bypassing. Then, use DNS to bypass iCloud lock by following.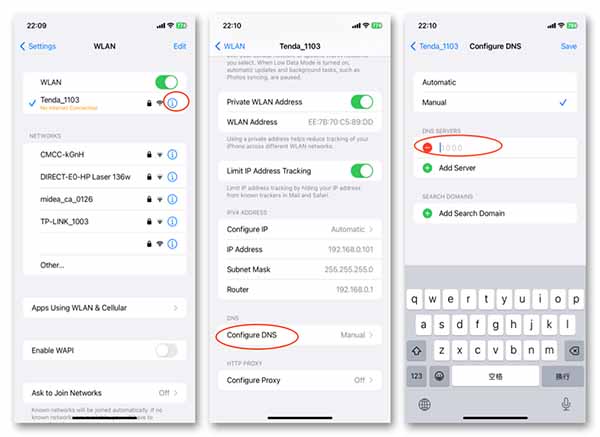 Step 1 Set up your iOS device as a new one. Follow the prompts until you reach the Wi-Fi Settings page.
Step 2 Tap the i icon next to the Wi-Fi you're connecting to. Scroll down to enter Configure DNS and select Manual.
Step 3 Delete the existing DNS. Then, tap Add Server to input the iCloud bypass DNS server.
The specific server address can vary based on your region:
USA: 104.154.51.7
Australia and Oceania: 35.189.47.23
Europe: 104.155.28.90
Asia: 104.155.220.58
South America: 35.199.88.219
Step 4 After entering the new DNS, tap Save to return to the Wi-Fi page and connect to the network. Continue with the device setup, and you'll be redirected to a custom iCloud DNS Bypass page.
It is not 100% working when bypassing the iCloud Activation Lock on iPhone or iPad via DNS. Moreover, when you restart iPad or iPhone, your device will return to the locked state.
Part 3. Best iCloud DNS Bypass Tool to Unlock iOS Device
The manual iCloud DNS bypass method offers a temporary solution. However, someone still seeks a permanent fix. Some tools are designed to bypass iCloud Activation Lock, recommended as Apeaksoft iOS Unlocker. This iCloud DNS bypass tool can unlock your iPhone or iPad without an iCloud password. It lets you get full control of your iOS device without any limits. Besides iCloud DNS bypass, it can remove Apple ID, bypass MDM lock, wipe passcode, etc. Download and bypass the iCloud Activation lock now!
Step 1 Download the iCloud DNS bypass tool on your computer. Connect your iPad or iPhone to desktop and tap Trust.
Step 2 Launch the software and select the Remove Apple ID option.
Step 3 Click the Start button. After a while, this software will remove Apple ID and bypass iCloud Activation Lock from this iOS device. Finally, you can have full access to the device.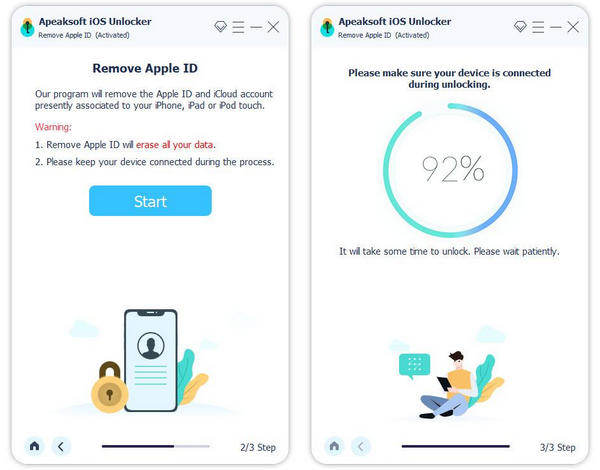 Note:
If Find My is disabled, the iCloud Activation lock will be removed automatically. Otherwise, you must first follow the on-screen prompts to turn it off.
| iCloud DNS Bypass | Bypass Statue | Operating Process | Compatibility | Best For |
| --- | --- | --- | --- | --- |
| DNS Server | Temporary bypass | Complex | iOS 8/9/10 | It is free and no installation. |
| Apeaksoft iOS Unlocker | Permanent bypass | Easy to use in seconds | All iOS versions | Remove iCloud DNS lock without data loss. |
Part 4. FAQs of iCloud DNS Bypass
Is it safe to bypass iCloud DNS?
While the iCloud DNS Bypass method is generally safe, it exposes the device to potential security risks, especially if the DNS server is not secure.
Does DNS bypass really work?
Yes. The DNS bypass method works to provide temporary access to the device. However, it doesn't remove the iCloud Activation Lock permanently.
Can DNS steal passwords?
A malicious DNS server can redirect users to phishing websites, which can then steal passwords. Therefore, it's crucial to ensure that the DNS server is safe.
Why is the iCloud DNS bypass not working?
The iCloud DNS bypass only works for partial iOS 8 to iOS 10 devices. It may not be compatible with newer versions of iOS, such as iOS 15/16/17.
Can I use iCloud DNS bypass on all Apple devices?
No. The method is primarily for iOS devices like iPhones and iPads. It might not work on other Apple devices like Macs or Apple Watches.
Conclusion
iCloud DNS bypass is an effective solution for many locked out of their iOS devices. It offers a temporary solution to access iOS devices. It offers a temporary solution to access iOS devices. Meanwhile, you can seek a more permanent fix using an iCloud bypass tool like Apeaksoft iOS Unlocker. Regardless of the method chosen, it's essential to prioritize device security and be cautious of potential risks. If you have other questions about iCloud DNS bypass, leave your comments here!