Previously, it was the privilege for musician to provide audience with music and visual artworks. Now, everyone can create an engaging visual experience under a constrained budget. It is well-known that producing high-quality music videos was costly. However, videos can help you a lot with marketing your music on platforms and social media, such as YouTube, as well as attracting attentions. That is why you should learn the top list of music video makers available to Windows, Mac, iPhone and Android.

Best Music Video Maker
Part 1: Top 4 Music Video Makers for Desktop
Top 1: Apeaksoft Video Converter Ultimate
The easiest way to make a video music is adding the song to a movie or video clip. Many vloggers attract followers with personalized music videos using Apeaksoft Video Converter Ultimate. That is a simple way to make fun.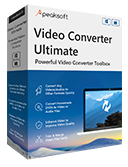 4,000,000+ Downloads
1. Create music videos with your own video, photos and music.
2. Optimize video and audio quality when editing.
3. Equip a clear interface and you can find everything quickly.
4. Available to Windows 10/8/7 and Mac OS X.
How to Make a Video Music by Your Own
Step 1Open video and photo
Launch the best music video maker once you install it on your PC. There is another version for Mac. Go to the MV interface from the top bar. You can select a theme from the Theme tab or use your own theme. Click the Add button above the storyboard and open the video and photo items. Next, arrange them on the storyboard. You can edit each item with the Edit menu.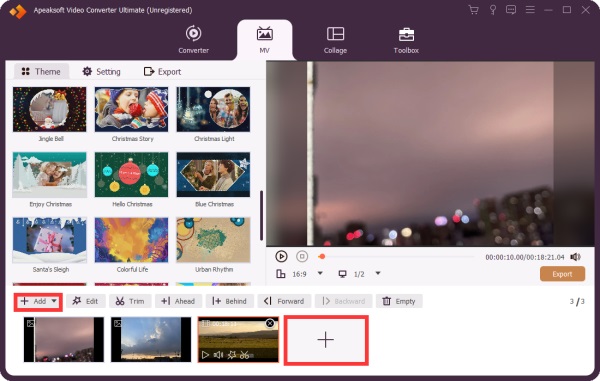 Step 2Add music
When the video is ready, head to the Setting tab on the left side. Tick the checkbox of Background Music option, and click the + icon to apply the song. Uncheck the box of Keep original audio track. That will remove the original sound from the visual items. Adjust the Volume and Delay options. Set other options and then preview the music video with the built-in media player on the right side.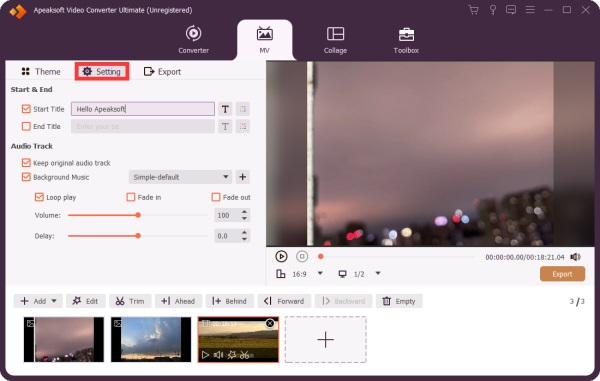 Step 3Save music video
Next, go to the Export tab. Enter a filename in the Name field. Pull down the Format option, and select a proper output format, like MP4. Decide the resolution, quality and more. Click the Folder icon and set the destination folder in Save to box. Finally, click on the Start Export button.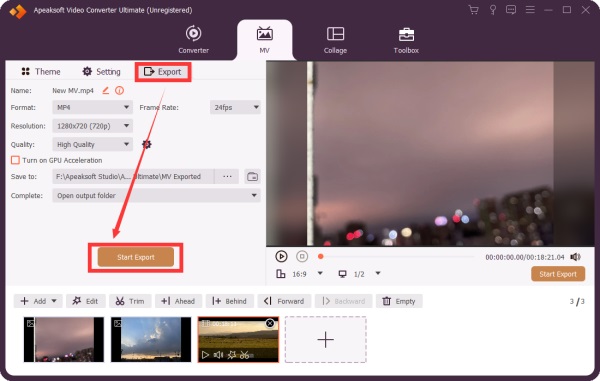 Top 2: Apeaksoft Slideshow Maker
Professional music video makers are hard to master, especially for beginners. Apeaksoft Slideshow Maker, on the other hand, builds in pro-level features in the way that everyone can learn in seconds.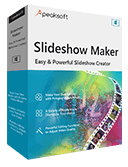 4,000,000+ Downloads
1. Create music videos like professionals.
2. Make music video producing streamline with templates.
3. Include a wide range of styles, presets and elements.
4. Offer bonus tools, like photo editor and video editor.
How to Create a Music Video like Professionals
Step 1Add visual items
Install the best music video on your computer. It is compatible with both PC and Mac. Head to the Themes panel, find your favorite one and select it. Click the Add Files menu under the preview panel and open all pictures and videos that you want to use. If you need to edit them, select one item and click Edit.
Then adjust the order until you are satisfied. Go to the Transitions tab, click the first interval and apply a proper transition between the two items. Add transitions to other intervals. You can also apply custom text, filters and stickers to the video.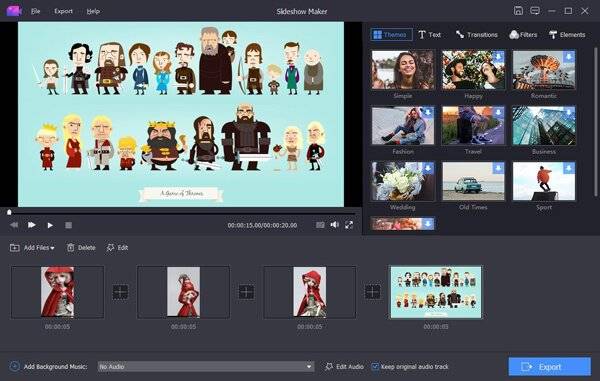 Step 2Apply music
Next, click the Add icon next to Add Background Music at the bottom and add the target music. To edit the song, click Edit Audio. Now, you can adjust the duration, volume and play mode on the popup window. Make sure to uncheck Keep original audio track.

Step 3Export music video
When music video making is done, click the Export button at the bottom right corner. Select an appropriate video format from the Video tab, enter a filename in File Name box, and select an output folder in Save to field. At last, click on the Export button again.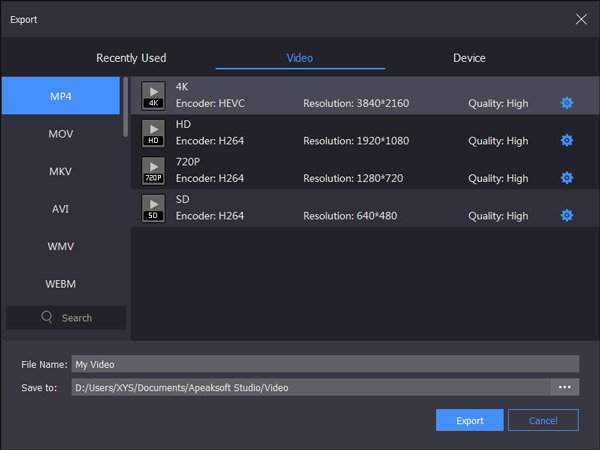 Want to know more details on making a slideshow with music, click here.
Top 3: Windows Movie Maker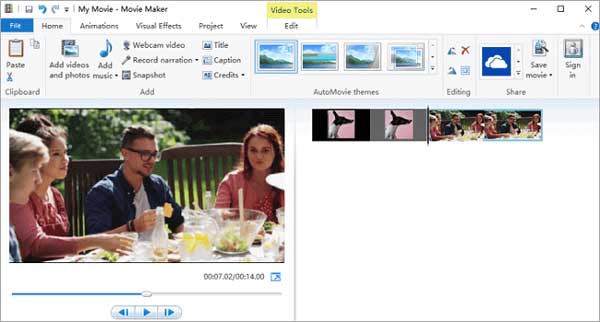 Windows Movie Maker is a free music video maker for PC users. Although Microsoft has stopped this project, you can still find it online for making music videos on Windows 7/8/10/XP/Vista. It is a good choice for beginners to make music videos with pictures, videos and music.
PROS

1. Create artworks with photos, videos and songs.
2. Completely free of charge.
3. Include basic video editing tools.
4. Publish music video to YouTube, Facebook, etc.
CONS

1. It only supports limited input and output formats.
2. The features are too simple for advanced users.
3. You cannot download it from Microsoft anymore.
Top 4: Blender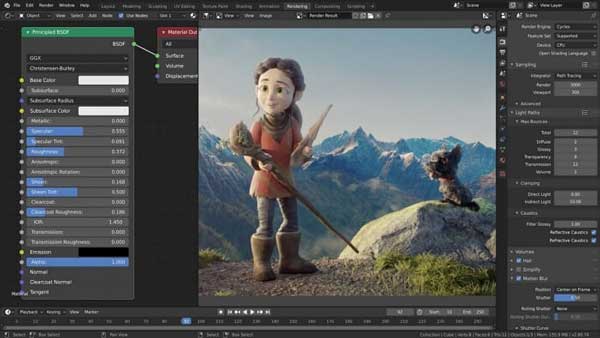 Blender is an open-source music maker application for Windows, Mac and Linux. It means that everyone can use it without paying a penny. Unlike Windows Movie Maker, Blender includes advanced features, like 3D video making and professional video rendering.
PROS

1. Make 3D music videos from modeling.
2. Open-source and free to use for all users.
3. Support rigging, animation, compositing, etc.
4. Offer VFX auto and manual tracking.
CONS

1. The interface is mess and beginners may feel confusing.
2. The cloud storage requires membership, which costs $9.90 per month.
Part 2: Top 3 Music Video Makers Online
Top 1: Animaker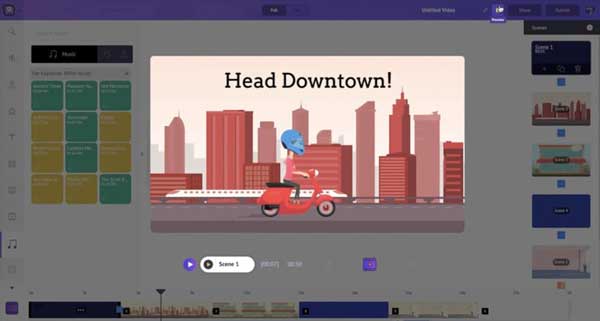 Although Animaker in an online music video maker, it enables you to create high customized animated contents. In addition to basic features, it allows you to add lyrics as a text layer on the music video. Moreover, it is available to all main web browsers
PROS

1. Create music video from scratch or pre-build templates.
2. Make character animations by your own.
3. Customize everything in the scene.
4. Produce HD music videos online for free.
CONS

1. It adds watermark to music videos in free version.
2. There is no way to pay per export.
Top 2: MotionDen
MotionDen is another free online video maker with music and pictures. Once you access the home page, you will get a lot of templates. That makes it a good choice for beginners to create music videos like professionals. It provides a wide range of special effects.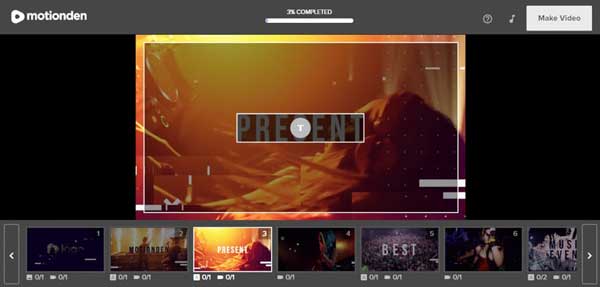 PROS

1. Make music videos with templates online.
2. Upload images, video clips and music quickly.
3. Add lyrics to music video easily.
4. Offer over 25 categories of templates.
CONS

1. The free version allows you to make up to 5 videos.
2. To remove watermark, you have to pay for $9 for each video.
Top 3: Clideo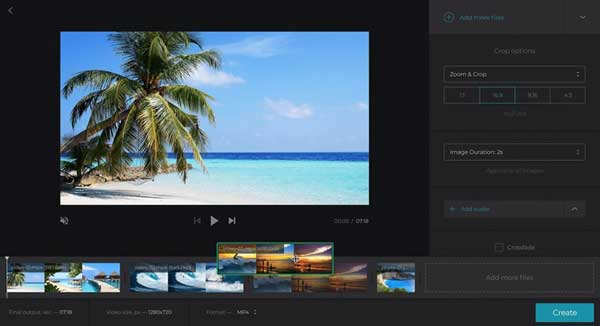 Clideo is a new music video maker online. If you want to make something fun on social media without installing software, it is a simple option. You can upload all items to the web page, edit them on the timeline and post to social media directly.
PROS

1. Upload items from computer, cloud or URL.
2. Equip a user-friendly interface.
3. Automatic optimize music video for social media.
4. Support a variety of multimedia formats.
CONS

1. The subscription is expensive.
2. It takes a while to upload and render video.
Part 3: 5 Best Music Video Maker Apps on Mobile
Top 1: Adobe Premiere Rush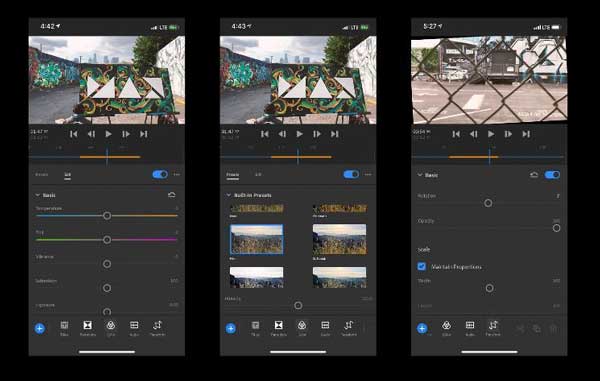 Platform: iOS, Android
Price: Free, $9.99 per month
Rush is the music video app created by Adobe for iPhone and Android users. With it, you can make animated contents with pictures, video clips and music on your handset. Moreover, it is easier than the desktop version.
PROS

1. Make music videos for social media.
2. Convert videos according to each platform.
3. Available to a wide range of social media.
4. Add titles and transitions in music videos.
CONS

1. The cloud storage is only available to subscribers.
2. It is only available to the latest devices.
Top 2: Quik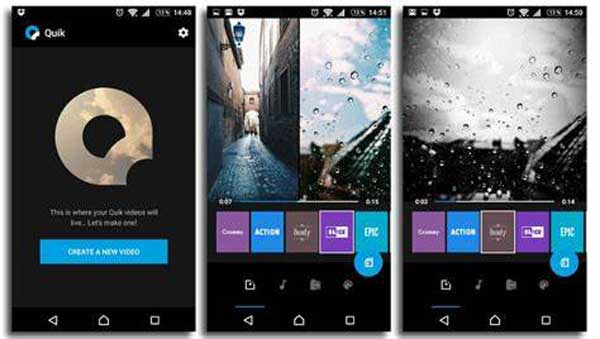 Platform: iOS, Android
Price: Free
Quik is a video editor and music video maker app released by GoPro, but everyone can use it for free. It allows you to add pictures, videos and background music. Then make a project with excellent quality.
PROS

1. Add photos, titles and music to a project.
2. Create unique effects, like timelapse sequences.
3. Correct your photos and videos automatically.
4. Upload music video to Facebook, YouTube, etc.
CONS

1. Themes and filters need purchasing in app.
2. It does not support 4K videos.
Top 3: iMovie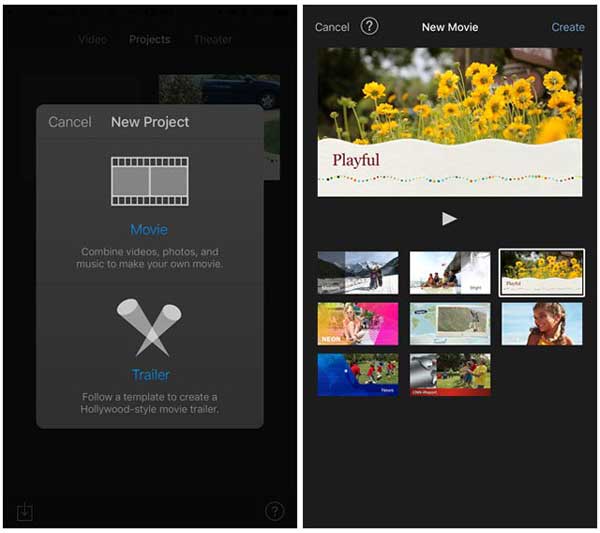 Platform: iOS
Price: Free
If you are making a music video on iPhone, iMovie must one of the best options. It is built-in the latest iOS systems. All you need to make a video project is just your finger. Plus, it won't add watermark to your movie.
PROS

1. Support multiple track editing.
2. Compatible with 4K and HD videos.
3. Export music video to YouTube directly.
4. Sync video projects to Apple devices via AirPlay.
CONS

1. iMovie doesn't get big updates often.
2. This music video maker is not available to old iPhones.
Top 4: Inshot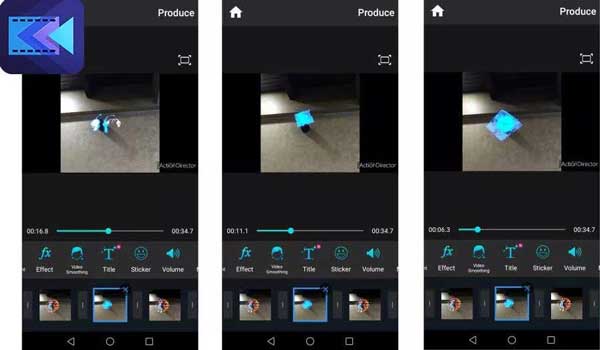 Platform: iOS, Android
Price: Free with in-app purchase
As a music video maker app, Inshot can meet basic needs for beginners. For instance, it does not support multiple tracks so you cannot do advanced editing. However, it provides canvas sizes for social media.
PROS

1. Create music videos with high quality items.
2. Build in canvas for diverse social platforms.
3. Offer a clear and easy-to-use interface.
4. Include free sound effects.
CONS

1. You have to pay for watermark removal.
Top 5: KineMaster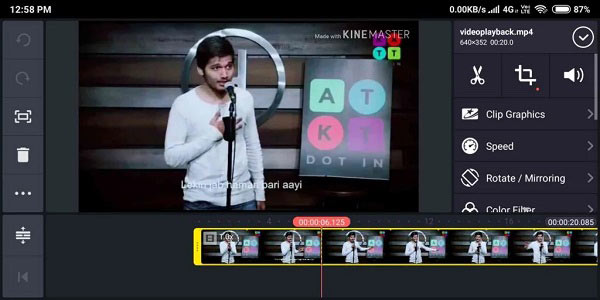 Platform: Android, iOS
Price: Free with in-app purchase
KineMaster is a music video maker app for experienced users since it provides a set of high-end features, like blending mode, chroma keying, and audio mixing. It allows you to retouch your media files too.
PROS

1. Edit video frame by frame.
2. Support multiple layers editing.
3. Control precise volume envelope.
4. Offer 3D transitions.
CONS

1. It adds watermark to music videos.
2. The high quality output is only available to subscribers.
Part 4: FAQs about Music Video Maker
Is there a music video channel?
There are a lot of platforms offering music video channel. Apple Music, for example, lets you watch live stream of popular music videos for free.
Does Google have a music video maker?
No, Google just offers a video editor in Google Photos. It cannot meet your need on music video making.
Is Adobe Premiere Rush really free?
Adobe Premiere Rush is a video editor that you can download for free. If you want to get the full-featured version, you still need to pay for subscription.
Conclusion
Now, you should learn at least top 12 best music video maker apps on Windows, Mac, iPhone and Android. They all have unique advantages and benefits. You can pick the most appropriate one according to your situation. Apeaksoft Video Converter Ultimate is the best option on PC. Apeaksoft Slideshow Maker offers a wide range of useful features. More questions? Please leave a message below.