Want to attract more clicks and viewers on YouTube? Want to get more likes and shares? You should learn to edit your YouTube videos to get better effects. This post will show you how to edit YouTube videos. Moreover, you can get useful YouTube video editors to get the job done.

This very import to edit your videos before uploading to YouTube. You will never share an unprocessed personal picture on Facebook or other social apps these days. Why you still upload the original captured videos to YouTube, even you want to gain more attentions. Always remembering to edit your YouTube videos!
To create a fabulous YouTube video, you should care about both video shooting and editing. The editing process will organize all necessary clips, add suitable effects, and more to show your idea and make the whole video better.
When it comes to editing YouTube videos, you should first choose a video editor. With so many YouTube video editors on the internet, which one you should use? Moreover, you may notice that, for some editing tools, it's just difficult to use.
It's not that easy to edit YouTube videos, especially when you want to make it a masterpiece.
The good thing is, you are here and find this post. In this post, we will show you how to edit YouTube videos, including which YouTube video editor you should pick, how to rotate/crop/clip video, adjust video/audio effects, add 3D effects, enhance video quality, add watermark and more. You can find all you need here to edit a YouTube video.

From this part, we will guide you to edit your video before sharing on YouTube.
Whether you want to crop video to remove unnecessary parts, rotate video to get right angle, add new image/sound effects, even add external subtitles and audio tracks, you can find right tools and solutions. We will list some basic editing functions, you can directly go to the specific part you need.
Part 1

: How to rotate YouTube video

Under many circumstances, you will need to rotate video to get right angle while editing, especially when you deal with own captured videos. Actually, there are many ways can help you make the YouTube video editing. We will list three simple methods from them for you to choose from.
Rotate video with YouTube Video Editor
YouTube Video Editor is a great helper to do some basic YouTube video editing works. With its help, you can directly upload the original recorded video to YouTube and edit it on its platform.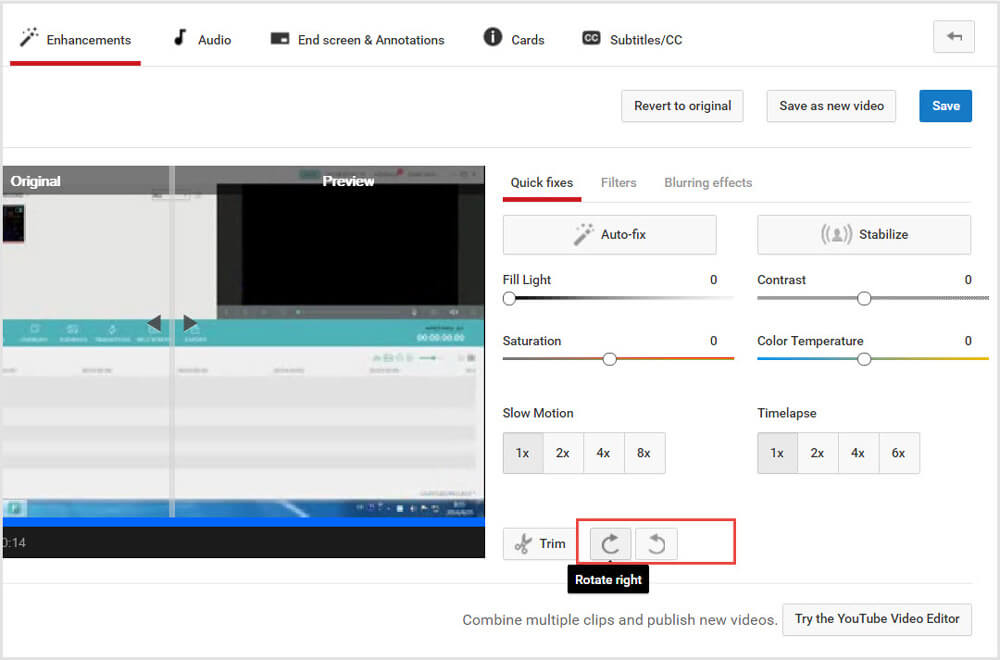 Step 1. Navigate to YouTube and log into your YouTube account.
Step 2. Locate the dropdown menu and then search for the video that you want to edit.
Step 3. Click the Edit button which can be easily found under the thumbnail of the YouTube video.
Step 4. Pick the Enhancements tab in the Edit section. Here you will find two rotate icons. You can handily rotate YouTube video right or left according to your need.
Rotate YouTube video with Video Editor
If you are a Mac user, you can rotate YouTube video and do other editing works with iMovie - best vlog editor. What if you are a Windows user? Actually, though iMovie is a powerful video editor, for many people, they just don't know how to use it. Here we sincerely recommend an easy-to-use YouTube video editing tool, Apeaksoft Video Editor. It carries many frequently-used editing functions. You can free download it to edit your video.
Step 1. Download, install and run this video editor on your PC or Mac. Just make sure you get the right version.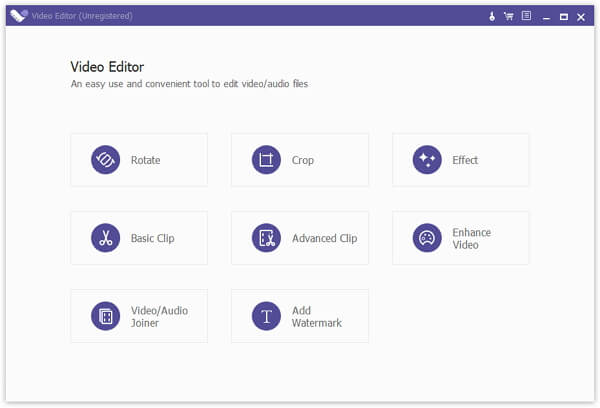 Step 2. Click Rotate in the main interface to enter the video rotating window. Then click Add File to add your video to this program. Four rotate features are offered for you to rotate your video. You can rotate YouTube video in 90 clockwise or 90 counterclockwise. Also, you can also flip the video files vertically or horizontally.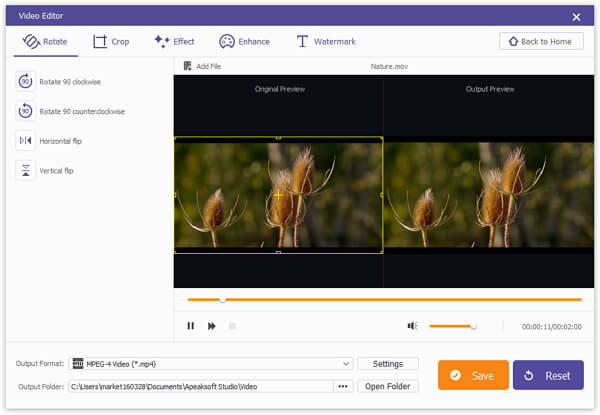 Step 3. When you get the right angle, click Save to confirm the operation.
Rotate YouTube video with VLC Player
Step 1. Open VLC Player and load video by clicking the Media and then clicking Open File.
Step 2. Click Tools on the menu bar and then choose Effects and Filters from the drop-down menu.

Step 3. Click Video Effects and Geometry, here you can rotate your YouTube video.
You can also edit YouTube video with Windows Movie Maker, Adobe Premiere, iMovie and other YouTube video editors. We will introduce these YouTube video editors in the following parts. If you only want to rotate videos or make other basic editing, these professional tools are not your best options.
Part 2

: Crop YouTube video to remove black range or unnecessary part

When you want to crop YouTube video and Google the solutions, you can easily find many online ways from the searching results. We tested all online YouTube video cropper tools and found that, all results can't help you crop video and remove black edge. All of them offer the clip feature.

Considering that, you'd better back to the recommended video editor above and follow next steps to edit your YouTube video.

Step 1. Launch video editor and this time you need to choose the Crop feature.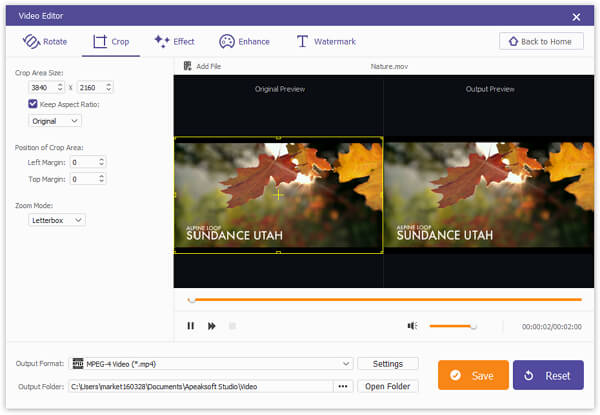 Step 2. After adding your video file, you can accurately remove the unnecessary parts to get rid of watermark from video, letterbox, etc.
Part 3

: How to clip YouTube video

For different reasons, you will have the need to clip video. If you prefer to clip video or only download useful parts of a YouTube video, you should rely on the online tool. And YTCropper is one recommendation.

YT Cropper is a very popular online YouTube video cutter. It can help you cut YouTube video and only save the necessary part. With its help, you can handily share your favorite YouTube videos online.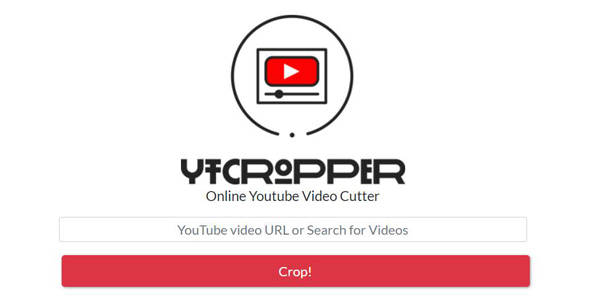 If you have already installed the Video Editor on your computer, you can also use it to clip YouTube video. Compared with online YouTube video cutter, it will save you more time and offer a better output quality.
Part 4

: How to combine/merge YouTube videos

After you capture several videos, before sharing on YouTube, you will definitely combine some clips to a whole video file. When you edit YouTube videos, combining is seem to be a common feature that you will use it every time. Now you will learn how to merge two or more video segments into one new file. Two methods will be shared in this part, with official YouTube Video Editor and with iMovie.
Combine YouTube videos with YouTube Video Editor
Let's start to merge videos with YouTube Video Editor. This built-in video editing tool provided by YouTube can do the job for you. Below are the detailed steps:
Step 1. Firstly, you need to go to the YouTube Video Editor. You can directly navigate to youtube.com/editor and log into your Google account. Or you can log into your YouTube account, click "Upload" > "Edit" to get there.
Step 2. Load the videos you want to combine and then add them to the timeline. Here you are allowed to drag and drop the YouTube videos from video pool to the timeline or just click the plus icon to add YouTube videos.
Step 3. Once the video files are in the timeline, arrange them in the combining order you want.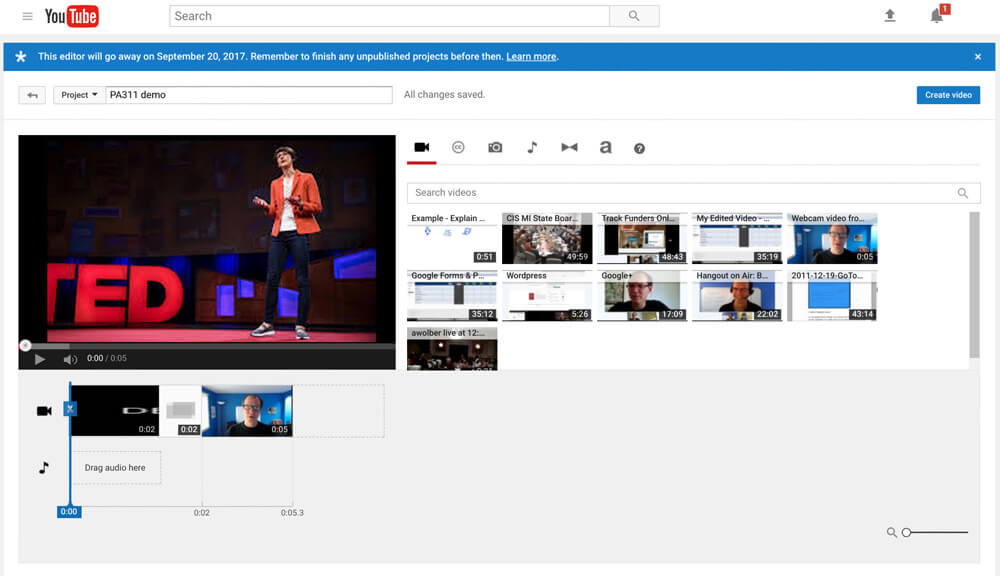 Step 4. Confirm the operation and then preview the output effects. Click "Publish" button to save the settings. Now you can combine several videos together.
Merge YouTube videos into one with iMovie
Go without saying that, iMovie is a quite powerful video editing tool. It is always the first choice when people want to edit YouTube videos on Mac or iPad/iPhone. Speak frankly, iMovie is not an easy-to-use editor, but it does provides all kinds of editing features. If you have iMovie installed on your Mac, you can check this part to start merging your YouTube videos.
The following steps show you how to edit videos with iMovie on Mac, and iPhone users can check it here to edit videos using iMovie.
Step 1. Run iMovie and click "File" > "New Project" to create a new iMovie project. Name the project and set the project settings.
Step 2. Load videos by clicking "File> Import> Movies". Select the files you want to import and then click "Import" to confirm the operation. The added videos will displayed in the Event window. Actually, for many users, after this step, they will feel hard to continue the next steps.
Step 3. iMovie enables you only take the useful parts and join them together. If you don't need the whole video, you can choose the clips you want and then put them into the Project window and arrange the order. In this way, you can combine videos with ease. When you play through the Project window, you will notice that all of the clips are merged together.

Step 4. Click "Share" and then choose "Export Movie" or "Export using QuickTime" to export the new combined video to your Mac.
If you only want to rotate a video, then the built-in feature in Photos on iPhone can rotate video directly.
Part 5

: How to add or adjust YouTube video effects

Similar to various effects you can adjust in Adobe Photoshop, in a video, you can also adjust specific settings to make your YouTube video look better. In fact, adjusting effects is an effective way to change your video. Besides creating fantastic effects with clipping and merging, sometimes, you can directly change the image brightness, contrast, saturation, hue and sound volume and so on.

To quickly adjust output YouTube video effects, you can still back to the introduced video editing tool. Comparing with other YouTube video editors, it just makes everything very simple to change the effects. As we mentioned above, it enables you to reset brightness, contrast, saturation and more to gain the effects you need.

What's more, it can help you enhance video quality.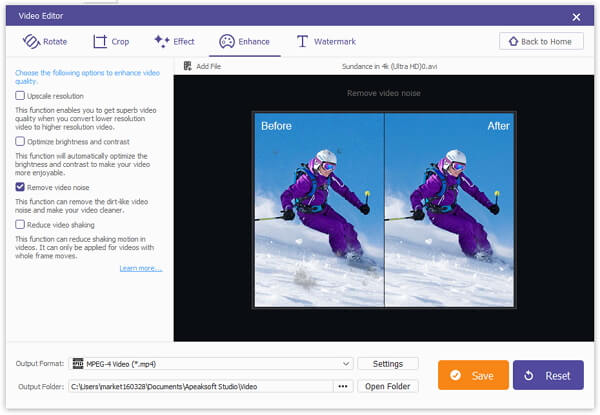 Upscale resolution: Adjust video resolution from low quality to high quality.
Optimize brightness and contrast: Adjust YouTube video effects automatically.
Remove video noise: Remove the dirt-like nose on your video.
Reduce video shaking: Reduce captured video shaking with whole stable frame moves.
Part 6

: How to add new subtitle or sound effects to YouTube video

We test many online tools trying to add external subtitle or audio track to video, most of them fail to do that. Considering that, we decide to show you how to quickly add new subtitle or change the sound effects. Let's start with the YouTube video subtitle adding.
Add subtitle to YouTube video
Step 1. Open YouTube site and log into your YouTube account. Find "My Channel" and click on it. This will take you to your personal YouTube page.
Step 2. Click "Video Manager" to check your loaded YouTube video. This method only can add new subtitle to your shared video.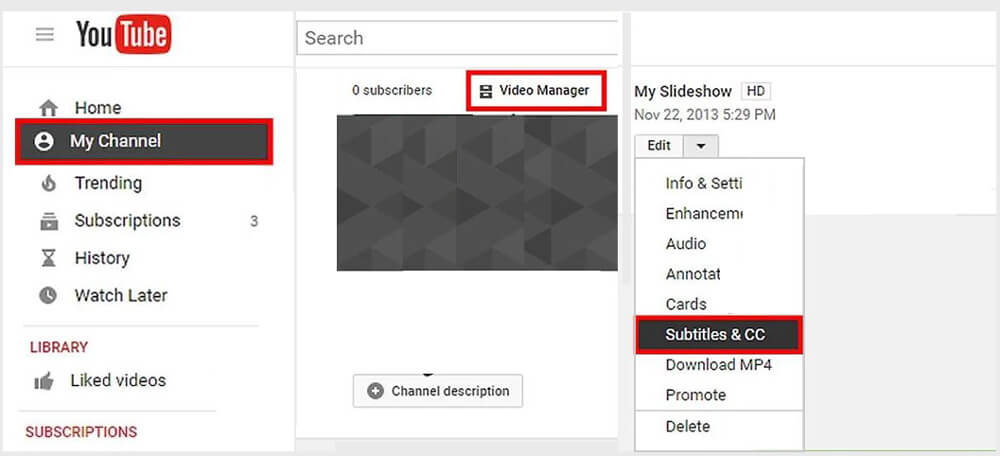 Step 3. Click "Edit" and choose "Subtitles and CC" from its drop-down list. Here you can click "Add New Subtitles" > "Create new subtitles or closed captions" to add subtitle to YouTube video.
Moreover, you can remove subtitle from your video freely by deleting it.
For background audio, you can select "Audio" instead of "Subtitles and CC" from its drop-down list to add, change or remove backgroud audio from video directly.
Add or change sound effects of YouTube video
With the method above, you can easily add subtitle to your YouTube video. Here comes the question, do you know how to add new or external subtitle to local video? Moreover, do you know how to add or change sound effects of YouTube video?
To do that, here we introduce you with a powerful video editor tool, Aiseesoft Video Converter Ultimate. It is designed with many useful editing features, among them, you can find the subtitle and audio track adding function. You can also use it to compress video files without losing quality.
Step 1. Free download and install this YouTube video editing software on your computer.
Step 2. Click "Add File" button on the menu bar to import video you want to add new subtitle or sound effects.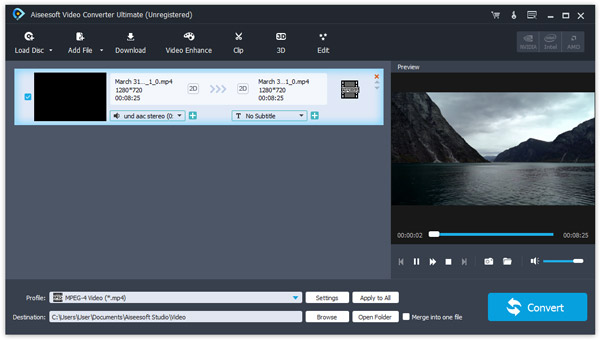 Step 3. After loading, you can see two + icons are provided for you to add or change subtitle and audio track.
It is a really good tool to add marvelous sound effects to your YouTube video. More than just a video editing tool, it has the capability to download YouTube videos and convert video/audio formats. You really should try this YouTube video editor.
Part 7

: How to convert YouTube video format

Before you upload video to YouTube, or play downloaded YouTube video on your portable iOS/Android device, you may also need to convert YouTube video to supported format.
Free online way to convert YouTube video
Many online tools can help you free download and convert YouTube videos. CONVERTO is one of the most popular online YouTube converters. It enables you to directly download and convert online YouTube video. But you can't use it to convert local videos.
Step 1. Find the YouTube video you want to download and convert. Copy its URL.
Step 2. Go to the CONVERTO site and paste the URL into the input box.
Step 3. It will automatically analyze this video and offer some options to download YouTube video.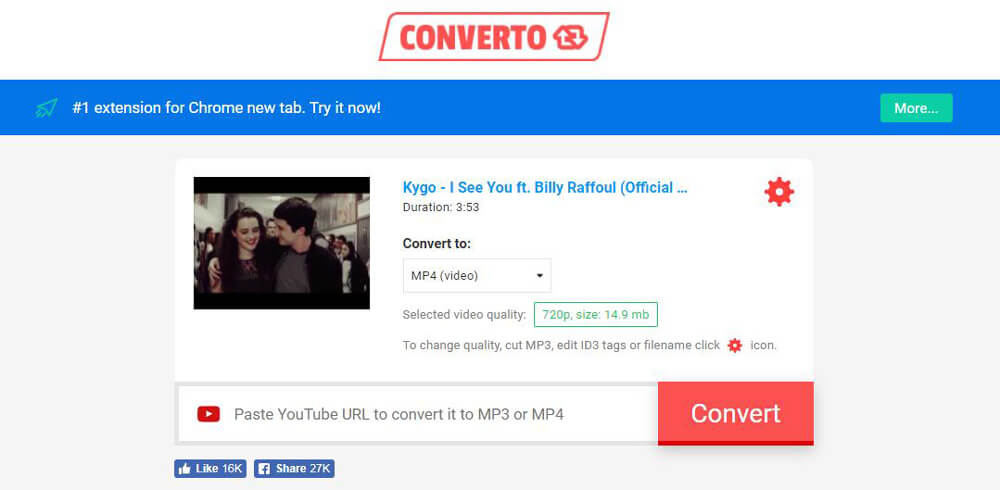 As you can see, CONVERTO is not a real YouTube video converter. It is more like a online video downloader. It can't convert local YouTube video for you. To tell you the truth, you shouldn't use online tool to only do the converting job. Some online converters can do that. But it will take you too much time on video uploading and downloading.
Best way to convert local or downloaded YouTube video
If you want to convert video format for uploading to YouTube site, you'd better choose the Free Video Converter. It is able to convert video to any YouTube supported video format. What's more, it is compatible with almost all video formats. You won't get the unsupported format issue. Just go to its official site and download this easy-to-use free YouTube video converter. Within just a few clicks, you can handily finish the video conversion.
We have talked about how to edit YouTube videos in this post, including how to rotate video, clip video, combine videos, adjust effects, add new image/sound effects and more. It can help you easily do the basic editing works and get a output video you really like. If you need to know more information about other editing solutions, you can leave us a message. Also, you can leave us a message in comment if you have any better YouTube video editor recommendation.