You can use iMovie to do most video and audio editing jobs, like clipping, merging, overlaying text, adding transitions and more. Of course, you can also add copyright free music, voiceovers and audio clips to iMovie. The default audio library is not good to use. Thus, many users prefer to add music to iMovie app from the downloaded files.
The problem is how to put audio over video in iMovie when you use Mac or iPhone. If you are looking for a way to attach audio to video in iMovie, you just come to the right place. This article will show you the detailed steps to combine video and audio together.

Add Music to iMovie
Part 1: Before You Start, Convert Music to iMovie Compatible Formats
Not all audio files are compatible with iMovie. The supported audio formats for iMovie contain MP3, WAV, M4A, AIFF and AAC. If you fail to add music to iMovie project, maybe your music files are not in the right formats. To batch convert audio to iMovie format, you should not miss Apeaksoft Video Converter Ultimate.
The program is capable to convert various audio files from and to many popular devices. The fast converting speed and high-quality output are powerful. By the way, you can rip DVD or convert video to MP3, AAC or other iMovie compatible formats. In a word, it is your best audio to iMovie converter software.
Step 1Free download, install and launch the iMovie converter software. Click "Add File" to import audio files from the desktop or connected hard drive.
Step 2Unfold the "Profile" list near the bottom. Choose the output audio format for iMovie importing. You can also type the format you want to save for iMovie in the searching bar.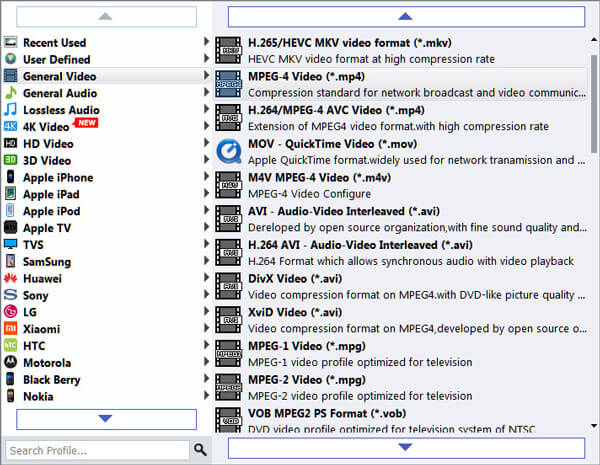 Step 3Click "Settings" to adjust the output audio settings. You can set each option one by one.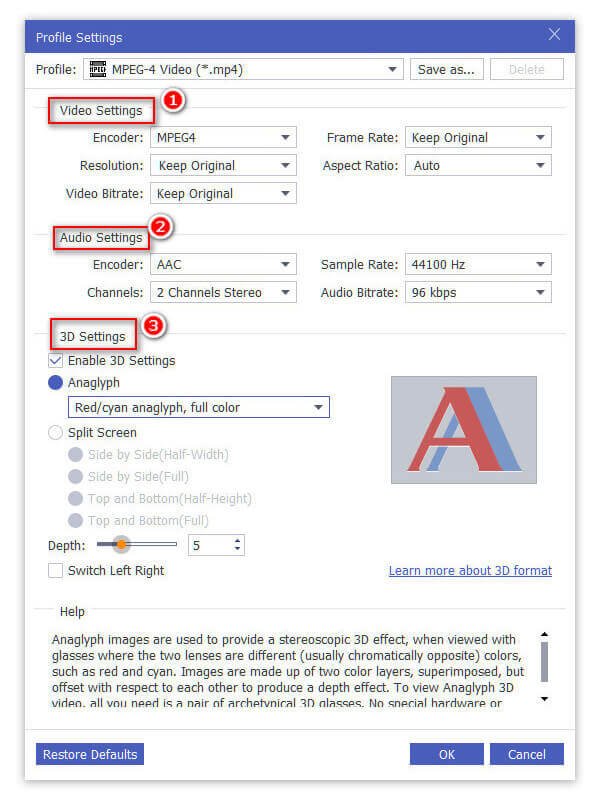 Step 4Adjust audio effects if necessary. At last, click "Convert" to convert music to iMovie without quality loss.
Part 2: How to Add Music to iMovie on Mac
Due to the copyright laws, most video-sharing platforms will remove or monetize your videos to pay the copyright holders. It is not recommended to add DRM music to iMovie. You can download free music for iMovie instead. There are also many royalty-free songs you can download.
The background music will play with the video clips simultaneously. You can create a different atmosphere by using the related songs or voiceovers. You can place the background music to any position in the timeline. The video footages will not be affected.
Step 1Run iMovie. Open the project that you want to add background music.
Step 2Click "Audio" on the top toolbar. Choose from "Music", "Sound Effects" and "GarageBand" under the "Audio" category.
Step 3Browse and select the music file. Drag it to the right position to add music to your video in iMovie. In another word, drag it under the timeline you are editing. The timeline of background music clips is colored green.
For the audio that you add by mistake into iMovie, you can also remove it by selecting "Detach Audio" from the right-click menu.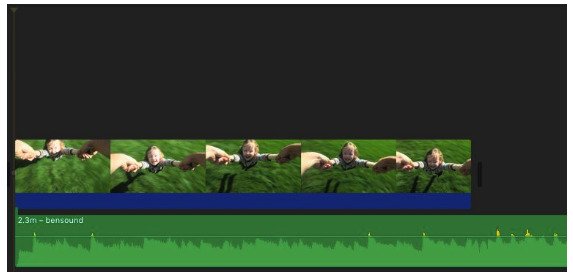 Step 4You can position, trim and edit background music in iMovie if necessary.
Step 5If you want to add parts of music to iMovie, you can select a range in the waveform. Later, drag the trimmed audio clip to the timeline to add audio to iMovie.
Morever, you can use the ready-made templates to create a slideshow with music in iMovie.
Part 3: The Recommended iMovie Alternative for Windows
iMovie still requires the certain learning curves. If you want to get more ready-made and customizable styles, maybe Apeaksoft Slideshow Maker can be your easy choice. You can create slideshows and videos with audios, videos and pictures in all formats.
Moreover, you can get not only the interesting themes ad effects, but also the excellent editing tools. The powerful music processor allows users to add or delete background music in one click. You can also adjust the duration and set loop playback within the iMovie alternative for Windows.
One click to set background music.
Get the built-in video editor.
Provide 10 slideshow themes and hundreds of customizable filters and effects.
Edit every single video, photo and audio file separately to get the ideal effects.
Step 1Run the iMovie alternative software on PC. Click "Add Files" to add your media files.
Step 2Click "Add Background Music" to add a song to iMovie alternative. Click "Keep original audio track" to maintain the audio quality.

Step 3Click "Edit Audio" to get the audio editor. You can crop an audio file with "Duration". Adjust the background music volume. Mark before "Loop Playback" if necessary. Then use "Play" and "Pause" options to check the audio effect. Click "OK" to save audio changes.

Step 4Choose the slideshow theme from wedding, travel, fashion, Christmas and more. You can edit this theme with tools of text, transition, filter and element. At last, click "Export" to save the video.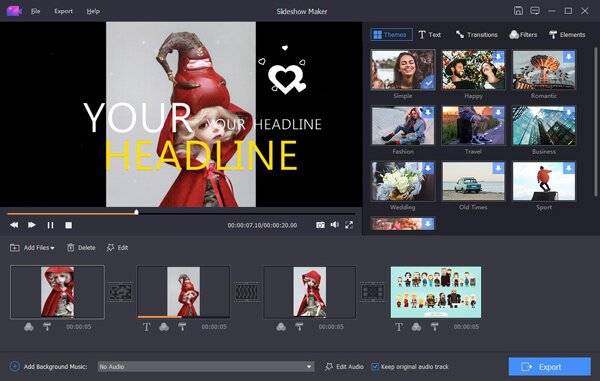 Part 4: How to Add Music to iMovie on iPhone
Though you have a premium Spotify account, you are still not allowed to add music to iMovie from Spotify. iMovie has a collection of soundtracks which can fit the length of your iMovie project automatically. If your audio files are saved in iCloud Drive, you can add a song to a video in iMovie app directly. By the way, the songs created by GarageBand, Logic Pro X and other similar apps are also supported by iMovie.
If you do not want to violate the terms of music license, you can add theme music to iMovie for free safely. Well, you can also record audio on iPhone to add music to iMovie without downloading or DRM. Remember to check the length of iMovie background music. Otherwise, iMovie will loop the imported song automatically.
Step 1Open your iMovie project. Tap "+ (Add Media)" and then "Audio".
Step 2Choose "Soundtracks" to access all stored audio files.
Step 3Tap "+ (Add Audio)" and "Audio" to add theme music or sound effects to iMovie.
Step 4You can choose "My Music" to add background music to iMovie on iPhone.
Step 5Choose "iCloud Drive" to add music to iMovie on iPhone from iCloud Drive folder.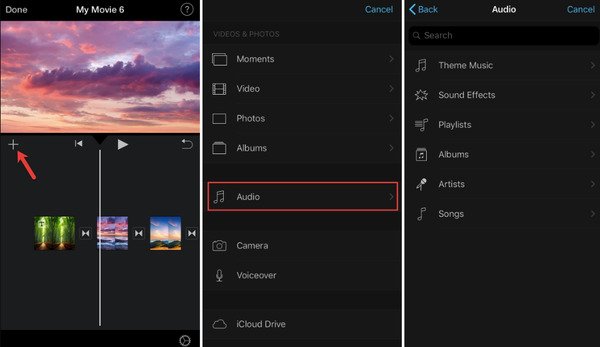 Part 5: How to Add Music to iMovie from iTunes
You can sync songs from your music library with iTunes. If you sync iTunes music to your iPhone before, you can also add iTunes music to iMovie project for further editing. In addition, you can record podcasts as MP3 to add music to iMovie without iTunes. Just upload the downloaded music files to iMovie as common songs.
Step 1Open a new project in iMovie.
Step 2Choose "+" followed by "Audio".
Step 3Make sure "iTunes" is selected in the left pane.
Step 4You can see the entire iTunes library. Choose which music you'd like to add into iMovie.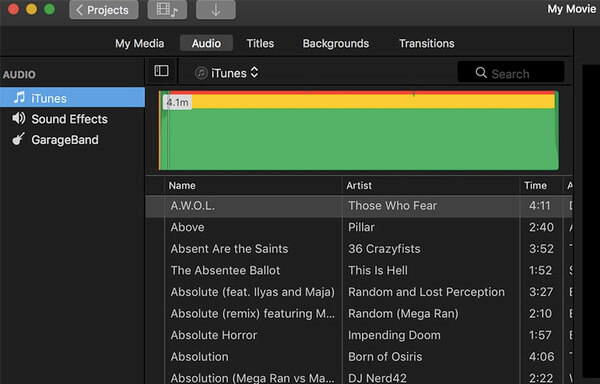 Tips
Sometimes you may encounter iTunes music not showing up in iMovie. Well, iTunes M4P music files and Apple Music songs are protected. The unauthorized using is not legal. If you really love this song, you can
record iTunes music
for offline playback or editing.
Conclusion
You can add music to iMovie from the local drive, iTunes, iCloud or other places here. In addition, you can even record music audio to import to iTunes. If you only want to add background music to your video, Apeaksoft Slideshow Maker is also your smart choice. You can create a stunning video with music with half time effortlessly.