Are you boring about the presentations that only contain text and still images? Why make a photo slideshow with music? Today, animated presentations have become a new fashion, which consists photos, video clips and music. It can be presented in a large screen using a projector or shared on your mobile device. Therefore, you need a great slideshow maker to create an impressive presentation. This article expects to show you the best slideshow makers for desktop, online and mobile, as well as their details.

Create a Picture Slideshow with Music
Part 1: The Easiest Way to Make a Slideshow with Music on Desktop
Apeaksoft Slideshow Maker is a powerful tool to make a picture slideshow with music. Besides, it also provides a lot of pro-level features to help you make a slideshow as professionals. More importantly, all these features are easy to use.
Make a slideshow with your photos, pictures, videos and music.
Add built-in music or your own songs to photo slideshows.
Apply text, transitions, filters and other elements.
Support almost all video, image and audio formats.
Optimize photo and audio quality automatically.
Download for Win
On the whole, it is the best option to make a photo slideshow with music on your desktop.
How to Make a Picture Slideshow with Music on PC
Step 1
Import photos into Slideshow Maker
Once you install the best slideshow maker, launch it from your desktop. Then click the Add photos and videos here button and import the photos that you want to use in the slideshow. Alternatively, drag and drop your photos into the main interface to add them directly.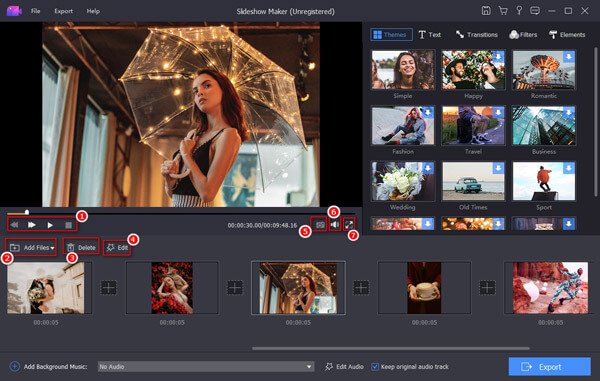 Step 2
Add music to photo slideshow
Locate the bottom area. Click and expand the drop-down list of Add Background Music and select your favorite built-in song. To make a photo slideshow with your own music, hit the Plus icon and add your audio file. If you want to edit the background music, click Edit Audio and change duration and playback.
Next, head to the right panel and you can see several tools, Themes, Text, Transitions, Filters and Elements. To apply a transition between two photos, for example, select Transitions, choose your favorite one, and drag it to the right place.

Step 3
Export the slideshow
After creating the picture slideshow with music, click the Export button to open the Export dialog. Go to the Video tab and select a proper video format. Or go to the Device tab and pick up the target device. Set the filename and output folder. Finally, click the Export button to save the slideshow to your hard drive.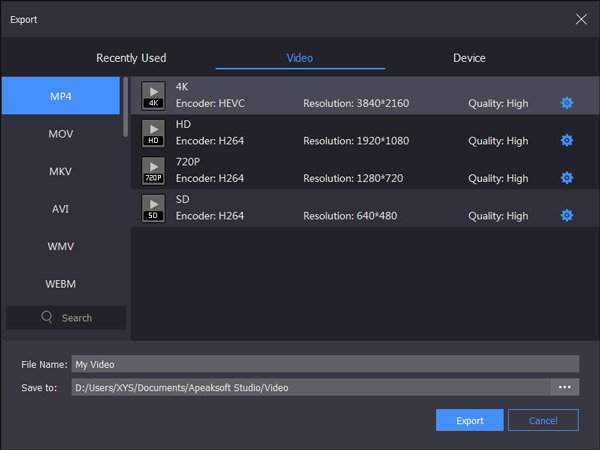 Note Slideshow Maker does not offer the Mac version now, but you can use iMovie to make a photo slideshow with music simply.
Part 2: Make a Slideshow with Music Online
The next way to create a photo slideshow with music is the Adobe Spark. It is an online app that helps you create slideshows quickly and offer enough options for you to create an outstanding result. Bear in mind that the web app is just suitable to make slideshows with several photos; otherwise, your browser may freeze or crash.
Step 1
Go to the slideshow maker website and then click the Plus button. Then choose your favorite template to start creating a photo slideshow with music.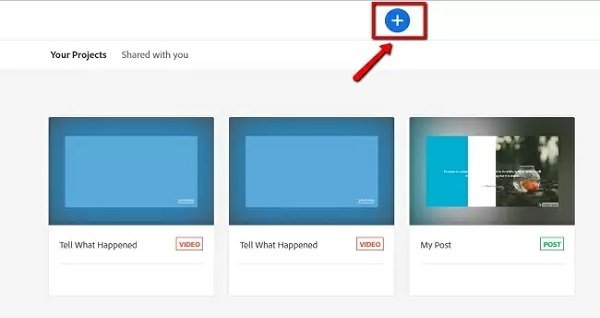 Step 2
When prompted, upload the photos from your hard drive to the web app. The template offers the background music for your photo slideshow, or you can add your own music by uploading the local audio file.
Step 3
Set the duration for each photo, and preview the result. When it is done, click the Download button at the top to get the slideshow or share it to the internet.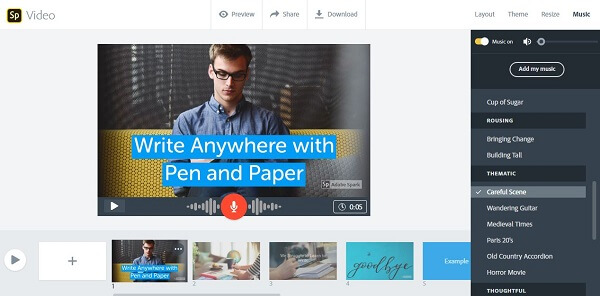 Part 3: Create a Picture Slideshow with Music on Mobile
Today, more and more people execute various tasks on their mobile devices. You may wonder can you make a photo slideshow with music without computer. The answer is yes and we share the guide below.
How to Make a Photo Slideshow with Music on iPhone
The pre-installed Photos app is a simple way to manage your media files. It also provides the ability to make photo slideshows with music. So, you can use it directly without downloading any third-party apps.
Step 1
Open the Photos app, and make a new album. Put all photos that you want to use in the slideshow into the new album.
Step 2
Tap Select All in the new album, and tap the Action button at the bottom left side. Then select Slideshow option on the toolbar and touch Done to confirm it.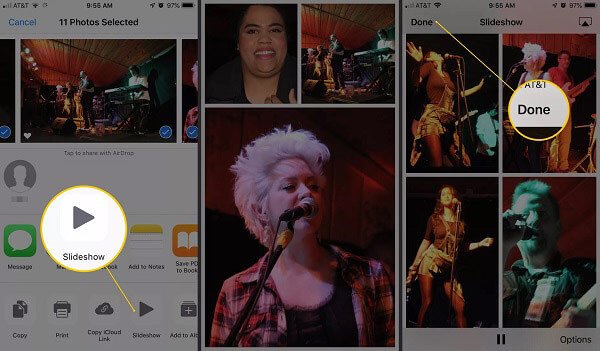 Step 3
Play the slideshow and tap the screen to reveal the Options button. Tap it to go to the slideshow options screen. Tap the Music option and select the background music. Now, restart the slideshow made on iPhone with music.
After that, you can save the slideshow on iPhone to share with others.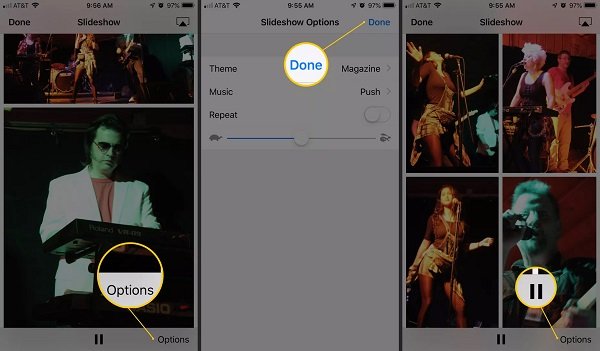 How to Create a Picture Slideshow with Music on Android
For Android users, you have to download a third-party slideshow maker app from Play Store. The good news is that you can find a lot of such apps, such as VideoShow, Quik, VivaVideo, and more. We use VideoShow as the example.
Step 1
Run the slideshow maker app, and select Slideshow to open your photo gallery.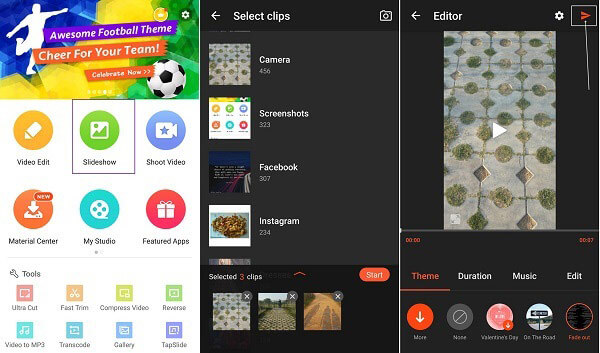 Step 2
Touch the desired photos and tap the Start button to start making a photo slideshow with music on Android. If you are satisfied with it, tap the Send icon at the upper right corner and select Save to Gallery or share to social media.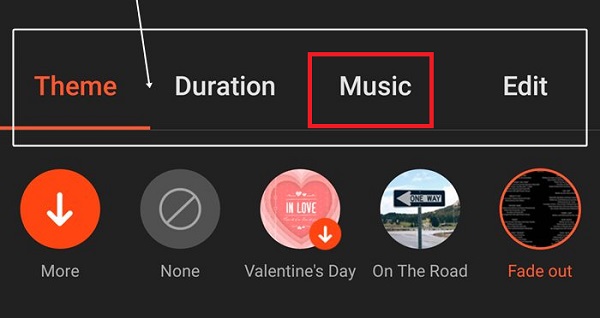 Step 3
By default, the slideshow maker app will add a background song to the slideshow according to the theme. If you want to change it with your music, tap Music tab at the bottom and do it.
Part 4: FAQs of Making a Slideshow with Music
Question 1: What is the best free Slideshow Maker?
Answer: There are a lot of free slideshow makers, such as Windows Movie Maker, iMovie, Adobe Spark, Picasa and more. You can search for your favorite tool based on your need.
Question 2: Can you share a slideshow from iPhone?
Answer: You can share a photo slideshow with music on iPhone. When slideshow making is done, tap the Action button. Then you can share the slideshow via AirDrop, Messages, Mail, Notes, iCloud Photo Sharing, and social networks.
Question 3: How do you import free music into iMovie?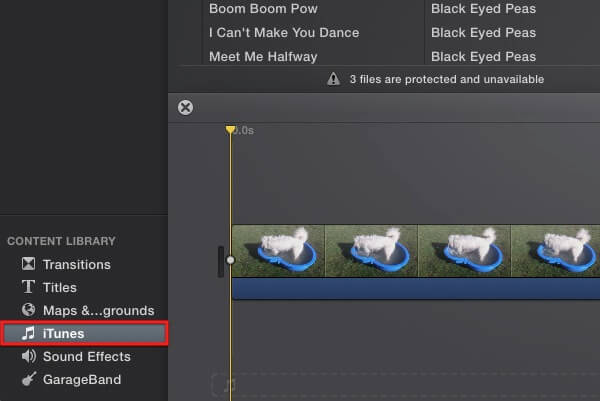 Answer: No matter where you downloaded the free music, add it to iTunes Library if you want to import it into iMovie. Then open a project in iMovie, click the Audio tab at the upper left side to display your entire iTunes library. Now, you can search for the free music and import it into iMovie.
Conclusion
Now, you should master at least four ways to make a photo slideshow with music on computer, iPhone and Android. As you can see, it is not a hard task if you pick up the right tool. The built-in Photos app on iPhone, for example, is the free slideshow maker as well. Apeaksoft Slideshow Maker is the best option if you prefer to create picture slideshows on desktop. Have other recommendations or more questions? Please, write them down in the comment area below this post.