Google Photos is the photo service of the Google ecosystem. Many people use it to back up and transfer photos crossing devices. In fact, it offers more features, such as make a slideshow in Google Photos. When you want to share an album of your cat in Google Photos on your phone or computer to your friends, you can make a simple slideshow. Therefore, this article will show you how to set it in your browser or mobile device.

Part 1: How to Make Google Photos Slideshow
It is well-known that a picture tells a thousand words. So, what better way of telling a story than making a slideshow? Fortunately, Google Photos has a built-in slideshow function.
Way 1: Make Google Photos Slideshow in Browser
If you prefer to manage your Google Photos on computer, you can make a Google Photo slideshow with your browser. Firstly, connect your computer to a good internet connection. Then follow the steps below to get it.
Step 1Open your web browser, visit https://photos.google.com/ and enter your Google Photos account.
Step 2Next, select Albums from the left sidebar, click Create album to make a new album, and upload the photos that you want to use in the slideshow. Alternatively, open the existing album that has the desired photos. (Photos are lost in Google Photos? Recover Google photos here.)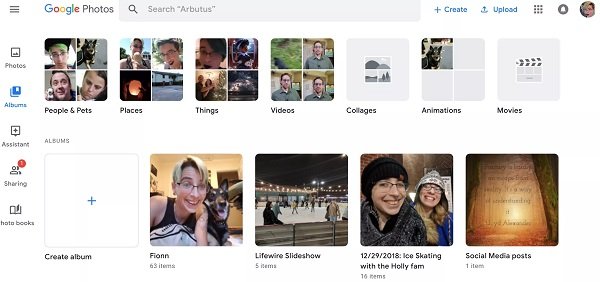 Step 3Select a photo to open it in the preview page. Then click the three-dot icon at the upper right corner, and choose Slideshow on the context menu. Now, the Google Photos slideshow will start automatically within 5 seconds.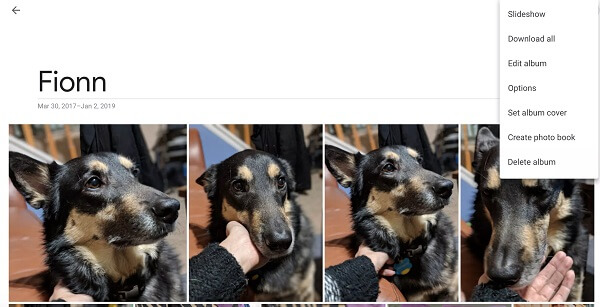 Step 4To view the slideshow later, go to the album and click on a photo.
Note Unfortunately, you cannot get Google Photos slideshow settings, add background music or change the order of the photos.
Way 2: Make Google Slideshow on iPhone or Android
When it comes to your mobile device, the Google slideshow maker is not available in Google Photos app for iOS and Android. Alternatively, you can make a Google Photos slideshow with the movie creating feature.
Step 1Open your Google Photos app on your smartphone or tablet, Tap on the Plus icon at the top right corner, and select Movie from the Create new menu.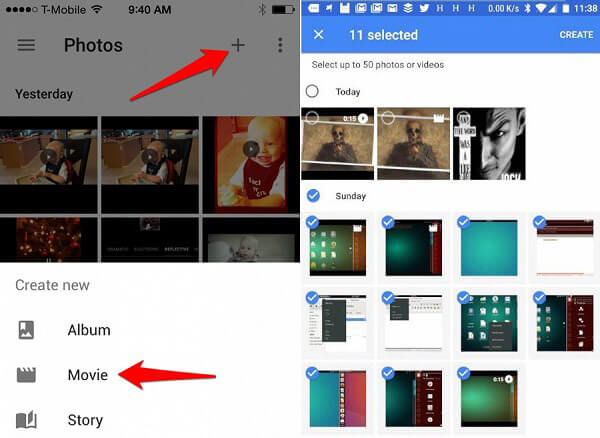 Step 2Then you will be presented the photos and videos in your Google Photos. Touch any photos you want to include the Google Photos slideshow. Tap CREATE when you are done.
Step 3Next, the video slideshow will be placed on the timeline. Drop a title and you can see three icons at the bottom, Theme, Soundtracks and Clips. To add music to Google Photos slideshow, choose Soundtracks to open the music library. Here you can select a proper music and tap the Done icon at the upper right side to add it to Google Photos slideshow.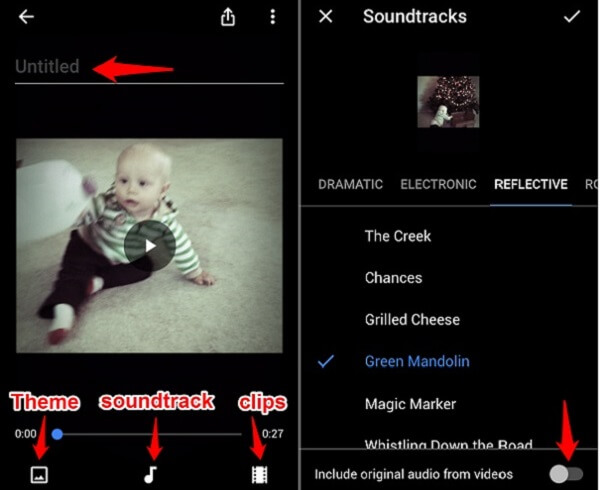 Tip Google provides several music categories, like Dramatic, Electronic and more, but you cannot add your own music to Google Photos slideshow.
Step 4Finally, tap the Share icon to save the Google Photos slideshow with music to your account.
Part 2: The Best Alternative Way to Make Slideshow
Google Photos is a simple tool to make slideshows, but it is not perfect. For instance, you cannot change Google Photos slideshow settings. Apeaksoft Slideshow Maker, on the other hand, can meet all you need of slideshow creating.
Make video slideshows with your photos within three steps.
Apply theme, background music, text, transitions, and other elements.
Support almost all video and image formats including JPG, PNG, MP4, etc.
Optimize video and photo quality automatically.
Offer extensive bonus tools, like picture editor and video editor.
Download for Win
In brief, it is the best alternative to Google Photos for making slideshows with music.
How to Make a Slideshow with the Best Alternative to Google Photos
Step 1Import photos into Slideshow Maker
Launch the best alternative to Google Photos after you install it on your computer. Then drag and drop all desired photos into the main interface. Then arrange them on the storyboard based on your wish.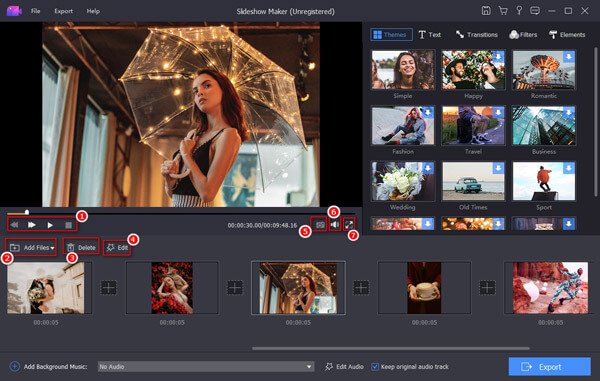 Step 2Add music to slideshow without Google Photos
Select a preset song from the dropdown list next to Add Background Music. If you want to add you own music to slideshow, click the Plus icon and import the audio file. To adjust the settings of slideshow music, click Edit Audio and decide the duration and playback.
Tip
You can find the
Themes
,
Text
,
Transitions
,
Filters
and
Elements
tool on the right side.

Step 3Export the slideshow
Preview the slideshow and click Export button if you are satisfied. Then select a proper video format or target device, and set the filename and destination folder. Once hit Export button, the slideshow will be saved to your hard drive.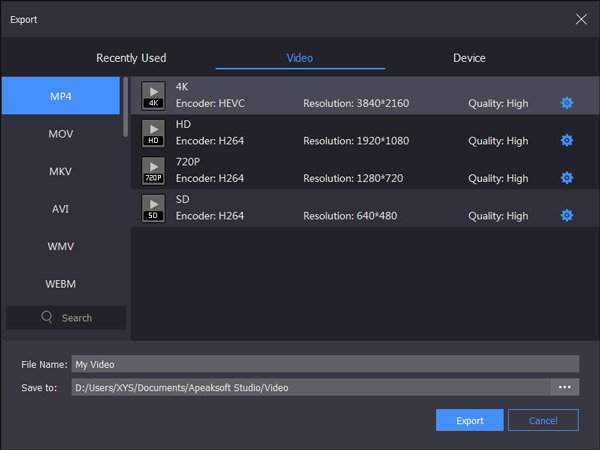 Part 3: FAQs of Making Google Photos Slideshow
Question 1: How do I shuffle Google Photos slideshow?
You can make a Google Photos slideshow simply, but there is no option to shuffle it. The only way is to delete the album and reupload your photos.
Question 2: How can I use slideshow in Google Photos on my iPad?
As mentioned previously, the slideshow feature is not available in Google Photos app for iOS. However, you can make a video slideshow with the movie creating feature. You can create slideshow on iPhone with the built-in Photos app.
Question 3: No slideshow option in Google Photos?
If you are using the Google Photos app, you cannot find the slideshow option. It is only available in web browser. Once you open a photo in Google Photos in browser, you will find the Slideshow option by hitting the three-dot icon at the upper right side.
Conclusion
This article has discussed how to make Google Photos slideshows on your computer or mobile device. Apparently, Google just introduced the slideshow option into the website but not mobile app. However, you can still make a video slideshow in Google Photos app with background music. If you believe Google Photos is too simple to make slideshows, you should try Apeaksoft Slideshow Maker. For more questions related Google Photos, please leave your message below.