To delete unnecessary content and bring the focus to the most important part of a video, you will choose to trim the video. You usually need to remove footage from the beginning or end of a clip. Which video trimmer are you using to cut large video files? Are you facing a situation in which trimming a video reduces quality?

Video Trimmer
Here in this post, we like to recommend the ten best video shortener apps for you to cut video length on different devices like Windows/macOS computers, iPhones, iPads, and Android phones.
Part 1. Best 5 Video Trimmers to Cut Videos on Windows PC and Mac
When you select the best video trimmer, you need to care about the price and its features. A good video cutter should support all commonly-used video formats and multi-GPU acceleration. In addition, it better carries other editing functions. Based on these needs, this part lists five great video trimmers for you to choose from.
Video Converter Ultimate - Best video trimmer for Windows PC and Mac
Video Converter Ultimate is an all-featured video editor that is equipped with many useful features like trim, crop, rotate, merge, and others. It highly supports all popular video formats, including MP4, FLV, AVI, MKV, MOV, M4V, MPEG, VOB, and more. It offers an individual Video Trimmer tool for you to cut large video files without quality loss.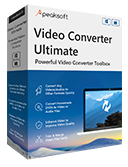 4,000,000+ Downloads
Edit and shorten videos on Windows PC and Mac without losing quality.
Support 8K/5K/4K, HD, and SD videos and lossless/lossy audios in over 500 formats.
Offer features like trim, merge, rotate, watermark, 3D, enhance, effects, and more.
Carry toolbox of Video Trimmer, Video Merger, Video Compressor, and others.
You can free download this video trimming software on your computer, click on the Toolbox tab, and then scroll down to easily access its Video Trimmer tool. Click the big plus icon in the central part to add your video file.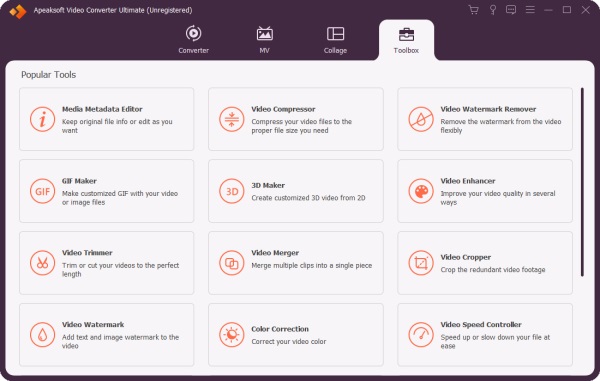 When you enter the Video Trimmer window, you can freely shorten the video by dragging the trimming bars or entering the Set Start and Set End times. This video trimmer also offers Add Segment, Fast Split, Merge, and other functions for you to edit a video with ease.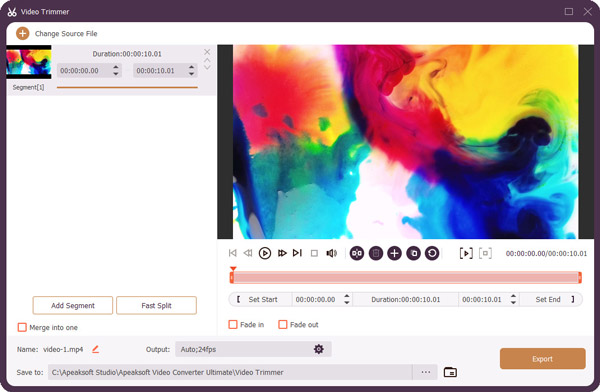 iMovie - Official video trimmer for Mac, iPhone, and iPad
iMovie is the default Apple video editor for both macOS and iOS users. It can work as a free video trimmer for you to cut videos on an Apple product. What's more, it offers other frequently-used editing features like rotate, crop, combine, flip, and others. iMovie is compatible with many video formats including MOV, M4V, FLV, MP4, 3GP, and AVI. As a free video trimmer app, it can help you shorten video clips, add seamless transitions, and fade audio based on your need.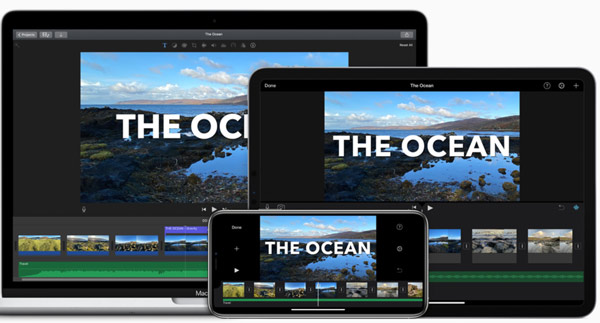 You should know that, as an iOS user, you can directly trim a video clip in the Photos app on your iPhone or iPad. Generally speaking, you don't need to install the iMovie app to trim a video. When it comes to cutting a video on a Mac, you can open iMovie, create a new project, load your video to it, and then freely trim or split the video according to your need.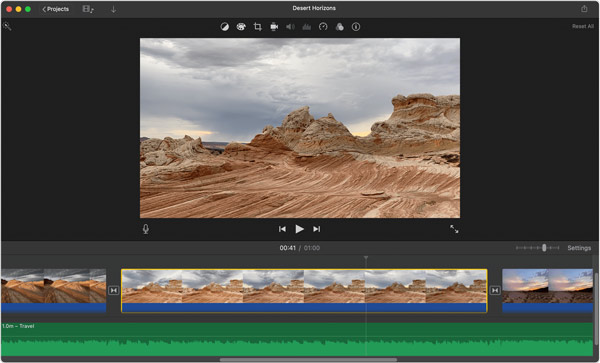 Photos - Default video shortener for Windows 10
Windows 10 has a default Microsoft video trimmer that offers an easy way to trim videos. The Microsoft Photos app is designed for automatically opening photos and videos in the Pictures folder on your Windows PC, One Drive, iCloud Photos, and other devices. It carries some basic editing functions for you to edit your videos and images. It can work as a free video trimmer for you to cut videos easily.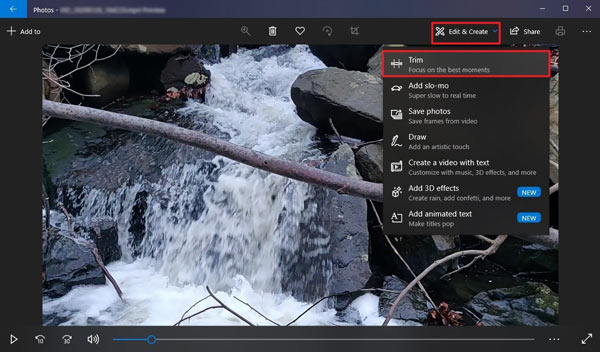 To use this Microsoft video trimmer, you can locate the video file you want to cut and then right-click on it and choose to open it with Photos. Click on the Edit & Create button in the top-right corner, and then select the Trim feature from its dropdown. After that, you can move the two trimming sliders to remove the unwanted parts.
Shotcut - Video trimmer app for Windows 11/10/8/7 PC and Mac
Shotcut is a cross-platform video editor for both Windows and macOS users to trim videos with high quality. As an open-source video shortener, it allows you to trim a video by adding tracks instead of storyboards. It supports hundreds of video/audio formats and codecs. More than a video cutter, Shotcut carries many other features and options, such as a recording screen, webcam, audio, streaming of various network contents, and more. You can download Shotcut free from its official website.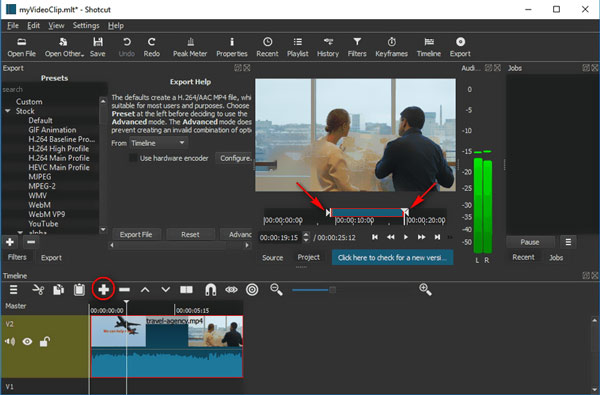 Bandicut - Free video cutter for Windows 11/10/8/7 PC
Bandicut is a popular video-cutting and merging app for Windows users. It enables you to trim videos in all commonly-used formats losslessly. This free video trimmer only has three functions, Cut, Split, and Join. You can take it as a specially designed video trimming software. Moreover, it can work as a batch video trimmer for you to easily cut one or more videos.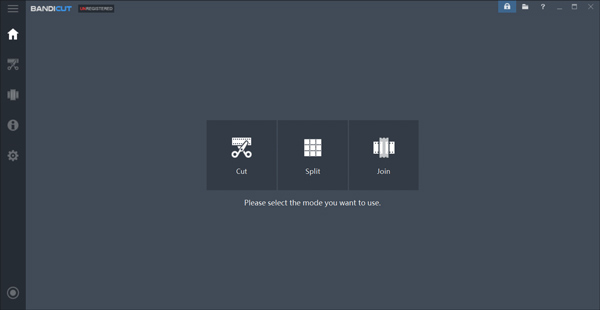 After you download Bandicut on your Windows computer, you can open it and choose the Cut feature. Add your video file to it, and then freely drag the trimming sliders to shorten the video. You are also allowed to adjust the start and end times to control the video trimming.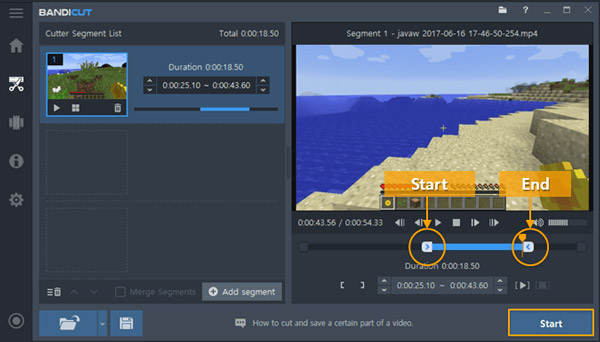 Part 2. Free Online Video Trimmer Recommendations
In some cases, you only need to trim one or several video clips, and a free online video shortener can be a good choice. There are a large number of online video trimmers claiming that they can help you cut videos without losing quality. To help you quickly find the best one, we list three easy-to-use video trimmers for you to choose from.
Adobe Spark
Adobe Spark is an all-featured online video editor powered by Adobe Premiere. It has a specific video trimming page for you to cut the length of your video in seconds. It supports many frequently-used video formats like MP4, MOV, FLV, AVI, and more. As a free video cutter, it allows you to edit a video clip up to 1 hour long. You can use Adobe Spark on both computers and portable iOS/Android devices.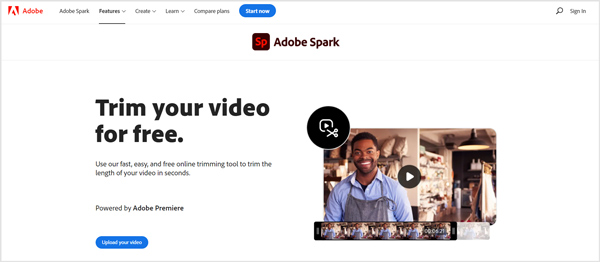 You can directly search for Adobe Spark video trimmer on your web browser to locate it. After uploading your video clip to it, you can drag handlebars to set your parameters or enter the exact time in the start and end time fields to cut the video length. Besides cutting a video, it also enables you to mute audio, change the video aspect ratio, and customize output settings according to your need.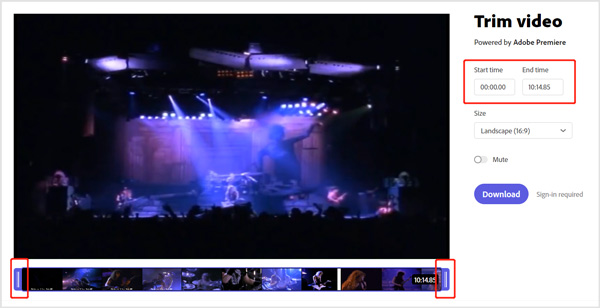 Kapwing Video Trimmer
Kapwing Video Trimmer is one of the most popular online video trimming tools that can help you shorten videos while maintaining the source quality. As a powerful video shortener, it supports MP4, MOV, FLV, AVI, WebM, and many other formats. Moreover, it allows you to trim an online video through its URL. So you can use it as a YouTube video trimmer to directly cut a YouTube video.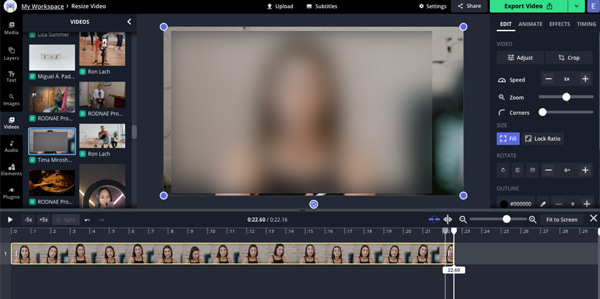 Kapwing offers various video and audio editing functions. When you need to cut a video online, you should go to its Trim Video page. This Kapwing Video Trimmer enables you to shorten a video into sections, split video clips and rearrange, and do other editing operations. The free video trimmer version has some limits. For instance, you are only allowed to edit a video clip less than 250MB and 7 minutes long.
123APPS Online Video Trimmer
123APPS Online Video Trimmer is another popular video trimming tool that allows you to easily cut video clips directly on a web browser. It works well on most browsers, including Google Chrome, Edge, IE, Firefox, and Safari. It can help you trim videos in MP4, MOV, WMV, WebM, AVI, FLV, and more. As a free video shortener, it supports videos up to 4GB.

After you upload your video to this online video cutter, you can drag the trimming bar to cut out unwanted content. As you can see, it also offers Crop, Rotate, Flip, Loop, Change Resolution, Change Speed, and other functions for you to edit your video file. This free online video trimmer won't add any watermark to your output video.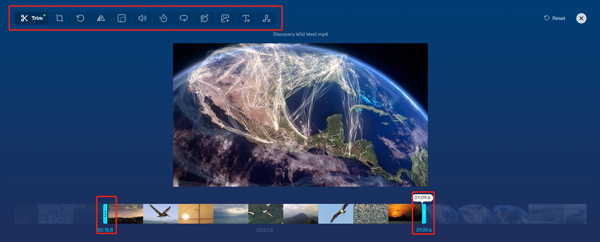 Part 3. Video Trimmer Apps for iPhone, iPad, and Android Phones
If you prefer to trim your captured or downloaded videos on your mobile phone, you can search for some video shortener apps in App Store and Google Play Store. Here we introduce you to 2 easy-to-use video trimmer apps.
InShot - Video Trimmer app for iOS and Android
InShot is a powerful HD video editor and photo editor app for both iOS and Android users. It is designed with all commonly-used editing features for you to edit videos. It allows you to trim videos, crop videos, adjust video speed, add background music, apply different effects and filters, and more.
YouCut - Video Editor & Maker
YouCut - Video Editor & Maker is an all-in-one app for video editing and creating for social media. It can work as a free video cutter for you to trim videos as you want. You can easily edit your video clip with music and then export it in HD quality. Moreover, it provides you with all types of songs, effects, texts, emojis, and more to create your videos without a watermark.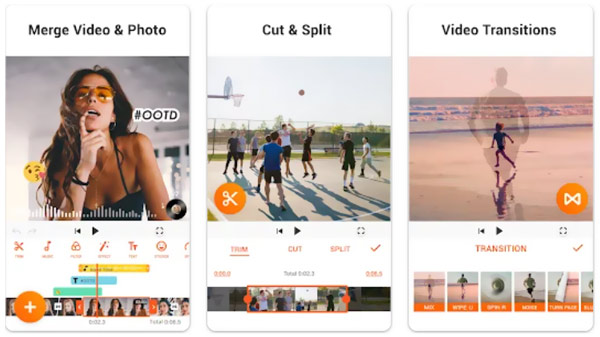 Part 4. FAQs of Video Cutter
Question 1. How do you free-trim a video on your iPhone?
As mentioned above, iOS comes with some basic photo and video editing features. You can easily access its Trim function in the Photos app. When you want to free cut a video on an iPhone, besides the recommended apps above, you can also open your video clip in the Photos app, tap the Edit button, and then freely trim it.
Question 2. How to trim a video using YouTube?
To edit and cut your video using YouTube, you should sign in to YouTube Studio first. Click Content on the left and then click the video title you like to trim. Click Editor on the left panel and then use its Trim & cut feature to freely shorten your video using YouTube.
Question 3. Does trimming a video reduce its quality?
Relatively speaking, trimming won't cause video quality loss if you get a good video trimmer. You should know that the main factors that affect video quality are resolution, bitrate, and frame. So when you export an edited video, make sure you keep its original settings.
Conclusion
When you get a video that is too long, and you prefer to extract the useful part from it, you will choose to trim it. This post gives you a review of the ten best video trimmers for different devices. You can pick your preferred app to shorten videos with ease.