Vlog has been popular on video sharing websites such as YouTube, Vimeo, Dailymotion, etc. After recording a vlog, you need to edit your footage into a finished video before uploading it to YouTube or other social platforms. A powerful and easy-to-use vlog editor can provide great help for you to create a perfect video to share online. Here we will recommend the best vlog editors for you. If you are new to vlogging and are not sure what vlog editing software is suitable for you, I recommend you start with free or cheaper vlog editors. But if you have been familiar with vlog for a period of time, you can try some advanced video editors to get better video effects. No matter you want a free or paid, simple or professional vlog editor, you will find an answer in this article.

Part 1

. Best Free Vlog Editing Software
Windows Movie Maker
Platform: Windows
Windows Movie Maker is the default video editor in Windows system. Now Microsoft has ended the support and download service for this program, but you can still use it to edit your vlog if you haven't uninstalled it. Moreover, if you have Windows 10, you can find its successor, Story Remix, in the existing Photos app. If you are a new comer to vlog editing, it's good to start with this free video editor to create a simple vlog. This vlog editor has basic video editing features like video trimming, transitions, text overlay, etc. It also allows you to change video speed from the fastest motion (64X) to the slowest motion (0.125x). Please note that this vlog editor only supports output formats of MP4 and WMV, but it enables you to save and directly upload your edited vlog to Facebook, Vimeo, Flicker and more.
Pros
Totally free and simple to use.
Good trimming cuts for audio and video transitions.
Cons
Very few video effects to choose from.
You cannot adjust the built-in video effects.
iMovie
Platform: Mac
Similar to Windows Movie Maker, iMovie is the free video editor from Apple that is specially for Mac users. If you are new to editing vlog, and you have a Mac, I suggest you trying iMovie at first before you turn to other vlog editors.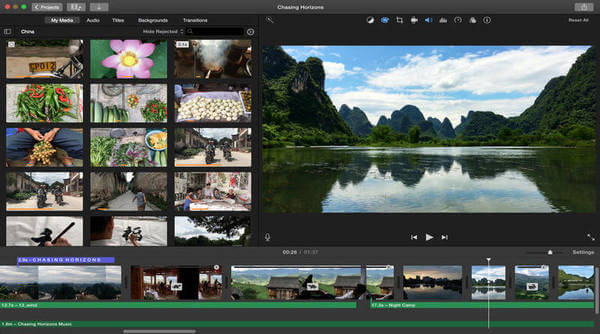 iMovie provides dozens of different styles and great animated captions for Mac users to create a stunning vlog. It enables you to edit your vlogs in many possible ways, from adding text to your video, adding animations, voiceover, adding background music, and adding a video to another. You are also able to change speed of a particular portion of the video.
Pros
The overlay of this free vlog editing software for Mac is simple and much suitable for every new video blogger.
After editing your vlog with iMovie, you can publish it on Instagram or YouTube with 4K resolution.
Share videos from iMovie to YouTube, Vimeo, etc., directly.
Cons
You cannot move or resize the text in your video, you can only select the preset text animations.
iMovie doesn't support 360-degree videos.
iMovie is only compatible with Mac. (Learn more aboue iMovie for Windows here.)
Part 2

. Advanced Cheaper Vlog Ediors
Apeaksoft Slideshow Maker
Platform: Windows
If you think the two vlog editors recommended above are not so functional, you can try to use more advanced vlog editing tool without the steep learning curve of professional vlog editors. Apeaksoft Slideshow Maker is such an advanced vlog editor that can help you make a vlog with the pictures, videos you took as well as your favorite music. It highly supports any popular image, video and audio format. Apeaksoft Slideshow Maker is equipped with 10 ready-made themes, various text effects, transition modes, filter and other elements to help you customize the existing themes and create your own themes. You can create a perfect vlog by following the steps below.
Step 1. Add files
Download and install this vlog editor on your computer. Then click "Add photo (s) and video (s) here" to import your photos and videos.
Step 2. Edit picture and video
Choose the specific photo or video you want to edit, then click the "Edit" button to start the editing process. Here you can adjust the image effects, crop video/picture and more.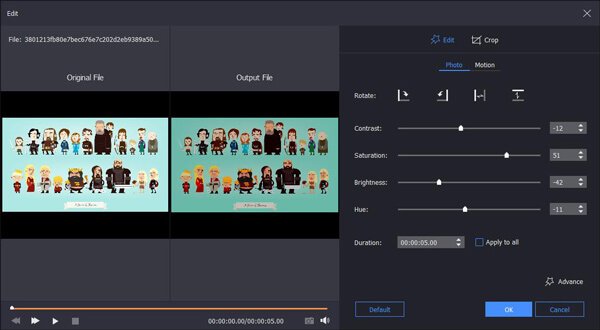 Step 3. Add background music
You can freely change or add background music to your vlog by clicking the "Add Background Music" button. It's also possible to change the background music playback mode.

Step 4. Select slideshow theme
Apeaksoft Slideshow Maker offers you 10 frequently-used themes to choose from, such as Travel, Happy, romantic, Wedding, Christmas and more.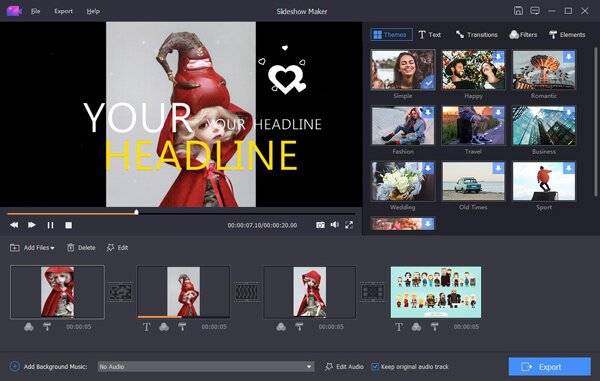 Step 5. Customize vlog effects
This vlog editor allows you to customize your vlog theme. You are able to adjust the Text, Transition, Filter, and Element to fit your need.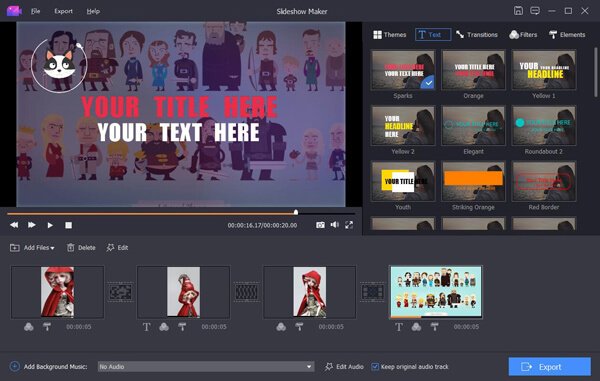 Step 6. Export your vlog
After you make sure you have got the perfect effect you want, you can click "Export" to choose the suitable output format and resolution you want. Almost all popular formats and devices are supported.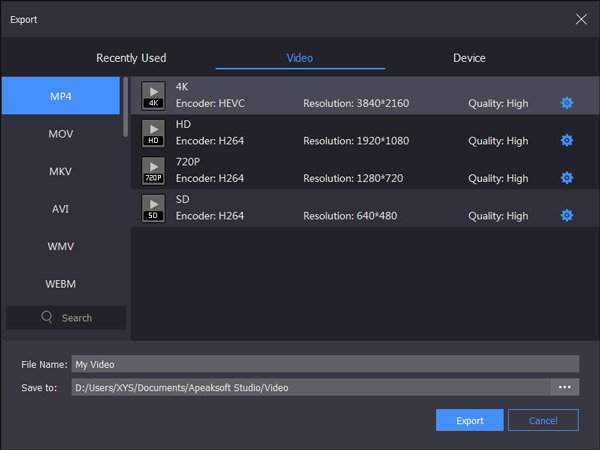 Lightworks
Platform: Windows, Mac, Linux
Lightworks is also an advanced vlog editor that can do video bloggers a great favor. It has both free and paid version. The pro version is absolutely more powerful than the free version. With the free version, you are capable of editing vlog and export it up to 720p web-compatible MPEG4/H.264 file and uploading it to YouTube directly. While the pro version supports more output formats and higher resolution up to 4K. It costs $24.99/month, $174.99/year, $437.99/outright, you can choose which one to purchase according to your need.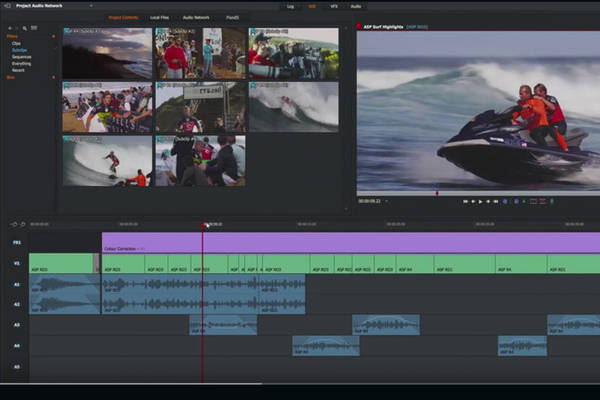 To create a good vlog, you need not only the best camera like GoPro, but also a good video editor. Lightworks Pro offers a bunch of vlog editing features including trim, color correction, transition, visual effect, multicam editing, and more. Vloggers are able to continue editing when importing a batch of materials at the same time, in order to speed up processing efficiency.
Part 3

. Professional Vlog Editing Software
Apeaksoft Video Converter Ultimate
Platform: Windows, Mac
Apeaksoft Video Converter Ultimate is a professional video editing software that helps you convert your vlog to any popular video formats and customize your video with its professional editing features.
This professional vlog editing software is able to convert, enhance and edit videos in more than 1,000 formats. After you film a vlog, you can perfect it by clipping, rotating, cropping, merging video, adding subtitle, background music and watermark, optimizing video brightness, contrast, upscaling video resolution, reducing video noise, and so on. It even enables you to convert 2D video to 3D. It's a good video enhancer that you can reply on to edit your vlog videos.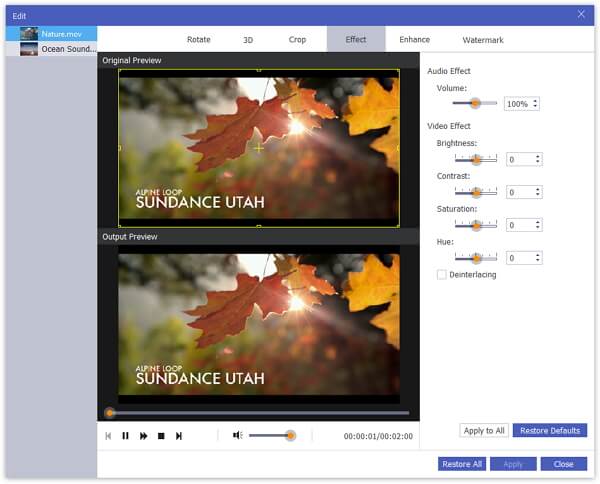 This vlog editor is both available for Windows and Mac version, and it's compatible with the latest Windows and Mac OS.
Final Cut Pro X
Platform: Mac
Final Cut Pro X is an incredibly powerful and professional vlog editor used by many popular vloggers like Casey Neistat and Zoella. It not only has a various range of editing features, but also focuses on speeding up your editing workflow. It's built on a powerful 64-bit architecture, so it allows you to work with complex projects, larger frame sizes, higher frame rates, and more effects. So if your are professional in vlog editing, This Mac vlog editing software can be a good choice.
See what powerful features Final Cut Pro X can bring to you.
It newly adds a powerful noise reduction tool to help reduce or eliminate grain and video noise in your vlog.
This professional vlog editor adopts the industry's most advanced multicam editing so that you can automatically sync up to 64 angles of video with different formats, frame sizes, and frame rates. In which case you are able to open the Angle Editor timeline to move, sync, trim, add effects, or color grade individual clips.
It supports for 360° editing, 360° graphics and effects.
There are professional color grading tools built in Final Cut Pro, which makes every pixel in your vlog closer to perfection.
Since this video editor for vlog is very powerful and professional, its price is relevantly higher than other vlog editors recommended above. It costs $299.99, and of course it's complicated to learn to use.
Part 4

. Best Vlog Editing Apps
Magisto
OS: iOS, Android
Magisto is an easy-to-use video editing app that is available for both iOS and Android users. It aims to help you turn photos and videos into stories in just a few seconds. What's more, you can easily enhance your videos in a few clicks with this app. So it'd be suitable and convenient for vloggers to create and edit a vlog with their mobile phones.
Once you choose your photo or video, you can select an "editing style", which includes real estate, memories, storyteller, dance, and more. Each editing style comes with music suggestions, or you can add your own music from your library or get music for commercial use. The new version of this vlog editing app has added more text customization options, which allows you to choose text size and location on the screen and add multiple text boxes to any frame. It's free for both iOS and Android version, but there is also a business plan that allows you to use more features.
Adobe Premiere Clip
OS: iOS, Android
Adobe Premiere Clip enables vloggers to create and edit amazing videos right on their mobile device. There are two editing options available in this vlog editing app, fully automatic or fully customizable. With the auto-editing option, you just need to transform the pictures and clips on your smartphone or iPad into a finished story, then this app will create a good-looking video for you in just minutes. While with the customizable option, you are able to customize your vlog with its powerful features for trimming, applying custom looks, adding audio effects and more.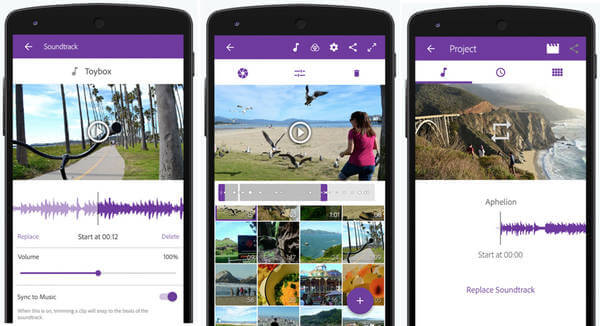 Adobe Premiere Clip is also a free vlog video editing tool for both iOS and Android, and there is not any paid plans in this app.
Apple Clips
OS: iOS
Apple Clips is a free and smart video editing app for making and sharing good videos with text, effects, graphics, and more. It's simple and quick to get started with Clips for vlog editing. This free vlog editor covers most of your needs: stitch clips together, edit your timeline, add subtitles, and more. Apple Clips has some great features that are different from other vlog editors mentioned above. For example, you are allowed to edit your video background to give your content a comic book feel, or something else. The more awesome feature is its Live Titles, which can automatically add captions that are in sync with your voice, while you're speaking.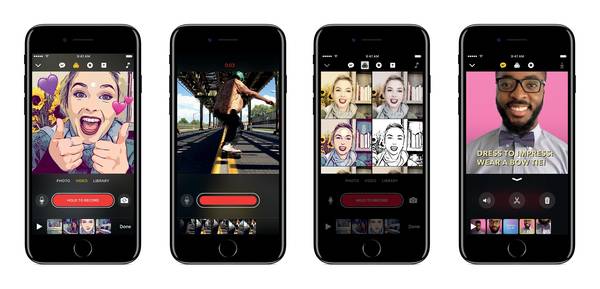 Summary
Hopefully you can get an answer about what vlog editor is the best for you when you are reaching here. To be honest, if you are a beginner or have not much video editing skills, Windows Movie Maker, iMovie and Apeaksoft Slideshow Maker can be good choice for you. And I suggest you start with a vlog editing app to create and edit vlog with the photos and clips on your smartphone at first. All the vlog apps recommended in the last part deserve your try. Furthermore, if you are looking for a more professional vlog editor, I suggest you give Apeaksoft Video Converter Ultimate a try, it's both available for Windows and Mac OS. Finally, if you are a professional vlogger, and you have enough budget, Final Cut Pro X will never be the wrong choice.
If you have any interesting news about vlog, please feel free to share with us in the comment below.