Animated photos are attractive on social media and instant message apps. To catch up this trend, Apple has introduced the support of GIF in iOS 10 and later. It means that you can save GIFs on iPhone running iOS 10/11/12. Moreover, there is even an album called Animated for storing animated images.
However, many iOS users still feel confused about how to get the images in GIF format to their iPhone or iPad. Don't worry! We will show you 3 methods to let you get what you want. Read our guide and you will find that saving and sharing a GIF on iPhone is so easy that everyone can master it.

Part 1:

How to Save GIFS on iPhone via Messages

GIF is a file format designed for animated pictures. A GIF is a short moving picture on a loop and popular across many platforms including Facebook, Twitter and more. Since iOS 10 you can save GIFs on iPhone's Photos app, although they are not playable within Photos.

The Messages app is the pre-installed message app on iPhone. Apple introduced a native GIF search feature into the Messages app in iOS 11 and above. With it, you are able to search for, send them and save animated images on iPhone.
How to Send Native GIFs in iPhone Messages App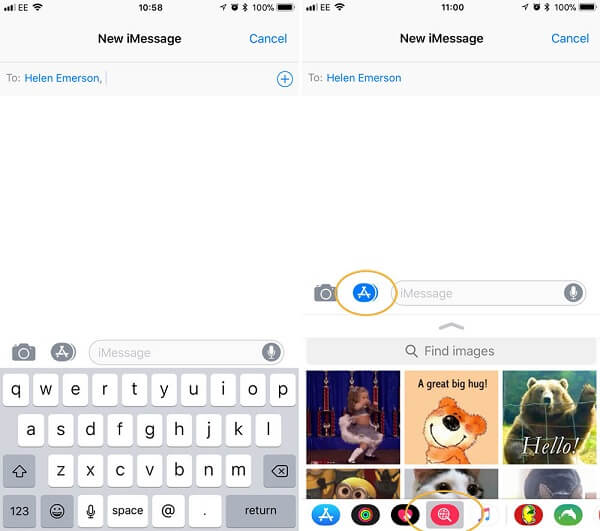 Step 1: Open your Messages app from the home scree, tap the compose icon to create a new chat or open an existing conversation.
Step 2: On iOS 11 and later, you can see two icons at the left side of the message field. Tap the icon next to the Camera icon and you will be presented a few new icons on the bottom. They vary on different devices depending on the compatible apps you have.
Step 3: Select the red Search option with a magnifying glass icon, and then tap the Upward icon to switch to the full-screen mode. Scroll down and look at animated images, and you can find specific GIFs in the search bar.
Step 4: Tap the desired one and the GIF will be sent into a message. Write down any text and tap the Send icon.
If you want to send GIFs in Messages app, then you had better use iMessages, not text messages to avoid extra charges. (Check here to see the differences between text messages and iMessages .)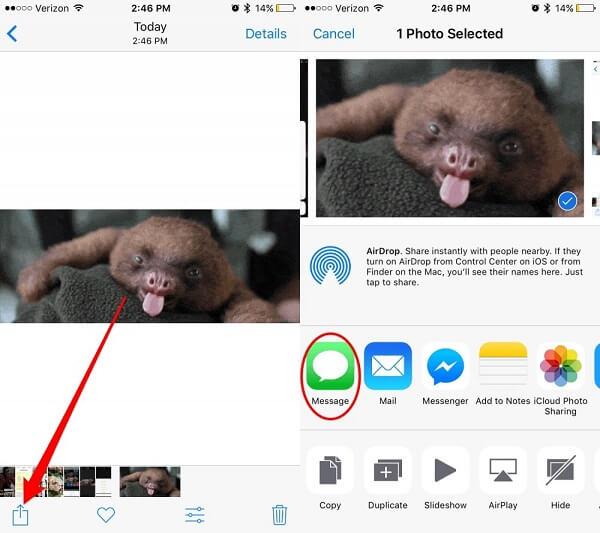 Step 1: Open your Photos app and go to the Animated album.
Step 2: Select the GIF to send on iPhone, tap the Share icon at the bottom, and select Message on the context menu list.
Step 3: Then enter the contact and text, and send your GIF to your friend.
How to Save GIFs in iPhone Messages App
Step 1: If you want to save a GIF on iPhone Messages app after receiving it from one of your friends, tap and hold the animated image and tap Save .
Step 2: Then go to your Photos app and you can find it in your albums.
Part 2:

How to Send GIFs on iPhone via Email

Email is a convenient way to transfer and share photos and other files on iPhone. Though the Photos app cannot play your GIF images, it allows you to send GIFs on iPhone to any devices quickly.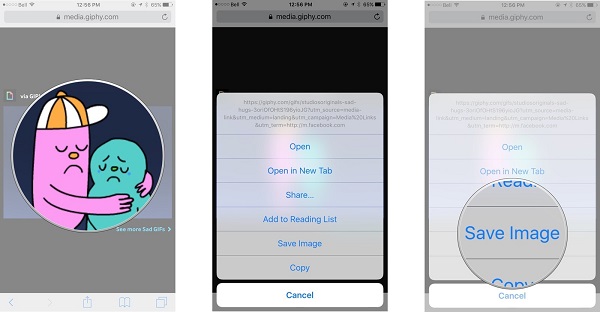 Step 1: Start Safari and find a proper animated image on websites, such as giphy.com.
Step 2: To download the GIF to your iPhone 7, deeply touch it until the context menu pops up. Select Save Image to get it to your Photos app. Then download other GIFs you like.
Step 3: Go to the Photos app and find the GIFs downloaded on iPhone. Select them and tap the Share icon at the bottom left side.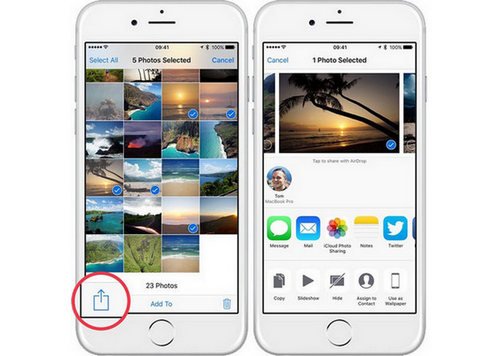 Step 4: Touch Mail on the list to create a new mail. The animated images will appear as the attachments. Enter the contact as well as other information, and tap Send icon.
GIF images are larger than still pictures, which may lead to email problems on iPhone. If you have a lot of GIFs to send on iPhone via email, make sure that your email supports the large attachments. Moreover, you can download GIFs on iPhone's Mail app, if you get them as attachments.
Part 3:

How to Download GIFs on iPhone using MobieTrans

To be honest, we can use GIF images on iPhone running the latest systems easily. However, it is still not very comfortable to find GIFs in Safari. Moreover, the animated image feature is only available to iOS 11 and 12. That makes people who are using the old systems awkward. Is there a way to download GIFs on any iPhone? Apeaksoft MobieTrans can meet your need.
Save GIFs to any iPhone with a single click.
Convert GIFs to supported formats according to your device.
Keep the original quality of your GIFs when downloading.
Not interrupt existing photos on your iPhone.
Download for Win
Apparently, MobieTrans is the best way you can find on market to save and send GIFs on iPhone. We use an iPhone 6 as the example to show you to procedure.
How to Save GIFs on iPhone in Batch
Step 1: Connect your iPhone to the best GIF transfer software
Download and install MobieTrans on your computer and launch it. Connect your iPhone to the computer via the Lightning cable came with your iOS device. The GIF transfer will detect your iPhone automatically.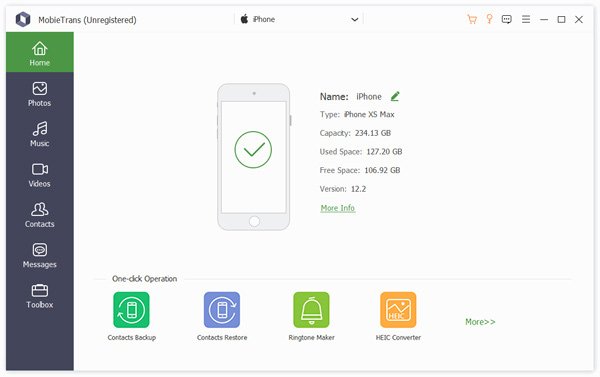 Step 2: Preview and manage iPhone data
In the home interface, you will be presented the basic information about your device including Free Space. In order to make more room for storing GIFs, you'd better manage your data on iPhone and delete unwanted ones. Go to the Music tab from the left sidebar, for example, select unneeded songs and click the Trash icon on the top toolbar.
Tip: To avoid data loss, you can back up your data to computer before deletion by hitting the PC icon and selecting your computer.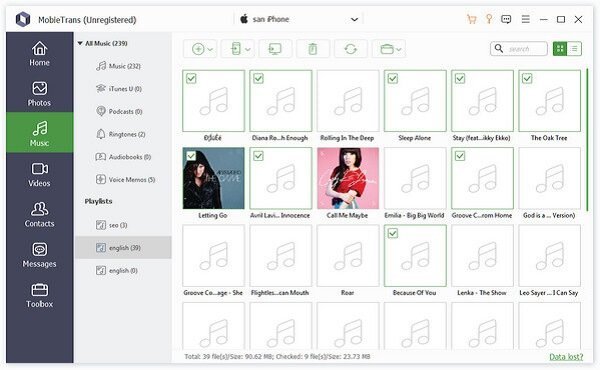 Step 3: Send GIFs to iPhone quickly
Now, go to the Photos tab from the left side and select a proper album. For iOS 11, select the Animated album. Then you have three ways to send GIFs to iPhone 6:
Click the Plus icon at the top ribbon to trigger the open file dialog, select all GIFs you wish to save on iPhone and hit Open button.
Press the Add Item button if no items are found, navigate to the GIFs in your hard drive and add them to your iPhone.
Open the folder that stores GIF images, drag and drop them into the window. They will be downloaded on iPhone immediately.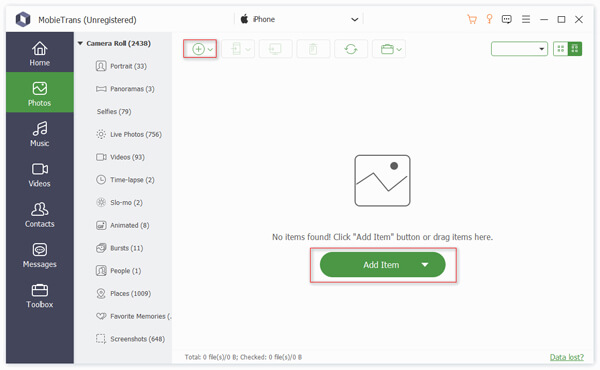 Moreover, you can also export the videos from iPhone to computer and turn videos into live photos for iPhone.
Even if your iPhone does not support GIF format, it is okay since the GIF transfer software is able to convert them automatically. Moreover, MobieTrans relies on the multi-core and hardware acceleration to speed up the process, so you can finish GIFs download quickly.
Conclusion
Based on the sharing above, you should understand how to save and send GIFs on iPhone. iOS 11 is a watershed since Apple introduced a lot of new features into it including the GIF support in Photos and Messages apps. It means that you can save or send animated images on your iPhone. That sounds unfair to the customers who are using old iPhones, right? The third-party software, such as Apeaksoft MobieTrans. It is a powerful way to download GIFs to any iPhone running iOS 12/11/10/9. We hope that our recommendation and guide are helpful to you. If you have more questions or suggestions, please leave a message below this post.