GPS services are increasingly used in people's daily lives to facilitate their travel. More and more software developers have also launched map apps and navigation services. Google Maps will be one of your best choices when measuring the distance between two places or navigating to another location.
How can we measure the distance between two locations using Google Maps? This article is made to solve this problem of yours. We will explain how to use Google on your computer and mobile, and if you need to change your GPS location, we will also recommend one of the best tools for you.

Distances Between Two Locations
Part 1. How to Measure the Distances Between 2 Locations on Google Maps
Find Distance on Google Maps App
Google Maps, developed by Google, is a mapping and navigation app. It provides detailed maps, satellite imagery, and real-time traffic updates. Google Maps also allows you to save favorite places or create custom maps. Google Maps is supported on both Apple and Android devices. It is the best tool to use if you want to measure location-to-location distance on a map.
Here is what you need to do to measure the distance with the Google Maps app. If you are an Android user, you can use it directly. If you use an Apple device, download and install it from the App Store.
Step 1 Enter Google Maps, and wait for the app to display your location. Find your target place with a red pin. You can get other options like Directions, Start, Save, Label, or Share under the Dropped pin.
Step 2 Choose Measure distance, and drag the map to the location you want. The distance from the current location will be displayed on the interface.
Step 3 You can check the distance in miles or kilometers by tapping Add point in the bottom right corner.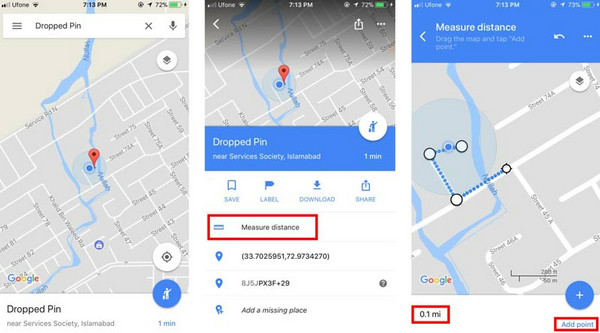 Measure the Distance on the Google Maps Website
The Google Maps website is accessible through any computer or mobile device web browser. Suppose you want to measure the distance between two locations on Google Maps on your computer or don't want to download additional applications. In that case, you can go directly to the official website of Google Maps. It's similar to the app, with an intuitive interface and easy to use.
Follow the guide below to use the Google Maps website.
Step 1 Open your browsers and enter the Google Maps website. Your current location will be displayed based on your PC's ID and GPS location.
Step 2 Type your target address in the search box and click Search. Then, right-click on the destination to launch the Measure distance function.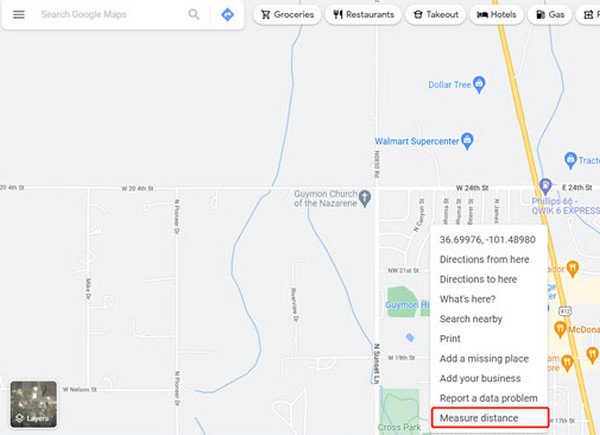 Step 3 You can click on the target location to check the distance in miles or kilometers. A Measure distance popup will be displayed.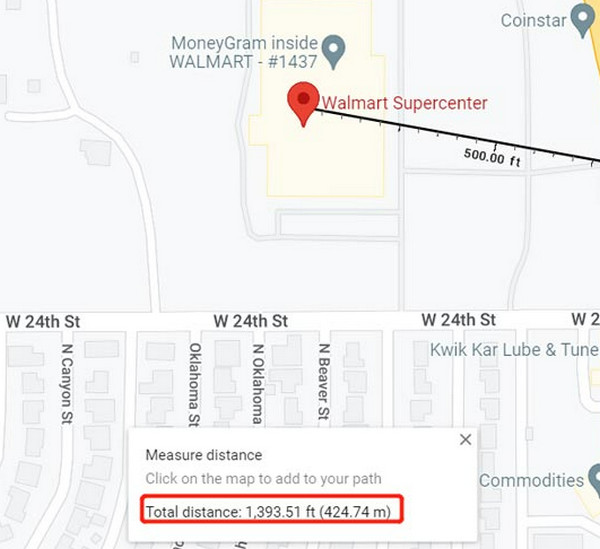 Part 2. Bonus: How to Change Your Location on Google Maps
By now, you've learned that Google Maps can locate your position and measure the distance from your location to another point. But sometimes, for privacy and security reasons, you may not want to let others know the actual place where you are, or you don't want to allow people to track your movement. At this time, you may need a professional tool to help you modify your positioning. We strongly recommend you use Apeaksoft iPhone Location Changer. It can change your GPS location to any corner of the world and simulate your moving track. It will also provide you with a variety of personalized routing options.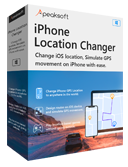 4,000,000+ Downloads
Change the GPS location of your iPhone to any location in one click.
Offer different modes of stimulating GPS movements and customize the speed.
Save your preferred locations and record for easy access next time.
Support playing location-based AR games without actually going out.
Have compatibility with the latest version of iOS and iPhone.
Here is a detailed instruction for operating Apeaksoft iPhone Location Changer.
Step 1 Download Apeaksoft iPhone Location Changer from the official website. Then, install it on your computer.
Step 2 Launch Apeaksoft iPhone Location Changer, and click Start. Link your mobile device to the software with a USB cable. Tap Trust on your device to bypass trust on this computer if promoted.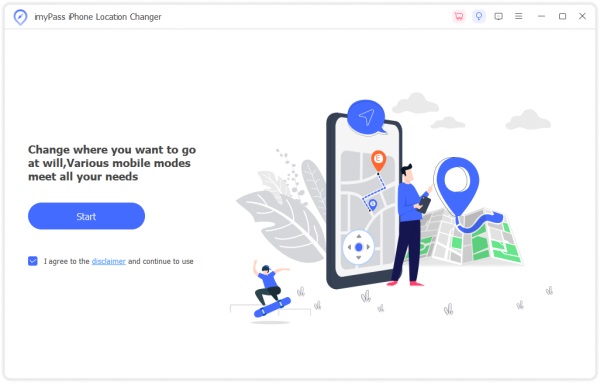 Step 3 Depending on your needs, choose among Modify Location, One-stop Mode, Multi-stop Mode, or Joystick Mode.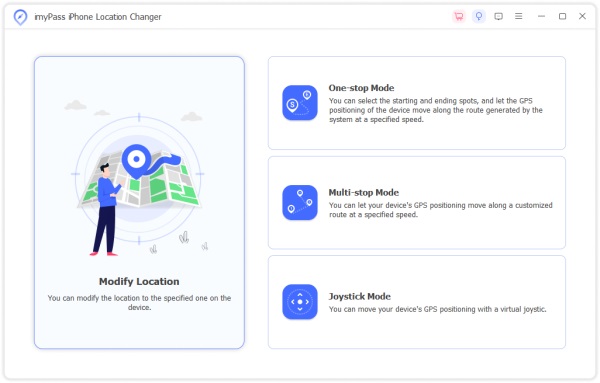 Step 4 If you want to customize the route or speed of movement, you can click Start Move. Thus, the location of your device will be changed.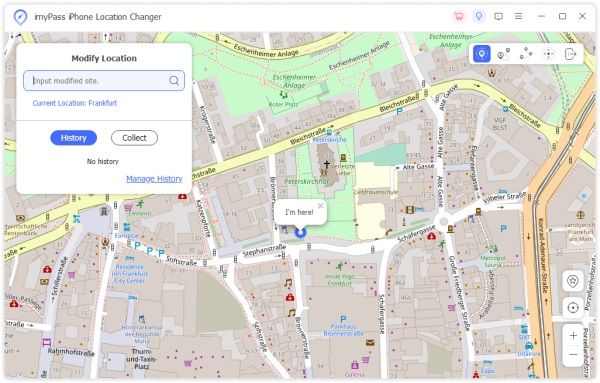 Part 3. FAQs of Distance Between 2 Locations on Google Maps
What is the distance between points A and B?
The distance between two points is the length of the straight line connecting them. It is calculated using the measure tools. Note that if you want to get from point A to point B, the distance you need to travel tends to be longer than a straight line distance because there is no absolute straight road.
How to find locations on Google Maps?
Open Google Maps on your device. You can access it through your device's website or the Google Maps app. Type the location name you want to find in the search bar. Then, Google Maps will provide suggestions based on what you're entering. Select the desired location from the tips.
Can I create a Google map with locations?
Yes, you can create a custom Google map with multiple locations. Open Google My Maps on your device. Sign in with your Google account. Click Create a new map to start a new map project. Then, give your map a title, and you can add a description for reference.
How accurate is the Google Maps distance measurement tool?
Generally speaking, the Google Maps distance measurement tool is accurate. It uses GPS data and mapping algorithms to calculate distances between two locations. The availability and quality of satellite imagery, the GPS signals, and any potential errors in the mapping algorithms will affect the accuracy.
Does the iPhone have an app for measuring distance?
Yes, the iPhone has an app called Measure that allows you to measure distances between locations. The Measure app uses the device's camera and sensors to calculate objects' distance or dimensions. If you do not have Google Maps or your Google Maps is not working, Measure will be the best alternative. It can help measure a room's length, the furniture size, or the distance between two objects.
Conclusion
We are sure you have mastered measuring the distance between two locations with Google Maps. Follow our detailed step-by-step guide and notes. We are confident you can do it without any hassle. If you don't want people to find out where you are or where you're moving, we recommend trying Apeaksoft iPhone Location Changer. If you have any other ideas or better distance-measuring tools, please feel free to leave a message in the comment section to discuss with us.