You may encounter an app or software update failure because your smart phone is out of storage space. Your digital device runs slower than before due to app crashes and other problems. All these problems are caused because of the lack of your storage space. Actually, even though you bought a mobile phone with 128 GB or 256 GB, it is still important to delete junk files and clear cache on Android phone regularly.

Therefore, this article collects excellent solutions of how to clear cache data and app data on Android phones and tablets. Furthermore, you can also learn basic knowledge about what is cached data on Android phone. All in all, you can get several ways to clear cache easily through the following paragraphs.
Part 1: What Is the Meaning of Cached Data
Cached data means all media files stored in your Android phone or tablet by an app or website. Therefore, every time you use an app, it will save cached data including files, images and others automatically. As a result, next time you load this app, you can get the target information quickly and smoothly. If you still have no idea what cached data is, you can refer to those common questions.
Question 1: What's the difference between "Clear app data" and "Clear app cache" on Android?
Answer 1: Cached data is the temporary storage area of your Android device. It can speed up your operating system to run faster than before. So you have little risk when you clear cache Android, while app data plays a more important role. Once you clear app data on Android phone, all your previous data and content will be removed. Thus, your app will be reset to its default state.
Question 2: Is it OK to clear all cached app data on Android?
Answer 2: Yes. Clear cache data on your Android does not matter a lot. You just remove temporary files stored in your internal storage space. Cache data can be loaded from the Internet automatically whenever you need. You will not lose any important or sensitive data after clearing cache on Android phone.
Question 3: What happens when you clear the cache on your phone?
Answer 3: You can free up more memory space on your Android phone or tablet effectively. Moreover, it can improve your battery's life, speed up your digital device and fix some Android system problems like Android is trapped in Odin mode, Download mode, soft bricked, etc.
Part 2: How to Clear Cache in Android
Therefore, if you are running low memory space or your device has been frozen frequently, you can clear cache in Android programmatically.
Use Device Settings to Clear All Cached Data on Your Device
Step 1. Head to Android storage & memory
Open Settings app on your Android device. Then choose "Storage" and "Storage & memory" in order. You can see the amount of memory consumed by all applications.
Step 2. Clear cache Android of all apps
Scroll down and click "Cached data". A new window pops up saying "This will clear cached data for all apps". Choose "OK" to confirm.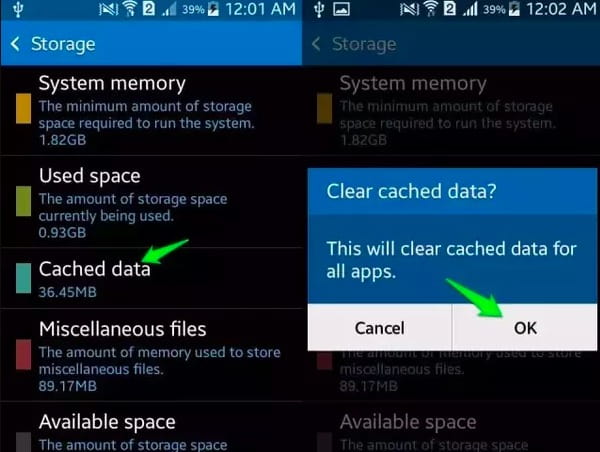 Clear Cached Data Per APP
Step 1. Locate the app full of cached data
Turn on your Android phone or tablet. Navigate "Settings" app and choose "Apps" under "Personal" section. Then choose one application that you want to clear app cache.
Step 2. Clear cached data per app on Android
Click "Storage" in the "App info" page. Later, select "Clear Cache" button to clear the cache of one app on Android.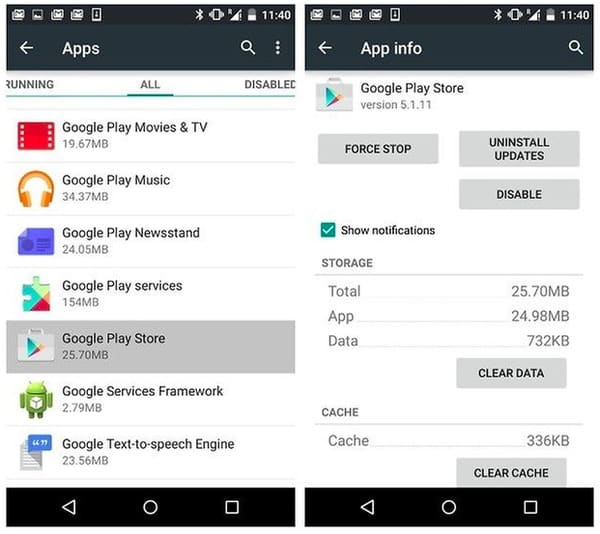 Use Third-party APPs
Step 1. Launch Clean Master to clear Android cache
Choose one Android cleaner app from Google Play Store to clear all cached data on Android phone. During this time, you can install Clean Master to clean cache and junk files with ease.
Step 2. Clear cache data on Android
Select "Junk Files" to detect your cached Android data and junk files thoroughly. Then choose "Clean Now" to clear cache, cookies and history from your Android. In addition, all cached data from Facebook, Chrome, and other social apps will be cleaned completely.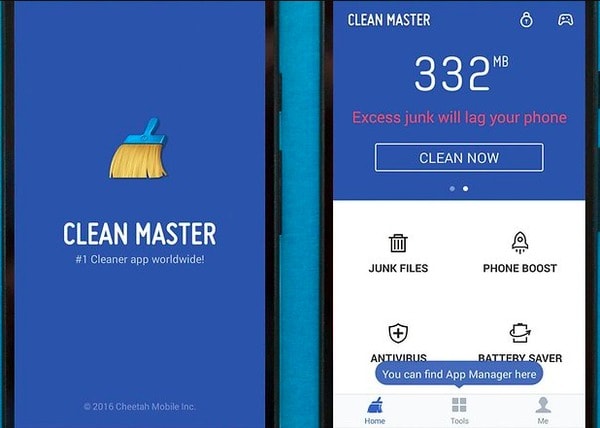 Clear Cache from Recovery
Note: Be aware that your device may be damaged after rebooting. Thus, think twice and backup important Android data in advance.
Step 1. Load into your bootloader screen
Power off your Android phone. Then enter into your bootloader by pressing Power and Volume Down buttons simultaneously. Well, for some Android models, you need to hold and press Power and two Volume keys at the same time.
Step 2. Clear system cache Android from recovery
Use Volume keys to scroll up and down the whole page. Choose "Recovery" and press "Power" button to confirm. Later, select "Wipe cache partition" option and press "Power" to move on. At last, choose "Reboot system now" to clear Android cache after an OTA update.
In this way, you reboot Android phone and restore Android system.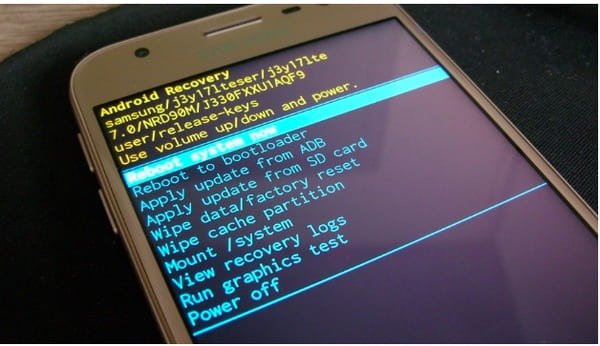 As another app that also takes up storage, Photos, you could also learn here to delete Android photos.
Part 3: Clear Phone Cache iPhone
Well, if you need to clear cache data on iPhone, iPad or iPod, you can use Apeaksoft iPhone Eraser to clean up your iOS device completely and permanently. Furthermore, iPhone Eraser can safeguard your private information with anti-virus effectively.
Erase all content and settings from iPhone, iPad and iPad permanently.
Offer three erasing levels to overwrite all iOS data with no recovery possibility.
Work with iOS 11 and all iOS devices including iPhone 15/14/13/12/11/XS/XR/X/8/7/6, etc.
Erase more than one Apple device at the same time.
Download for Win
Download for Mac
Step 1. Connect iPhone to iPhone Eraser
Launch iPhone Eraser on your Windows computer. Then plug iPhone into your computer with a lightning USB cable.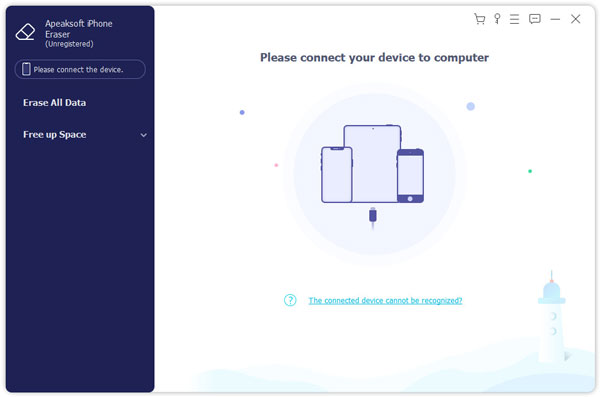 Step 2. Choose the erasing level
You can choose from low, medium and high erasing levels. Later, choose "OK" to save your change.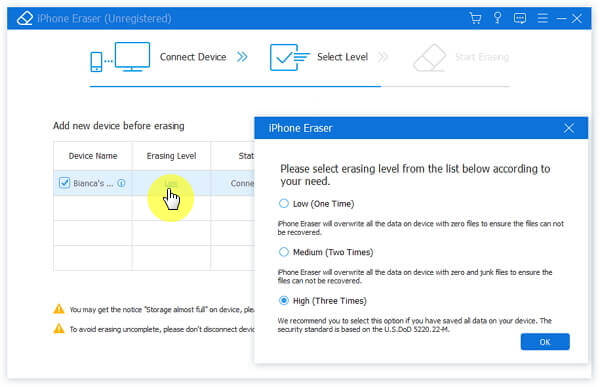 Step 3. Erase everything on iPhone
Select "Start" to start to clear cached data and other iOS content from iPhone. Do not disconnect your Apple device during erasing.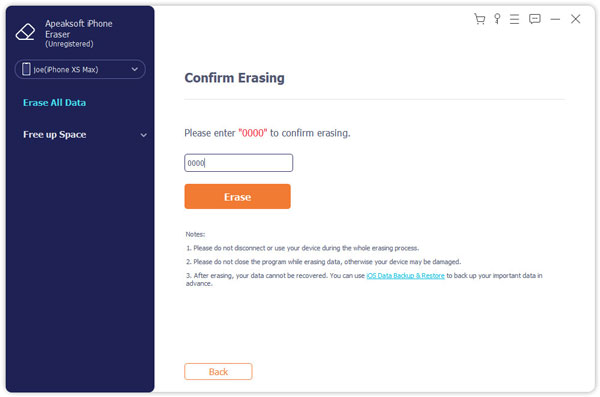 If you want to clear cache on your iPad, you can click here.
As a result, you can clear cache Android of any app easily. It is also supported to clear system cache data on Android as well.
If you have any good idea to clear cache on Android phone, you can also share your experience or thought in the comments below.