Before selling or giving away your old iPhone, you need to delete all your stored files, especially for the WhatsApp chat history. It is not a good experience to leave your WhatsApp chats on your not-used iDevice. Moreover, you want to delete a WhatsApp message when you sent a message by mistake.
No matter why you want to delete Messages on the WhatsApp app, you just come to the right place. This article will show you how to delete old WhatsApp chats on iPhone completely or selectively. Just read and follow.

Delete WhatsApp Messages
Part 1: How to Completely Delete All WhatsApp Chats on iPhone
You can use Apeaksoft iPhone Eraser to delete WhatsApp chats permanently on your iPhone. There are 3 different data erasing levels. You can overwrite iOS data and settings for 1, 2, 3 times. As a result, you can securely erase WhatsApp chats, attachments, videos, audios, photos, and other files. Besides, the other iPhone files will be erased as well. Your iPhone can be as clean as a new one.
Permanently delete WhatsApp messages on iPhone with zero recovery possibility.
Erase messages from WhatsApp on more than one iOS device simultaneously.
No personal information can be tracked or recovered.
Delete everything on iPhone, including contacts, browser information, apps, downloads, etc.
Support the latest iPhone 14/13/12/11/XS/XR/X/8/7, etc.
Download for Win
Download for Mac
Step 1
Free download, install, and launch Apeaksoft iPhone Eraser. Connect your iPhone to the computer with a lightning USB cable.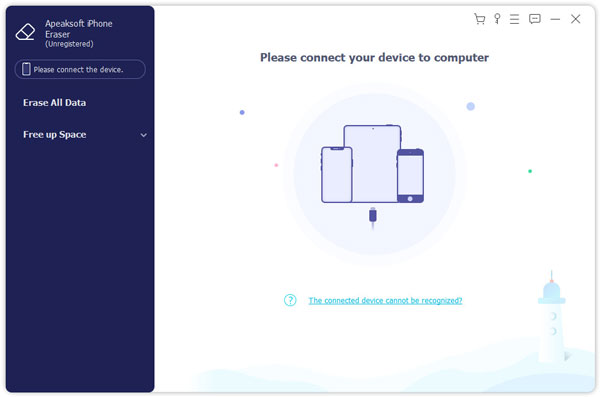 Step 2
After detecting your iPhone, choose the erasing level among Low, Medium, and High. Click OK to save changes.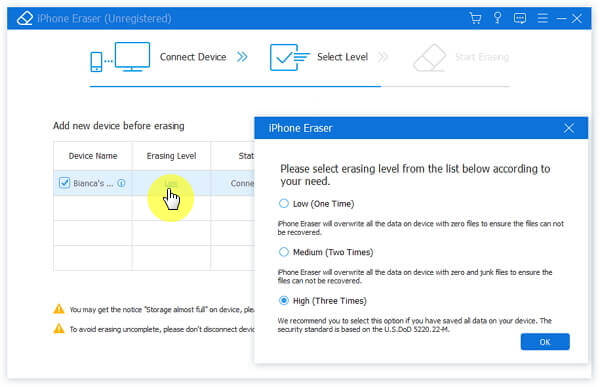 Step 3
Click Start to start erasing iPhone and deleting individual and group chats from the WhatsApp app.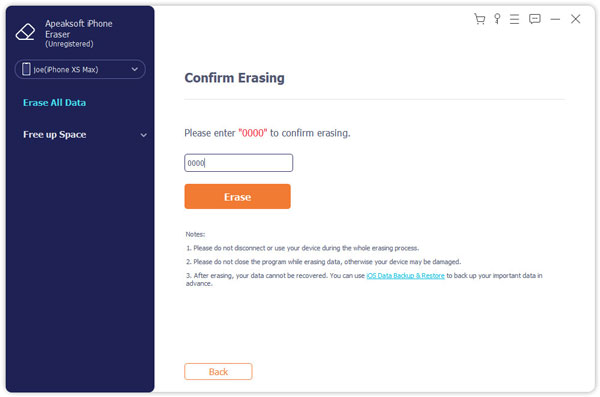 Part 2: How to Delete Messages from WhatsApp on iPhone
There are also default ways to delete an individual, group, or all messages from the WhatsApp app. You can do as the following paragraphs show.
How to Delete a Message on WhatsApp
Step 1
Go to the WhatsApp Chats section.
Step 2
Swipe left on the specific chat you want to delete from WhatsApp.
Step 3
Tap More and choose Delete Chat.
Step 4
Confirm with Delete Chat to delete a WhatsApp message on iPhone.
How to Delete a Group Chat from WhatsApp
Step 1
Exit the WhatsApp group you want to delete first.
Step 2
Choose More and select Exit group.
Step 3
Tap Exit group again to confirm.
Step 4
Swipe left on this WhatsApp group chat.
Step 5
Choose Delete Group twice to delete group conversations on WhatsApp.
How to Delete All Messages from WhatsApp
Step 1
Go to WhatsApp Settings.
Step 2
Choose Chats followed by Delete All Chats.
Step 3
Enter the phone number that you register with this WhatsApp account.
Step 4
Tap Delete All Chats to delete old WhatsApp messages for everyone.
Part 3: Backup Your WhatsApp Messages before Deleting
To bypass unexpected data loss, you had better make a backup of WhatsApp data with Apeaksoft WhatsApp Transfer. You can backup WhatsApp messages, contacts, attachments, and other files from the iPhone to your Windows or Mac computer. What's more, you can transfer and migrate the old WhatsApp messages to your new iPhone, iPad, iPod, or Android device.
Backup WhatsApp messages from iPhone to Windows PC/Mac in case of data loss or deletion.
Restore old WhatsApp backups to your iOS or Android device.
Extract one specific chat or export the entire chat history from WhatsApp.
Save WhatsApp backup files in HTML and CSV formats in seconds.
Preview any WhatsApp content before restoring.
Download for Win
Download for Mac
Part 4: FAQs of Deleting WhatsApp Chats
How to delete a WhatsApp message for everyone after 7 minutes?
The WhatsApp message deletion support allows the sender to delete a message within 7 minutes. If you want to delete WhatsApp messages after the time limit, you can turn off both Wi-Fi and mobile data first. Go to the Settings app. Roll back the date and time before this message was sent in WhatsApp. Then open the WhatsApp app. Find that message and tap the bin icon. Choose Delete for Everyone to delete the WhatsApp chat history from both sides.
Can you delete WhatsApp messages older than 6 months?
Yes. You can delete the sent WhatsApp message older than 30 days. Just disable all network connections. Go to iPhone Settings and set the date and time back. Then you can hold a WhatsApp chat and choose Delete followed by Delete for Everyone. Revert to the correct date. You will be prompted with This message was deleted. That's how to delete 6 months, 1-year-old, or even older WhatsApp messages.
How to delete WhatsApp chats automatically?
To set auto-delete messages on WhatsApp, update WhatsApp to the latest version first. Open WhatsApp and choose which chat you want to enable self-deleting. Tap the three-dot icon. enter Contact/Group Settings. Tap Delete Messages. In the popping-up window, select the WhatsApp message deleting duration to 1 hour/day/week/month/year. Choose OK to confirm and save changes.
Conclusion
All in all, you can delete WhatsApp messages on your iPhone entirely or selectively with the above methods. Apeaksoft iPhone Eraser can help delete years of WhatsApp messages from iPhone. There is no need to worry whether others can recover the deleted WhatsApp messages anymore. If you still want to keep some WhatsApp chat history, you can use Apeaksoft WhatsApp Transfer to manage, backup, restore, and transfer all WhatsApp data.