Sometimes, you want to delete individual unnecessary messages on your iPhone, or you are going to delete all text messages to free up more storage space. Here comes the question, how to delete messages on iPhone? Surely you don't want to delete them one by one.
If you do not know a quick way, you are at the right place. In this tutorial, we will discuss how to delete messages, iMessages and text messages on your iPhone. Read on and learn the detailed steps.

Part 1

: How to delete individual messages on iPhone

If you just want to clear a couple of individual messages from your iPhone but not delete the whole conversation, follow the general guides bellow:

Note: For avoiding any data loss, you had better backup messages on iPhone before deleting. Learn here to sync iPhone messages to computer.

Step 1. Open Message app

Tap the Message icon on the home screen of your iPhone to launch this app, and tap the conversation including the individual massages that you are going to delete.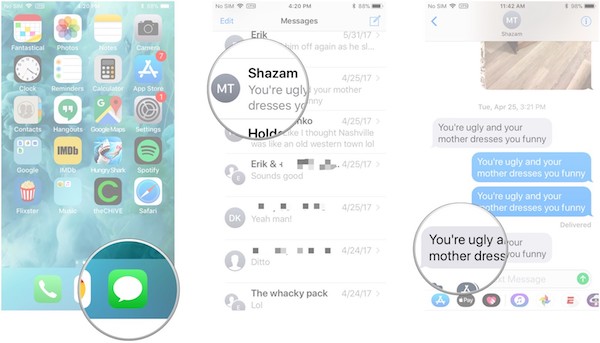 Step 2. Locate the specific massage
Find and locate the certain message you want to erase, press and hold on it until a pop-up menu appears. Then click "More" in the pop-up menu.
Step 3. Tick individual massages
Tick which messages you are going to delete, and you will see a checkbox in the box to indicate these massages will be deleted.
Step 4. Delete individual messages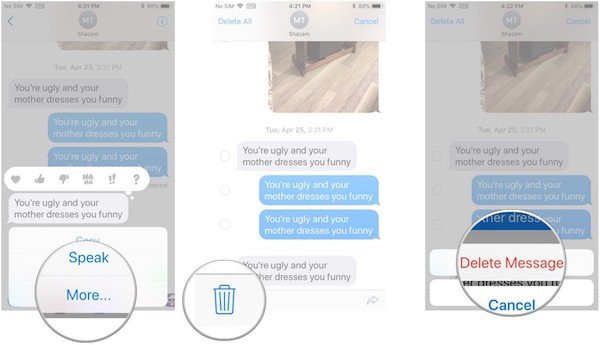 Check again for all these massage, and click the trash icon in the lower right corner of the page, hit on "Delete Massage" button finally to delete all the selected massages on iPhone.
Part 2

: How to delete all text messages on iPhone

If you would like to remove all text messages on your iOS device, it is unnecessary to tap each text message to clear them one by one. Here we provide a more quickly and convenient way to delete all text messages on your iPhone:

Step 1. Launch Message app

Open "Message" app on your iPhone by tapping on its icon, which is a white dialog box in green background on the home screen.

Step 2. Tap on "Edit" option

Then you can see the list of all conversations. Tap the "Edit" button in the upper left corner, and you are able to see a circle in front of each conversation.

Step 3. Tick all the conversations

To delete all the text messages in your iPhone, tick all the circle of each conversation, and go to click on the "Delete" button in the bottom right corner.

Step 4. Check the deletion again.

Check if you have ticked all the conversations again. Once you tapped on the "Delete" button, all the text messages will be erased in a moment.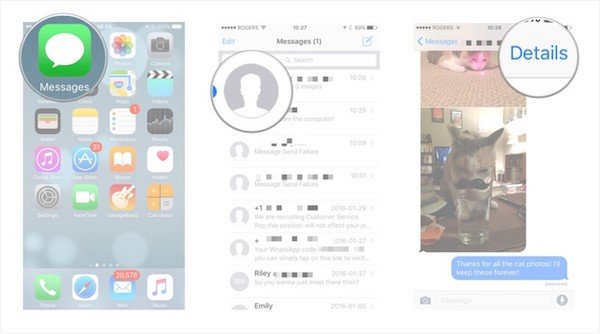 Sometimes, you may also face the situation that iMessage not working. Check here to fix iMessage not delivered error on iPhone.
Part 3

: How to permanently delete iMessages

Though the solutions mentioned above can help you delete individual iMessages quickly and easily, there are still some tools to recover these deleted data and files back. To avoid such a stubborn draw, you need to use a powerful erasing tool to permanently delete all iMessages with zero chance to recover. Apeaksoft iPhone Eraser should be a nice choice for you to take into considerations.

Apeaksoft iPhone Eraser is one of the most useful and professional utility to help you delete everything, such as iMessage, text messages, photos, videos, password, videos, , call history and so on permanently and thoroughly on iOS device.
This software offers you three erasing levels optionally to delete everything, including iMessages (all or selected) iPhone.
Apeaksoft iPhone Eraser provides 100% promise to erase all files and data without zero recovery possibility.
It will remove all the data and settings from your iOS device with one click safely and securely, with no personal information tracked.
Download for Win
Download for Mac
Follow the step-by-step guides to learn how to delete iMessages permanently on iPhone:
Step 1. Install iPhone Eraser
Download iPhone Eraser in your computer, and follow the instructions to install it. This software is available for both Windows and Mac.
Step 2. Connect iOS device to computer
Launch iPhone Eraser, and plug your iPhone to the computer via a USB cable. Once connected, your device will be recognized by iPhone Eraser.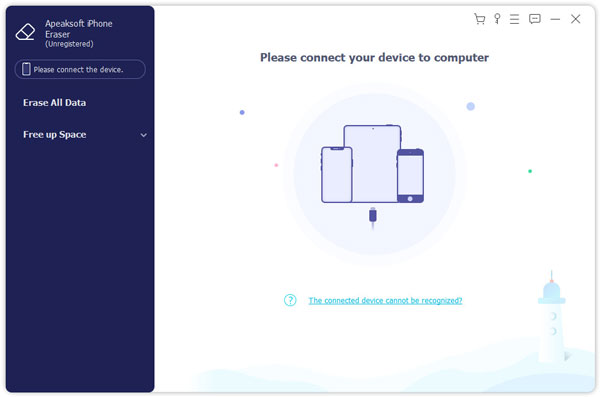 Step 3. Apply different mode
Next choose a suitable mode to delete iMessage permanently on iPhone. You are able to choose low, medium and high levels optionally.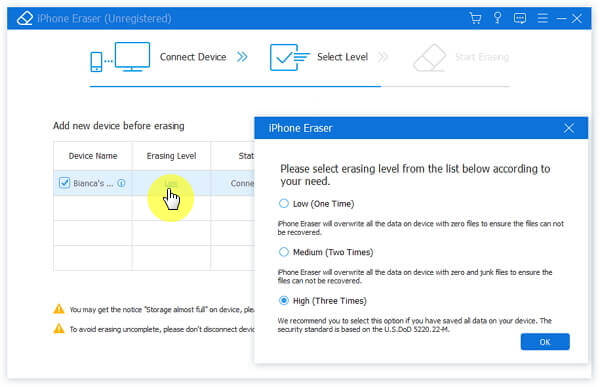 Step 4. Start clearing process
After all is set, click on the "Start" button to start the deleting process. Once the cleanup is done, all the iMessages on your iPhone will be deleted and never come back. Here you may also want to delete Bookmarks on iPhone and iPad.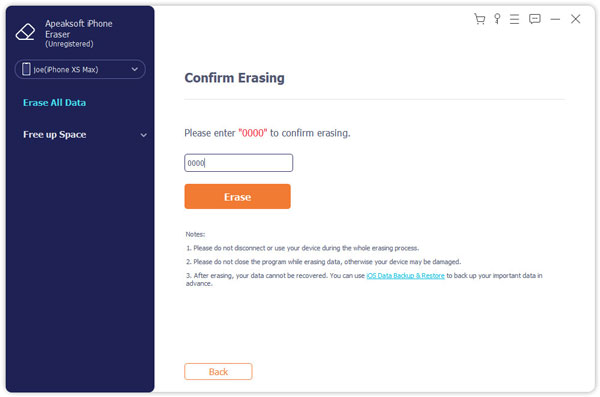 Part 4

: How to set messages to delete after a period of time

Optionally, there is a wonderful feature in Message to help you delete these text messages on iPhone automatically after a period of time. With this feature, there is no need for you to manually remove these unnecessary text massages one by one. Now let's learn how to set this feature:

Step 1. Launch Settings app

Open Settings app on the home screen of your iPhone, which is a gear icon in grey background.

Step 2. Tap on "Mail"

Scroll down through the options and tap on "Mail". In the "Mail" tab, hit on "Keep Message" option under the "Message History" section.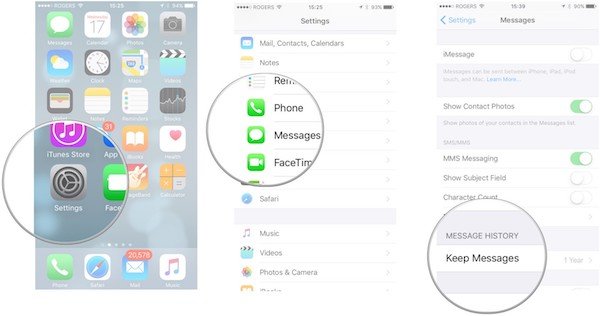 Step 3. Choose the detailed period
Tap on either 1 year or 30 days, and a pop-up menu will shows up to confirm your iPhone will delete all the messages older than the specific time.
Step 4. Click on "Delete" option
Once you click on "Delete" option, you are not allowed to undo this action. All the text messages remained for more than the specific period will be deleted automatically. Actually, it is also quite necessary to backup iMessages.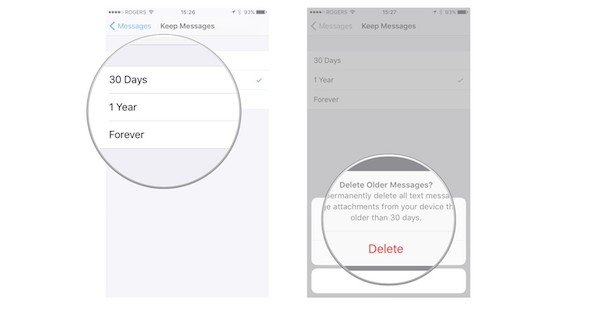 Conclusion
With these detailed steps above, you can delete individual or all the messages on your iPhone efficiently. You may also want to use iMessage on Windows 11/10/8/7 PC. Do you like the deleting process with the help of this tutorial? If you have more thoughts about deleting messages on iPhone, please share them in the comment sections.