"I want to sell my old Apple Watch, but I need to reset it first, any suggestion?" The Apple Watch is a reliable smartwatch that operates as a small wearable computing device. It requires an iPhone 5 or later running iOS 8.2 and above. Despite the small size, an Apple Watch can perform plentiful functionalities, such as playing music, monitoring heart rate, tracking sleep, making phone calls, and more. This guide tells you how to factory reset an Apple Watch with or without an iPhone.

How to Reset Apple Watch
Part 1: When You Should Reset Your Apple Watch
You should understand that the process will bring your smartwatch to factory status. It means that all your data and settings will be erased forever. There are many reasons why you need to factory reset your Apple Watch. The main causes include:
1. Sell or give your Apple Watch to others. Before that, you'd better reset your Apple Watch to factory settings.
2. Your device encounters a technical problem. Resetting not only erases your Apple Watch but also is the last technical fix before taking the device to the nearest Apple Store.
3. Protect your privacy. An Apple Watch tracks and records lots of information about your health, locations, and more. Resetting is also the last solution to protect the information.
4. Forgot the passcode of your Apple Watch. Resetting is the only way to reset a new passcode if you forgot the old passcode.
Part 2: How to Reset Apple Watch with iPhone
Unpairing is the easiest way to reset your Apple Watch to the factory settings. This way requires your Apple ID and the password, for the paired iPhone. If you are using Apple Watch with a transit card in the Wallet app, remove it before the process. Bear in mind that the process removes Activation Lock as well as erases all content. You should make a backup to avoid data loss.
Step 1 Power on both your Apple Watch and iPhone, and place them close to each other.
Step 2 Run the Watch app on your iPhone, choose your Apple Watch name, and tap the Info icon that locates to the right of your watch's information pane.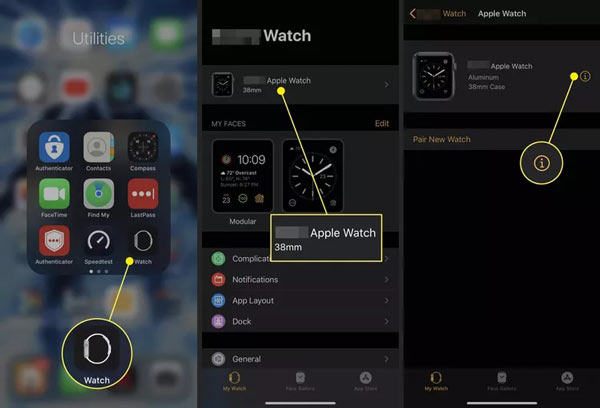 Step 3 Then press Unpair Apple Watch. If you are using an Apple Watch Series 3/4 with GPS and Cellular, you will be asked whether to keep or remove the cellular plan. If continue to use your watch, keep the plan. Otherwise, remove it.
Step 4 Next, tap the Unpair [name] Apple Watch button on the alert dialog. When prompted, enter your Apple ID password, and press Unpair. That will disable Activation Lock on your watch.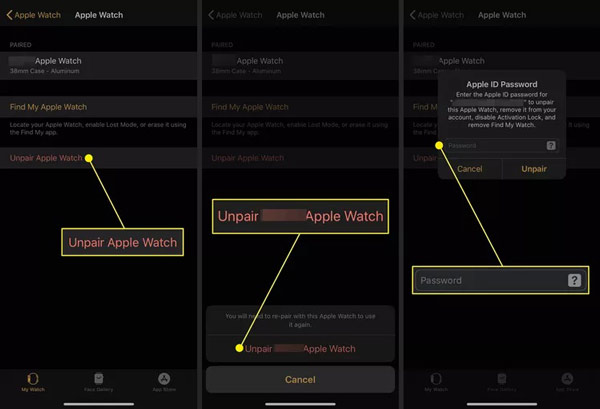 Step 5 The unpairing process will begin immediately. It may take a while to finish. Wait for it to complete and the Watch app will display the Start Pairing screen. Of course, your Apple Watch will reboot to the initial setup interface.
Part 3: How to Reset Apple Watch without iPhone
Can you reset an Apple Watch without the paired phone? The answer is yes. Without the paired iPhone, you can still perform a factory reset on your watch, but the Activation Lock will remain. That is another difference. This way requires the passcode of your Apple Watch.
Step 1 Press the Digital Crown to enter the app tray on your Apple Watch.
Step 2 Open the Settings app, head to General, scroll down, and choose Reset.

Step 3 Next, tap the Erase All Content and Settings option, and enter your passcode if prompted.
Tip: For the models with GPS and Cellular, you will be asked if you wish to keep the plan.

Step 4 Then read the alert message carefully, and tap Erase All if you are ready. The process will initiate and you are presented with a spinning progress wheel.
Part 4: How to Reset Apple Watch without Passcode
When resetting your watch with an iPhone, it needs your Apple ID password to confirm you are the owner. When doing it without the paired phone, you need to enter the passcode of your Apple Watch to verify the ownership. What about resetting an Apple Watch without a passcode? The steps below are available.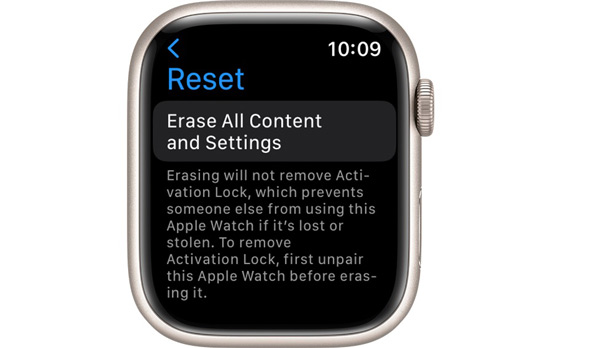 Step 1 Place your Apple Watch on its charger and keep it there during the process.
Step 2 Hold down the Side button on your watch until the Power button appears at the upper right corner.
Step 3 Next, press and hold the Digital Crown to display the Erase all content and settings screen.
Step 4 Tap Reset and then press Reset again to confirm your action. Wait for the process to complete, and you can restore a backup or set up your watch again.
Bonus Tip: Best Way to Reset an iPhone without Passcode
As you can see, you can still reset an Apple Watch without the passcode. Sometimes, you may also need to reset the paired iPhone without the passcode. So, we recommend Apeaksoft iOS Unlocker. It can help you bring your iPhone to factory status without any restrictions.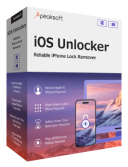 4,000,000+ Downloads
Reset iPhone without a passcode or Apple ID password.
Safe and easy to use.
Unlock any iOS device effortlessly.
Available to a wide range of iPhones and iPad models.
How to Reset an iPhone without Passcode
Step 1Connect your iPhone
Run the iOS Unlocker once you install it on your computer, and choose Wipe Passcode. Hook up your iPhone to the same computer with a USB cable, and hit the Start button.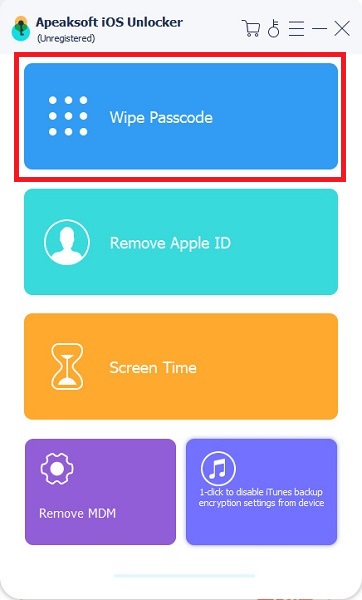 Step 2Check the information
Then look at the information about your handset and correct it if something is wrong. Next, click the Start button to confirm the action and download the corresponding firmware.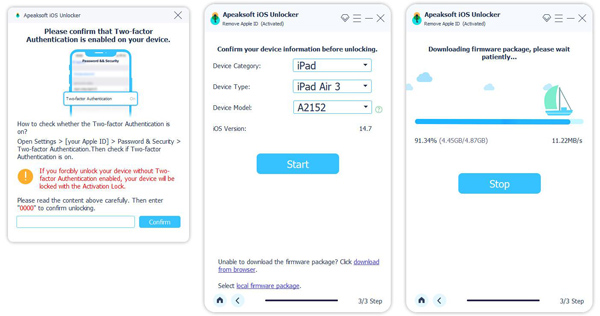 Step 3Reset your iPhone
When the download completes, click the Unlock button. Next, enter 0000 into the box, and hit the Unlock button again. Then the software will do the rest of the work. All you need to do is wait for the process to finish.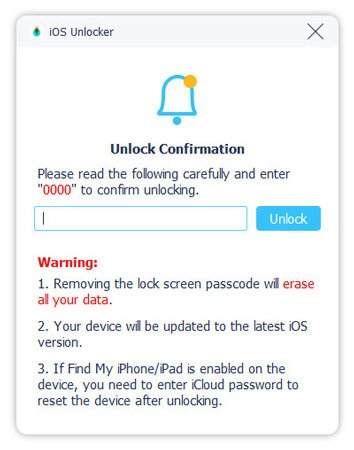 Note: Similar to resetting Apple Watch, factory resetting an iPhone will erase all content and settings on your handset. Therefore, you'd better make a backup first.
You May Also Be Interested:
Part 5: FAQs about Resetting Apple Watch
How to force restart an Apple Watch?
To force restart an Apple Watch, hold down both the Side button and Digital Crown simultaneously for at least 10 seconds. Then let them go when you see the Apple logo on your watch screen.
How to remove Apple Watch Activation Lock without a previous owner?
If you cannot get in touch with the previous Apple Watch owner and unpair your Apple Watch, you can use iCloud to remove Activation Lock and unlock the watch remotely.
Why is my Apple Watch not pairing?
An Apple Watch won't connect to an iPhone may be caused by something as simple as settings, the network, and more. Or, you may have unpaired the watch from iPhone before.
Conclusion
This tutorial has demonstrated how to reset Apple Watch with or without the paired phone. Following our steps, you can do the job even if you forgot your passcode. Moreover, we also recommended a powerful way to reset an iPhone without a passcode, Apeaksoft iOS Unlocker. If you have other questions about this topic, please feel free to leave a message below this post and we will reply to it quickly.