Restarting iPad enables you to clear cache and speed up an iPad efficiently.
However, once iPad keeps restarting over and over, it becomes a disaster.
How to drag iPad restarting continuously to normal?
This tutorial lists the most efficient 10 solutions to help you.
Keep your patience to fix the issue that iPad keeps restarting, even though you are non-tech savvy

10 Solitions to fix iPad that keeps restarting
Nobody can predicts what happen when you fix your restarting iPad. Just backup iPad data before you follow the solutions before to fix the problem.
iOS Data Backup & Restore - Backup iPad
It backups data (contacts, messages, call history, notes, photos, calendar, reminder, voicemail, WhatsApp, Safari bookmarks/history, app data, etc.) on iPad Pro, Air, mini, etc. to computer. Encrypt backup is supported to protect your privacy.
Learn the details here to backup iPad data.
Solution 1. iPad keeps restarting for outdated iOS? Update iPad
Apple releases update for iOS regularly aiming to fix bugs, which may be the reason why iPad keeps restarting.
Step 1: Run the "Settings" app from home screen and locate to "General" > "Software Update". If there is an available update, tap the "Install Now" button.
Step 2: When prompted, enter your PIN code to confirm you are the owner and install the latest update to your iPad.
iPad gets stuck in update software?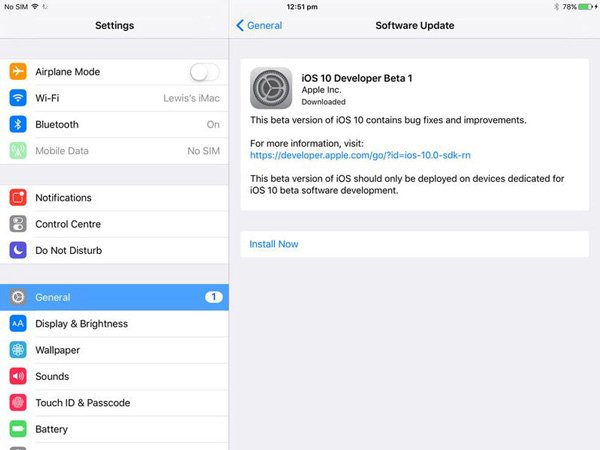 Solution 2. iPad keeps restarting for conflict apps? Update apps
Much like to iOS, developers release update for apps to fix bugs frequently. If certain app cause iPad keeps restarting, you should try updating the app.
Step 1: Run the "App Store" app from your home screen and head to the Update tab. Here you can discover the update for certain app.
Step 2: To turn on automatic update feature, locate to "Settings" > "iTunes & App Store" and toggle to turn on "Updates" option. Next time when developers release update for any app, iOS will install it automatically.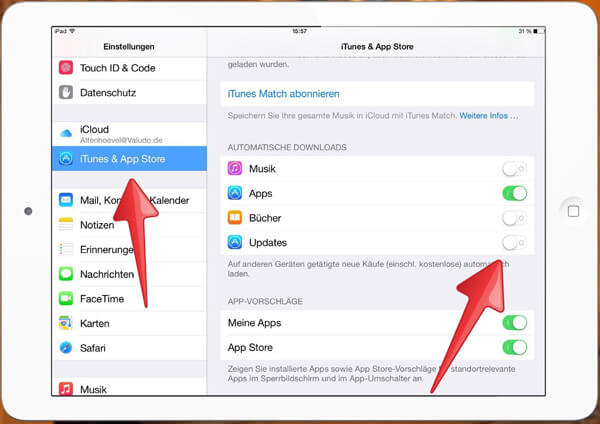 Solution 3. iPad keeps restarting for faulty apps? Remove them
If you are not sure which is the faulty app, you can find the guides in this part.
Step 1: Start the "Settings" app and locate to "Privacy" > "Analytics" > "Analytics Data". Here you can find the information about the faulty app.
Step 2: If the app is not very important, you can remove app from your iPad. Press any app on home screen until go into the editing mode.
Step 3: Tap the "Delete" icon on the app and then hit "Delete" again to remove it from your iPad.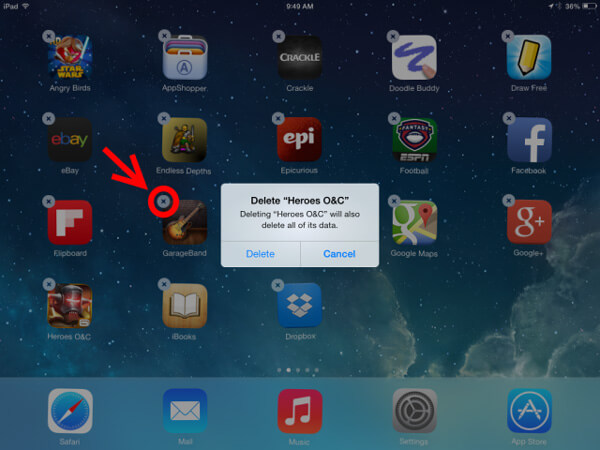 Solution 4. iPad keeps restarting for settings conflict? Reset all settings
To reduce setting conflicts and fix iPad keeps restarting, you can try the reset all settings feature, which is able to remove all personalized settings.
Step 1: Go to "Settings" > "General" > "Reset" and pick the "Reset All Settings" option.
Step 2: Tap "Reset All Settings" again on the confirmation dialog and then drop your PIN code if the window prompts.
Step 3: When the process completed, you can use your iPad normally.
Reading more: Reset an iPad without Apple ID.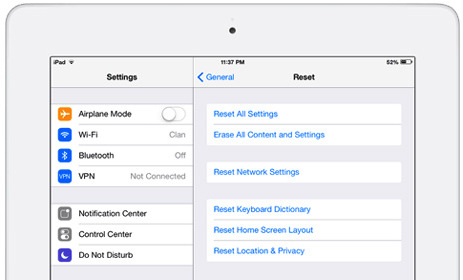 Solution 5. iPad keeps restarting for damaged SIM card? Remove it
The latest iPad models support SIM card, which is the connection between your iPad and wireless carrier. If there is something wrong with the SIM card, which cause iPad keeps restarting, you can try to remove it.
Step 1: Press the Sleep/Wake button until you see the power off screen. Move the switch to shut down your iPad.
Step 2: Wait for the screen to turn black and use a paperclip or SIM eject tool to pull out the SIM tray.
Step 3: Insert the SIM tray and press the "Sleep/Wake" button for a few seconds. After startup, login your PIN password.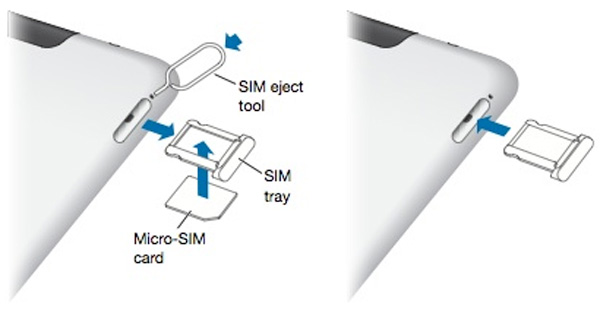 Solution 6. iPad keeps restarting for not enough space? Clear iPad
The internal storage in iPad is always limited, and iOS need space to work normally as well. Lack space may cause the problem iPad keeps restarting. The solution is simple, freeing up iPad storage.
1. To manage iPad storage, navigate to "Settings" > "General" > "Storage & iCloud Usage" > "Manage Storage". You can uninstall large apps and clean cache data in the apps take up more than 500MB.
2. Another way to free up space is to quit unnecessary background apps in App Switcher.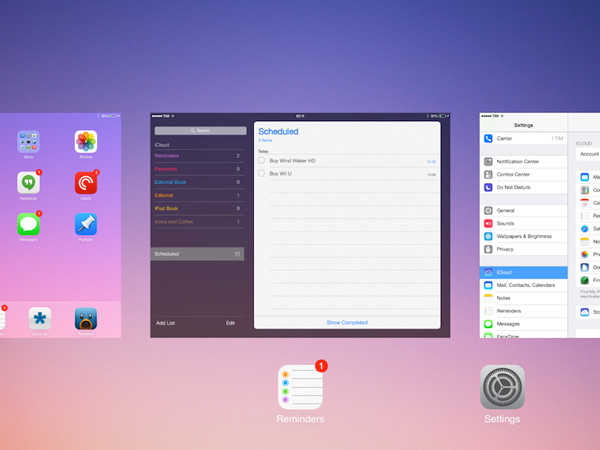 Solution 7. iPad keeps restarting when charging? Use original USB cable
If iPad keeps restarting during charging, you should check several things, such as:
1. The Lightning cable is damaged or broken.
2. There is dust and debris in the Lightning port.
3. The iOS charger is broken
4. Wall source is not working.
You should always use original USB cable when charge iPad.
You will like reading: Restart iPad.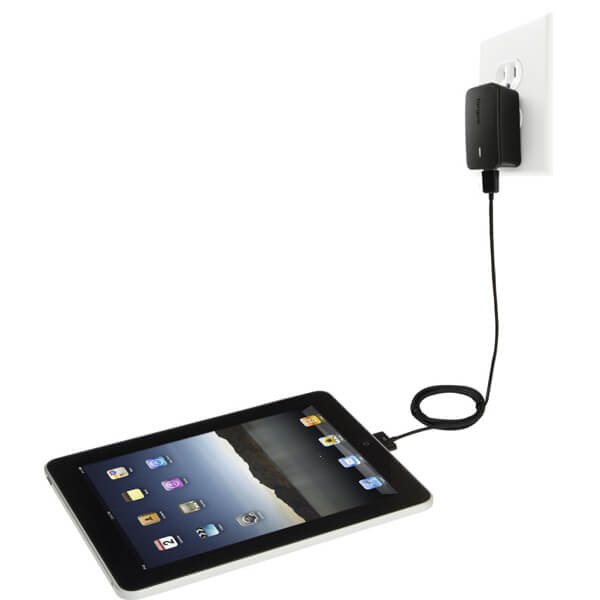 Solution 8. iPad keeps restarting for unknown errors? Force restart iPad
Actually hard resetting iPad is able to fix a variety of problems on iPad, including iPad keeps restarting.
Step 1: Hold down both the "Side" button, also called Sleep/Wake and Power, and the round "Home" button simultaneously.
Step 2: When you see Apple logo on screen, let the buttons go. And then log in iPad with your password after startup. Now, your iPad should work normally.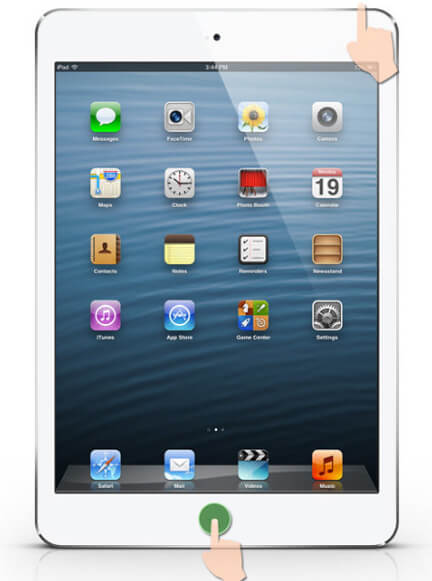 When iPad stuck on Apple logo, you can also try hard resetting iPad to get it back to normal condition.
Solution 9. iPad keeps restarting for unknown errors? Restore iPad
If the solutions above are invalid, you should try a more drastic method, restore iPad.
Step 1: When iPad keeps restarting, plug it to your computer and start the latest version of iTunes.
Step 2: Click the "Device" icon at upper left corner and then hit the "Summary" tab.
Step 3: Then press the "Restore iPad" button on right panel. Then follow the onscreen instructions to complete iPad restoring.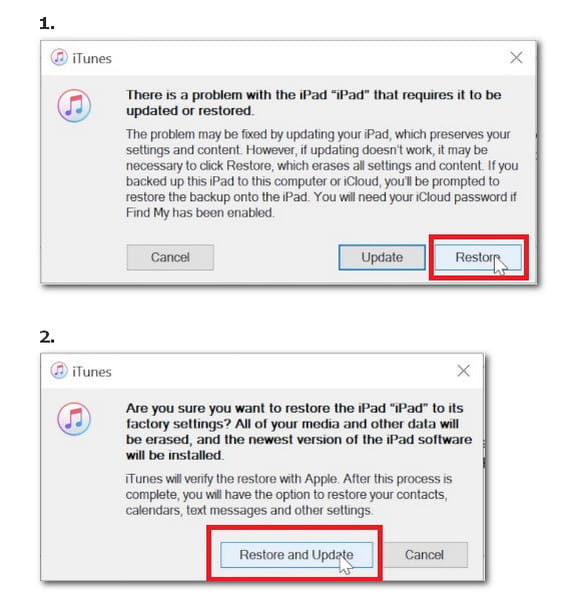 Solution 10. All solutions above failed? Get the best one method
The above solutions are the common solutions to fix many iPad problems, including iPad keeping restarting. However, if you cannot solve the problem via the solutions above, just use the best method here with the third-party apps, Apeaksoft iOS System Recovery.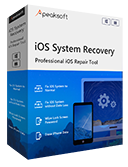 4,000,000+ Downloads
Fix iPad that keeps restarting, DFU mode, Recovery mode, etc.
Fix other iPad issues like white screen, Apple logo, headphone mode, etc.
Get rid of iPad restart loop without losing any data safely.
Work for iPad Pro, Air, mini , etc. running the latest iOS 17.
Step 1. Connect iPad to computer
Run iOS System Recovery and connect your iPad to the computer with the USB cable. Select "iOS System Recovery" and select "Start" button.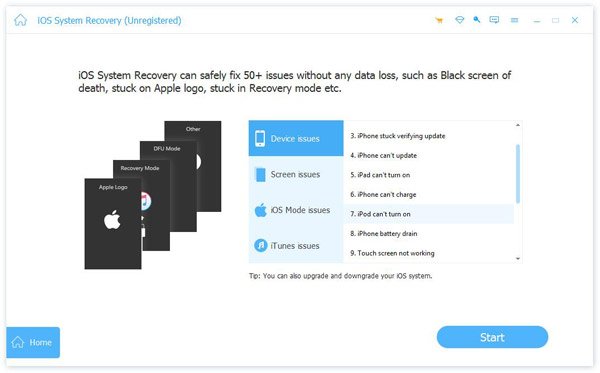 Step 2. Put iPhone into Recovery/DFU mode
In the pop-up interface, you can select the abnormal state of your iPad, like Apple logo, DFU mode, Recovery mode, etc. If your iPad is none of them, just click "Others", and follow the prompts to get your iPad into DFU mode or recovery mode manually.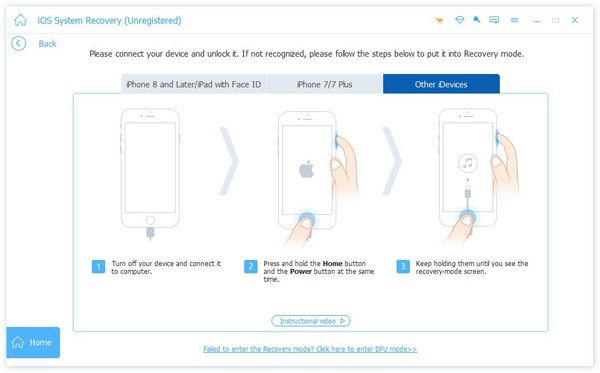 Step 3. Restore iPhone
After that, you will see you are going to the model information checking interface. Check the model information is right or not. if right, just click "Repair" to start to fix your iPad.
If not, select the matching information of device, and click "Repair" to kick iPad out of restarting mode.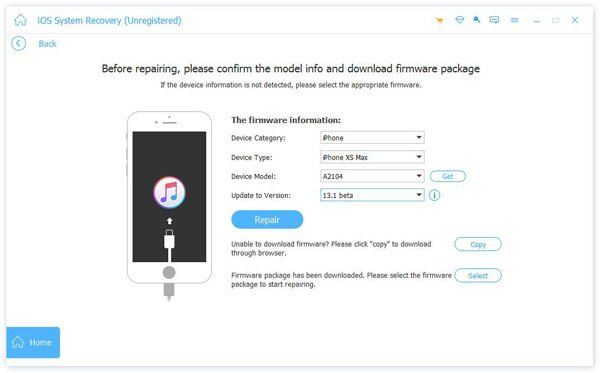 Conclusion
Many people complain the problem that iPad keeps restarting on social media and forums. Can you imagine that your iPad continuously shuts down and turns back on? When it happens on your iPad, just follow the 10 solutions above to solve this problem easily. The common 9 solutions are working for most iPad problems. When they fail to work, just follow the last and best solution to fix the problem with the third-party tool, Apeaksoft iOS System Recovery, to fix this problem completely.