"I have a Toshiba external HDD and today my computer didn't recognize it after connected it, I don't want to lose my data and my 2TB Toshiba, can I do something to repair it, please help." Toshiba external hard drive is popular around the world, partly because it is more reliable and affordable. But it does not mean that Toshiba won't go wrong. According to our research, software issues usually are responsible for Toshiba external hard drive not showing up or not responsive. And in this tutorial, you can learn multiple ways to repair external hard drive without data loss.

If you are an experienced Windows user and have used several versions of Windows on your computer, you may hear of the Windows.old folder. Considering that many people are not familiar with it, we are going to share the basic knowledge about it and how to restore Windows old in this post.
Recommend: Data Recovery
You may need professional Toshiba external hard drive software to recover data on it, if the external hard drive not showing up. From this point, we recommend Apeaksoft Data Recovery. Its key features include:
Easy to use and recover data from external hard drive in one click.
Data recovery in various situations.
Work on a variety of data types and formats, including all image, video, audio, document, email formats and more.
Retrieve files from external hard drive to computer in original format and quality.
Preview all readable data on external hard drive for selectively recovery.
Quicker, safer and lightweight.
Moreover, Data Recovery is available to Windows 10/8.1/8/Vista/XP and a wide arrange of file systems, like NTFS, FAT16, FAT32, exFAT, EXT, etc.
Download for Win
Download for Mac
In short, it is the best way to recover data from Toshiba external hard drive when it not working.
How to recover data from inaccessible Toshiba external hard drive
Step 1: Scan entire Toshiba to look for data
Connect your Toshiba to your computer and install the best Toshiba software on the computer. Launch Data Recovery, go to the Data Type area and select the data types to recover. Then navigate to Location part and choose the Toshiba External Hard Drive under Removal Drives. Hit the Scan button to let Data Recovery work.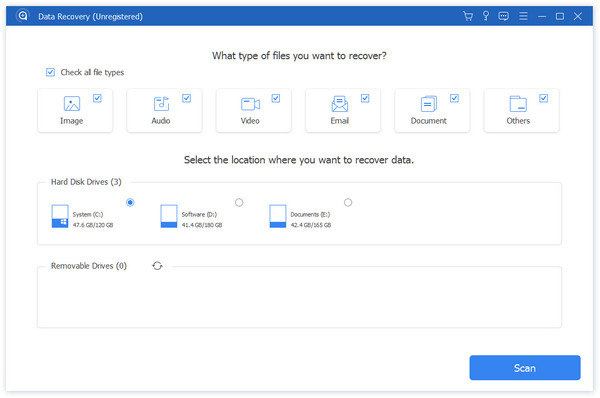 Step 2: Preview before Toshiba External Hard Drive recovery
When the result window shows up, you can preview the readable data separated by types and formats. For instance, go to the Image tab from left side and look at recoverable pictures. The Filter function at top ribbon is able to find certain files quickly. Plus, the Deep Scan function could scan your hard drive deeply and get back more data.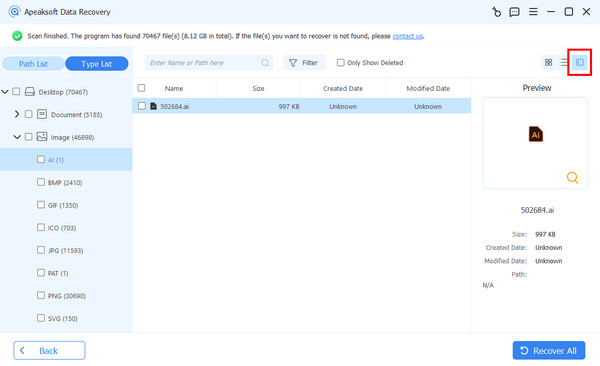 Step 3: Recover data from External Hard Drive in one click
Select all files that you want to recover and click on the Recover button. Make sure to choose a different hard drive on the popup dialog and begin data recovery.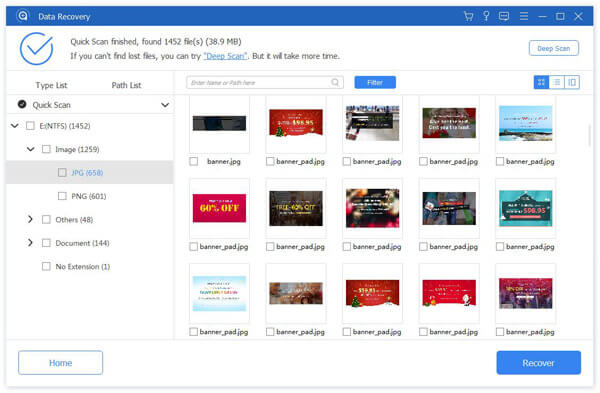 Toshiba external hard drive not showing up, how to fix
After recovered data, you can feel free to fix your Toshiba external hard drive not showing up with the 100% working methods below.
Method 1: Check USB Root Hub
It is well-known that Toshiba external hard drive relies on USB connection to communicate with computer. It is also the power source of the hard drive. If it is turned off, Toshiba external hard drive not recognized by your computer. So, follow the steps to check and correct it.
Step 1: Hold Win + R to start Run dialog, enter devmgmt.msc and click Ok to start the Device Manager window.
Step 2: Find and expand Universal Serial Bus controllers entity, right-click on the USB Root Hub sub-entity and choose Properties.
Step 3: Make sure to uncheck the box next to Allow the computer to turn off this device to save power. Confirm it and try your Toshiba again.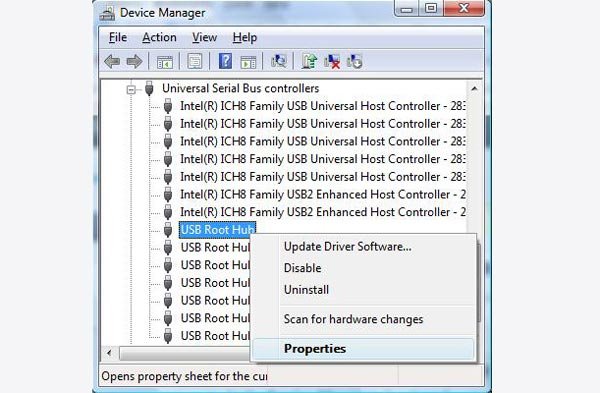 You will like reading: Recover Data from Damaged Hard Drive.
Method 2: Try Toshiba external hard drive in Safe Mode
Some people reported that their Toshiba hard drive not showing up on one computer but works fine on other machines. We install various third party programs on computer to enjoy advanced features, such as antivirus software. They may prevent your Toshiba from showing up. Luckily, Safe Mode could fix this problem simply.
Step 1: Remove Toshiba external hard drive from your computer. And reboot the computer into Safe Mode.
On Windows 10/8, select Power on login screen, hold Shift key and hit Restart. When Startup Settings screen shows up, head to Troubleshoot-> Advanced options-> Startup Settings, select Restart and then hold F4 key to boot into Safe Mode.
On Windows 7, keep pressing F8 key after restart your computer. Then select Safe Mode on the Advanced Boot Options screen.
Step 2: Wait for computer to start up and connect Toshiba external hard drive to your computer again. It should show up as usual.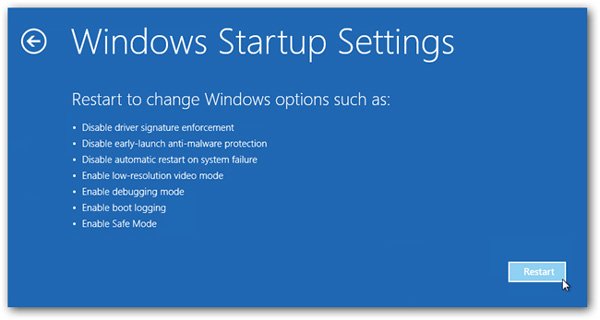 Method 3: Reinstall Toshiba external hard drive driver
Outdated Toshiba driver may generate various problems, like Toshiba external hard drive not recognized. Reinstalling drivers is the easiest solution.
Step 1: Go to the Start menu, search for Device Manager and open it.
Step 2: Unfold the Disk drives entity on left hand side. Right-click on the Toshiba external hard drive driver, and click Uninstall.
Step 3: Restart our computer, and Windows will search and install the latest version of drivers automatically.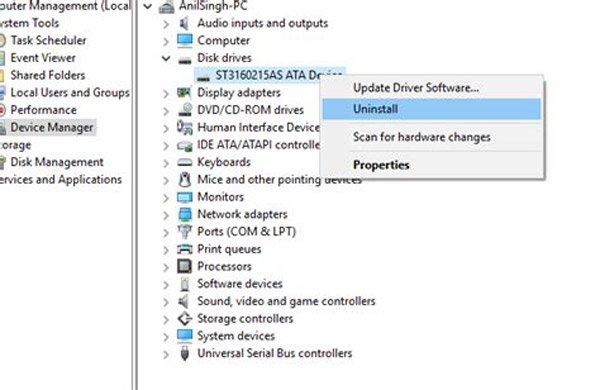 You may also want to know: How to backup iPhone to external hard drive
Method 4: Format Toshiba external hard drive to fix it
Formatting Toshiba external hard drive is the last but not least solution to fix the drive not showing up.
Step 1: Hold Win + R to activate Run dialog, enter diskmgmt.msc and hit OK to open the Disk Management window.
Step 2: Right-click on the Toshiba external hard drive and choose Format.
Step 3: Drop a new name in Volume label box, select NTFS or other proper file system from the dropdown menu, check the box next to Perform a quick format and click OK to start formatting the drive.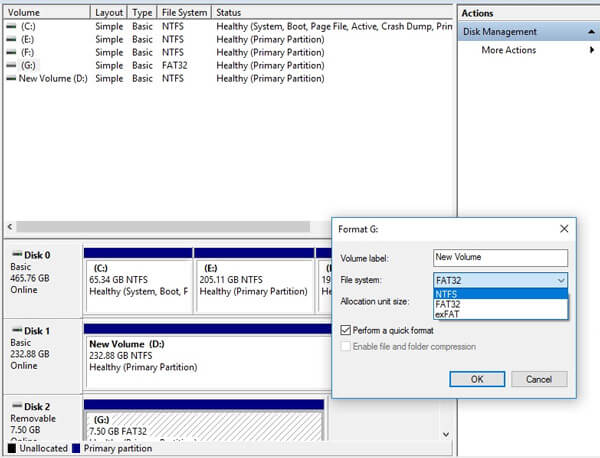 Then your external hard drive should be recognized by your computer normally.
Don't miss: Hard Drive Recovery.
FAQs of Toshiba External Hard Drive Not Showing up
Why is my external hard drive not showing up?
It has several possible reasons: using the wrong file system, dead USB ports, partition problems on the external drive, etc.
Does Toshiba offer Data Recovery Services?
Toshiba does not provide data recovery services. But you can use a third-party data recovery tool like Apeaksoft Data Recovery to recover your data on Toshiba.
How can I recover lost data on Toshiba's hard drive?
To learn how to recover lost data on Toshiba hard drive, you can check out this post: Guide of Toshiba Hard Drive Recovery in Various Situations
Conclusion
Based on the tutorial above, you might understand how to repair Toshiba external hard drive not showing up and other problems. We suggest you to recover data from your external hard drive with Apeaksoft Data Recovery. Then you can follow our guides to fix Toshiba external hard drive step by step. We wish that our guides and suggestions are useful to you.