Why are my iMessages green on iPhone?
When the messages sent by your iPhone suddenly turn from blue to green, you may wonder if the iPhone is malfunctioning or if someone else is blocking you. Don't worry. This article introduces you in detail to the difference between iMessage and SMS. And you will know why your messages are green when sending to another iPhone and how to fix green iMessages on iPhone. Now, read and know more.

Why are My Imessages Green
Part 1. iMessage vs. SMS
iMessage only works between iOS devices. If you send messages from an iPhone to another iOS device you're texting, the message will be sent over iMessage. But SMS can support sending messages between iOS and Android devices. Whether you enable iMessage on iPhone or not, the message sent must be SMS if the device you text to or send to your iPhone is an Android device.
iPhone Green Text vs Blue Text
| Messages | Content | Color | Platform | Connection | Safety | Enable iMessage on iPhone |
| --- | --- | --- | --- | --- | --- | --- |
| iMessage | Texts and photos. | Blue | iOS | Wi-Fi or cellular data networks | Encrypted | Enable iMessage on both iOS devices. |
| SMS | Texts, photos, and videos. | Green | iOS and Android | Cellular signal | Unencrypted | No impact. |
By the way, if you want to know more about messages, you can read the differences between text and iMessage.
Part 2. Why are My iMessages Green
In Part 1, you can see the difference between iMessage and SMS. In this part, you can know more about why do iMessages turn green?
Normally, the iMessage we send is a blue text bubble. Once the iPhone green text message appears, which means you send a standard SMS message rather than an iMessage. It may be related to the following reasons listed below.
The phone receiving or send texts is a non-iOS device.
Not enable iMessage on iPhone.
Network connection faults on phones.
iMessage is not working on iPhone.
Part 3. How to Fix Green iMessages on iPhone
You have learned the causes of the iPhone's green text in the above part. If you want to get the iMessage back to normal, you can try the methods listed in this part.
Method 1. Default Settings
If your texts are green when texting to another iPhone, you can check Settings on your iPhone first.
Open the Settings app and tap the Messages option. If the iMessage feature is off on your iPhone, you can turn it on again. After that, you can text a message to check if it is blue.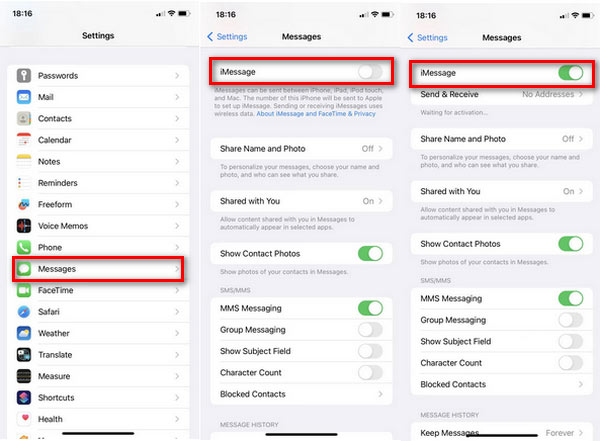 But if the iPhone you text messages to turns off iMessage, you will still view the green message on your iPhone.
Method 2. Reset Network Settings
If your iMessage is turned on, but the Wi-Fi connection is pool on your iPhone, you can turn it off and send iMessages using cellular-data networks. If the network is still weak, you can try resetting the network setting as followings.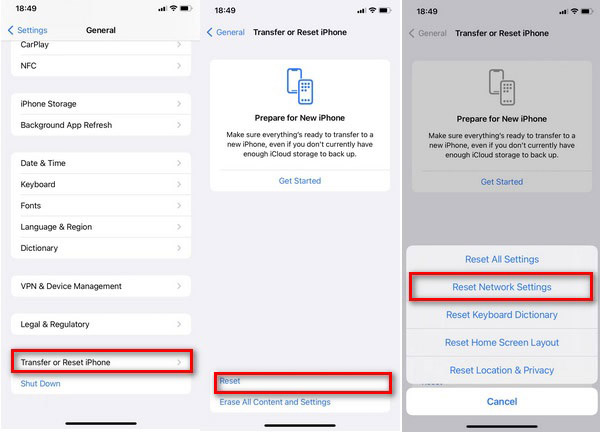 1.Enter the Settings app and tap General.
2.Slide the screen to the bottom and tap Transfer or Reset iPhone. Then, tap the Reset option.
3.Next, you need to select Reset Network Setting and wait for a few seconds. It will reset the network on iPhone without losing the current data connection.
After that, you can try to send messages to another iPhone with iMessage on to check the message color. If it is still not working, you need to try other ways.
Method 3. iOS System Recovery
If you have a good network and iMessage is open on both iOS devices, your iPhone still sends or receives green text messages. Then it could be iMessage not working on iPhone due to some software conflict or issues. Therefore, you must look for a professional iMessage fixer, Apeaksoft iOS System Recovery, to help you. This program can help you fix iMessage back to normal. In addition, it also supports fixing various iOS-related issues like iPhone black/yellow/blue screen. Here are some specific steps to fix the iMessage issue.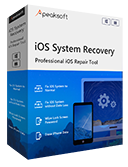 4,000,000+ Downloads
Very easy but efficiently to work with a few clicks.
Fix the iMessage or other apps not working on your iPhone.
Compatible with all kinds of iOS devices including iPad and iPhone.
Solve the related iOS issues with Free Quick Fix and 2 repair modes.
Step 1Download iOS system recovery
Download this iPhone iMessage fixer and run it on a desktop. Please connect your iPhone to a computer via USB. Enter the iOS System Recovery panel and click Start in the bottom right corner.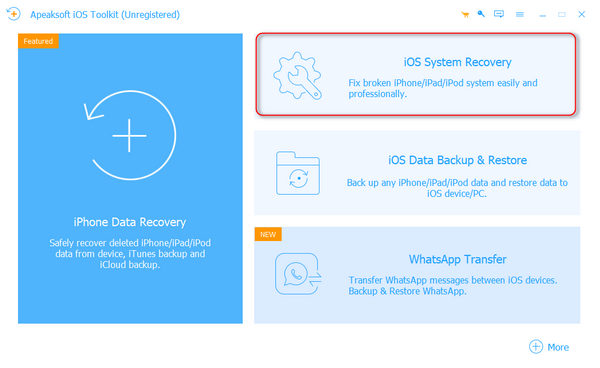 Step 2Select Free Quick Fix
Once this fixer detects your iPhone automatically, you can try Free Quick Fix and wait for a moment to fix the device issue.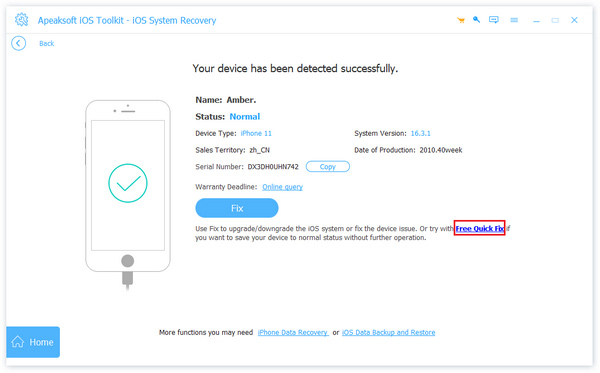 Step 3Set a repair mode
If Free Quick Fix does not solve your iMessage issue, you can click the Fix button to enter the mode window. Choose either one from Standard Mode and Advanced Mode. Next, click Confirm to enter the next window.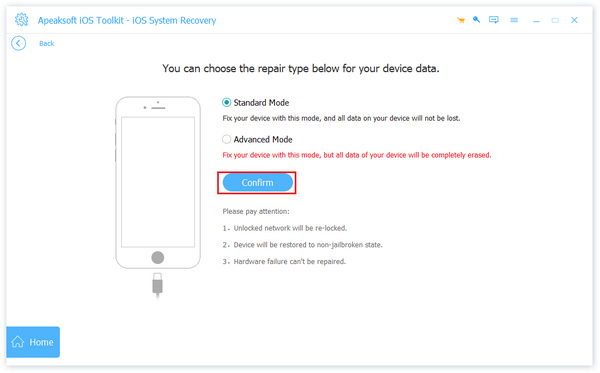 Step 4Choose a firmware to optimize the iPhone
Please check your iPhone Category, Type, and Model on the drop-down list. If the information is wrong, you can modify it. And then, select the firmware version you want to download.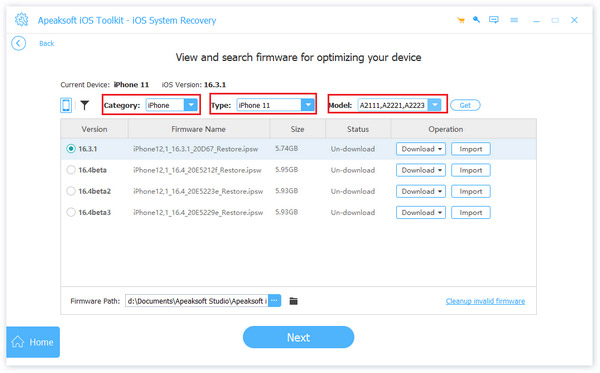 Step 5Download and run the firmware
Click Download to get the iOS firmware supports by official website for you. Once downloaded successfully, install it and click Next.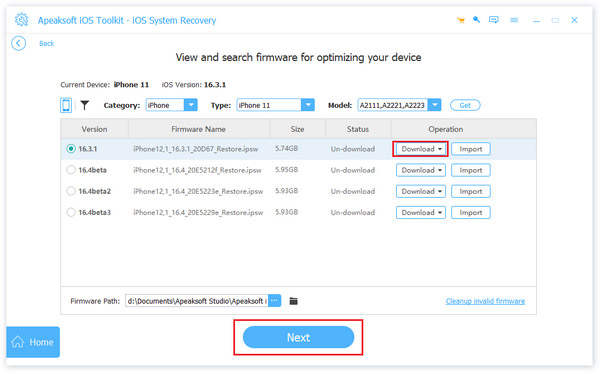 Step 6Solve the iPhone iMessage issue
Now, the recovery tool will start to fix the iMessage issues. Wait for a moment to finish the fixing process. After fixing, your iMessages will come to normal on your iPhone.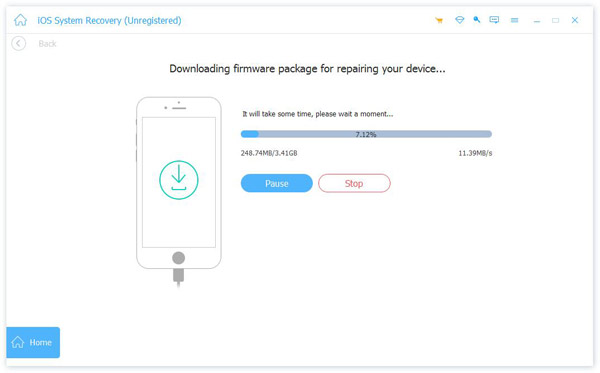 Tips :
If you encounter the iPhone messages disappearing, you need to learn how to
recover iMessages
on iPhone.
Part 4. FAQs about iPhone Green iMessage
Question 1. Does iMessage turn green when blocked?
Yes. A green bubble could mean someone blocked you, especially when the messages have always been blue. When blocking occurs, iMessage sends your text, but the recipient never receives it. Your old messages remain blue, but the latest texts you send after they've blocked you turn green.
Question 2. Does iMessage turn green when the iPhone is off?
Yes. If the phone you text to is off, dead, or has iMessage turned off, then your iMessage will default to sending green texts.
Question 3. What happens when you block someone on iPhone and they text you?
After blocking a phone number or contact, the messages will not be delivered. And the blocked contact cannot get a notification when the call or message is blocked.
Conclusion
This article lets you know very well why your iPhone iMessages are green. You can also find three different ways to restore iMessage to blue text. To quickly send and receive a green text message on iPhone, we highly recommend you a professional iMessages fixer, Apeaksoft iOS System Recovery. With one click, you can free quickly fix your issue with iPhone green texts. If you have other questions, leave your comments here.