For iPhone or iPod users, your device might be stuck in recovery mode when you update the iPhone/iPod to new system or restore a backup. What if this upset problem happens to you? How can you do to get your iPhone or iPod out of recovery? To be honest, it is not so difficult as you thought. Actually, this post is to help you to solve this problem with several easy and useful methods. Please read on and learn more. Take iPhone as an example, iPod users can also take the similar steps to get your device out of recovery mode.

Part 1. Usual Steps to get iPhone out of recovery mode
One option is to get iPhone out of recovery mode is to press on the Lock and Home buttons at the same time. This is the easiest and most common way, but it doesn't work at most time. Anyway, there is no harm for you to have a try.
Step 1. Disconnect the iPhone from computer
Make sure your iPhone is separated from the computer. If your iPhone is plugged in the computer, please pull the plug.
Step 2. Press on iPhone Lock and Home button
Hold down the iPhone Lock and Home button for 10 seconds. If you are using iPhone 7, press the Volume Down button rather than the Home button.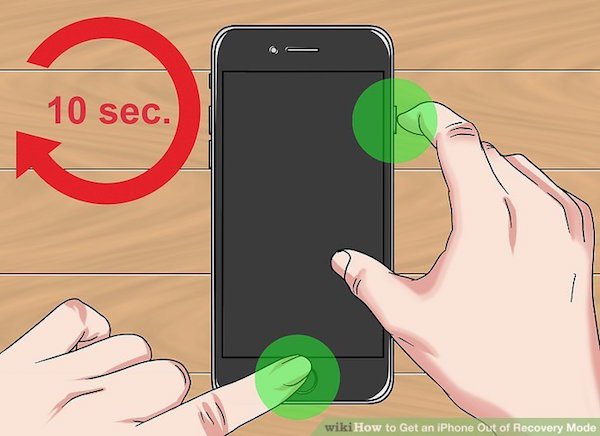 Step 3. Relinquish the Home button
Then release the Home button or Volume Down button but keep pressing on the Lock button for a while.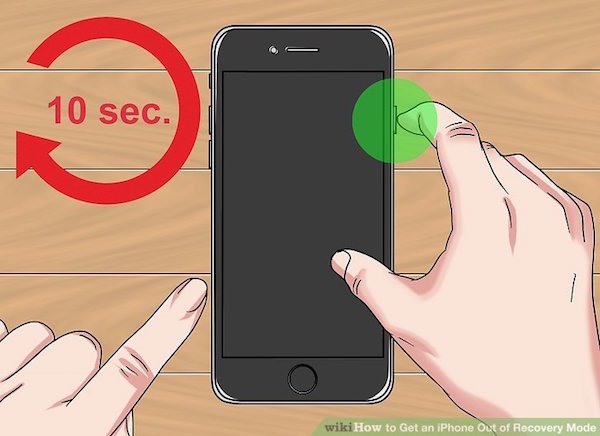 Step 4. Release the Lock button
Let go of the Lock button as soon as the Apple logo appears. Then your iPhone will be out of recovery mode and begin restarting.
Part 2. How to get iPhone out of recovery mode using iTunes (Data loss)
If your device is still stuck in recovery mode after trying the first method, then you can take a shot on the second way—to get iPhone out of recovery mode via iTunes. iTunes does a good job to repair iPhone/iPod, and many users can recover their phones with iTunes. Please continue to read and learn.
Step 1. Connect iPhone to computer
Firstly insert the USB (larger) end of the charging line into the USB port of the computer, and then plug the smaller end into your iPhone.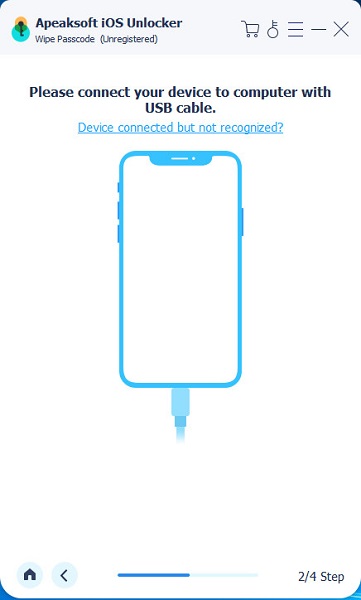 Step 2. Open the iTunes app
Start the iTunes, which is a white application with a chromatic musical note. Then a pop-up window will show up to inform you that a device in recovery mode is detected by iTunes.
Step 3. Restore your iPhone
You will find that you cannot view your music or other media. The only thing you can do is to make your iPhone out of recovery. Then hit on Restore iPhone on the right side of the iTunes interface.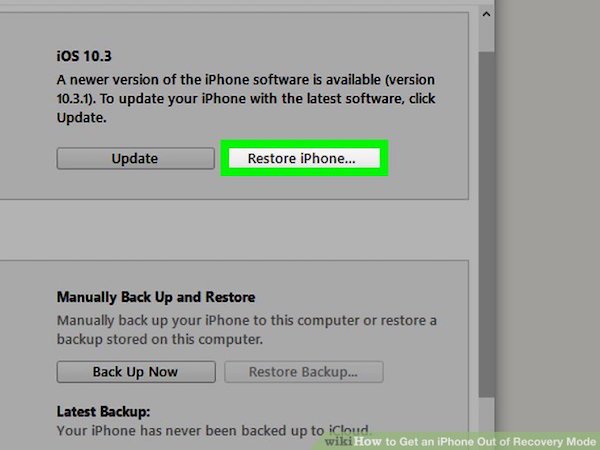 Step 4. Recovery your data in iPhone
Tap Restore and Update button when this option shows up in a pop-up window. The content in your iPhone will be backed up and then removed, and there will be a latest iOS system installed on your device. Later you can recover your data from the backup files, such as photos, videos and messages.
However, the only disadvantage of getting your device out of recovery via iTunes is that data loss may happen to your iPhone/iPod. You can choose this way if you don't mind this deficiency. But if the data saved in your device is really important and you cannot lose them absolutely, please keep reading the following guide. We also recommend the third way for you to fix the abnormal device.
Part 3. How to get iPhone out of recovery mode without data loss
When it comes to get your iPhone, iPod and iPad out of recovery mode without data loss, iOS System Recovery might be a nice option for you to take into consideration. iOS System Recovery is an excellent program to protect your data, such as contacts, photos, massages and so on during the whole repairing process. With this wonderful restore tool, you can easily release your iPhone/ iPod from being stuck in Recovery Mode. This article is going to introduce the step-by-step guide for you, read on and check the powerful guide.
Step 1. Download and launch iOS System Recovery
Please download iOS System Recovery from the official web. This software applies to both Windows and Mac. Then follow the instruction on the computer and install it. Don't forget to launch this program when you have done the installation.
Free Download
Free Download
Step 2. Detect your iPhone stuck in recovery mode
Connect your iPhone with the computer via a changer line. Once connected successfully, iOS System Recovery will detect your iPhone stuck in abnormal state immediately. Then click on Confirm button to fix your iPhone out of recovery.
Step 3. Confirm the information of iPhone
The detailed information about your iPhone will appear automatically on the interface when the device is detected. To download the compatible firmware package and repair iPhone, you need to check the correct information and exclude the wrong ones.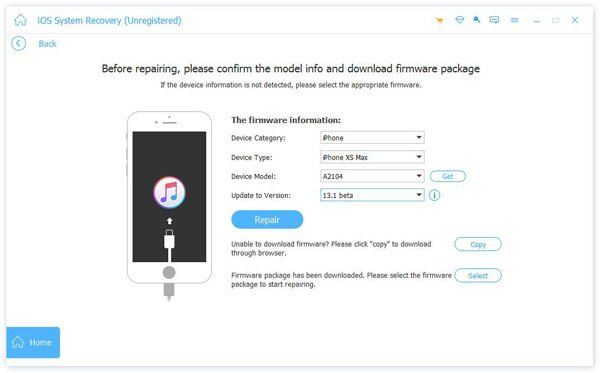 Step 4. Repair the abnormal iPhone
Tap on "Repair" button to download the compatible package. Just take a few minutes, the repairing process will be finished. Then your iPhone will be out of recovery mode and reboot automatically. It can also enables you to fix iPad stuck on update.
Conclusion
This is the whole content about how to get iPhone and iPod out of recovery mode. For those who want to extract deleted data, like messages, photos or contacts, iTunes or iCloud backup recovery mode might suit you. But you are advised to choose the iOS System Recovery If you do want to keep your data.
In order to prevent data loss on your device, it is always a good idea to backup iPhone data to the computer on a regular basis. Now, just go to get your iPhone or iPod out of recovery with these steps mentioned above! If you have any questions about this article, please leave us a message below.