The message blocking is active on the iPhone all the time. So, if you receive any unpleasant spam or advertisements in the messages, you can block the numbers that send you these messages once and for all to get rid of them. Meanwhile, in this post, you will get more than just knowing how to block text messages on the iPhone, but also how to manage these blocked numbers and retrieve the messages you accidentally deleted from your iPhone. Sit back, relax, and follow the guide to regain a peaceful message space.

How to Block Messages on iPhone
Part 1: How to Block Text Messages on iPhone 14 Pro
Since the message-blocking feature is always active on the iPhone, you need to find a way to do it. The following steps give you an example of how to block text messages on iPhone 14 Pro. After reading it, you will thoroughly learn this function and start setting it up on your iPhone. Besides, the little tip, at last, will also tell you how to unblock the numbers and messages you used to block.
Step 1Open the Message app on your iPhone. To block messages on your iPhone, you need to find that message and tap the number that sends you the message.
Step 2On the following screen, tap the info button, and you will see more detailed options.
Step 3At the very bottom of the screen, tap the Block this Caller button and the Block Contact button. Then, you won't receive any messages or calls from this number.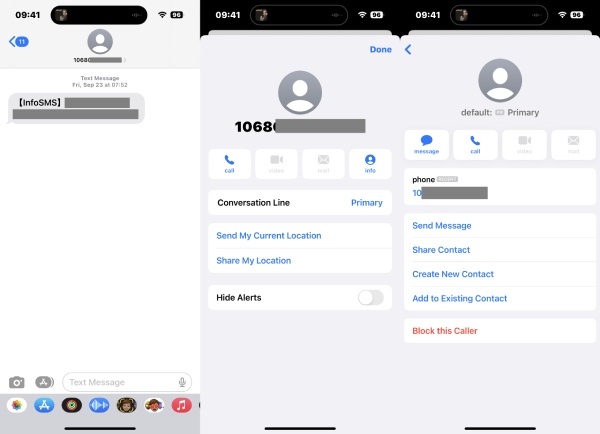 Tip :
You can
find the blocked numbers on your iPhone
on the
Settings
app. Go to
Settings
, tap
Messages
, and tap the
Blocked Contacts
button to view the numbers. Then, you can tap the Edit button to remove the number to unblock it.
Part 2: How to Retrieve Blocked Messages on iPhone that are Deleted
Blocking messages on the iPhone does prevent you from harassment by spam and ad messages. But deleting blocked messages that are important can be frustrating. Luckily, the iPhone Data Recovery tool can help you solve this trouble. Recovering iOS data safely within a few clicks is this program's biggest highlight. Meanwhile, you will get a new recovering experience different from recovering data with iTunes backup, which only allows you to recover from the latest files and overwrite your existing ones on the iPhone. This program only gives you a possible chance to recover or retrieve the deleted blocked messages if you have a backup instead of unraveling your blocked messages.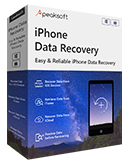 4,000,000+ Downloads
Recover from backups in different resources.
Restore your iPhone under different troubling scenarios.
Transfer WhatsApp data in an effortless manner.
Retrieve your deleted messages and files quickly.
How to Retrieve Blocked Messages on iPhone with iPhone Data Recovery
Step 1First, download and install this recovering tool on your computer. Then, use a workable USB cable to connect your iPhone to the computer and launch the program. Once you launch it, click the Recover from iOS Device button on the left.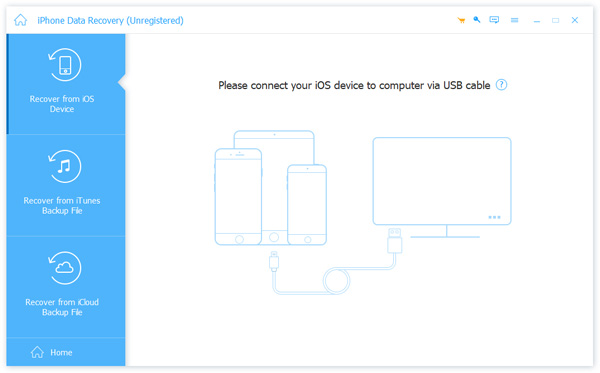 Step 2You must tap the Trust button on your iPhone to trust this computer. Back to the iPhone Data Recovery window, click the Next and Start Scan button to scan all the data on your iPhone, including your deleted messages.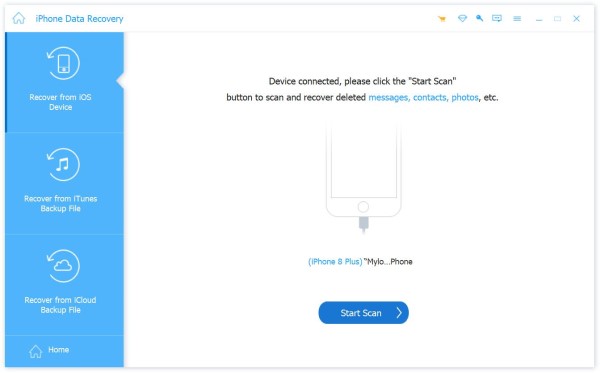 Step 3After the scanning result appears, you may tick the Messages option on the left side and choose Show Deleted Only from the dropdown option above. On the right side of the window, tick the deleted blocked messages you want to retrieve and click the Recover button.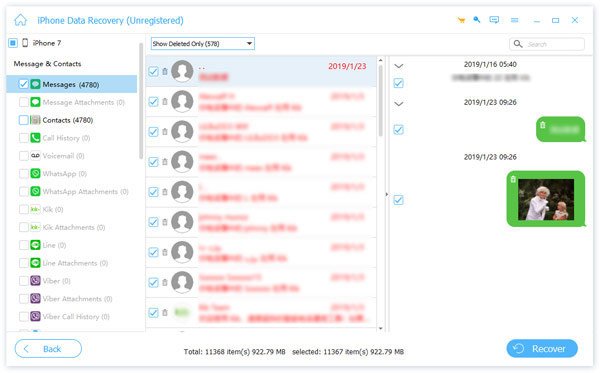 Step 4You need to set up an output folder for your retrieved data. Click the three-dot icon to browse and choose one. Then, click the Recover button to start finally. After that, you can import the file to iTunes and sync it to your iPhone.

Part 3: FAQs about How to Block Text Messages on iPhone
Question 1. How to block text messages from unknown numbers on the iPhone?
To avoid spam from unknown numbers, you may filter the messages on your iPhone. Go to Settings, find Messages, and tap it. Then, tap Message Filter and Filter Unknown Sender to enable this feature. Then, you will not receive any messages from unknown numbers.
Question 2. How to turn off message blocking on iPhone XR?
Sometimes you can't send messages on your iPhone XR and receive a warning saying blocking is active on your iPhone. There are several solutions to this. For example, you can restart your iPhone and resend the message. Or you can turn iMessage off in Settings. Moreover, you can also check if the number you are sending to is blocked. Then, you can remove it from your Blocked list.
Question 3. How can I tell if someone blocks my messages on the iPhone?
Technically, you can't tell if someone blocks you. You can only guess by calling them. If your call goes straight to voicemail, then they may block you. But it is also possible they are just busy. So, it is tough to tell if others blocked your messages unless you are told so.
Conclusion
To summarize, it is easy to block text messages on the iPhone. Meanwhile, after some easy tapping and settings, you can quickly stop receiving annoying spam from unknown numbers on your iPhone without letting others know since the blocked numbers can still text you on their end. Moreover, the tips above allow you to retrieve the deleted messages you blocked on your iPhone.