It's unarguably annoying to receive spam calls and texts on your iPhone. The good thing is iPhone offers some simple solutions to stop getting unwanted calls. This post tells three effective methods to block spam calls on iPhone.

How to Block Spam Calls on iPhone
Part 1. How to Stop Getting Spam Calls on an iPhone from Recents
After receiving a spam call, you can block it and stop the caller from calling or messaging you again from Recents. You can follow the steps below to easily block spam calls on your iPhone.
Step 1Unlock your iPhone and open the Phone app. Tap Recents on the bottom screen to display your call history. Locate the spam call and tap the Information icon next to the number.
Step 1Tap Block this Caller to stop getting spam calls from this caller. This operation will stop spam calls from the contact permanently. You need to tap the Block Contact button to confirm your operation.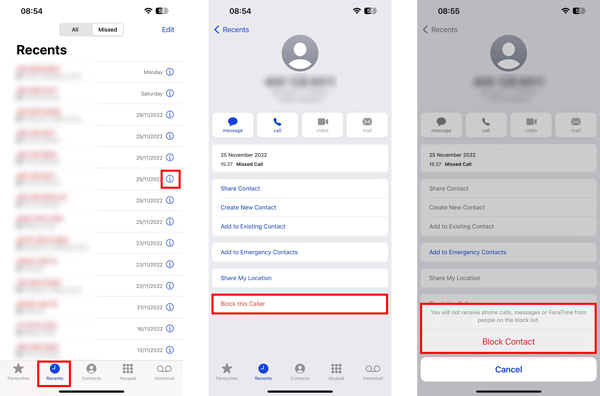 Best iPhone Data Recovery to recover deleted and lost iOS files
iPhone Data Recovery is specially designed to rescue your mistakenly deleted and lost iOS files from your iPhone, iPad, or iPod touch. It supports different data loss situations. You should free download it on your device to protect your valuable data.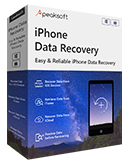 4,000,000+ Downloads
Recover mistakenly-deleted iOS data on your iOS devices.
Retrieve lost contacts, call history, photos, videos, reminders, and more.
Support all iPhone and iPad models, iOS versions, and data loss situations.
Restore iPhone data from your iOS devices, iCloud backup, and iTunes backup.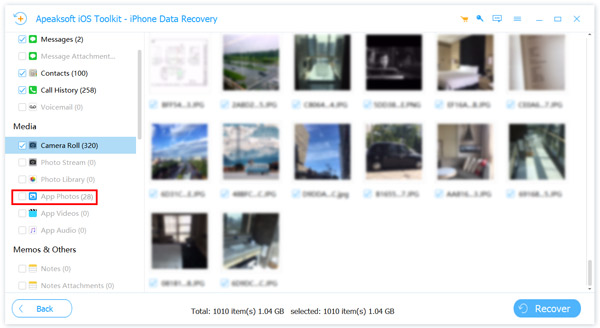 Part 2. Using Silence Unknown Callers to Detect and Block Spam Calls on iPhone
iPhone has a built-in Silence Unknown Callers feature to block unwanted calls. On an iPhone running iOS 13 or later, you can handily turn on Silence Unknown Callers to eliminate spam calls. This feature can effectively avoid receiving calls from people you don't know.
Step 1Open the Settings app on your iPhone. Scroll down to find Phone and select it.
Step 2In the main interface of the Phone, you should choose the Silence Unknown Callers option. Now you can switch its slider to the On position to enable it.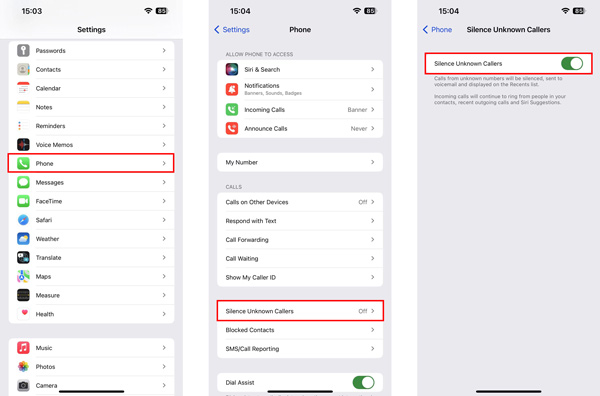 After you turn on Silence Unknown Callers, all unknown calls will be silenced. These calls will be directly sent to voicemail. You can check them from the Recents list. To make sure you get all important calls, you should ensure that you have saved all necessary contacts on your iPhone.
Part 3. How to Block Spam Calls on iPhone from Messages
The Messages app on your iPhone carries a Filter Unknown Senders function for you to stop getting spam calls and messages on your iPhone permanently. You can use it to block a caller and prevent getting notifications when they call or send a message.
To enable the Filter Unknown Senders feature on your iPhone, you can open the Settings app, choose Messages, and then scroll down to locate the Filter Unknown Senders and turn it on. You can tap Blocked Contacts to view and edit the callers you have blocked.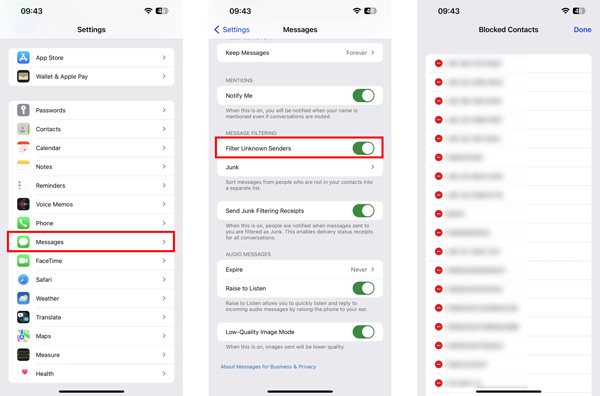 Related to:
Part 4. FAQs of How to Block Spam Calls on iPhone
Question 1. Where to manage my blocked contacts on an iPhone?
You can go to the Phone option in the Settings app and choose Blocked Contacts to check your blocked contacts on an iPhone. Then tap Edit in the upper-right corner to manage them.
Question 2. What is the best spam call blocker app for iPhone to block unwanted calls?
You can easily find many associated spam call blocker apps in App Store. You can check and compare their essential functions and use your preferred one to get rid of spam calls on an iPhone. Some popular ones like RoboKiller and Mr. Number can automatically block unwanted phone calls. But most of them will charge a monthly or annual fee for the spam call-blocking service.
Question 3. How do you turn on Do Not Disturb on an iPhone?
You can enable the Do Not Disturb feature to silence spam calls and messages. You can easily access it in the Settings app. In some new iOS versions, you may see a Focus option. You can tap it and then turn on Do Not Disturb easily. You can allow calls from your Contacts or Favourites and block all the other calls.
Conclusion
Many solutions can help you block spam calls on an iPhone. Before you purchase a spam call blocker app, try using the three built-in ways in iOS to robocalls, scammers, annoying unsolicited texts, and more.