As an iPhone user, you may often hear of some basic iPhone modes like DFU Mode, Recovery Mode and Safe Mode. Do you have a clear idea about them? Do you know what iPhone safe mode is?

Turn off Safe Mode on iPhone
This post will mainly talk about iPhone safe mode. Actually, for one reason or another, you will have the need to enable or disable safe mode on iPhone XS/XR/X/8/SE/7/6/5/4. This post will give you some valuable information about iPhone safe mode. Moreover, you will learn how to turn on and turn off safe mode on iPhone.
Part 1. What Is iPhone Safe Mode
You may know iPhone Recovery Mode and iPhone DFU Mode, but what is the "Safe Mode" on iPhone?
iPhone Safe Mode is one kind of way to run iOS on a jailbroken iPhone. Just like safe mode on computer operating system, which helps you remove crashed processes that may lead mal-function to operation systems. iPhone safe mode enables you to uninstall any troublesome or faulty extension could cause the crash on jailbroken iPhone.
You will feel familiar with it if you have jailbroken your iPhone. iPhone safe mode can help you to troubleshoot your iPhone or remove the substrates that are causing such problems. In a word, iPhone will boot into safe mode as long as jailbreak extension is resulting in faulty of iOS operation.
Part 2. How to Put/Boot iPhone in Safe Mode
You can choose to manually put iPhone in safe mode when your iPhone begins malfunctioning. By doing so, you can handily remove the last tweak you installed to bring your iOS device back to normal condition. This part will show you boot iPhone in safe mode in detail.
Step 1Turn iPhone off with the regular way.
Step 2Wait for a few seconds and then turn iPhone on.
Step 3Once your iPhone lights up, keep pressing the "Volume down" button until the Apple logo appears on the screen.
Your iPhone will be booted in safe mode. Now you can remove any tweak or theme that cause your iPhone malfunction.
Part 3. How to Turn off Safe Mode on iPhone XS/XR/X/8/SE/7/6/5
With the method above, you can easily boot iPhone in safe mode. But how to turn off iPhone safe mode may be still confusing. Sometimes, your iPhone may stuck in safe mode. This part will show some effective ways to exit iPhone safe mode.
1"Restart" to exit iPhone safe mode
Restart is the easiest way to turn off iPhone safe mode. Tap "Restart" when you get the Safe Mode pop-up message. This operation will return your iPhone to normal condition.
2Reboot to turn off iPhone safe mode
You can hold "Power" and "Home" buttons at the same time until your iOS device shuts down and re-starts again.
3Hard restart to disable iPhone safe mode
Step 1Keep pressing "Power" and "Home" button until iPhone turns off completely and restarts.
Step 2Let go of the buttons and wait for the startup screen to appear. Here you can ignore the "Slide to Unlock".
4Complete reset to turn off iPhone safe mode
If your iPhone is stuck on safe mode and no response, you can choose to completely wipe out iPhone data to make it brand new. Here we introduce you with a powerful iOS data eraser, iPhone Eraser to help you get the job done.
iPhone Eraser is one professional utility that can help you delete all iOS files and settings, including photos, videos, messages, password, call logs and more thoroughly on iPhone, iPad and iPod touch. All junk files and faulty extensions on iPhone will be scanned and erased for free.
Step 1Click the download button above to quickly install and run this iPhone Eraser on your computer. Connect your iPhone to it with a USB cable. It will recognize iPhone automatically.
Step 2iPhone Eraser provides 3 erasing levels, Low, Medium and High. You can take your preferred one based on your need.
Step 2Click "Start" to remove all iOS data and settings thoroughly. After that, your iPhone will exit safe mode and be brand new and normal condition.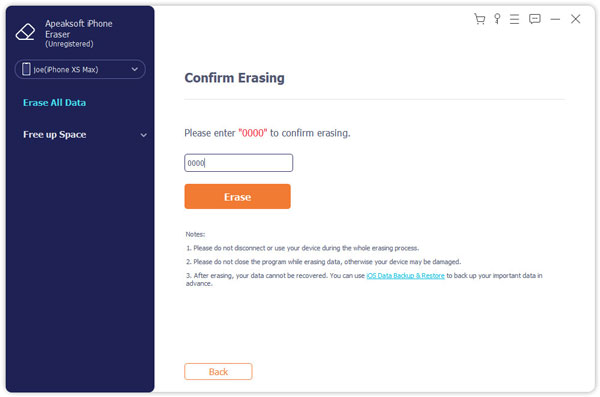 5Professional way to fix iPhone stuck on safe mode
iPhone stuck on safe mode and can't exit? Here you can rely on the professional iOS System Recovery to fix the issue. With its help, you can easily turn off and exit safe mode on iPhone.
Fix iPhone stuck in safe mode, recovery mode, DFU mode, headphone mode and other abnormal situations.
Support iOS 12/11 and the latest iPhone XS/XR/X/8 Plus/8/7 Plus/7/SE/6s Plus/6s/6 Plus/6/5s, iPad and iPod models.
Recover disabled iOS device in safe mode, recovery mode or DFU mode.
Repair disabled iPhone/iPad/iPod without erasing or damaging current data.
Repair iOS system on Mac or PC without data loss.
Download for Win
Download for Mac
Step 1Free download install and run this iOS System Recovery on your computer by double-clicking the download button above. Connect your iPhone to it via a USB cable. When you enter the main interface, you need to click "Start" button to move to the next step.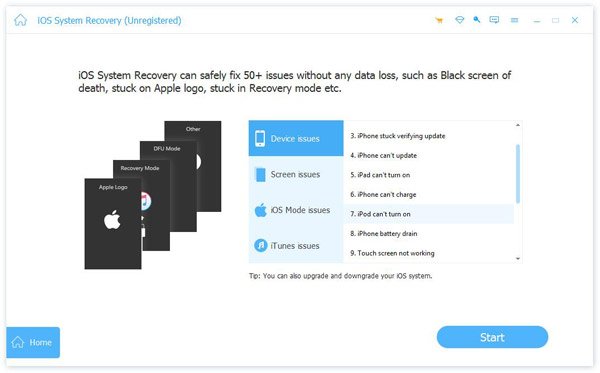 Step 2With the on-screen instructions, you can put your iPhone into DFU mode or recovery mode.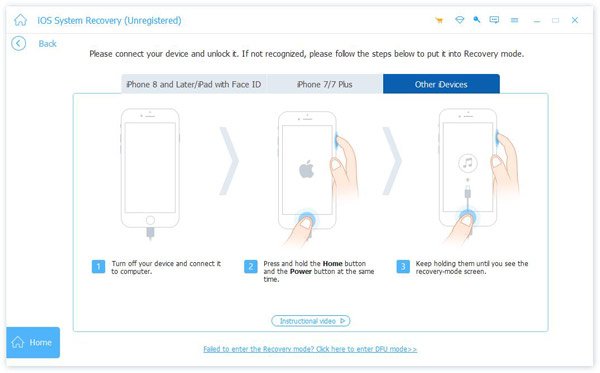 Step 3Ensure your iPhone information like device category, device type, device model and iOS version to update is correct. Then click "Repair" button to download firmware and repair iOS system.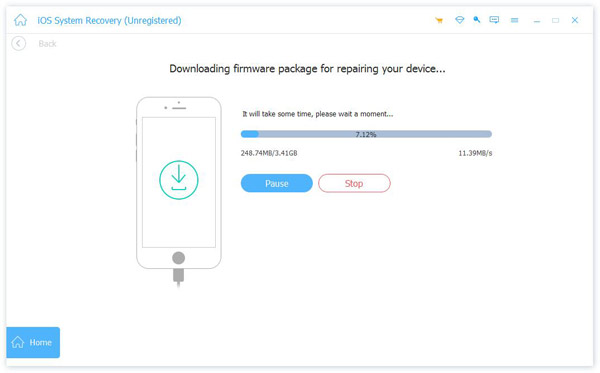 It will take some time to finish the whole fixing process. After that, your iPhone will automatically exit safe mode. As it mentioned above, if your iPhone stuck on Apple logo, boot loop, and freeze on recovery mode, DFU mode and so on, you can also use iOS System Recovery to solve the problem.
Part 4. FAQs About How to Turn Off Safe Mode on iPhone
How do I know if my iPhone is in Safe Mode?
You can verify this by operating directly on your device. First, shut down your iPhone. When you find it turned off, hold the powerful button to turn it on. Hold the Volume Down button after the device lights up until the Apple logo appears. If the iPhone has booted, it will be in Safe Mode.
If you enable Safe Mode on your iPhone, can someone hack it?
Safe Mode will reduce the likelihood of your device being hacked to some extent, making it harder for malware to operate on the device. However, hacking your device is still possible for hackers with more advanced technology. In addition, if your device is in a jailbroken state, it will be easier to hack.
Can you tell if my phone is being hacked?
If your device has downloaded unknown apps without your knowledge, the data usage has spiked, or some other records have appeared, you did not use that. You can be sure that your device has been compromised, and you can either take the help of professional tools or simply restore your device to factory settings.
Why can't I remove Safe Mode on my phone?
This may be because one of the apps on your phone is faulty and is causing you to get stuck in Safe Mode. You can clear the cache, delete the data related to this app, or uninstall this program. Apeaksoft iOS System Recovery also can be worked as a professional tool that can also help you solve this problem.
What is the difference between Safe Mode and Recovery Mode?
Safe Mode allows it to avoid malware threats, improve system operation efficiency, and fix some basic problems. Recovery Mode enables users to restore data from backups, scan and repair hard disk errors or perform a clean install of macOS.
Conclusion
After reading this page, you can get a basic understanding about iPhone safe mode. What's more, you can get detailed steps to enable and disable the safe mode on iPhone. Even your iOS device is stuck on iPhone safe mode, you can find right solution to solve it. Leave us a message if you still have any question.