Suppose you have a playlist storing your favorite music on your iPhone and you want to share it with your best friends. iTunes could meet your need. In fact, the iTunes's export playlist feature is useful to output music playlist for sharing or other purposes. This tutorial will share multiple 100% working methods to export iTunes playlist with your music.

Part 1:

Export iTunes Playlist to iPhone

Apeaksoft iPhone Transfer is a professional data manager for iOS devices with extensive features, such as:
Open and preview iTunes playlist without iTunes.
Export iTunes playlist to iOS device.
Export media files from iPhone to iTunes directly.
Include extensive tools, such as the ringtone maker and more.
Download for Win
Download for Mac
In short, it is the best way to export iTunes playlist to your iPhone or other devices.
How to Export iTunes Playlist
Step 1: Get the best iTunes playlist manager
Download and install iPhone Transfer to your computer, because it is a desktop program.
Connect your iPhone to the computer with the Lightning cable came with your device. Once open the program, your device will be recognized automatically.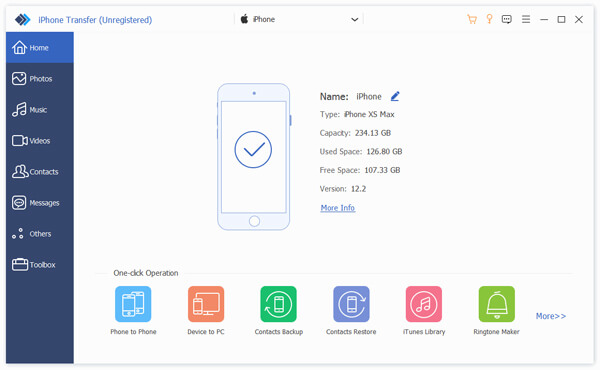 Step 2: Export iTunes Library to iPhone/PC
Click "iTunes Library" > "Sync iTunes to Device" > Tick the box before "Playlist" and click "One-Click to Device" to start to export iTunes playlist to your iPhone directly.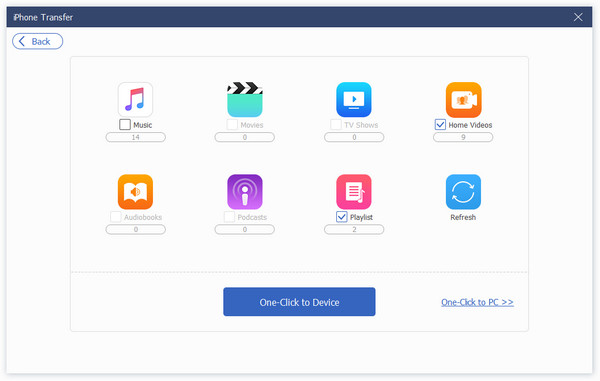 Tips
You are allowed to export other data types like movies, TV shows, home videos, audiobooks, and Podcasts from iTunes to iPhone.
It also leaves you the option to export iTunes playlist to PC, so that you could easily sync iTunes from one compute to another one.
It also lets you view iTunes Library files and import data from iPhone to iTunes.
It will not interrupt existing playlists on your iPhone when exporting iTunes playlist to or from your handset.
Part 2:

Export iTunes Playlist via iTunes

Of course, iTunes has the capacity to export iTunes playlists. If you are still using iTunes on your machine, follow the steps below to get what you want.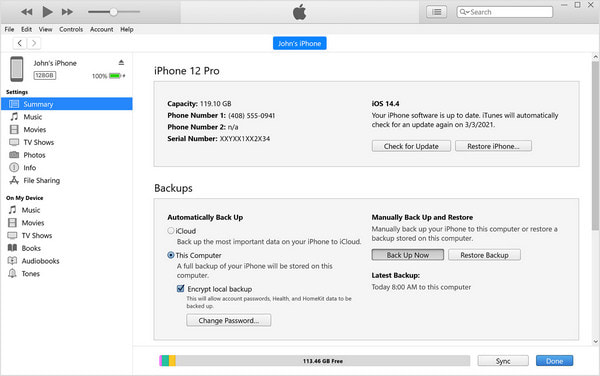 Step 1: Start iTunes from your desktop, and make sure to update iTunes to the latest version.
Step 2: Switch to the Playlists tab from the top of the window. That will display all your iTunes playlists.
Step 3: Select the playlist you intend to export and click on File > Library > Export Playlist to trigger the popup dialog on Windows. For Mac, click iTunes > Library > Export Playlist.
Step 4: Next, navigate to the directory to save the playlist, select XML files from the Save as type option, and export the iTunes playlist.
Step 5: Now, you can share the playlist to any device via email and more.
If you playlist on iTunes is not what you want, you could easily delete iTunes playlist and create the one you will need.
Part 3:

Export iTunes Playlist to Text

By default, iTunes playlist will be exported as XML, which is a markup language that defines a set of rules for encoding documents. If you export iTunes playlist to iPhone, it can read and play the xml file directly. However, some players cannot decode playlists in XML. In such case, you can export iTunes playlist to Text.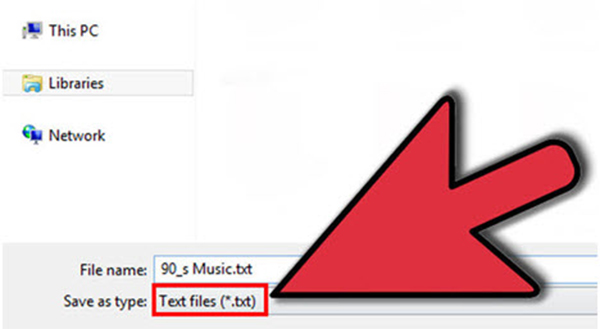 Step 1: Preview your playlists in the Playlists window of iTunes. Then select the playlist you'd like to export.
Step 2: Head to File > Library > Export Playlist to trigger the export settings dialog. On Mac, go to the iTunes menu to find the Library option.
Step 3: Locate the specific folder to store the playlist, rename it in the File name field, and select Text files or Unicode Text from the Save as type option. Click the Save button to complete the process.
Note: In addition to Text and XML, iTunes playlist can be exported in M3U, M3U8 or Plain Text. M3U and M3U8 are the file extensions for MP3 playlist files.
Part 4:

Export iTunes Playlist to Spotify

Exporting iTunes playlist to Spotify is another way to share your favorite music in batch. Then your best friends can listen to the playlist from the Spotify service cross-platform.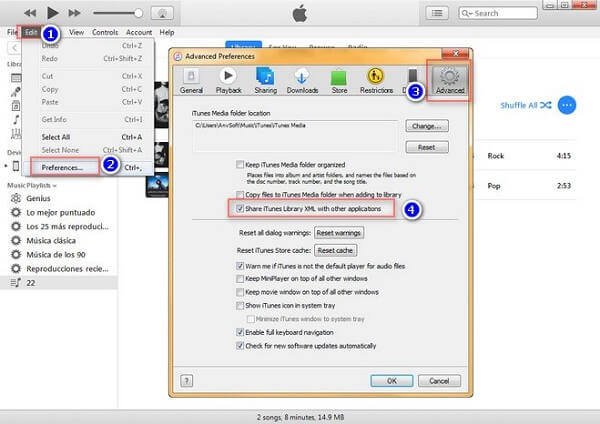 Step 1: Open your iTunes, click Edit > Preferences to activate the Preferences dialog. Then go to the Advanced tab.
Step 2: Check the box next to Share iTunes Library XML with other applications, and click OK button to confirm it. Then quit your iTunes.
Step 3: Access Spotify in your web browser or run Spotify desktop client. You have two ways to export iTunes playlist to Spotify:
Automatic transfer: Click the Menu button with the downward-arrow icon, and select Settings > Local Files. Find the iTunes option and toggle it On. Then all your iTunes playlists will be exported to Spotify immediately. You can find them in the Local Files window. After exporting, you can listen to iTunes playlist on any device.
Manually transfer: Click File > Import Playlists > iTunes on Spotify to export iTunes playlists to Spotify. It will take a while depending on the amount of your playlists.
Conclusion
Based on our sharing, you must understand how to export iTunes playlist. As you can see, iTunes has a feature to export playlists to various formats to meet various needs. XML, for example, is the default format for iTunes playlists. Text is used to use iTunes playlists in Google Play Music and more. If you are looking for an all-in-one iTunes playlist manager, Apeaksoft MobieTrans is the best option. Moreover, we also told you how to export iTunes playlists to Spotify. More questions related to iTunes playlist? Please leave your messages below this article.