Disk Doctor is a clean utility rated #1 Cleaning Utility in the Mac World 2013 Mac Gem. Should you choose it as the Mac cleaner to free up more space on your MacBook? Here you can find how-to steps, cons and pros, and best alternative to clean up your MacBook within clicks. Just read on the Disk Doctor review and find the answer now.

Disk Doctor Review
Part 1: What is Disk Doctor
Disk Doctor is a simple Mac Cleaner to remove unwanted files to reclaim space on your hard drive. It can clean the caches and junks to free up your MacBook within clicks. Whether you need to perform a system scanning or clean up space on Mac, it should be the versatile utility you should not miss.
Review of Disk Doctor
PROS

Free up much space from your Mac hard drive just within a few clicks.
Scan your Mac's main hard drive to perform to the best of its abilities.
Unclog Application Caches, Logs, Browser Data, Mail Downloads, etc.
CONS

Cause data loss when you use Disk Doctor to clean your hard drive.
There are many ads in the software without any option to opt-out.
Cannot find the large files in case you want to free up more storage.
How-to Steps of Disk Doctor
Step 1 Once you have installed Disk Doctor on your computer. You can directly preview the situation of your hard drive space. After that, click the scan button to scan your hard drive.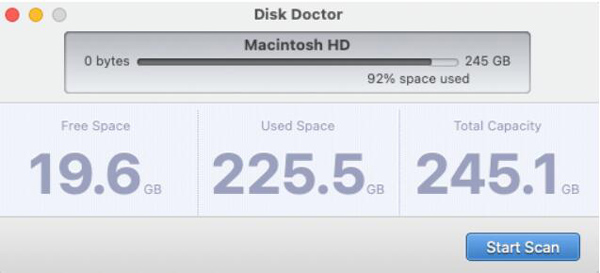 Step 2 After the scanning, you can preview the details of your MacBook, such as the storage space on the Mac. Click the Clean button to remove the unwanted from your MacBook.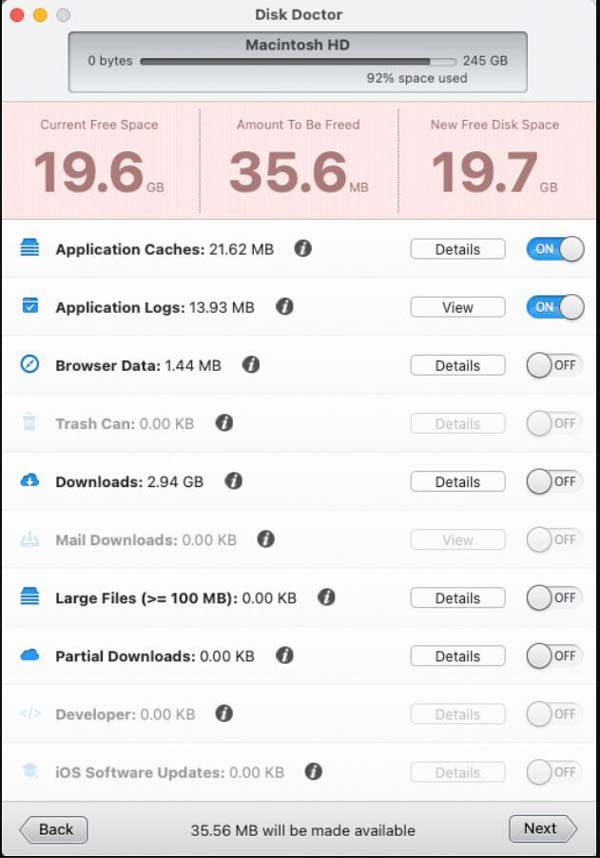 Step 3 When you clean the caches and junks on your Mac, you will check the total space you free up. It is a utility that is designed to work only with your Mac's boot volume.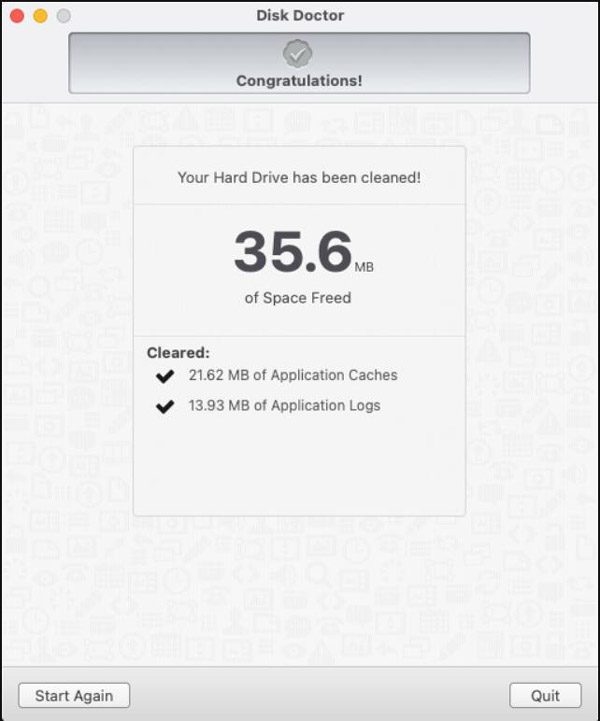 Part 2: The Best Alternative to Disk Doctor
When you release up space on Mac with Disk Doctor, you might only get 3GB extra space when you need to free up 250GB hard drive. You may experience the unsteadily of cleaning files, not to mention the pop-up ads. What should be the best Disk Doctor alternative to clean up large files on your MacBook? Apeaksoft Mac Cleaner may reach your expectation. It is the all-in-one tool for Mac to clean up storage space, monitor memory usage, check the battery status, un-archive, and protect privacy.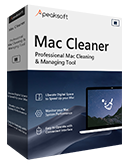 4,000,000+ Downloads
Clean and manage your Mac fast and safely without any data loss.
Remove junk and large files on Mac to keep the macOS in a good state.
Check disk utilization, memory usage, battery status, and CPU usage.
Turn off some unnecessary settings and manage applications on Mac.
How to Use the Disk Doctor Alternative
Step 1 Download the Apeaksoft Mac Cleaner and run it. Click the Cleaner option to remove the different file types, such as system junk, photo junk, and others from your MacBook directly.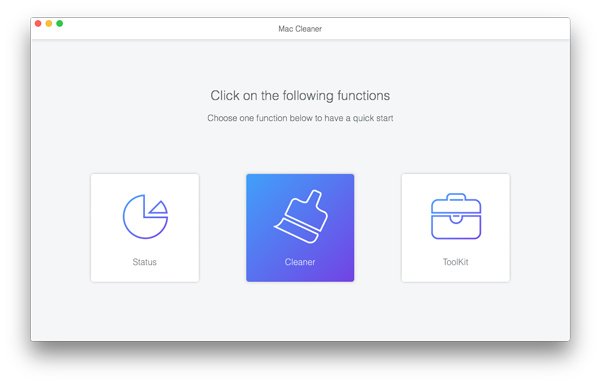 Step 2To clean system junk, you only need to click the System Junk button and scan the hard drive. You can get the unwanted files for System Cache, Application Cache, System Logs, User Logs, and Localization.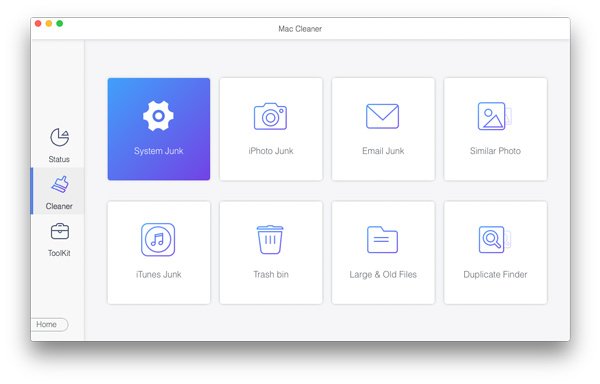 Step 3 Choose the desired file type and click the Scan button. It will take a short time to scan the file before you can get the list of the junk file. Just click the Re-scan button if you cannot locate the file.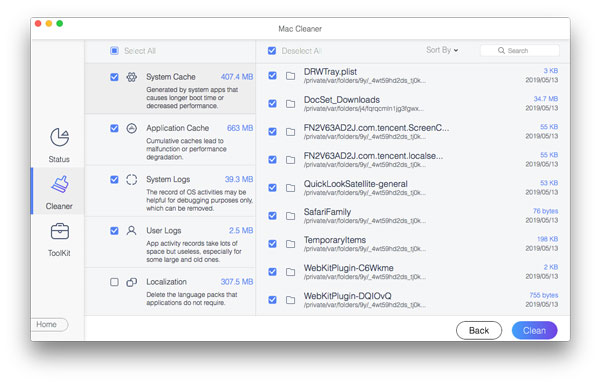 Step 4Preview the junk files after scanning, select those you want to delete and click the Clean button. Make sure you want to clean the selected system junk and click the Confirm button.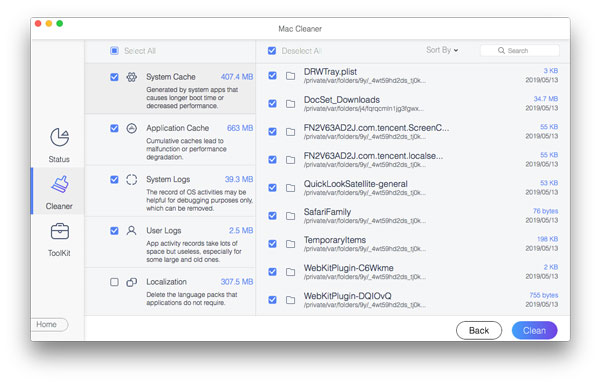 FAQs about Disk Doctor
How to scan all areas with Disk Doctor after upgrading to macOS Mojave?
You need to manually allow Disk Doctor access to your data in order for it to scan all areas of your hard drive. Open the System Preferences menu and choose the Security & Privacy option. Locate the Full Disk Access section on the sidebar and click the + icon and add Disk Doctor.
Why Disk Doctor cannot locate the duplicates?
Make sure there are no duplicates within the folder you scanned with exact hash values matching. Moreover, Disk Doctor will also ignore the duplicates as they are below the minimum size threshold set in the app's preferences, such as 50KB.
Do I have to use Disk Doctor every time I clean the space?
No. If you are just cleaning some junk or logs in your Mac, you can remove them directly. But if you are cleaning some important caches, such as the browse data, you should use Time Machine to back up the important part before deep cleaning with Disk Doctor.
Conclusion
Disk Doctor is an efficient and workable Mac cleaner to perform some simple cleaning processes. If you are searching for a better experience and better program to manage your Mac, Apeaksoft Mac Cleaner is the best alternative you can take into consideration.