"My Mac becomes slower and slower, how to clean my laptop?" Apple has added a lot of utilities to the Mac so that users can manage their software and files easily. However, it is difficult to clean useless data and you can soon run into storage space issues. To keep your Mac running smoothly, you need a powerful Mac cleaner app. This article identifies a top list to help you remove unwanted files and applications from Mac easily.

Mac Cleaner
Part 1: Top 5 Paid Mac Cleaner Applications
Top 1: Apeaksoft Mac Cleaner
The best Mac system cleaner should be easy to use since many users do not have technical skills. That is why Apeaksoft Mac Cleaner appears on the top of our list. It equips a lot of pro-level features, but the design is user-friendly.
Pros

Clean up personal files and data on Mac.
Remove system and app junk files.
Available to a wide range of data types.
Include a variety of bonus tools.
Cons

After the free trial, you need a license.
Top 2: MacKeeper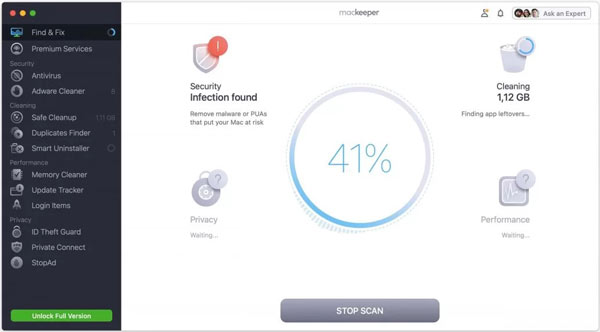 MacKeeper is one of the best system cleaners for Mac. It can optimize the performance of your machine as well as protect you from online threats, viruses, malware, privacy leaks, and more. It provides several plans starting from $5.20 per month.
Pros

Include a VPN.
Scan and clean malware quickly.
Block ads in web browsers.
Encrypt personal data.
Cons

It lacks automatic scans.
There are too many features for beginners.
Top 3: Piriform CCleaner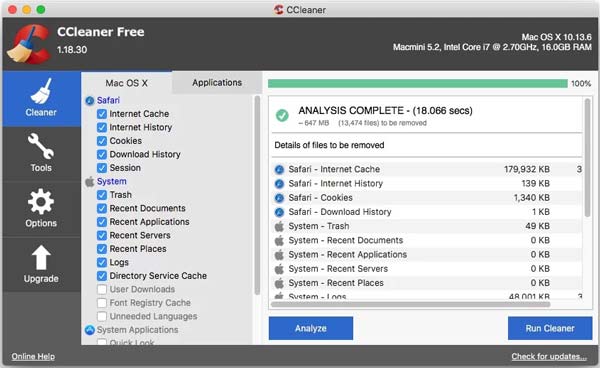 CCleaner is a fast and unobtrusive Mac cleaner application and optimization suite. It enables you to clean up system cache data, junk files, downloads, browser history, and so on. It offers a free version, and the full edition costs $24.95 per year.
Pros

Integrate an intuitive operation panel.
Perform data scans according to your need.
Do schedule scans.
Update frequently.
Cons

There is extra software during installation.
The free version has limited features.
Top 4: CleanMyMac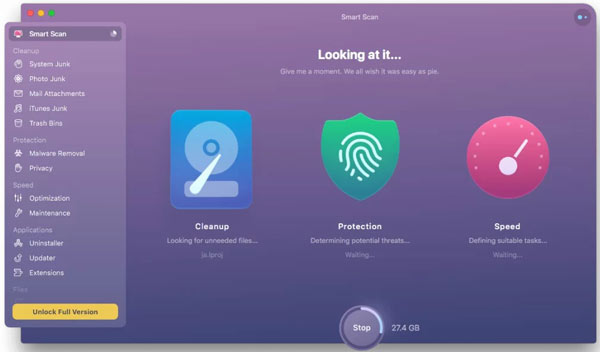 As an all-in-one best system cleaner for Mac, CleanMyMac provides a lot of useful features on the cheerful interface. Apart from cleaning files and cache data, the app manages your applications too. It costs $39.95 per year for one device.
Pros

Equip a vulnerability scanner.
Clean up a lot of file types on Mac.
Support multiple languages.
Offer awesome customer support.
Cons

It cannot clean up duplicates.
It lacks malicious protection.
Top 5: Gemini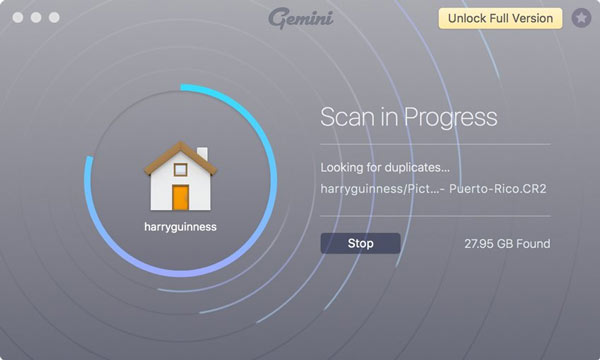 Gemini is one of the best Mac cleaners to save your hard drive space by quickly identifying duplicates. Then you can view the duplicate files or folders, and decide to delete selected or all of them. You can purchase it from App Store for $20.
Pros

Integrate a clear interface.
Scan entire Mac including iTunes library.
Safeguard files and folders.
Preview duplicate files.
Cons

It may overlook some duplicates.
The features are limited.
Part 2: 3 Best Mac Cleaners
Top 1: Clean Me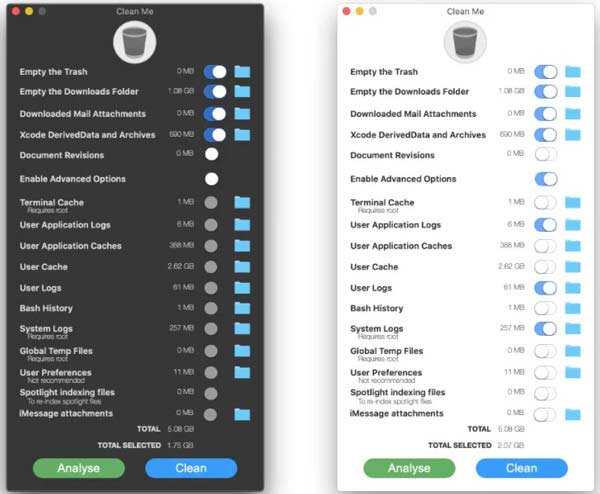 As an open-source project, Clean Me is a free Mac system cleaner. It can remove everything on your machine, from email attachments to the Trash folder, from documents to system cache, and from app data to system logs.
Pros

Clean up Mac for free.
Equip a simple user interface.
No ads, registration, or other limits.
Available to plentiful data types.
Cons

The installation is a bit complex.
There is no way to view the cache files.
Top 2: Disk Drill Clean Up Tool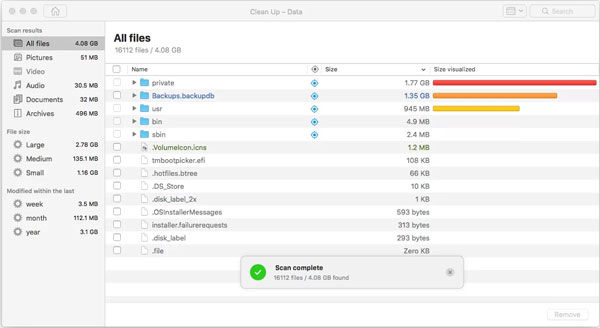 Disk Drill Clean Up Tool is one part of the whole Disk Drill suite for Mac. This free Mac cleaner app can display all files on a selected drive, including hidden files, so that you can delete unwanted data quickly.
Pros

Include an abundance of utilities.
Preview files on Mac for deleting.
Support almost all file types.
Deep scan of T2 and M1 devices.
Cons

You have to install the entire app on your Mac.
The interface looks outdated.
Top 3: OnyX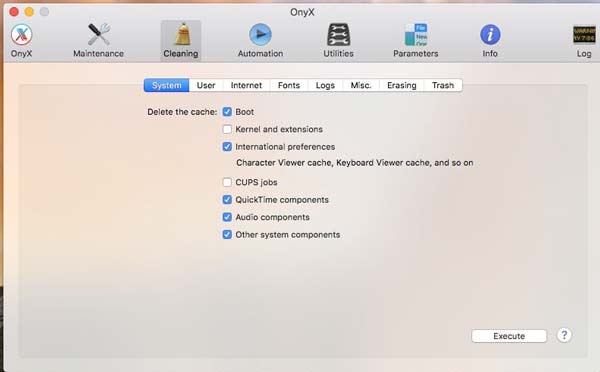 OnyX is another Mac system cleaner freeware downloadable online. It works on Mac OS X 10.9 or the Mavericks version. If you intend to free up space, manage Mac data, and fix software errors, OnyX is a nice choice.
Pros

Modify Dock, QuickTime, and more on Mac.
Clean up data on Mac quickly.
Create automatic cleaning tasks.
Display cache, files, and more.
Cons

The interface is not friendly to users.
It cannot protect your passwords.
Part 3: How to Clean Mac System Quickly
To be honest, finding the best Mac cleaner app in the glut of reputable cleaning utilities is not easy at all. Fortunately, you should get your favorite tool. We use Apeaksoft Mac Cleaner as an example to show you the basic procedure.
Step 1Scan Mac
Fire up the best Mac cleaner after you install it on your computer. You will see three buttons in the home interface, Status, Cleaner, and Toolkit. You can monitor the CPU, storage space, and more by hitting the Status. To free up space, choose the Cleaner, and select a proper data type, such as System Junk. Hit the Scan button to begin looking for unwanted data on your hard drive.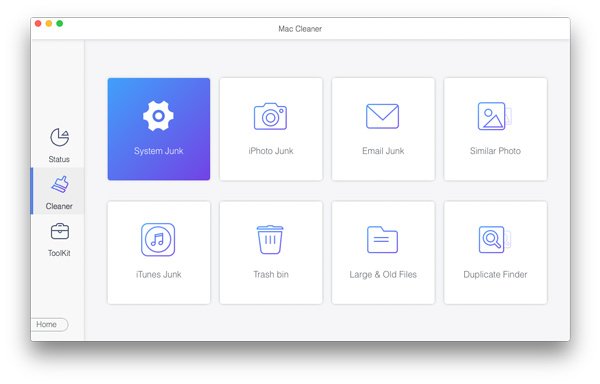 Step 1Clean up Mac
When the Mac scan is done, click the View button to enter the detail screen. Here you can select the sub-data-types, browse and check unwanted files. To clean up all system junk, check the Select All. At last, click on the Clean button to delete it immediately. Then you can clean up other data types.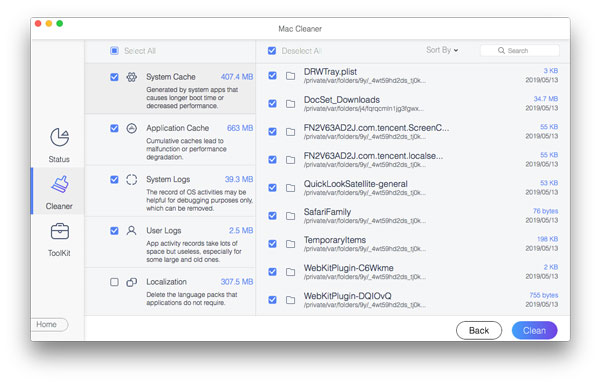 Further Reading:
3 Ways to Force Quit Software on Mac
Manage Mail Storage and Delete Mail on Mac
Part 4: FAQs about Mac Cleaner
Does Apple have a Mac cleaner?
Yes, there is a built-in Mac cleaner feature called Optimized Storage. It gives you basic directions on where to start the Mac cleanup, but its capacities are limited. Moreover, it cannot display hided files on Mac. It means that you cannot clean up any files on Mac with the native feature.
Is CCleaner for Mac safe to use?
CCleaner for Mac is generally safe to use. It is not malware and won't install a virus on your machine. Since two cyberattacks in 2017, many users still erroneously take it as malware. According to our research, it is 100% safe.
What is system junk on Mac?
Junk files are temporary files stored on your hard drive, which are generated by your activities and software, such as browsing websites, running an app, or downloading photos from the internet. It includes residual files, temporary files, cache data, and more. Generally speaking, you cannot access or open these system junk files.
Conclusion
Now, you should learn at least the top 8 best Mac cleaner applications. Some of them are completely free of charge, others require some kind of payment or subscription. You can discover an appropriate tool for your machine according to our review and introduction. Apeaksoft Mac Cleaner, for example, is the best choice for beginners. If you have better recommendations or other questions, please feel free to write down a message below this post and we will reply with it as soon as possible.