When there is not enough storage on your Mac, you need to check the hard drive and delete some useless files to get more available space. Do you know how to analyze disk space on a Mac?

Mac Disk Space Analyzer
You can use a Mac disk space analyzer to figure out your Mac disk usage and free up space. This post introduces you to 3 best Mac disk usage analyzers to better manage various files on your Mac and get all data organized.
Part 1. Built-in Free Mac Disk Space Analyzer - Disk Drill
Disk Drill is a free and pre-installed disk space analyzer for Mac. It can visualize your Mac hard drive usage, view disk usage, and identify which items you should remove or transfer. Besides, this free Mac disk space analyzer tool can format and manage volumes on your physical storage devices, combine several hard disks into a RAID set as a single disk, repair errors on Mac disks and volumes, and more.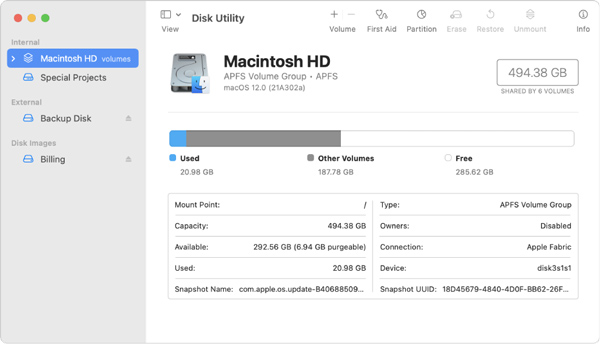 When you want to use the Disk Drill to analyze your Mac disk usage, you can go to Finder, choose Go and then enter the Utilities. Locate and double-click the Disk Utility icon to open it. Also, you can open a Finder window, click on the Applications and then access the Utilities folder.
You can't directly manage your Mac storage space in the Disk Drill. To view and optimize the storage space of a Mac, you should choose the About This Mac option from the Apple menu.

Now you can click on the Manage button to enter the Mac storage management window. Here you can get detailed information about the specific data usages. You can use 4 main solutions under the Recommendations to manage your Mac disk usage.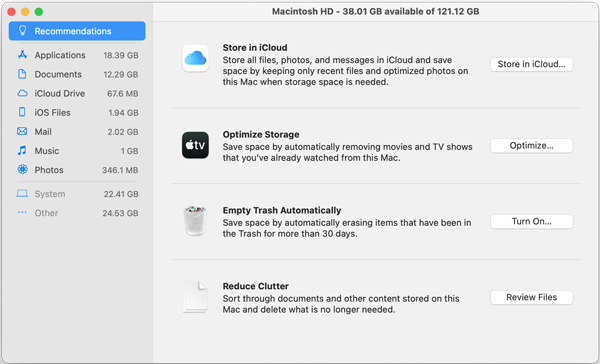 Part 2. Best Disk Space Analyzer for Mac - Apeaksoft Mac Cleaner
If you want to check the current disk usage of your Mac and directly free up the storage space, you can rely on the famous Mac disk space analyzer software, Mac Cleaner.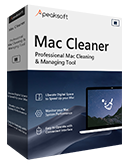 4,000,000+ Downloads
Analyze Mac disk space and view the current Mac CPU and Memory statuses.
Offer many useful tools including file manager, optimizer, uninstaller, and more.
Manage and delete large and old files, junk files, apps, and others to free up disk space.
Remove viruses, adware, malware, and optimize Mac performance in real-time.
Step 1 Free download, install, and run this disk space analyzer on your iMac or MacBook running any macOS. To check your Mac disk usage, you can click on the Status.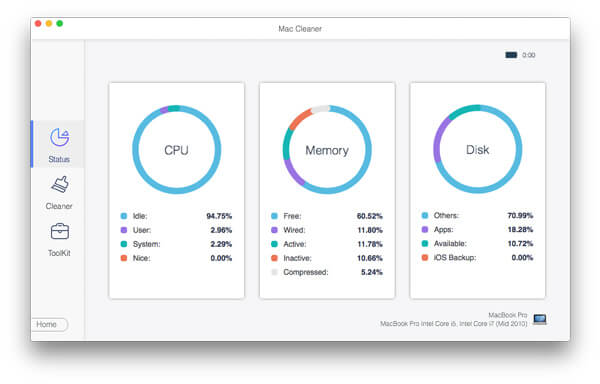 Step 2To free up your Mac disk space, you can choose the Cleaner feature. It provides you with 8 Mac data cleaning options. You can use them to remove system junk, large and old files, duplicates, and other unwanted data from a Mac.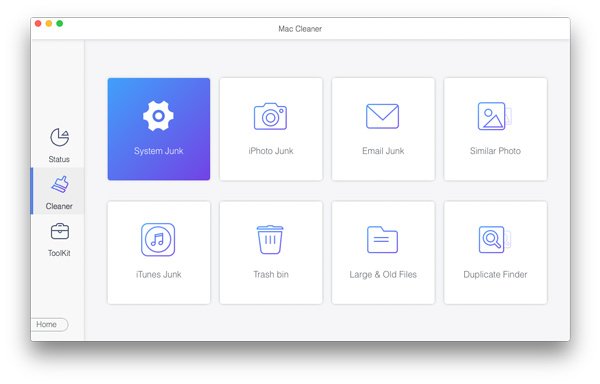 Step 3If you need to optimize your Mac performance, uninstall unused applications, manage files, or protect privacy, you can go to ToolKit.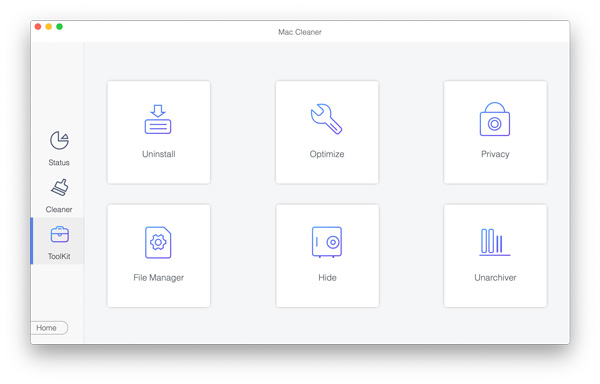 Part 3. Paid Mac Disk Space Visualizer - DaisyDisk
DaisyDisk is a popular Mac disk space visualizer tool that offers a convenient way to analyze your Mac disk space. It will create an easy-to-understand circular graphical display of Mac disk usage and give a great overview of all connected disks. You can see clearly about used and unused space.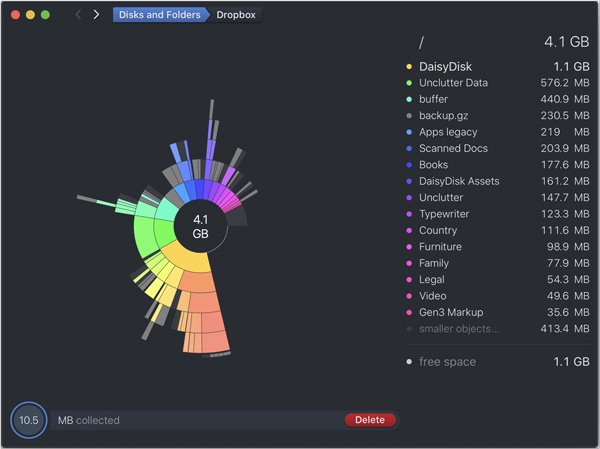 You need to pay $9.99 for DaisyDisk in the Mac App Store. It also offers a free trial version to view and clean up Mac disk space. You can easily find the unusually large files, check their content, and then delete them.
Part 4. FAQs of Mac Disk Space Analyzer
Question 1. What is the purpose of the Mac disk space analyzer?
A Mac disk analyzer is one kind of software that checks Mac drives for space and usage, explores files/folders, and manages and clears various data. It can access all types of files and folders on your Mac, and then generates a graphical chart to display the specific disk usages. A Mac disk analyzer enables you to easily locate old, large, and unnecessary files. With it, you can delete unwanted data and free up Mac storage space.
Question 2. How to store data in iCloud on a Mac?
Click the Apple icon on the top menu bar and then choose the About This Mac option. Click the Storage tab and then click on the Manage button. Now you can access the Store in iCloud feature. You can use it to store your Mac files in iCloud.
Question 3. How to uninstall unused apps on my Mac?
You can click the Finder icon in the Dock, and then click Applications in the left Finder sidebar to access all apps installed on your Mac. When you find an app you don't use anymore, you can simply delete the app by dragging the app to the Trash.
Conclusion
Here in this post, you can get 3 great Mac disk space analyzer tools to check your Mac disk usage and free up storage space. You can use your preferred one to better manage various data and applications on your Mac.