Do you need a virus cleaner for a Mac computer or laptop? The answer is yes, all machines, including MacBook, are vulnerable to malware. It may infect your computer through a website, an email, a download, and more. While Apple has introduced a lot of security precautions into Mac, the protection is not perfect. There are a lot of headlines about Mac getting the virus. This article identifies and shares you with the top 8 best Mac virus scan applications.

Mac Virus Scan
Top 8 Mac Virus Scanners
Top 1: Apeaksoft Mac Cleaner
The virus is complicated on Mac. Sometimes, it appears as an independent app. Or it spreads your machine as junk files. Apeaksoft Mac Cleaner is one of the best Mac virus scan applications partly because it streamlines the workflow.
Pros

Scan virus and malware on Mac quickly.
Look at unfamiliar files and apps.
Protect personal privacy and information.
Offer a lot of bonus tools.
Cons

You need to buy a license after the free trial.
Top 2: Kaspersky Internet Security for Mac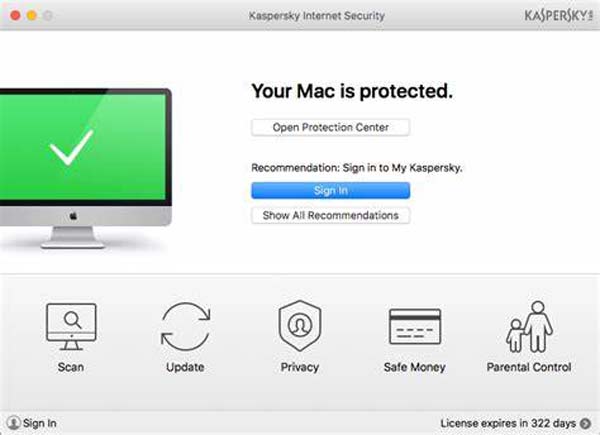 Kaspersky Internet Security for Mac is a recommended way to get rid of the virus on Mac thanks to its perfect performance, extensive features, and affordable price. It costs $24 for new customers with a free trial.
How to Delete Apps on Mac that Won't Delete
Pros

Include excellent anti-malware.
Offer outstanding password protection.
Equip intuitive interface and design.
Highly customizable.
Cons

The bonus features require payment.
Some features are only available on Windows.
Top 3: Bitdefender Antivirus for Mac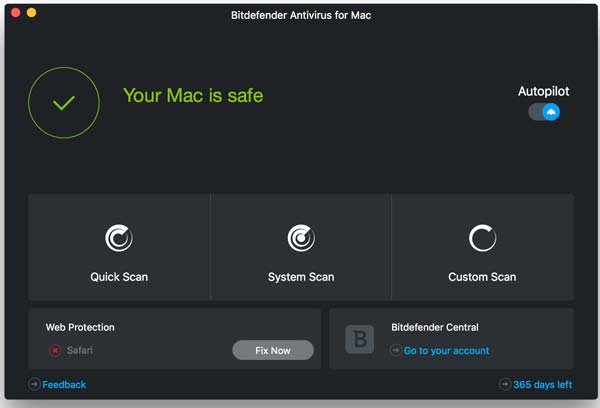 Bitdefender Antivirus for Mac is a fine Mac virus removal application with awesome protection and bonus features. Although it does not have the number of extras in Bitdefender for Windows. It costs $30 for a single year covering three devices.
Pros

Protect Time Machine volume.
Keep files and backups away from ransomware.
Offer virtual private network or VPN.
Block trackers in your browsers.
Cons

Full access to VPN requires a subscription.
There is no lifetime payment.
Top 4: Avast One for Mac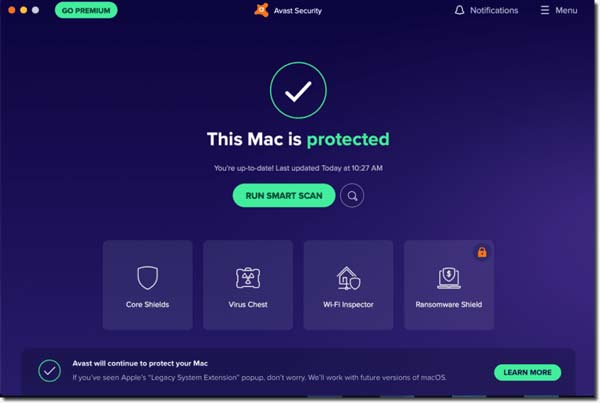 If you are a fan of Avast, it is virus protection for Mac that you should not miss. Far more than an antivirus, this app includes a lot of features, such as VPN protection, browser protection, data monitor, and more. The free Avast One Essential for Mac is a good choice for beginners.
Pros

Block browser fingerprinters.
Offer a no-limit VPN.
Scan for malware speedily.
Cons

It lacks a Wi-Fi inspector.
The bonus features are limited.
Top 5: Norton 360 Deluxe for Mac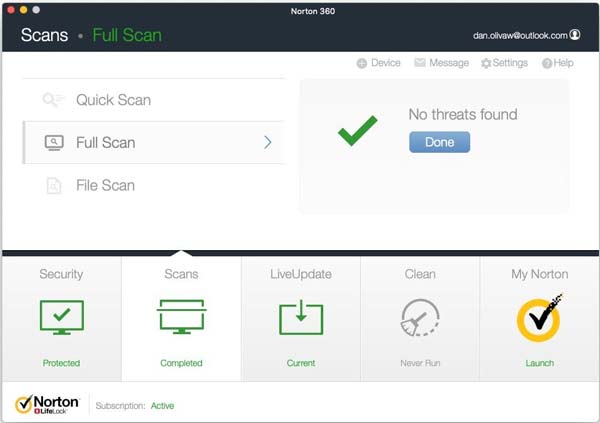 Norton 360 Deluxe for Mac is much more than a simple way to check for a virus on Mac. It includes a firewall, a file cleanup scanner, full VPN protection, and more. One license can protect up to five machines.
Pros

Offer a streamlined mobile app.
Backup files with online storage.
Provide a powerful firewall.
Include unlimited VPN.
Cons

The Mac version lacks some features, like parental control.
It is pricy and costs $34.99 per year.
Top 6: McAfee AntiVirus Plus for Mac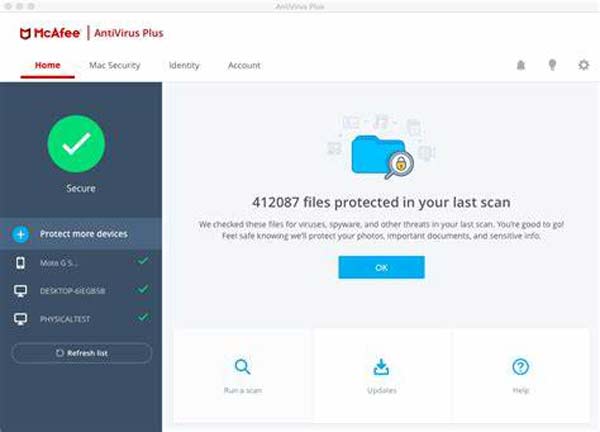 McAfee AntiVirus Plus for Mac enables you to remove viruses from Mac. It installs protection on every device in your household and keeps viruses or malware away from your machine.
The price is $59.99 per year subscription.
Pros

Available to a wide range of systems.
Include a simple personal firewall.
Protect up to 10 devices.
Equip a user-friendly interface.
Cons

The VPN feature is poor.
It slows down your machine during full scans.
Top 7: F-Secure Safe for Mac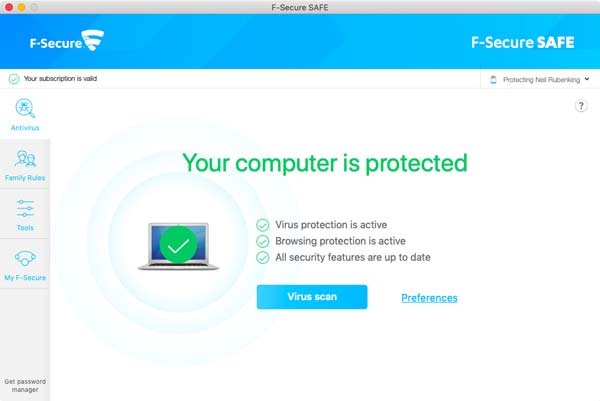 F-Secure Safe for Mac is a cross-platform to clean the virus from Mac, Windows, Android, and iOS devices. After you create an account and register your license, your Mac computer or laptop is protected from viruses or malware.
Pros

Scan Mac for viruses quickly.
Support a variety of platforms.
Protect phishing perfectly.
Integrate a well-designed dashboard.
Cons

Some features are foiled, like a parental filter.
The full version costs $34.99 Per Year.
Top 8: Clario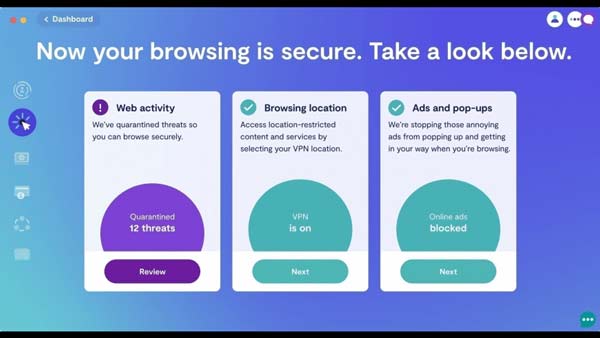 Clario is one of the best virus scanners for Mac; however, it focuses on users' needs, but not only antivirus technology. As a modern app, it is available to macOS Sierra or later. If you have enough budget, pay $149 per year to enjoy the personalized experience.
Pros

Integrate a human-centric interface.
Offer speedy malware scans.
Detect malicious and fraudulent web pages.
Provide excellent customer support.
Cons

The online protection is Chrome-only.
This app is expensive.
Part 2: How to Scan Mac Virus and Remove It
Apeaksoft Mac Cleaner is the best choice for beginners. Unlike free virus protection for Mac, it includes a wide range of features in a way that everyone can master in a few seconds. Here are the steps to scan the virus on Mac and get rid of it.
Step 1 Check Mac status
Launch the best virus scanner for Mac once you install it on your machine. There are three buttons in the home interface, Status, Cleaner, and Toolkit. To learn your machine, click the Status button, and you will be presented with the information.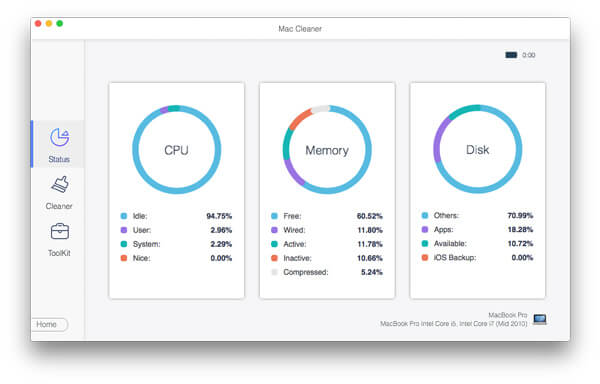 Step 2 Clean virus
If your Mac is infected by the virus, click the Cleaner button, and select the System Junk option. Press the Scan button to begin looking for viruses and other junk files. When it is done, click the View button to move on. Next, select all junk files, and click the Clean button.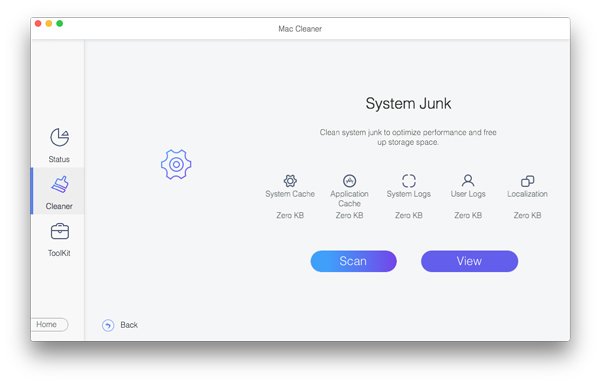 Step 3 Remove malware
Malware is similar to other apps but installs on your Mac without your permission. To remove malware from Mac, go to the Toolkit screen, and click the Uninstall button. Hit the Scan button to start scanning apps on your memory. When scanning is done, click the Scan button. Then scroll up and down to browse all apps installed on your machine. As long as you find an unfamiliar app, select it, check all associated files, and hit the Clean button.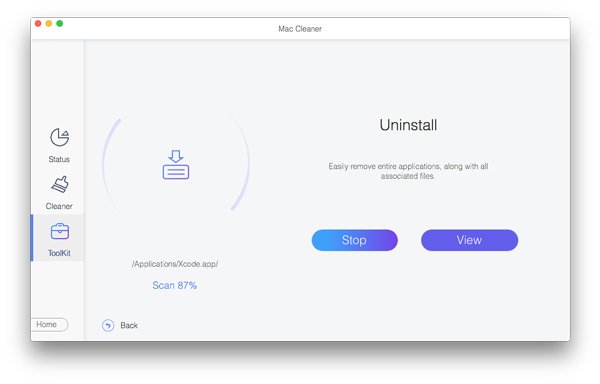 Related:
How to Uninstall Skype/Skype for Business on Mac Completely
Uninstall Office on Mac – Here are the Best Methods You Should Know
Part 3: FAQs about Mac Virus Scan
Does Mac have a built-in virus scan?
Mac computers come with XProtection and Malware Remove Tool. The former check for malware signatures based on an Apple database. Every time an app is changed, these tools check malware automatically.
Do I need antivirus on Mac?
Much like Windows, Mac users really need antivirus protection for their computers and laptops. It protects your machine and keeps it safe. Free Mac antivirus software is available, but they usually have a lot of drawbacks.
Can someone see you through your Mac camera?
It is possible to spy your life through your Mac camera, but the workflow and technology are more complicated than you think. You'd better check your camera and close it regularly.
Conclusion
Following our review, you should learn at least the top 8 best virus scanner applications for Mac. Some of them focus on Mac protection, others offer a lot of bonus tools. You can pick your favorite tool. Apeaksoft Mac Cleaner, for example, is the best choice for beginners due to its well-design. If you have better recommendations or more questions, please feel free to contact us by leaving a message below this post.