How to downsize a photo? How do you downscale pictures?
Downsizing image makes it easier to upload, onload, send by email and social apps, and save storage. Are you looking for an image downsizer tool to shrink photo size by defining new height and width pixels?

Downsize Image
Surely you don't want to lose much image quality after reducing the MB and KB of a picture. Considering your need, this post shares 3 effective methods to downsize a photo in JPEG, PNG, SVG or GIF without losing quality.
Part 1. How to Downsize an Image Online Free
To downsize JPG/JPEG, PNG, or SVG images, you can try some free online image downsizer. Here we introduce you with the popular Free Online Image Compressor to resize photo and reduce its file size.
Free Online Image Compressor highly supports any frequently-used image format like JPEG, PNG, SVG, and GIF. It has no file size limit to the uploaded image you want to compress. You can downsize up to 40 images in batch. Moreover, as a totally free image downsizer, it requires no program installing or account sign up/in.
Step 1On your browser and go to this free online image downsizer site. It is compatible with all commonly-used web browsers including Google Chrome, Microsoft IE, Safari, Firefox, and Yahoo. When you get there, click on Add Images to Compress button to select and upload your photo(s).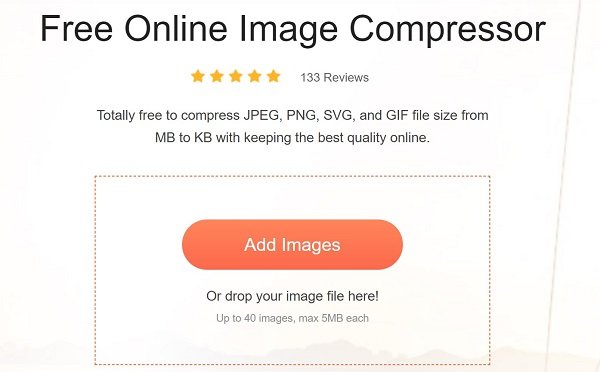 Step 2This online image downsizer tool is designed with an auto-compress feature. After image uploading, it will automatically downsize image for you. It is able to decide the best image compression rate to reduce image file size without losing quality.
Step 3Click Download button on each downsized image to save it on your computer. If you are downsizing multiple images in batch, here you can click Download All button to save all compressed pictures as a ZIP file.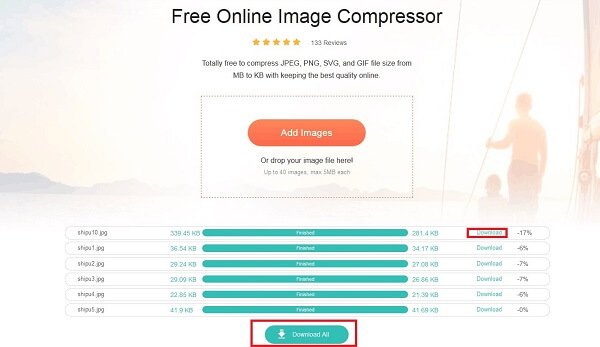 With the adoption of the advanced lossless algorithm technology, Free Online Image Compressor has the capability to quickly identify textures, patterns and colors, remove unnecessary pixels to downsize image. Whether you want to downsize JPEG, JPG, PNG image, or downsize GIF file, you can rely on it.
Part 2. How to Downsize Photo Free with iLoveIMG Resize IMAGE
iLoveIMG Resize IMAGE is another popular online image resizing tool that can help you downsize images with ease. It offers 2 ways to reduce the file size of your pictures, downsizing image in JPG, PNG, SVG or GIF by defining new height and width pixels, or changing image dimensions in bulk.
Step 1Search for iLoveIMG Resize IMAGE and go to its official site. You can also go to iLoveIMG site and then select the Resize IMAGE option. Click the Select images button to upload the photo you want to compress.
This online image downsizer allows you to downsize images from Google Drive and Dropbox. It requires no account sign in or sign up.
Step 2Now you can manually shrink photo size by resizing image width and height, or select specific compressing percentage from 25% smaller, 50% smaller, or 75% smaller. Then click the Resize Images button in the bottom right corner to start downsizing photo.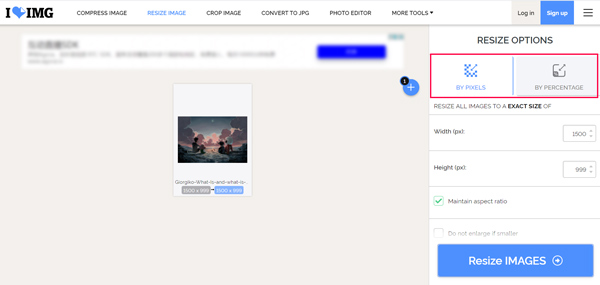 Step 3After the image downsizing, you can click on the Download resized Images button to save the optimized file(s) on your computer. Here you can also choose Save to Google Drive, Save to Dropbox, or Share download link or scan QR.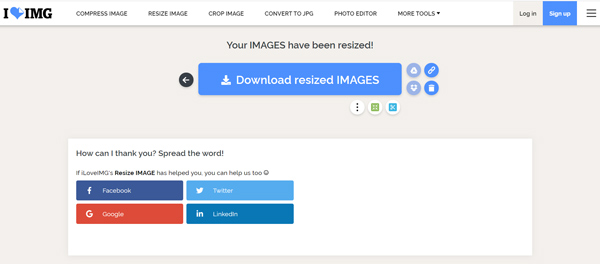 Part 3. How to Downsize an Image in Photoshop
Adobe Photoshop is one of the most famous image editors that can help you deal with various picture editing works. If you have Photoshop installed on your computer, Windows 10/8/7 PC or Mac, you can rely on it to easily resize an image and reduce its file size. You can choose to resize image width and height, crop picture, adjust image resolution, lower quality, and do more operations to downsize an image in Photoshop.
Step 1Launch Adobe Photoshop on your computer and add your image to it.
You downsize an image file in Photoshop by cropping. Just click on the Crop icon on the left toolbar, and then manually crop image to remove unwanted marginal part.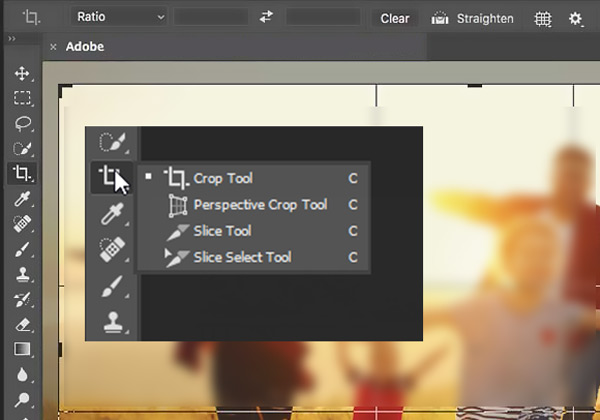 Step 2To downsize image in Photoshop, you can also resize the width and height of your picture. You can click the Image menu on the top and select Image Size option from the drop-down list.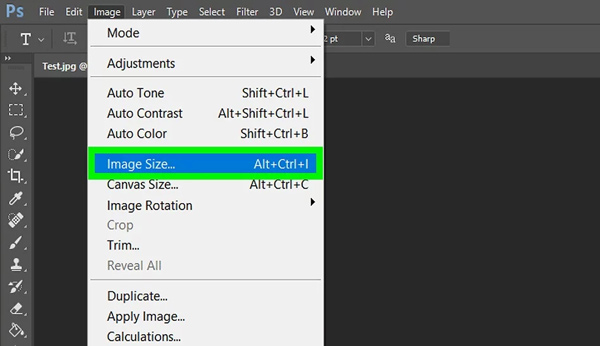 In the pop-up Image Size dialog window, you can enter new width and height. Here you can also custom image resolution and Resample.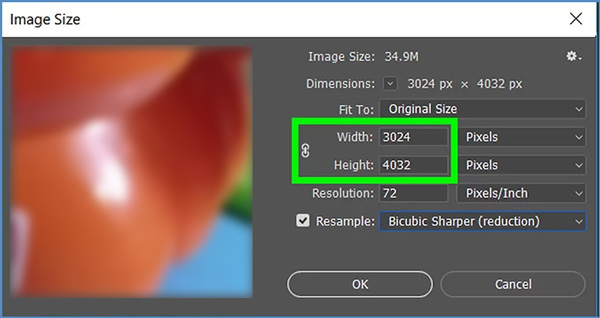 Step 3To effectively shrink photo file size while keeping a high image quality, you can also use the Save for Web feature in Photoshop. You can click File menu, choose Export, and then select the Save for Web option.
In the Save for Web window, you are allowed to select a suitable output image format from JPG, PNG, GIF, and WBMP, control the Quality value, and resize image width and height.
Here you can preview the output image effects, specific file size, how long the image will take to open on a website, and other information in the bottom left of the preview window.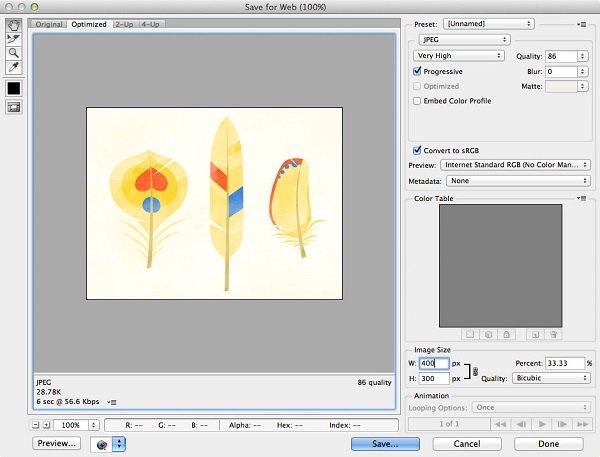 Step 4After your image downsizing operations, you can click Save button and follow the instructions to save the compressed file on computer.
Part 4. FAQs of Downsizing Image
Question 1. How to downsize a photo on Android phone?
When you want to directly downsize photos on your Android device like Samsung phone, you should find a third-party image compressor app from Google Play Store. When you enter it, search for downsize image to quickly locate a suitable app. If you don't know which one you should use, you can give the popular Photo Compress, Photo and Picture Resizer or Resize Me app a try.
Question 2. How to downsize an image on Windows 10/8/7 PC?
Besides the recommended image downsizing tools above, you can also use Windows built-in drawing and image editing tool, Microsoft Paint to reduce the image file size. Open your photo in Paint, and then choose the Resize feature to resize width and height.
Question 3. How to downsize a photo on Mac?
When you open a picture on Mac with Preview, you can use the Adjust Size feature to reduce the image file size from MB to KB with ease.
Conclusion
How to downsize a photo? After reading this post, you can learn 3 useful methods to downsize image for uploading, sharing, or saving storage space. Actually, you can also rely on built-in software like Paint or Preview to simply resize image file. Note that, when you choose to downsize a photo, do not sacrifice too much image quality to get the least file size.