It's quite a common problem that your picture doesn't fit the posting size limit of social platforms like Facebook, Instagram, or Twitter. Whether the image file is too large or too small for a particular purpose, you can use GIMP to resize it and make it more suitable.
This post tells how to resize images in GIMP without losing quality. We also recommend two great GIMP alternatives to increase or decrease image size based on your need.

GIMP Resize Image
Part 1. How to Use GIMP to Resize Images Without Losing Quality
GIMP (NU Image Manipulation Program) is a free and cross-platform image editor that is designed with many useful editing features. It offers different downloads for Windows, macOS, and GNU/Linux. You can download GIMP from its official website and take the following guide to resize your picture.

Step 1Launch GIMP on your computer, click the File menu in the upper-left corner, and select the Open option from its dropdown to add the image you want to resize.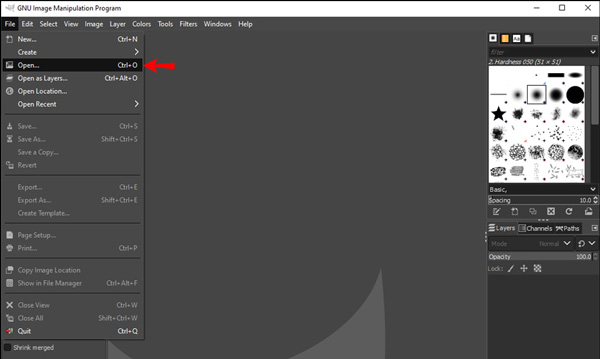 Step 2You can click the top Image menu when your picture is loaded in GIMP and go to the Scale Image feature. Now you can manually change the image width and height in the pop-up Image Size window. You can use GIMP to resize an image by inputting specific values.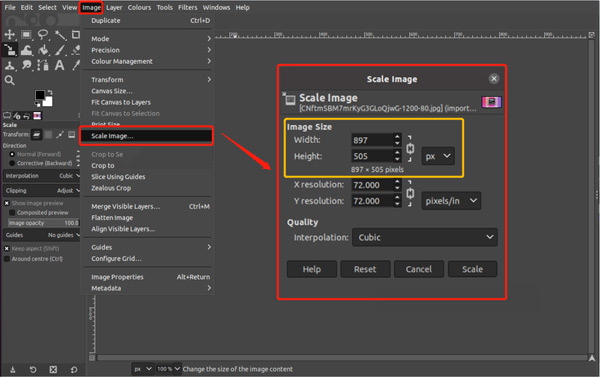 Step 3 You can also use the Scale Tool in the GIMP tools menu on the left-hand side to increase or decrease your image size with ease. Click its icon to activate the scaling handles. You can freely drag these handles to resize an image in GIMP.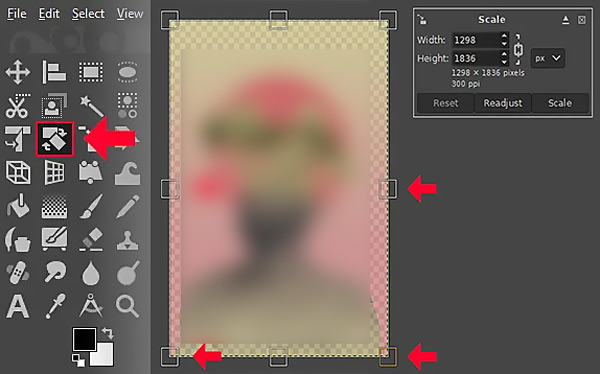 Step 4After you resize an image in GIMP, you can click the File menu and then select the Export As option to save the resized picture with high quality. In the Export Image popup, you can adjust the image format, dimensions, quality, and more according to your need.
Part 2. Free GIMP Alternative to Resize an Image Online
GIMP offers a simple way to resize images to fit your need. However, many users get a GIMP installation failure problem. They can't install GIMP even after closing the anti-virus software and firewall. If you face the same situation or are unsatisfied with its image resizing function, you can turn to the best online GIMP alternative, Free Image Upscaler, to enlarge or shrink your image size.
Free Image Upscaler is a 100% free image resizing tool that can help to adjust your picture size. It supports all commonly-used image formats like JPG, PNG, BMP, TIF, TIFF, and GIF. Moreover, this GIMP alternative offers an automatic way to upscale image resolution, remove blur, and enhance quality. You can use it on a computer or portable iOS/Android device to resize image files.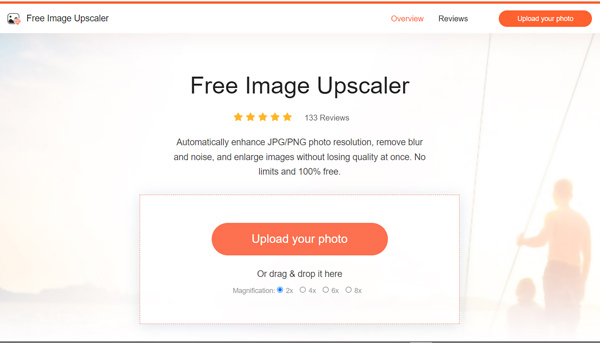 This free online image resizer uses advanced AI technology and deep learning algorithms to optimize your picture. It will automatically enlarge your picture to 2×, unblur the image, and improve quality as soon as it is uploaded. You can select another time you need to customize the image size. A built-in viewer will show you the source and resized images.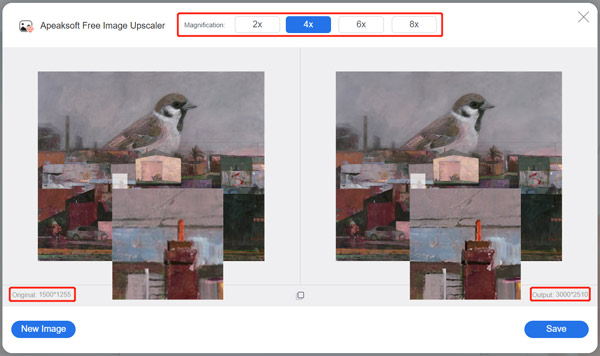 Part 3. Professional GIMP Alternative to Resize Images Without Quality Loss
If you prefer a more powerful image editor to replace GIMP and handle various editing works, you can turn to professional Adobe Photoshop. As one of the most famous image editors, it is designed with almost all image editing functions. You can download this professional GIMP alternative and follow the steps below to resize your pictures.
Step 1Open Photoshop and add your image file. Adobe Photoshop highly supports all frequently-used image formats. In addition, it sets no limits for your imported file size.
Step 2Click the top Image menu and select the Image Size option from its dropdown.
Step 3In the Image Size popup, you can increase or decrease the image size by changing width and height. Photoshop also allows you to customize image resolution, resample, and more to suit your need.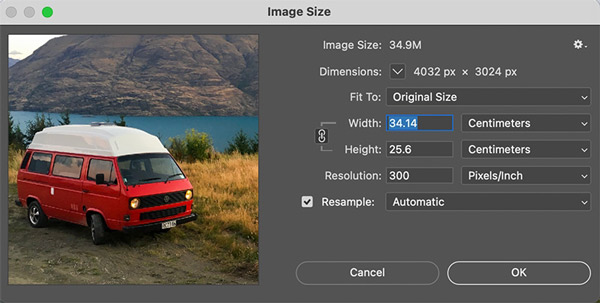 Part 4. FAQs on GIMP Resize Image
How to resize the canvas in GIMP?
When you want to resize a canvas in GIMP, you can click the Image tab on the top menu bar, go to Canvas Size, and then customize the width and height of the canvas.
Does Windows 11/10 have a built-in image resizer?
Windows 11/10 does come with a built-in tool, Paint, for you to resize images directly. When you want to resize an image file, you can open it using Paint, select the Resize function from the top menu, and enter new pixel values. It also gives you a convenient way to change the percentage of your picture size.
How do you resize images on Mac?
You can use Preview to resize your photos on a Mac. It is pre-installed on any Mac as the default photo viewer. When you open an image file in Preview, you can click the top Tools menu, select the Adjust Size option, and then resize it in the Image Dimensions window. You are allowed to adjust the Width and Height to control the image size.
Conclusion
GIMP is a popular image editor that can help you edit pictures on Windows, macOS, and Linux computers. We have mainly talked about how to resize an image using GIMP in this post. What's more, two great GIMP alternatives are introduced to help you change image sizes. For more questions about GIMP resizing images, you can message us in the comment section below.