Imglarge is a web-based platform offering many AI tools to help with your images. From the enhancer and denoiser to the background remover, this site is diverse and covers almost all necessary image tools. For new users who desperately want to know about the website's functionality and strengths, this post gives a brief but unbiased Imglarger review of its features, pros, and cons. After reading the review, you should understand the website more and make your judgments.

Imglarger Review
Part 1. Unbiased Imglarger Review – Features, Pros, and Cons
Trusted by numerous users, Imglarger claims to be one of the best all-in-one AI solutions and provides many AI-related image utilities. The most popular tool from its website must be the AI Image Enlarger & Enhancer Tools, the first thing you see on the home page. Therefore, the focus of the Imglarger review is basically on its AI enhancement ability plus other noticeable features, which you can see in the following content.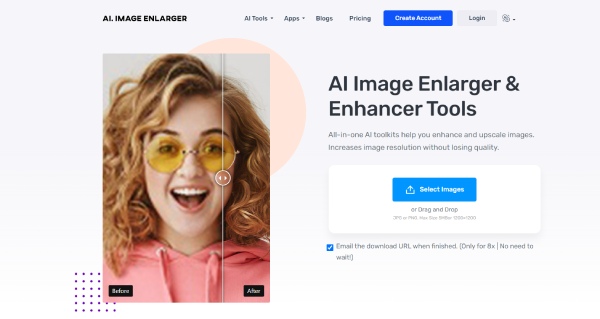 Main Features:
1. Offers numerous AI tools for better workflow.
2. Reduces the effort and time spent on simple images.
3. Enlarge a picture to print with no quality loss.
4. Gives professional results for image enhancement with AI.
5. Upload images for different processing tools via URL links.
6. Support batch processing in some AI image tools.
Pros

You do not need to learn complex photo skills.
Upload your images for processing quickly.
Download the desktop version of Photo AI for offline use.
Powerful AI technology helps take care of every detail.
Cons

You must log in to access services.
The image size must be less than 5MB in the free plan.
Supported image formats in the free plan include only JPG and PNG.
Pricing:
The Imglarger website offers several plans if you want to upgrade your account. The premium plan for monthly payment costs $9 per month. But, even after purchasing the premium plans, the services you get are still limited. The Premium plan offers 100 credits per month, while the Advanced plan offers 500 credits.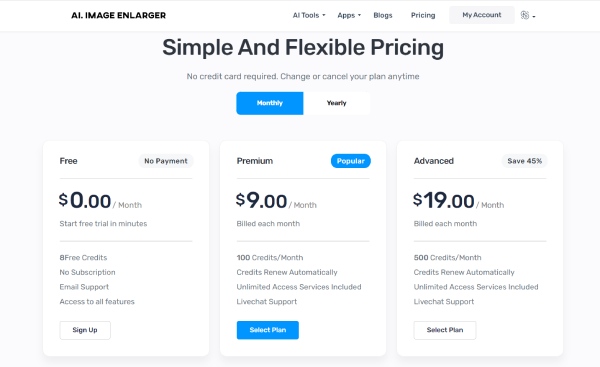 Summary:
As a well-developed AI photo enhancer and a toolkit, the Imglarger website performs well in enhancing your images for better quality or increasing your images' size without distorting them. If you prefer long-lasting and enduring services, Imglarger is a good choice. However, free and premium versions are not enough if you have great demands for image processing, enhancement, background removal, etc.
Part 2. Imglarger Alternative – Upscale Images for Free
Is Imglarger too expensive for you? If yes, find a free alternative and enhance your images with simple operations. No need to look around since Apeaksoft Free Image Upscaler is around the corner. This is a totally free Imglarger alternative with user-friendly designs and a straightforward layout. Although there is no cropping option for your image, you can still upscale and easily enlarge the image. Besides, there are more enlargement options on this free website than on Imglarger.

Key Features:
Provide four options for image enlargement.
Remove blur and noise while enhancing image quality.
Zoom in for a detailed preview of the enhanced image.
Enlarge your images for free without distortion.
How to Upscale Images with Imglarger Alternative
Step 1Without any installation, go to the website of Free Image Upscaler and choose a magnification option below the upload button. Then, click the Upload your photo button to select an image from your device for enhancement and enlargement.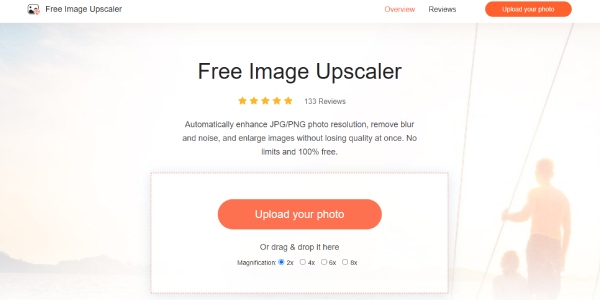 Step 2When your image starts uploading, the upscaler will also process it simultaneously. Once the process ends, you will see the enhanced picture and the original one. Click the Save button on the right corner below to save it to your device.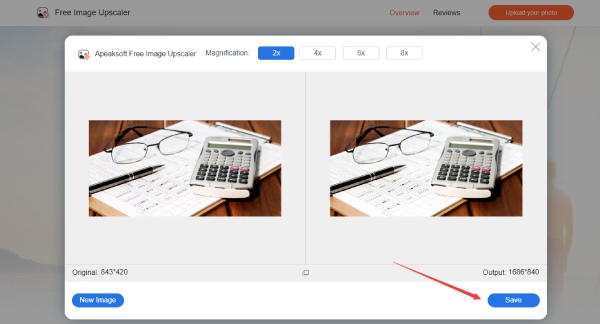 Part 3. FAQs about Imglarger
Is there Imglarger software for the desktop?
Yes, there is. But the Imglarger software is for Mac only. You can go to the Imglarger official website and download the Photo AI Mac for your MacBook. Other apps for iOS and Android are also available.
What else can I do with Imglarger except for upscaling images?
You can enlarge and sharpen your photos. Besides, if you upload anime and cartoon pictures, you can use Imglarger to upscale them to 16K. Meanwhile, removing the image background or image noise is also feasible on this website.
Can I enlarge the image to 8× with Imglarger?
Yes, you can. But you must upgrade your account and purchase the premium or advanced plan. Then you will have the 8× for your image enlargement. Meanwhile, you can upload larger images for processing.
Conclusion
In closing, Imglarger is an excellent image-processing tool and a fantastic toolkit for users with a small number of files for processing. The professional result and customizable settings bring you an excellent image-enhancing experience. You can also get Imglarger software on your Mac. But if you want to upload larger files for free, you can check an alternative – Apeaksoft Free Image Upscaler.