Since being invented in 2005, 4K videos have been taking up more and more share on digital video market like a raging fire. Today, 4K movies, TVs, and displays are available to common consumers. Supposing you have purchased 4K UHD videos from the Internet and have a 4K computer monitor on your desk, you may find the 4K videos played on your computer are actually terrible quality. That makes you doubt if you are watching real 4K. The fact is that the media player program cannot perfectly support 4K playback. To watch real 4K Ultra HD videos, you must have a capable 4K video player. Thus, in this post, we have collected the 5 best 4K Ultra HD video players for you to choose from.

4K UHD Video Player
Part 1: The 5 Best 4K UHD Video Players
No.1 Apeaksoft Blu-ray Player – Ultimate 4K Ultra HD Video Player
After testing dozens of this kind, we drew the conclusion that Apeaksoft Blu-ray Player is the ultimate 4K Ultra HD video player in 2021. It plays not only 4K UHD videos on your hard drive but also from Blu-ray disc/folder and ISO file. Its decoding capability is beyond your imagination – hundreds of video formats are supported in 4K including MP4, MKV, TS, MTS, MKV, AVI, M4V, FLV, ASF, WMV, RMVB, MPG, H.264, H.265, and more. Audio quality out from this program is also lossless thanks to its DTS-HD Master Audio, Dolby TrueHD, and Apple Lossless Audio Codec.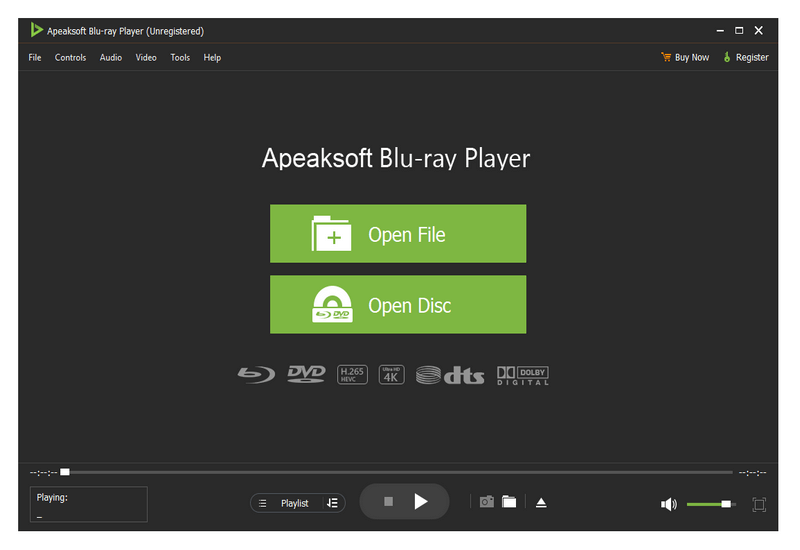 Key Features:
1. Play 4K UHD without considering any codec or format issue.
2. Its user-friendly interface allows you to enjoy the 4K playback with ease.
3. Enjoy lossless audio quality in videos and songs.
4. Control the playback conveniently with shortcuts.
No.2 VLC media player – Best Free and Open Source 4K Player
VLC media player is a well-known open source and free video player and decoder. It's available on all platforms that you have heard of, including Windows, Mac OS, Linux, iOS, Android, and many more. It's developed and still under updating by VideoLan, a non-profit organization made up of talented multimedia developers. With the great efforts contributed by numerous volunteers, VCL media player's features are comprehensive. Advanced algorithms enabled it to play 4K videos smoothly and encode 4K videos at an unbelievable speed.
Key Features:
An excellent 4K UHD video player with excellent playback quality.
It's pure and safe to use so you won't be harmed by ads or viruses.
Remarkable compatibility with operating systems and video format.
Decode and encode 4k videos at a peerless speed.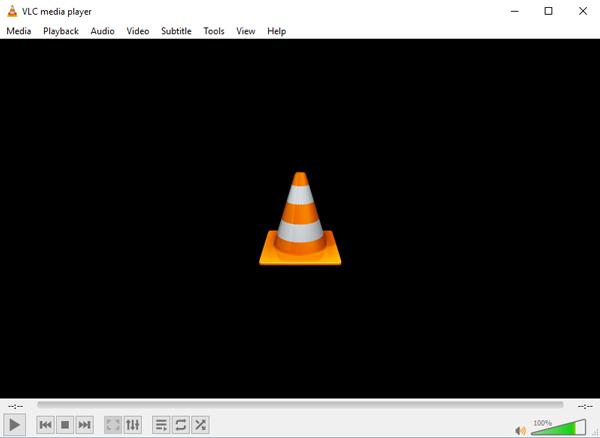 No.3 DivX Player
DivX Player is also a free program that plays 4K Ultra HD videos with excellent quality. What beyond your expectation for this program is its ability to cast video, audio, and music remotely to other DLNA devices. Its playback performance is also remarkable. MKV, HEVC, AVI, DivX, and many other popular video formats are supported to be played in 4K.
Key Features:
Cast 4K videos from your computer to your big screen or projector.
Built-in media library assists you in managing 4K movies in a better manner.
It automatically remembers where you stopped watching and will remind you next time.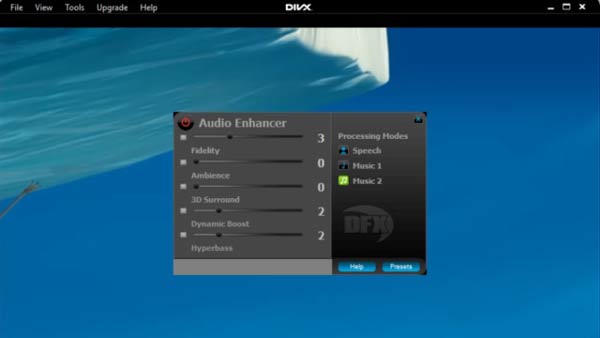 No.4 5K Player
At first look at the name of the program, you may expect it to be more capable than merely play 4K Ultra HD videos. And it is. 5K Player can be installed on both Windows and Mac OS. Its advanced NVIDIA and AMD GPU hardware acceleration technology can ensure smooth playback of 4K Ultra HD videos in marvelous quality. 5K Player can help you download 4K videos and convert them to other formats.
Key Features:
180+ built-in codecs make it a real professional 4K video player.
Play 4K DVD disc and ISO folders and files.
Conveniently download 4K videos from the Internet.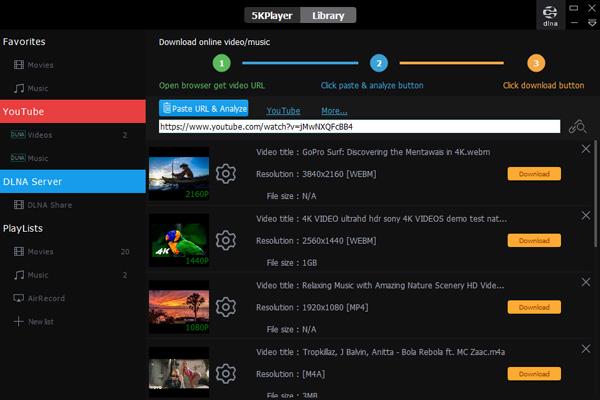 No.5 CyberLink PowerDVD 20
CyberLink PowerDVD 20 is a breathtaking 4K Ultra HD video player that works seamlessly with your home theater as well as your personal computer. It can enhance video quality for 4K and HDR screens. DVD and Blu-ray discs are also supported in it. Furthermore, CyberLink PowerDVD 20 even has the potential to play 8K videos if you have an 8K screen.
Key Features:
Extensive built-in codecs and infinite external codecs.
Professional-level solution for home entertainment systems.
Explore 360-degree 4K video watching experience.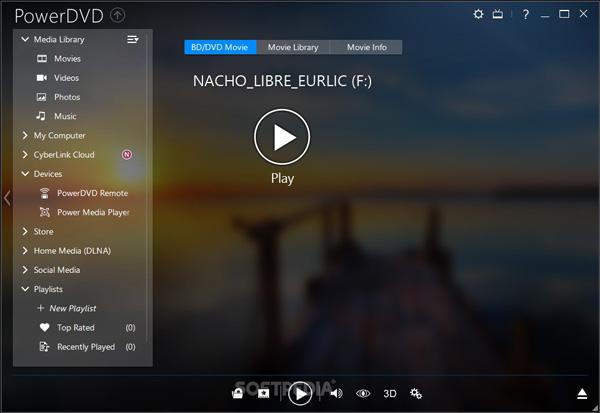 Part 2: How to Play a 4K Video in 4K Video Player
Here we would like to introduce how to play videos in a 4K video player using Apeaksoft Blu-ray Player as an example. The process is quite similar in other programs listed above. All you need to do is to follow the steps below:
Step 1Free download, install, and launch Apeaksoft Blu-ray Player on your Windows or Mac OS computer. Click the Open File button, then navigate to the 4K video file and open it.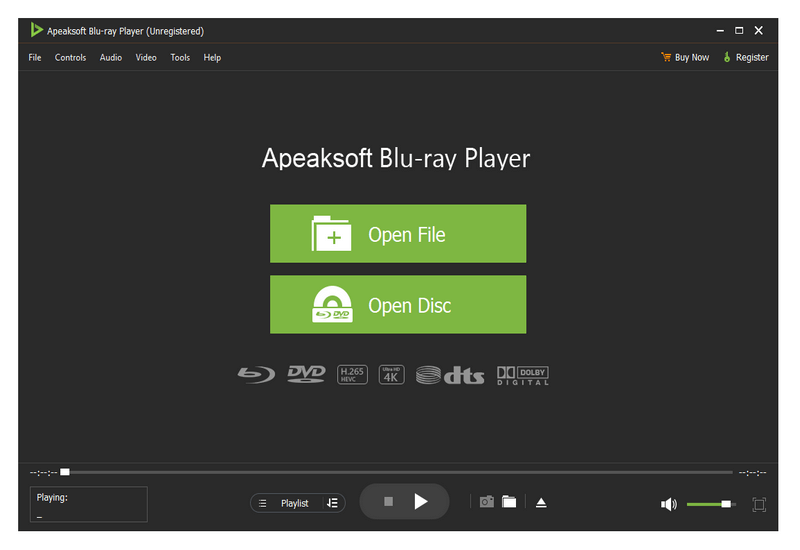 Step 2Enjoy the playback using the user interface:
Show Playlist: Click the Playlist button at the bottom, and then you will see the playlist appears on the right side of the interface.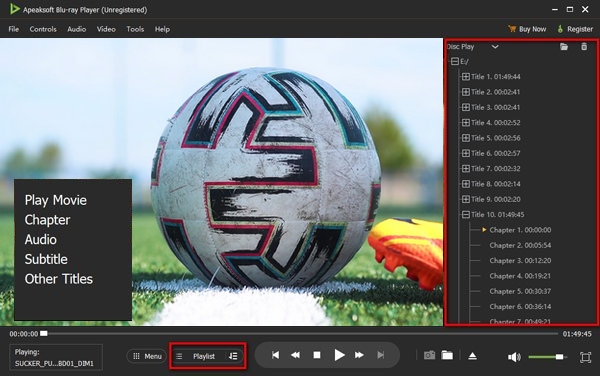 Video Effects: Click on the Tools tab to drop down the menu, then select the Effect option. Now you can freely adjust the hue, brightness, contrast, saturation, and gamma.
Part 3: FAQs About 4K Ultra HD Video Players
1. What is 4K?
4K refers to the horizontal resolution of approximately 4,000 pixels. When we say 4K, we are talking about 4k Ultra HD or DCI 4K. The former adopts 3840 x 2160 resolution, while the latter uses 4096 x 2160. 4K UHD is more common to see these days.
2. How can I play 4K videos on my phone?
Technically, it is possible to play 4K videos on a phone. However, few mobile phones today have a screen of 4K Ultra HD or higher resolution. Even if you have one, higher PPI (pixels per inch) than 326 will not improve the watching experience due to human eyes' physiological limitation.
3. Where can I download 4K Ultra HD videos for free?
Here are several nice 4K UHD video downloading websites: 4k-hd.club, hi-4k.com, Mydownloadtube, Kickass, 4k-movies.biz, 4kmovies.rocks, and 4kmovies.co.
Conclusion
A big 4K screen and fresh 4K movies are not enough for a perfect 4K watching experience. If you lack an excellent 4K Ultra HD video player, all money you have paid is in vain. In this post, we listed the top 5 4K Ultra HD video players of 2021 after testing dozens of them. They are Apeaksoft Blu-ray Player, VLC media player, DivX Player, 5K Player, and CyberLink PowerDVD 20. What are you waiting for? Download them and try them out.