AC3 is not a popular audio format that can be supported by the default media player like Windows Media Player or QuickTime Player on your computer.
When you try playing an AC3 audio file or a movie contained AC3 audio track, whether on a Windows PC, Mac, or an Android/iOS device, you are more likely get the Audio format AC3 not supported prompt. Are you looking for a good AC3 player or the AC3 codec for MX Player?

AC3 Player
Considering your need, this post like to give you a list of 5 AC3 players for Android, iPhone, iPad, Windows 10/8/7 PC and Mac. You can know the key features of each AC3 player and then pick your preferred one.
Part 1. What Is AC3 Audio Format
AC3, the Audio Codec 3, is a Dolby Digital audio format that allows for up to 6 channels of audio output. AC3 format is created by Dolby Laboratories and mainly used on DVDs, Blu-ray, movie theaters, video games, and other digital videos. It uses the lossy compression to remove the unnecessary parts and reduce the overall size of the file.
AC3 is designed to support surround sound. It can offer 5.1 audio channels, left, right, center, left surround, right surround, and a low-frequency enhancement channel. An AC3 file has separate tracks for each of the six speakers in a surround sound setup. Five of the speakers are dedicated to a normal range, and the left one is used to output low-frequency subwoofer.
AC3 can be played on Dolby-approved stereo devices. But not like MP3, AC3 is not a commonly-used audio format, and cannot be directly played by the default media player on computer and portable device.
Part 2. AC3 Player for Windows PC and Mac
If you want to open and play AC3 files on a computer, you can select a suitable AC3 player from this part. All 3 recommended AC3 audio playing tools are compatible with both Windows 10/8/7 PC and Mac.
Best AC3 player for Windows PC and Mac - Blu-ray Player
Blu-ray Player is a popular and powerful media file player which can help you play any AC3 audio files and movies contained AC3 audio tracks. It has the capability to play Blu-ray disc, DVD disc, folder and ISO files with high quality. Moreover, it enables you to freely choose audio track and subtitle, custom video and audio playing effects, take snapshots, and more.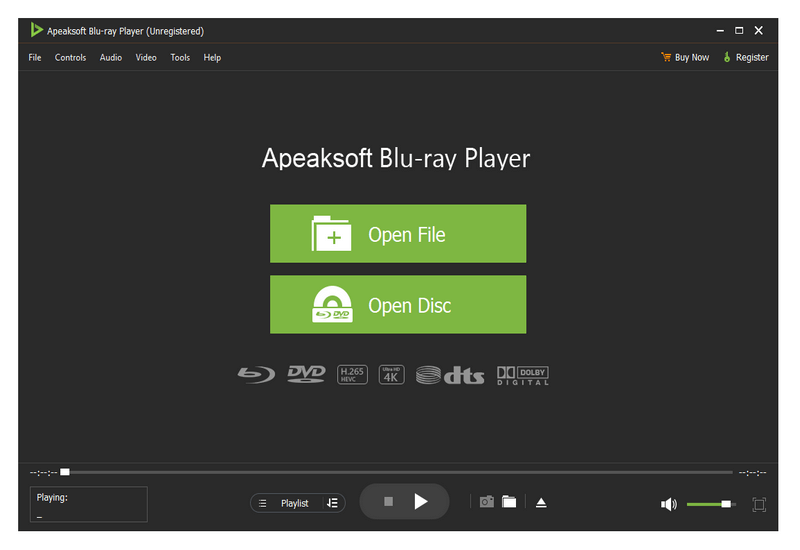 As an AC3 player, it allows you to enjoy AC3 audio file with lossless sound effect. It supports the DTS-HD Master Audio, Dolby True HD, and Apple Lossless Audio Codec that ensure you have a high-definition surround sound. This AC3 audio player tool gives you all controls of the video or audio playback.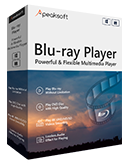 4,000,000+ Downloads
Play audio files in AC3, MP3, AAC, M4A, WMA, FLAC, and more.
Support Blu-ray/DVD disc, folder, ISO files playback on Windows PC and Mac.
Play 4K UHD, 1080p/720p HD and SD video in any format like MP4, MOV, AVI, FLV, MKV, etc.
Support advanced NVIDIA hardware acceleration, DTS-HD Master Audio, Dolby True HD, and Apple Lossless Audio Codec.
AC3 player for Windows, Mac, iOS and Android - VLC
VLC Media Player is one of the most popular media playing tools. As an open source and cross-platform player, VLC allows you to enjoy various video and audio files on Windows, Mac and Linux computer and mobile device like iPhone, iPad, Android and Windows phone.
VLC supports many frequently-used video and audio formats, including MP4, MOV, FLV, AVI, AC3, AAC, MP3, WMA, TrueAudio, APE, Real Audio, AMR, MIDI, LPCM, WAV, Raw Audio, FLAC, and more. For the audio playing effect, it allows you to increase the AC3 audio sound up to 125% and video sound up to 200%.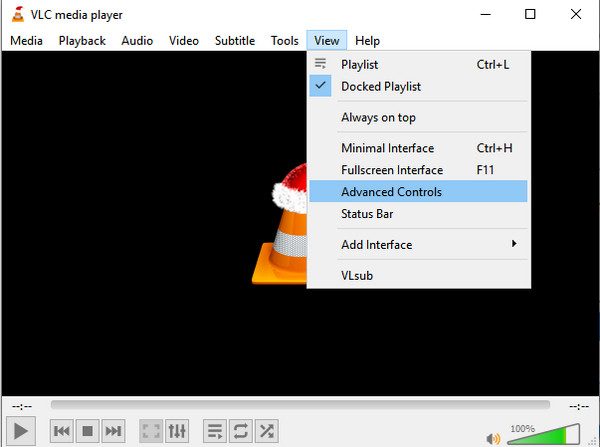 As an all-featured media player, VLC is designed with many other useful functions, such as video and audio converting, VLC screen recording, editing, streaming and more. It can be a great AC3 player option for you. VLC is completely free and without any virus or ads.
AC3 player for Mac - Macgo Free Mac Media Player
Macgo Free Mac Media Player is a free AC3 audio player which supports all Mac models, including Macbook Pro, Air, Mac mini, and iMac. With the DTS 5.1 supported, this free AC3 player can output audio tracks of AC3 or other formats with a surround sound.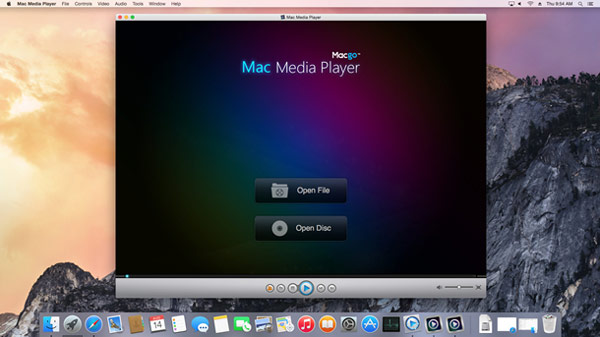 More than just an AC3 player, Macgo also supports DVD, VideoCD, MP4, MOV, FLV, MKV, AVI, WMV, MPEG, RMVB, MP3, WMA, AAC, and more. Note that, this AC3 player is only designed for Mac users. It is compatible with Mac OS X 10.6 - 10.11.
Part 3. AC3 Player Apps for Android and iOS Device
To play AC3 files on your mobile device like Android phone, iPhone, or iPad, you should use a third-party AC3 player app. You can search for and get one from Google Play Store or App Store. In case you don't know which one you should choose; this part introduces you with 2 great AC3 player apps for Android and iOS.
Free AC3 player apps for Android and iPhone - GOM Player
GOM Player is a popular free AC3 player app for Android and iOS devices. It can open any AC3 files and movies with the encoded AC3 audio tracks.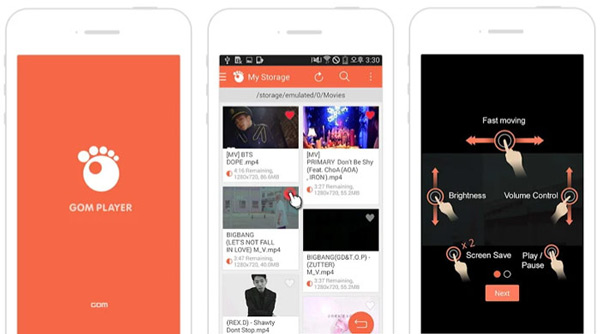 GOM Player is designed with a gesture control function considering UI and UX that help you better control and AC3 audio or other playbacks. It has many useful features like Brightness control, Volume control, Play/pause, Friendly gesture control, Save screenshots, and more.
AC3 player for Android and iPhone - nPlayer
nPlayer is another powerful media file player which can help you can play AC3 on both iPhone, iPad and Android phone. It supports the Dolby and DTS HDMI Bitstream to ensure you have a great sound experience. Moreover, it highly supports multi-track audio, audio boost and HDMI output.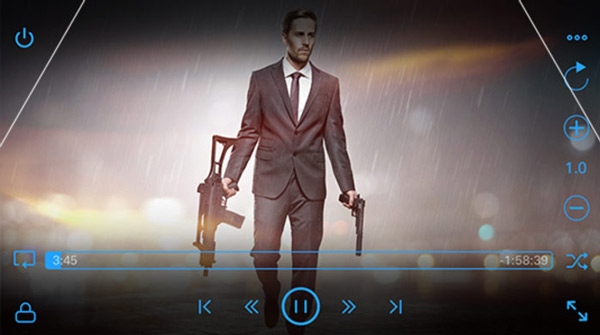 nPlayer officially supports DTS (DTS HD) and Dolby (AC3, E-AC3) codecs. Besides AC3 format, nPlayer can also play audio files in MP3, WAV, WMA, FLAC, and APE. In addition, all popular video formats are supported, such as MP4, MKV, MOV, ACI, WMV, FLV, ASF, and more. It is equipped with an embedded web browser for you to directly view videos on the web. What's more, nPlayer allows you to connect it to a smart TV wirelessly.
Part 4. FAQs of AC3 Player
Question 1. How to download and install AC3 codec for MX Player?
MX Player doesn't have AC3 codec for the AC3 audio playback. So, you should open MX Player and go to the settings option. Click the General option and then choose Custom Codec Now you will be asked to select a suitable folder and then install the Zip file of the custom codec.
Question 2. What is the EAC3 format?
EAC3, also known as Enhanced AC-3, Dolby Digital Plus or EC-3, is a digital audio format developed by Dolby Labs. It is designed for the transport and storage of multi-channel digital audio. Compared with AC3, EAC3 is superior in keeping fidelity to the original audio source. Moreover, it can carry and offer a better audio quality.
Question 3. How to free convert AC3 to MP3?
To free convert AC3 to MP3 for better playback, you can use the popular online AC3 converter.
Conclusion
Here in this post, you can get 5 great AC3 players for both Windows PC, Mac and portable Android/iOS device. You can learn some key features and other useful information about each AC3 audio player and then make your choice.