FLAC, stands for Free Lossless Audio Codec, is basically a format for audio coding. It is open-source, so FLAC is popular among artists. More importantly, this format has the capacity to compress music and produce small file size without losing much quality. While TVs have become better and better over the decade, music is still popular. This article will identify and share top 10 FLAC player apps to help you listen to music on Windows, Mac, iPhone and Android devices.

FLAC Player
Part 1: Top 5 FLAC Players for PC/Mac
Top 1: Apeaksoft Blu-ray Player
Platform: Windows 11/10/8/7/Vista/XP, Mac OS X 10.7 and above
Apeaksoft Blu-ray Player is a high-end FLAC player for both PC and Mac. Firstly, it supports almost all music formats including FLAC, AAC, WMA, M4A, etc. Moreover, it enables you to enjoy music videos and other multimedia contents.
Support hundreds of multimedia formats.
Optimize music quality automatically.
Available to Windows and Mac.
Include a professional equalizer.
Cons

You need to purchase a license after free-trial.
How to Play FLAC Music on PC
Step 1Open a FLAC file
Launch the best FLAC player once you install it on your computer. Click the Open File button, find and select the FLAC file you want to listen to, and click Open button. After loading, you will be taken to the player window.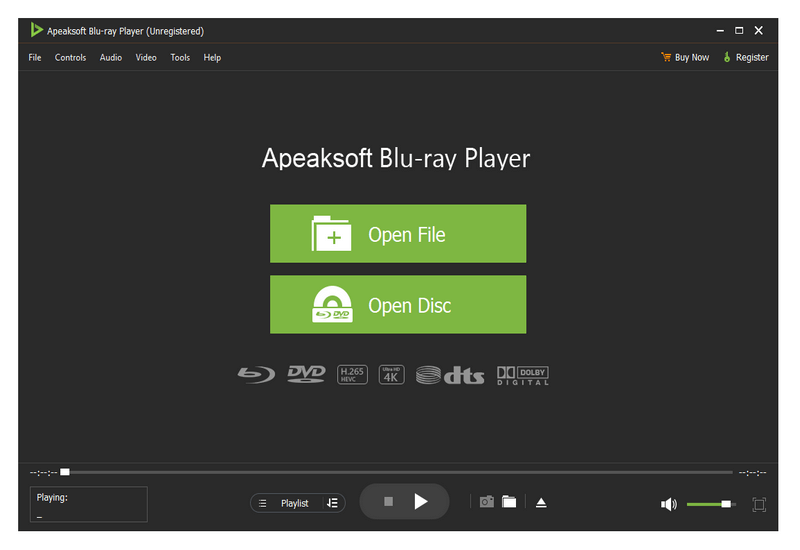 Step 2Control FLAC playback
Now, the music will begin playing immediately. You can put the FLAC player in the background and do other activity. If the sound is poor, click go to the Audio menu from the top ribbon and then adjust the channel, stereo and more according to your need.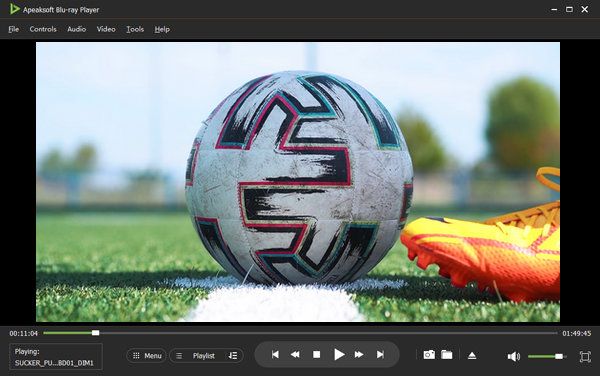 Top 2: Foobar2000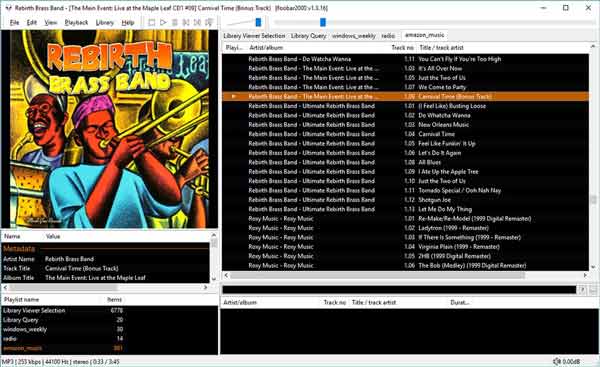 Platform: Windows 7 or newer, Mac OS 10.11 or newer
Foobar2000 is a FLAC player for PC and Mac. Moreover, it offers a mobile app for iPhone and Android devices. Although free to use, it is able to deliver superb audio quality without using much resources.
Pros

Enables you to customize layout.
Load music and playlists quickly.
Support the popular audio formats.
Cons

There are too many features for beginners.
Some buttons don't work sometimes.
Top 3: Winamp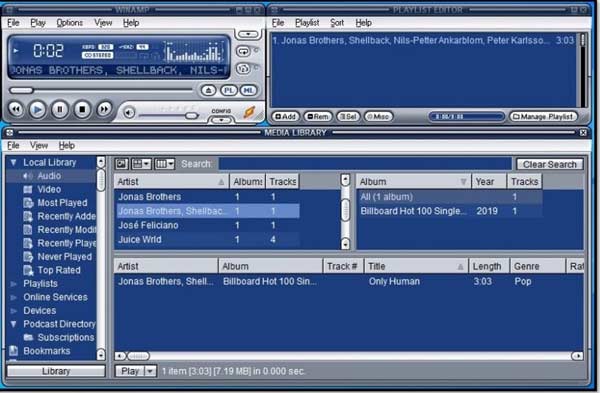 Platform: Windows 10/8/7
As one of the best FLAC players, Winamp has been around for years. The developer keeps introducing updates and adding new features into the player. It supports music syncing as well.
Pros

Change skins according to your preference.
Extend features with plugins.
Manage music in playlists.
Cons

The interface is mess and difficult to navigate.
It cannot enhance audio quality.
Top 4: MediaMonkey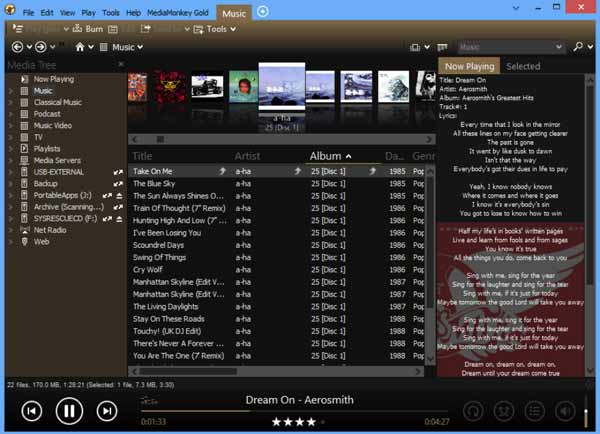 Platform: Windows 10/8/7
MediaMonkey is a free FLAC player and it provides several plans with bonus features. It lets you manage the music files on playlists and listen to them without interruption. It also has an app for Android.
Pros

Organize large collection of music quickly.
Free to use with limit.
Remove duplicates from your library.
Cons

It becomes buggy over times.
Metadata may be missed sometimes.
Top 5: MusicBee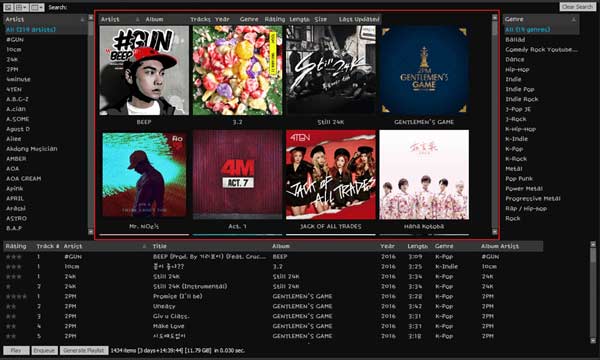 Platform: Windows 10/8/7/Vista
MusicBee is a FLAC player distributed by the author freely. It is able to detect the music files on your hard disk and enables you to manage them in playlists. Plus, it supports a variety of plugins.
Pros

Provide plentiful skins and themes.
Download and autofill metadata for songs.
Offer a portable version.
Cons

It may slow down your computer.
It does not have the system media playback interface.
Part 2: Top 5 FLAC Player Apps for iPhone/Android
Top 1: VLC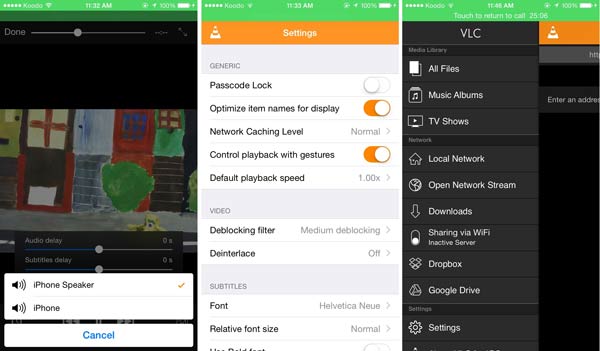 Platform: iOS 9.0 or later, Android 6.0 or later
VLC is an open-source FLAC player for both iPhone and Android devices. It equips with a huge package of codecs, so you can play a wide range of media files including FLAC music and more.
Cons

The playlist feature is not available to all devices.
It does not support background playback.
Top 2: JetAudio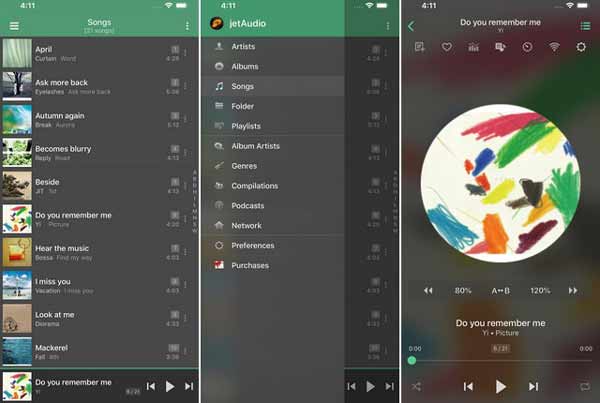 Platform: iOS 9.0 or later, Android 4.1 and up
JetAudio is a FLAC player available to both iPhone and Android devices. It integrates the AM3D Audio Enhancer, and a lot of sound effects. Therefore, the music playback quality is pretty good.
Pros

Include 20-brands graphic equalizer.
Browse music by album art.
Play music in background.
Remove ads by purchasing the plus version.
Cons

It takes up much space when playing music.
The app icon looks pretty bad.
Top 3: AIMP Player
Platform: iOS 9.0 or later, Android 4.4 and up
If you just need to play local FLAC files on smartphone, AIMP Player is a good choice, although it does not have built-in music library. It can meet your basic need on music enjoyment on iPhone and Android.
Pros

Control music playback with gestures.
Listen to music in playlist continuously.
Support balance control and speed adjustment.
Cons

The FLAC player cannot add music files to playlist from folders.
The interface loos outdated.
Top 4: Onkyo HF Player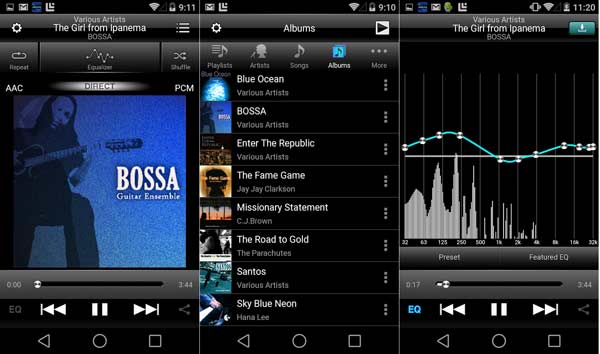 Platform: iOS 9.2 or later, Android 5.0 and up
Sometimes, free FLAC players cannot meet your need on music playback. Onkyo HF Player is a good choice for people who are sensitive to audio quality and experience. You can view ads to exchange features.
Pros

Include high-precision equalizer.
Display lyrics and album artwork.
Provides several equalizer presets.
Cons

You can only purchase the pro version to remove ads.
Top 5: GOM Player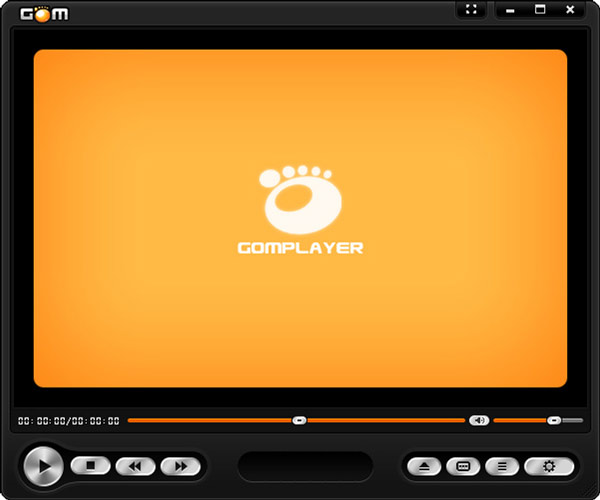 Platform: iOS 10.0 or later, Android 4.4 and up
GOM Player is another free FLAC player app for iPhone and Android users. There is no option involved with payment, but you can view ads to get the full features. It supports speed control, gesture, music management and more.
Pros

Play non-encoded music and video files.
Navigate easily with the clear UI.
Support sleep timer.
Cons

It cannot sync files from PC through network.
Part 3: FAQs about FLAC Player
Is FLAC the highest quality?
Since FLAC is a lossless audio format, it provides better quality than lossy formats, such as MP3. Of course, the cost is to produce large file size.
Is FLAC better than MP3?
The answer depends on your purpose. FLAC offers better audio quality, while MP3 is widely supported by most media players and digital devices. Moreover, MP3 is more suitable to distribute on the internet. To play FLAC on more devices, you should convert FLAC to MP3.
Is FLAC 16 or 24 bit?
FLAC is not just restricted to 16-bit, and you can save music files up to 24-bit/192kHz for better quality. However, the file size will become larger with high quality.
Conclusion
Now, you should master at least top 10 best FLAC player applications for Windows, Mac, iPhone and Android. They all have unique benefits and downsides. You can pick the most appropriate one based on your situation. Apeaksoft Blu-ray Player, for example, provides both basic and advanced controls for music playback on PC and Mac. If you have other problems related to music, please feel free to leave a message below this post.