M4A is an Apple audio format that can be natively supported by iOS devices like iPhone, iPad, iPod touch, and Mac. It is a lossless audio format and superior to MP3 in terms of the scale of compression and audio quality.
However, M4A is not compatible with the default player on Android phone and Windows PC. So when it comes to playing M4A on Android or PC, you need to find a good M4A player.

M4A Player
You can easily find an M4A player for Android app through the Google Play Store. Also, there are many M4A playing tools offered on the market that can help you enjoy M4A on a Windows 10/8/7 PC. In case you don't know which M4A audio player you should use, this post gives you a full review of 5 best M4A players.
Part 1. Best M4A Player for Computer
Apeaksoft Blu-ray Player is a powerful media file playing tool which can help you play various M4A files on either a Windows 10/8/7 PC or a Mac. It carries all M4A playback features you need. You can freely play, pause, restart, and stop the M4A audio playing. It requires no audio codec installation to play M4A files.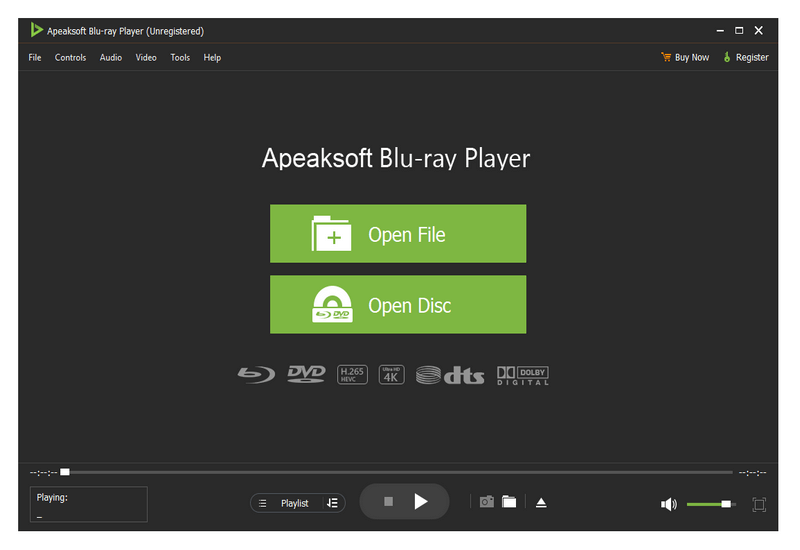 This M4A player is equipped with the advanced audio decoding technologies like DTS-HD Master Audio, Dolby True HD, and Apple Lossless Audio Codec. So you can easily get a lossless audio and dramatic high-definition surround sound.
Besides the M4A format, it highly supports the high-quality playback of Blu-ray and DVD movies, ISO files, and all types of video/audio files in MP4, MOV, AVI, M4V, FLV, MP3, AAC, AC3, ALAC, FLAC, and more.
Part 2. M4A Player for Android/iOS/Windows/Mac - VLC
VLC Media Player can be the most popular third-party player for both macOS, Windows, iOS and Android users. As a free and open-source media player, VLC is able to play M4A, MP3, AAC, FLAC, MP4, FLV, AVI, and other video/audio files with high quality. Whether you are looking for an M4A player for Android or Windows PC, you can give VLC a try.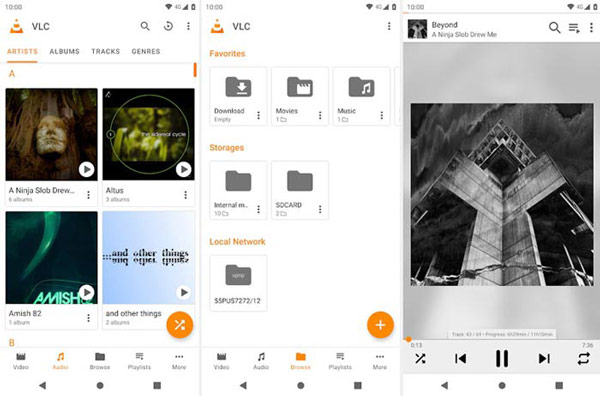 This free M4A player app for Android can play video and audio files in any popular formats like MP4, MOV, AVI, MP3, M4A, AAC, and more. It can quickly scan and locate all M4A files on your device, even the SD card. VLC media player can be a good choice whether you want to play M4A on Android or Windows PC.
Another feature you cannot miss in VLC is screen recording. It can record M4A as other popular formats like MP3, WMA, etc., to open on more devices.
Part 3. Online Free M4A Player - TimeStretch Player
If you don't want to install any M4A player and prefer to use an online tool to play some M4A files, you can give the popular online audio player, TimeStretch Player a try.
This online M4A audio player is compatible with all frequently-used web browsers like Chrome, IE, Firefox, Yahoo, and Safari. Whether you a Windows or macOS user, you can open your browser and use TimeStretch Player to enjoy M4A files.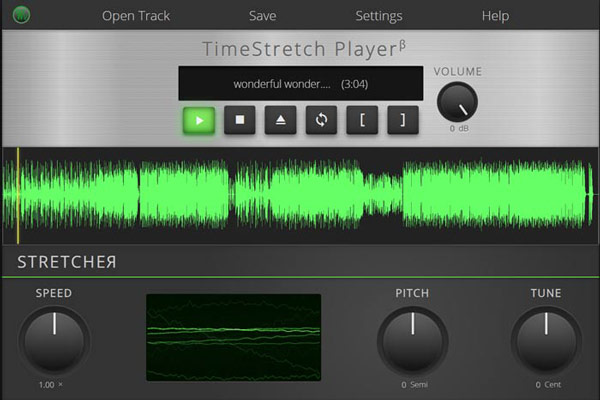 TimeStretch Player support some common audio formats, including M4A, MP3 and OGG. It is designed with a concise interface and simple playback features. You can easily click on Open Track to upload the M4A audio and play it. This online M4A player allows you to control the audio playing speed, pitch, volume and tune. Moreover, it is designed with a basic audio converting feature. It can help you convert M4A to MP3 with ease.
Part 4. M4A Player for Android, iOS and Windows - KMPlayer
KMPlayer is an all-featured video and audio player app that can help you listen to M4A audio file on your Android/iOS device and computer. It offers different app versions for you to choose from. You can easily access and download it from its official site or app store. It can play media files in any popular video and audio formats, including MP3, M4A, AAC, WAV, MP4, AVI, MOV, and more. KMPlayer also has the capability to play 4K UHD and Full HD videos seamlessly.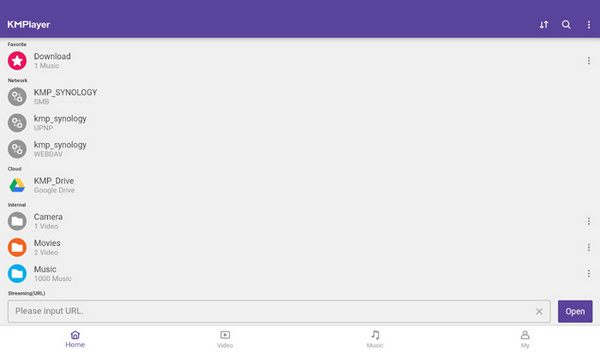 Besides the basic playing feature, it is also designed with some new cool functions like subtitle support, video playback speed, and gestures, and so on. Moreover, it has a bookmark feature to help you add bookmark on media file that you want to play later on.
Part 5. Official M4A Player for Mac and Windows PC - iTunes
iTunes is one kind of default M4A player for Mac users. You should know that; iTunes is an essential iOS data manager and transfer tool. It is able play to play various music files including M4A audio. In fact, iTunes also offers a Windows version for you to play M4A on a Windows computer.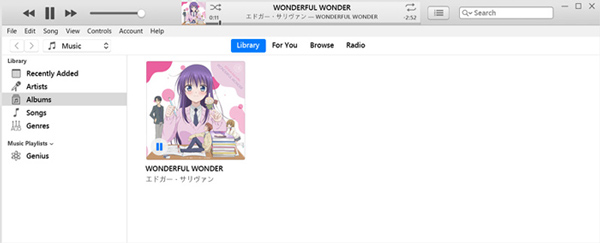 You are allowed to directly purchase and listen to all types of M4A music through iTunes Store. In addition, you can rely on it to play local M4A files. You can open iTunes and then drag your M4A file to it for the adding. Now move your mouse hover on the M4A music cover until you see the Play icon. Click on the Play icon to start playing this M4A file. Learn how to buy iTunes music here.
Part 6. FAQs of M4A Player
Question 1. Can I play M4A music on iPhone?
Yes. As we mentioned above, M4A is the default audio format for Apple devices. You can directly open an M4A file with the Music app on iPhone.
Question 2. Is M4A lossless?
Yes. M4A is a lossless audio format. An M4A file is encoded with the ALAC codec that can offer a high sound quality. Compared with MP3 format, M4A can generally deliver a better audio quality.
Question 3. Is M4A compatible with Windows?
M4A format is not compatible with the default Windows Media Player on any Windows PC.
Conclusion
If you are a Windows or Android user, when you want to play some M4A files, you need a third-party M4A player to get the job done. Here in this post, you can get 5 great M4A audio playing tool recommendations. Whether you need to open an M4A file on computer, online free, or on your mobile phone, you can easily find a suitable player.